DON'T MAKE HIM ANGRY…
…You Wouldn't Like Him When He's Angry!
May 22, 2003, Runnemede, NJ - Dynamic Forces unveils their most massive Full-Size Head Bust yet - the Incredible Hulk!
"I'll say it right now, there will never, ever be a Hulk collectible as cool as this," said Nick Barrucci, President of Dynamic Forces. "Some may say I'm biased, but Alex and Mike have done it once again and if you thought Spidey and Cap were life-like and life-size, just wait until you get one of these in your hands."
Over a year's worth of design and sculpting and over nine more months of manufacturing went into the production of this, the third bust in Dynamic Forces Life-Size Head Bust series (previous release include the Spider-Man Full-Size Head Bust and the Captain America Full Size Head Bust). Every detail has been meticulously and faithfully captured and the Hulk is depicted in the midst of pure, uncontrollable rage and fury!
Production will be strictly limited, fans can pre-order from their local retail or directly from Dynamic Forces.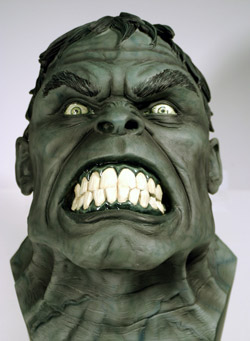 - INCREDIBLE HULK FULL-SIZE HEAD BUST
http://www.dynamicforces.com/htmlfiles/p-C97708.html
Designed by artist Alex Ross and sculpted by Mike Hill this is the DEFINITVE version of the Incredible Hulk!
Standing close to 16" tall from top to bottom (including base) and a foot wide front-to-back and side-to-side the scope of this piece needs to be seen to be believed!
$350.00 Suggested Retail Price
Strictly Limited!
Retailer note: Special Ordering incentives for the Hulk Full-Size Head Busts are available, please contact Dynamic Forces for more details.
For more information on Dynamic Forces specialty merchandise, product art, exclusive creator interviews and upcoming releases - including more Incredible Hulk and Marvel Comics Product, please visit the Dynamic Forces website at www.dynamicforces.com
------------------------
Dynamic Forces is the comic book and collectible industry's top producer of limited edition comic books, lithographs, and more.
A licensee of DC Comics, Marvel Comics, Top Cow Comics, Dark Horse Comics, Universal Studios, Paramount Studios, Pressman Film's classic film "The Crow", T2, Sandy Frank Productions "Battle of the Planets (G-Force)" and many other industry giants, DF continues to set the pace in the comic collector and comic memorabilia markets. Recent product line expansions includes: action figures, vinyl and poly resin statues, lunchboxes, trading cards, lithographs, giclees.