Don't Make Us Angry, You Wouldn't Like Us When We're Angry…
June 13, 2003, Runnemede, NJ -- Dynamic Forces presents the greatest show since Bill Bixby and Lou Ferrigno appeared on CBS's Incredible Hulk! We're bringing everyone's favorite jolly green monster to HSN June 20th at 1:00 AM EST (that's 10:00 PM June 19th for all you fans on the West Coast).
We're pulling out all of the stops on this one, and featuring the signature of Hulk co-creator Stan Lee on a Giclee making its debut on this show. This incredible Giclee is limited to just 62 pieces in commemoration for the year 1962 - the year Stan Lee first presented the Incredible Hulk.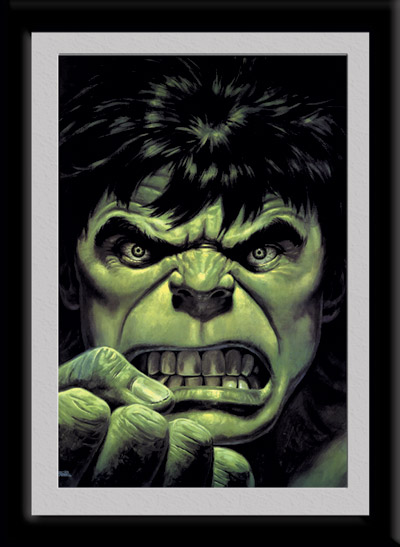 But we're not stopping there; For the first time ever our exclusive Hulk vs. Thing Lithograph is available Signed and Re-Marked with an original full body sketch by painter John Watson on each Litho.
Think we're done? We're not… DF also presents our exclusive Incredible Hulk Lithograph by artist Randy Queen and available signed by the artist. This special Litho, features 'ol greenskin, was created in honor of our men and women in the armed forces and you don't want to miss out on this incredible opportunity to add it to your collection.
And for those fans of the Hildebrandt Brothers, we're offering a special Litho Signed and Re-Marked by Greg and Tim - the modern masters of Fantasy! Our exclusive Spider-Man: Swinging Through the Twin Towers Lithograph is a true high-end collectible, limited to only fifteen pieces and once they're gone… they're gone!
But we're still not done! We'll be offering the most incredible Mega Marvel Marquee Set of the Year, featuring the signatures of Stan Lee, Dave Cockrum, John Romita, Jr., Joe Quesada, Geoff Johns, John Cassaday, John Ney Rieber, John Romita, Sr., Jim Lee and a very special CGC graded Transformers comic. This set must not be missed!
We also have two special Dynamic Forces Starter Sets prepared for the show: Our World-Famous Lucky 21 Starter Set featuring 21 comic books for under $20.00 including 7 limited edition Signed Comics; Our 40 Comic Book Starter Set will be offered for just $40.00 and features 10 -- that's right 10 for DF's 10th Anniversary - out-of-print and limited edition comic books plus 30 random books for a grand total of 40 books for just $40.00!
So, be sure to check out HSN June 20th 1:00 AM EST (and again that's 10:00 PM June 19th on the West Coast) for DF President Nick Barrucci, the Hulk, and a world's worth of collectibles!
For more DF product and information, please check out http://www.dynamicforces.com.
------------------------
Dynamic Forces is the comic book and collectible industry's top producer of limited edition comic books, lithographs, and more.
A licensee of DC Comics, Marvel Comics, Top Cow Comics, Dark Horse Comics, Universal Studios, Paramount Studios, Pressman Film's classic film "The Crow", T2, Sandy Frank Productions "Battle of the Planets (G-Force)" and many other industry giants, DF continues to set the pace in the comic collector and comic memorabilia markets. Recent product line expansions includes: action figures, vinyl and poly resin statues, lunchboxes, trading cards, lithographs, giclees, apparel and much more!