DYNAMIC FORCES PREPARES NEW CROW TRADING CARDS!
Series To Focus on First Film, Star Brandon Lee.
June 25, 2003, Runnemede, NJ – Dynamic Forces has announced the first new set of Crow Trading Cards in close to 8 years! Focusing on the star of the first Crow film and the legacy of Brandon Lee –– this brand-new series is sure to appeal to Crow fans old and new.
"The Crow is one of the most enduring creations in the entertainment industry," said Nick Barrucci, President of Dynamic Forces. "From the original comics by James O'Barr, to the movies, television shows, and everywhere in-between! We're happy to be part of the Crow family, and especially pleased to have the Crow creator [O'Barr] working with us on these brand-new trading cards! The real tribute in this series is to the man who brought it all to life, at least on the big screen, Brandon Lee"
Brandon Lee – one of Hollywood's lost stars; While shooting his masterpiece and what would be his legacy, The Crow, Brandon was fatally shot on set. This tragic event has followed the legacy of the Crow for these last ten years, and DF is here to present this Legacy series featuring classic images of Brandon Lee as the Crow and art inspired from the movie!
This vibrant set features art from some of comics greatest superstars, including: Jae Lee, Richard Isanove, June Chung, Joe Benitez, Joyce Chin, painter Dan Brereton, painter Matt Busch, Brian Rood, John Czop, painter John Watson, Udon Studios and more!
Also, each box will feature 6 signed cards per box, with the signatures available in different color inks, each mixed in every box! Plus 3 Chrome Cards per box (there will be a total of 6 different chrome card chase sets) as well as hand-drawn sketch cards from the best artists!
James O'Barr will also be signing a limited number of cards (guaranteed to be 1 per box) as well as writing the historical information on the backs of each card in the base set. O'Barr is also writing and drawing the first all new Crow comic in years, and the only way that fans can get this, is to purchase a box of trading cards from DF! Hurry fans, because this series is limited, and these new comics are only available as box toppers!
• THE CROW: THE LEGACY BRANDON LEE TRADING CARD SERIES
http://www.dynamicforces.com/htmlfiles/p-C97919.html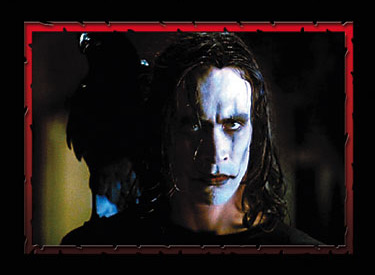 Each Crow Trading Card Box features 36 packs of trading cards. This trading card series is limited in total to 400 (Ten Box) Cases IN THE WORLD between the Comics Market and Hobby Market! Pre-order now, as allocations may occur!
$71.64/per box MSRP
Retailer note: Special Ordering incentives for The Crow Trading Cards are available, please contact Dynamic Forces for more details.
For more information on Dynamic Forces specialty merchandise, product art, exclusive creator interviews and upcoming releases – including more Crow Product, please visit the Dynamic Forces website at www.dynamicforces.com
------------------------
Dynamic Forces is the comic book and collectible industry's top producer of limited edition comic books, lithographs, and more.
A licensee of DC Comics, Marvel Comics, Top Cow Comics, Dark Horse Comics, Universal Studios, Paramount Studios, Pressman Film's classic film "The Crow", Sony Pictures "Underworld", T2, Sandy Frank Productions "Battle of the Planets (G-Force)" and many other industry giants, DF continues to set the pace in the comic collector and comic memorabilia markets. Recent product line expansions includes: action figures, vinyl and poly resin statues, lunchboxes, trading cards, lithographs, giclees, apparel and much more!