Felicia Hardy's Alter-Ego Is Unleashed In Exclusive New Bust!
May 7, 2003, Runnemede, NJ - Dynamic Forces, Inc. pays tribute to one of the many paramours of Spider-Man with their exclusive new Black Cart 8" Bust!
From her first appearance back in Amazing Spider-Man #194, right through to her latest appearance in the Spider-Man/Black Cat mini-series, Felicia Hardy and her alter-ego have found their calling in the Mighty Marvel Universe.
"Hands-down, the Gore Group know how to sculpt a powerful and sexy female character like the Black Cat," said Nick Barrucci, President of Dynamic Forces. "And they've truly outdone themselves here. They were our first and only choice for this project, and when the fans get this baby in their hands, they won't be disappointed."
Scheduled to ship in July of this year, the black Cat Bust stands 8" tall, atop her horse-shoe base (a good luck sign to balance the bad luck powers of the Black Cat's) and comes complete with her own pussy-cat!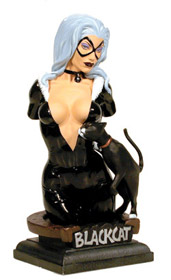 BLACK CAT 8" "PURR-FECT" BUST
http://www.dynamicforces.com/htmlfiles/p-C97634.html
Measuring an unbelievable 8" High and 4" wide this beautiful bad girl was sculpted and painted by Pablo Viggiano with designs by Juan Bobillo and Pablo Viggiano! The purr-fect pussy cat to add to your collection!
$89.99 Suggested Retail Price
Limited to 1,978 Production Units in the World!
Retailer note: Special Ordering incentives for the Black Cat Bust are available, please contact Dynamic Forces for more details.
For more information on Dynamic Forces specialty merchandise, product art, exclusive creator interviews and upcoming releases - including more Spider-Man and Marvel Comics Product, please visit the Dynamic Forces website at www.dynamicforces.com.