DF AND CBLDF TEAM UP IN TIME FOR COMIC-CON!
Exclusive Cover Edition of Sin City Offered To Raise Money
July 11, 2003, Runnemede, NJ – Just in time for next week's Comic-Con International: San Diego, Dynamic Forces has announced plans to help raise money for the CBLDF!
At the Con itself, DF is making copies of their exclusive-cover edition of Sin City: Family Values by writer/creator/artist Frank Miller available at the CBLDF Booth (#'s 1233/1235) for a suggested donation of at least $20! Please consult with the CBLDF signing schedule to get your copy signed by Frank Miller himself!
For those unable to attend Comic-Con International, Dynamic Forces is making unsigned copies of the Sin City: Family Values exclusive cover edition available through their website, again, for a donation of $20.00 (plus shipping), with all proceeds going to the CBLDF from all web sales of this exclusive comic!
"The CBLDF is such a valuable partner in this industry," said Nick Barrucci, President of Dynamic Forces. "We want to help out their cause in any way we can. And with Frank Miller being in attendance at the Con this year, the match-up with the remaining copies of our edition of Family Values seemed to be the perfect way to add some money to the coffers!"
Supplies are limited, as this is the last stock of this book, so do your part either at the Con, or at the Dynamic Forces website to help out the CBLDF and enjoy an awesome, and exclusive, Sin City tale!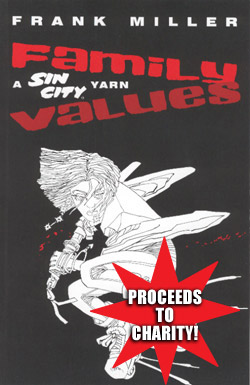 • SIN CITY: FAMILY VALUES DF EXCLUSIVE COVER
http://www.dynamicforces.com/htmlfiles/p-CLF001.html
This 126-page epic was written and drawn, and released as a stand alone graphic novel. It features Miho on roller-blades Dwight on adrenaline and the Sin City mob on clean-up detail! If you've never visited the town without pity it's time to book your travel plans.
$20.00 MSRP
For more information on Dynamic Forces specialty merchandise, product art, exclusive creator interviews and upcoming, please visit the Dynamic Forces website at www.dynamicforces.com.
------------------------
Dynamic Forces is the comic book and collectible industry's top producer of limited edition comic books, lithographs, and more.
A licensee of DC Comics, Marvel Comics, Top Cow Comics, Dark Horse Comics, Universal Studios, Paramount Studios, Pressman Film's classic film "The Crow", Sony Pictures "Underworld", T2, Sandy Frank Productions "Battle of the Planets (G-Force)", Jim Starlin's "Dreadstar" and many other industry giants, DF continues to set the pace in the comic collector and comic memorabilia markets. Recent product line expansions includes: action figures, vinyl and poly resin statues, lunchboxes, trading cards, lithographs, giclees, apparel and much more!
The Comic Book Legal Defense Fund was founded in 1986 as a 501 (c) 3 non-profit organization dedicated to the preservation of First Amendment rights for comic book retailers, publishers, and authors. Donations and inquiries should be directed to the Comic Book Legal Defense Fund at P.O. Box 693, Northampton, MA 01061 or info@cbldf.org. More information about the Fund can be found at www.cbldf.org