THE INCREDIBLE HULK RAGE" LITHOGRAPH - SIGNED VERSION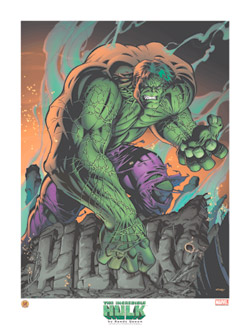 PRICE:


$39.99
Signed By ARTIST RANDY QUEEN. Featuring all-new and all-original art created exclusively for DYNAMIC FORCES Inc. by Randy (Darkchylde) Queen!

In this powerful new piece penciled and inked by Queen (the first new Hulk image by Queen since his Hulk 9/11 Charity Lithograph) the enraged Hulk stands atop the shattered remains of his latest attack - his muscles bulging and his veins coursing with gamma-irradiated blood!

Measuring 18 by 24" and printed on archival 80lb. Gallerie Silk Stock this masterpiece by Queen will be a treasured addition to your collection!