Daily Special for 10/23/2016

SURPRISE CGC DOUBLE SHOT SUNDAY! HAS SOLD OUT!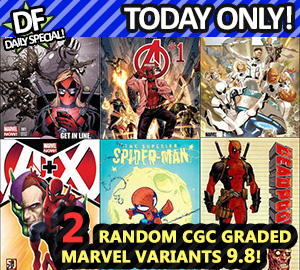 SORRY, BUT TODAY'S DAILY SPECIAL
HAS SOLD OUT!
WE WILL RETURN AT NOON WITH ANOTHER DF SPECIAL!
SURPRISE CGC DOUBLE SHOT SUNDAY!
Price: $89.98
Shipping: In-Stock!
We're so close to CHRISTMAS we just couldn't resist. Today, we're offering you, the greatest fans of all time, a double shot of CGC 9.8 goodness for the dynamic, not to mention, fitting price of $89.98! Each CGC graded MARVEL COMICS issue will be a limited variant edition clocking in at 9.8! This pair has a minimum combined regular MSRP of $199.98, if not higher, and some of these gems we've not yet offered! Only 5 of these sets will be available today, so grab one post-haste before they are gone!

* TWO RANDOMLY CHOSEN MARVEL COMICS VARIANTS CGC GRADED 9.8! (Regular MSRP $199.98 or higher!)

* Please note: All items are RANDOMLY CHOSEN and multiple orders may receive duplicate items. Images shown are examples of the wide variety of books chosen and do not guarantee inclusion within this set.


DF Daily Specials are our way of saying an extra special thanks to our customers! Each and every day, look for a brand new item or package at a special price that is good for ONE DAY ONLY! Wholesale/Dealer orders will not receive an additional discount. Limited sets are available and items are good for only one customer/household and sold first-come, first-served. When they're gone — they're GONE!