Daily Special for 12/20/2014

SENSATIONAL SUPER SEVENTY SEVEN SATURDAY SET!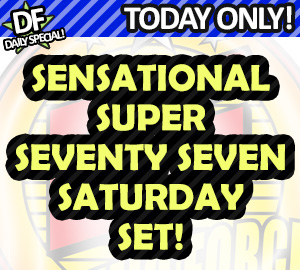 HURRY! - WE ONLY HAVE 2 LEFT!

SENSATIONAL SUPER SEVENTY SEVEN SATURDAY SET!
Price: $77.77
Today's special features one of the all-time fan favorites, THE SUPER SEVENTY SEVEN PACK! With this Super Seventy Pack, you get SEVEN rare and limited signed comics, SEVEN collectible retailer incentive, foil variant and/or otherwise alternate edition comics, and last, but not least, a fist-full of SIXTY-THREE fantastic four-color funny books, randomly chosen from Marvel, DC, Dark Horse, Image, IDW, Boom, Dynamite, and many more! And since Halloween is just around the corner, we're sweetening this set with some treats!!! A sensational selection of stellar stories, signatures, surprises!!! Shocked? Sans skylarking, surely!

This package has a regular combined MSRP of well over $400.00, but today we are offering the whole set for just $77.77! This is another amazing assortment which has been designed as the perfect addition to any existing collection, as well as a great way to introduce a new collector to the world of comics! Only SEVEN sets are available for today's special! DON'T DELAY!

* 7 RANDOMLY CHOSEN SIGNED COMIC BOOKS! (Regular MSRP $29.99 each or higher!) - An astounding assortment of comics signed by some of the top writers and artists in comics, yesterday and today! Chosen from our wide variety of Marvel, DC, Dark Horse, Image, IDW, Dynamite, and other publishers!

* 7 RANDOMLY CHOSEN LIMITED EDITION/VARIANT COMIC BOOKS! (Regular MSRP $14.99 each or higher!) - Rare retailer incentives, Dynamic Forces exclusives, limited variants, and more!

* 63 RANDOMLY CHOSEN COMIC BOOKS! - An amazing mix of randomly chosen out of print comic books!

PLUS THESE BONUS HOLIDAY TREATS!!!

* 1 RANDOM TRADE PAPERBACK OR HARDCOVER! Get the whole story and get it right here! We are going to add one trade paperback or hardcover to this collection! (Minimum MSRP $14.99)

* 1 RANDOM SET OF CONNECTING COVER COMIC BOOKS! One great comic book, two awesome covers! Connect these two covers to form one amazing scene!

* PLEASE NOTE: Sets are picked at random, multiple orders may receive duplicate items.


DF Daily Specials are our way of saying an extra special thanks to our customers! Each and every day, look for a brand new item or package at a special price that is good for ONE DAY ONLY! Wholesale/Dealer orders will not receive an additional discount. Limited sets are available and items are good for only one customer/household and sold first-come, first-served. When they're gone — they're GONE!