Daily Special for 04/23/2014

WOLVERINE GOLDEN WEDNESDAY!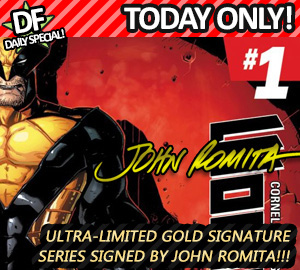 HURRY! - WE ONLY HAVE 10 LEFT!

WOLVERINE GOLDEN WEDNESDAY!
Price: $74.00
Today's DF Daily Special features what is expected to be one of the biggest premiere WOLVERINE comics in modern times!!! After the events of KILLABLE, Wolverine has something to prove. Before he can take on Sabretooth again, he'll need to build himself back up, get better and stronger than he's ever been...but it's not as easy as he thought, and he'll soon find himself turning to other means of revenge when the normal channels don't seem to be working fast enough. Can he fight back his demons, or is this the beginning of a Wolverine who's gone to the dark side? This ULTRA-LIMITED edition will be SIGNED in GOLD by none other than JOHN ROMITA SR!!! Wolverine first appeared in the last panel of The Incredible Hulk #180, with his first full appearance in #181 (cover-dated Nov. 1974). He was created by writer Len Wein and Marvel art director John Romita, Sr., who designed the character, and was first drawn for publication by Herb Trimpe. As if this amazing special could not get any better, yours will be chosen from this ULTRA-LIMITED run of ONLY 25 IN THE WORLD!!! Do not delay!!!

* WOLVERINE #1 ULTRA-LIMITED GOLD SIGNATURE SERIES SIGNED BY JOHN ROMITA!!! (Regular MSRP $299.99)


DF Daily Specials are our way of saying an extra special thanks to our customers! Each and every day, look for a brand new item or package at a special price that is good for ONE DAY ONLY! Wholesale/Dealer orders will not receive an additional discount. Limited sets are available and items are good for only one customer/household and sold first-come, first-served. When they're gone — they're GONE!