Daily Special for 01/18/2017

CHOOSE YOUR OWN WALKING DEAD WEDNESDAY!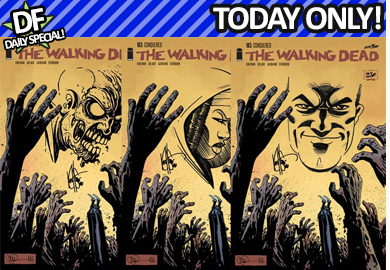 HURRY! - WE ONLY HAVE 6 LEFT!

CHOOSE YOUR OWN WALKING DEAD WEDNESDAY!
Price: $20.03
Shipping: march, 2017
It's Wednesday and for this New Comic Book Day, we're offering you the chance to get your very own favorite WALKING DEAD character sketched on one of the biggest comics in decades: THE WALKING DEAD #163!!! Celebrate the upcoming mid-season return of THE WALKING DEAD with this ALL-NEW offering by DF STAR ARTIST, KEN HAESER!!! You can choose a character from The Walking Dead or just a random zombie if you like. Be sure to get your orders in now while you can because once they are gone, they are GONE!!!

* Here's how to order: In the notes of your order, please let us know which you would like an original work of art of on the Blank variant edition of The Walking Dead #163!!! Please don't e-mail your requests, simply add it to the notes on the order, this way we know which order gets which book. If there's no note on order, or if you just want to a random mystery character or zombie, leave the notes blank and we'll pick for you! As with all original art, each piece is one of a kind and final sketches will vary.

* THE WALKING DEAD #163 SIGNED & REMARKED WITH A CHARACTER (OR ZOMBIE) OF YOUR CHOICE!!! (Regular MSRP $89.99)


DF Daily Specials are our way of saying an extra special thanks to our customers! Each and every day, look for a brand new item or package at a special price that is good for ONE DAY ONLY! Wholesale/Dealer orders will not receive an additional discount. Limited sets are available and items are good for only one customer/household and sold first-come, first-served. When they're gone — they're GONE!