Daily Special for 07/25/2014

A GOLDEN STAN LEE SPIDEY FRIDAY WITH THE BLACK CAT! HAS SOLD OUT!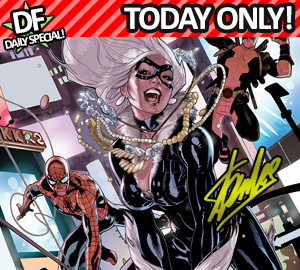 SORRY, BUT TODAY'S DAILY SPECIAL
HAS SOLD OUT!
WE WILL RETURN AT NOON WITH ANOTHER DF SPECIAL!
A GOLDEN STAN LEE SPIDEY FRIDAY WITH THE BLACK CAT!
Price: $269.11
Today's DF Daily Special features just the thing to get you geared up for the weekend, featuring one of the biggest issues in modern superhero history, AMAZING SPIDER-MAN #1!!! But this is not just any AMAZING SPIDER-MAN #1!!! This particular ULTRA-RARE variant edition of AMAZING SPIDER-MAN #1 features EXCLUSIVE cover art by TERRY AND RACHEL DODSON and will come signed by "THE MAN" who played a major part in bringing Spidey into all of our lives! The one! The only! STAN "THE MAN" LEE!!! Yes, you read right!!! Making this doubly ULTRA-RARE, this issue will be signed IN GOLD!!! Talk about ULTRA-LIMITED!!! YOWZA!!! Peter Parker is back, and this time he is being brought to life by Terry and Rachel Dodson on this ultra-rare variant cover featuring the Black Cat!

This extremely limited variant edition has a regular MSRP $699.99, but is available today, and one day only for just $269.11, in reverse honor of the year Spidey made his debut in Amazing Fantasy #15 (Aug 1962) by Stan Lee and Steve Ditko! Do not delay, only 5 of these AMAZING gems are available today! Don't miss out on this AMAZING DF Daily Special Price! 'Nuff Said!

* AMAZING SPIDER-MAN #1 - ULTRA-RARE BLACK CAT COVER - GOLD SIGNATURE SERIES SIGNED BY STAN LEE! (Regular MSRP $699.99)


DF Daily Specials are our way of saying an extra special thanks to our customers! Each and every day, look for a brand new item or package at a special price that is good for ONE DAY ONLY! Wholesale/Dealer orders will not receive an additional discount. Limited sets are available and items are good for only one customer/household and sold first-come, first-served. When they're gone — they're GONE!