Daily Special for 11/19/2017

SAVAGE SNICKT SUNDAY! HAS SOLD OUT!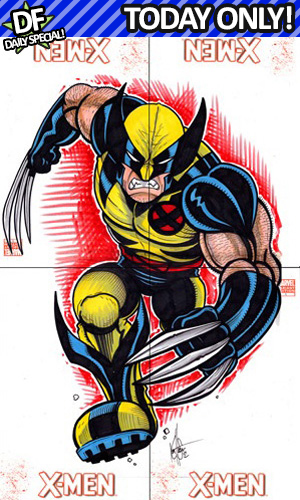 SORRY, BUT TODAY'S DAILY SPECIAL
HAS SOLD OUT!
WE WILL RETURN AT NOON WITH ANOTHER DF SPECIAL!
SAVAGE SNICKT SUNDAY!
Price: $181.00
Shipping: In-Stock!
Today we're bringing back one of the coolest DF offerings of all time featuring WOLVERINE!!! This FOUR-Book X-MEN #1 blank variant set WITH HAND-DRAWN, FULL COLOR CONNECTING WOLVERINE SKETCH BY KEN HAESER is available today and today at the event price of $181 in honor of INCREDIBLE HULK #181 in which WOLVERINE first appeared. DF is proud to offer this connecting-cover set of X-Men books with each cover featuring a hand-drawn, inked and full-color part of the Wolverine! A true Masterpiece! A one of a kind! And when they come together they form "the best there is at what he does," Wolverine! Previously long SOLD OUT and unavailable for years, just TWO remaining sets were recently uncovered and it's your chance to grab your very own unbelievable warehouse find today!!!

* X-MEN #1 - FOUR BOOK CONNECTING SKETCHED COVER SET SIGNED AND REMARKED IN FULL COLOR BY KEN HAESER!!! (Regular MSRP of $299.99)

* PLUS!!! 1 BONUS HIGH-END SIGNED WOLVERINE COMIC!!! (Regular MSRP of $49.99 or higher!!!)

* AND!!! 1 BONUS RARE LIMITED-EDITION WOLVERINE COMIC!!! (Regular MSRP of $49.99 or higher!!!)


DF Daily Specials are our way of saying an extra special thanks to our customers! Each and every day, look for a brand new item or package at a special price that is good for ONE DAY ONLY! Wholesale/Dealer orders will not receive an additional discount. Limited sets are available and items are good for only one customer/household and sold first-come, first-served. When they're gone — they're GONE!