Daily Special for 11/27/2015

BLANK FRIDAY BONANZA!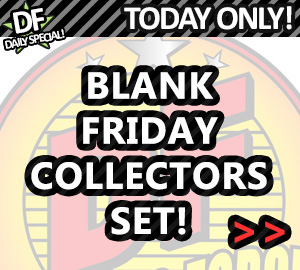 HURRY! - WE ONLY HAVE 11 LEFT!

BLANK FRIDAY BONANZA!
Price: $52.25
Shipping: December, 2015
Today's special features TWENTY-FIVE tremendous collector's item comics for just $52.25! You will receive a mixed assortment of premium randomly chosen comics from our wide variety of signed, variant edition, limited edition, retailer exclusive, foil enhanced variant covers, limited DF Exclusive comics and more!!! Topped with not one, not two, not three, not even four, but FIVE, YES FIVE randomly chosen blank covers for one (or more) of your favorite artists (or YOU) create your very own masterpieces! A combined MSRP of $299 or higher, all for just $52.25! Only 25 sets are available today! IN STOCK AND READY TO SHIP FOR THE HOLIDAY SEASON!!!

* 5 SIGNED AND CERTIFIED COMICS!!!

* 5 LIMITED EDITION COMICS!!!

* 5 RETAILER EXCLUSIVE EDITION COMICS!!!

* 5 VARIANT EDITION COMICS!!!

* 5 BLANK EDITION COVER COMICS!!!

AND 3 BONUS BLACK FRIDAY ITEMS:

* 1 REMARKED COMIC!!!

* 1 FOIL ENHANCED COMIC!!!

* 1 MYSTERY BONUS!!!

* Please note: Sets are picked at random. Multiple orders may receive duplicate books.


DF Daily Specials are our way of saying an extra special thanks to our customers! Each and every day, look for a brand new item or package at a special price that is good for ONE DAY ONLY! Wholesale/Dealer orders will not receive an additional discount. Limited sets are available and items are good for only one customer/household and sold first-come, first-served. When they're gone — they're GONE!