Daily Special for 01/25/2015

SUPER STAN SUNDAY SPECTACULAR!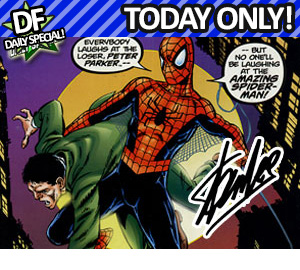 HURRY! - WE ONLY HAVE 1 LEFT!

SUPER STAN SUNDAY SPECTACULAR!
Price: $250.00
Shipping: In-Stock!
It's Sunday and we've got one amazing deal for YOU our most BESTEST FANS FOREVER!!! You can even say you're our BFFs!!! With this DF Daily Special, you will receive one randomly chosen CLASSIC STAN LEE SIGNED COMIC!!! Chosen from a wide variety of CLASSIC MARVEL TITLES starring your favorite heroes many of which would not be here today if it weren't for STAN "THE MAN" LEE!!! But hurry!!! Only 3 of these gems will be available today!!! Secure yours while you still can!!!

* ONE RANDOMLY CHOSEN CLASSIC STAN LEE SIGNED COMIC!!! (Regular MSRP $499.99 or higher!!!)


DF Daily Specials are our way of saying an extra special thanks to our customers! Each and every day, look for a brand new item or package at a special price that is good for ONE DAY ONLY! Wholesale/Dealer orders will not receive an additional discount. Limited sets are available and items are good for only one customer/household and sold first-come, first-served. When they're gone — they're GONE!