Daily Special for 10/31/2014

ALL HALLOWS EVE SPOOKTACULAR! HAS SOLD OUT!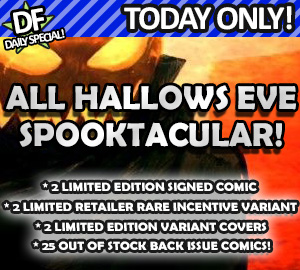 SORRY, BUT TODAY'S DAILY SPECIAL
HAS SOLD OUT!
WE WILL RETURN AT NOON WITH ANOTHER DF SPECIAL!
ALL HALLOWS EVE SPOOKTACULAR!
Price: $31.31
It's the best holiday of the year. We get dressed up as our favorite characters. We get to walk around from house to house and ask for candy and goodies and not have to give anything back. How does it get better than this? Well, from your friends at Dynamic, we're giving you a HUGE mega package of goodies with 31 RANDOM comics featuring autographed comics, limited editions and cool out of print back issues. These are specially priced at $31.31 for All Hallows Eve! And there are only a "lucky 13" in quantities available!

WA HAHAHHAHAHHAHAHHAA!

Random Books will include:

A - 2 limited edition signed comic.

B - 2 limited edition Retailer Rare Incentive Comic Variant.

C - 2 Limited Edition Variant Covers

D - 25 Out of Stock back issue comics!


DF Daily Specials are our way of saying an extra special thanks to our customers! Each and every day, look for a brand new item or package at a special price that is good for ONE DAY ONLY! Wholesale/Dealer orders will not receive an additional discount. Limited sets are available and items are good for only one customer/household and sold first-come, first-served. When they're gone — they're GONE!