Daily Special for 10/23/2014

TERRIFIC THURSDAY SUPER SET!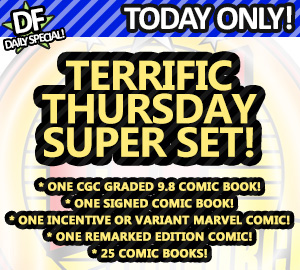 HURRY! - WE ONLY HAVE 6 LEFT!

TERRIFIC THURSDAY SUPER SET!
Price: $77.77
Today's special features a "Terrific Thursday Super Set!" of awesome collector's items valued at well over $250 all for just $77.77! This package contains one of each of our hottest collector's items: One CGC Graded comic with a high grade of 9.8! One hand-drawn re-marked edition comic book! One signed edition comic book! And one rare incentive or exclusive edition comic! And it will arrive atop a stack of 31 comics books! All for just $77.77! Only 7 sets are available for today's special!

* ONE RANDOM CGC GRADED COMIC BOOK GRADED 9.8! This book really makes the grade at 9.8 and we are offering it to you as part of this stellar set! (Regular MSRP $89.99)

* ONE SIGNED COMIC BOOK! This fabulous signed comic will be the perfect addition to any collection! Signatures range from Greg Land, Matt Fraction, Alex Ross, Kevin Shinick, Brian Michael Bendis, Terry Dodson, Tim Seeley, Paul Tobin, Jeff Parker, Ed Brubaker, Paolo Rivera, John Romita Jr, Tom DeFalco, Clayton Crain, Phil Noto, Jimmy Palmiotti and many more of the most awesome creators in the biz today! (Minimum regular MSRP $29.99 or higher)

* ONE INCENTIVE OR VARIANT EDITION MARVEL COMIC! This set wouldn't be complete without one of these limited edition Marvel comics! Rare incentive and variant editions are among the hottest collectible's out there and we are going to send one your way as part of this package! (Regular MSRP $14.99 or higher)

* ONE RANDOM REMARKED EDITION COMIC! We have had one of our "dynamic" sketch artists add an original work of art directly on the cover of a comic book! That's right, a mighty masterpiece hand-drawn right on the cover! (Regular MSRP $89.99)

* and in the spirit of Halloween... 31 COMIC BOOKS! From across the realm of comics, this is a randomly selected pack of great comics to help introduce you to new heroes, villains and adventures!

* PLEASE NOTE: Sets are picked at random, multiple orders may receive duplicate books.


DF Daily Specials are our way of saying an extra special thanks to our customers! Each and every day, look for a brand new item or package at a special price that is good for ONE DAY ONLY! Wholesale/Dealer orders will not receive an additional discount. Limited sets are available and items are good for only one customer/household and sold first-come, first-served. When they're gone — they're GONE!