Daily Special for 07/27/2016

CIVIL WAR WEDNESDAY! HAS SOLD OUT!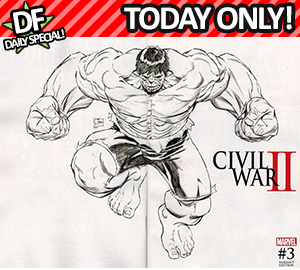 SORRY, BUT TODAY'S DAILY SPECIAL
HAS SOLD OUT!
WE WILL RETURN AT NOON WITH ANOTHER DF SPECIAL!
CIVIL WAR WEDNESDAY!
Price: $62.00
Shipping: September, 2016
It's Wednesday, aka NEW COMIC BOOK DAY and CIVIL WAR II #4 hits shelves TODAY!!! After the shocking reveal in issue #3, we wanted to do something REALLY special today!!! We're celebrating with an all-new CGC graded copy of the rare midnight release wraparound variant by JOE QUESADA! You'll receive 1 copy CGC graded at a high 9.6 or 9.8 and one copy polybagged for you to open yourself! We're offering just a few of these at the LOW EVENT PRICE of $62.00 in honor of the year The Hulk first appeared in The Incredible Hulk #1 (May 1962).

* CIVIL WAR II #3 RARE JOE QUESADA WRAPAROUND VARIANT CGC GRADED AT A HIGH 9.6 or 9.8!!! (Regular MSRP $89.99)

* CIVIL WAR II #3 RARE JOE QUESADA WRAPAROUND VARIANT POLYBAGGED EDITION


DF Daily Specials are our way of saying an extra special thanks to our customers! Each and every day, look for a brand new item or package at a special price that is good for ONE DAY ONLY! Wholesale/Dealer orders will not receive an additional discount. Limited sets are available and items are good for only one customer/household and sold first-come, first-served. When they're gone — they're GONE!