Daily Special for 02/07/2016

SUPERBOWL SUNDAY SMORGASBORD! HAS SOLD OUT!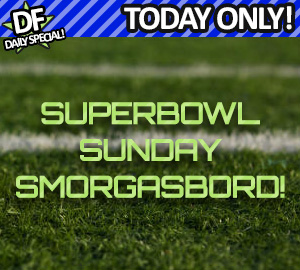 SORRY, BUT TODAY'S DAILY SPECIAL
HAS SOLD OUT!
WE WILL RETURN AT NOON WITH ANOTHER DF SPECIAL!
SUPERBOWL SUNDAY SMORGASBORD!
Price: $50.00
Shipping: March, 2016
In honor of SUPERBOWL 50, we've got one amazing deal for YOU, the greatest fans of all time!!! With this DF Daily Special, you will receive 9 randomly chosen comics!!! But these are not just any randomly chosen comics. For this milestone, we're picking the BEST OF THE BEST!!! A regular smorgasbord of rare & collectible comics including rare limited edition comics, signed comics, and even one ULTRA-LIMITED COMIC and ONE REMARKED COMIC!!! This set has a value of over $300 but is available for the event price of $50!!! But do not delay!!! Only 7 of these collector sets will be available today!!! Grab yours now!!!

* 2 RANDOMLY CHOSEN SIGNED COMICS - ONE SILVER SIGNATURE SERIES AND ONE GOLD SIGNATURE SERIES COMIC!!! (Combined regular MSRP $159.98)

* 7 RANDOMLY CHOSEN RARE & OUT OF PRINT COMICS, INCLUDING 1 ULTRA-LIMITED VARIANT COMIC, 2 LIMITED EDITION VARIANTS, AND ONE BLANK MARVEL COMIC WITH A HAND-DRAWN SKETCH!!! (Combined value of $89.99 or higher!)


DF Daily Specials are our way of saying an extra special thanks to our customers! Each and every day, look for a brand new item or package at a special price that is good for ONE DAY ONLY! Wholesale/Dealer orders will not receive an additional discount. Limited sets are available and items are good for only one customer/household and sold first-come, first-served. When they're gone — they're GONE!