Daily Special for 08/21/2014

LUCKY 21 THURSDAY AMAZING AUGUSTMAS ASSORTMENT!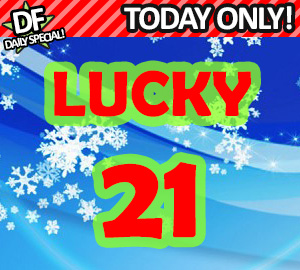 HURRY! - WE ONLY HAVE 21 LEFT!

LUCKY 21 THURSDAY AMAZING AUGUSTMAS ASSORTMENT!
Price: $21.21
It's Thursday the 21st and we want to kick off the weekend a bit early with something really special!!! Presenting LUCKY 21 THURSDAY!!! And what better day to have a LUCKY 21 set!!! KA-POW!!! We are happy to present this very special set this week to start kicking off the weekend into a DYNAMIC WEEKEND!!! 21 Comics!!! 21 Dollars!!! 21 cents!!! And only 21 sets!!!!!!!! And you know that this is just an INCREDIBLE valuable for you, our Dynamic Fans! Remember that song for the 12 Days of Christmas? Yes it's still AUGUSTMAS!!! This is the gift that really keeps giving!!! And while each package has random books, you know that we're going to place cool random comics together in each package making this one of the biggest packages you've seen that won't break the bank!!! The price may be low, but THIS IS A GIANT COLLECTORS PACK!!! This is going to be an amazing set that you absolutely do not want to miss!!!!!!!!!

21 RANDOM COMICS!

1 - A RANDOM DF SIGNED AND LIMITED EDITION COMIC!

2 - RANDOM DF LIMITED EDITION VARIANT COVERS!

3 - RANDOM LIMITED EDITION COVER COMICS!

4 - RANDOM INDEPENDENT PUBLISHER COMICS!

5 - RANDOM DC COMICS!

6 - RANDOM MARVEL COMICS!

* Please note: multiple orders may receive duplicate items.


DF Daily Specials are our way of saying an extra special thanks to our customers! Each and every day, look for a brand new item or package at a special price that is good for ONE DAY ONLY! Wholesale/Dealer orders will not receive an additional discount. Limited sets are available and items are good for only one customer/household and sold first-come, first-served. When they're gone — they're GONE!