This Week's Podcast: Episode 552 - SDCC Bound!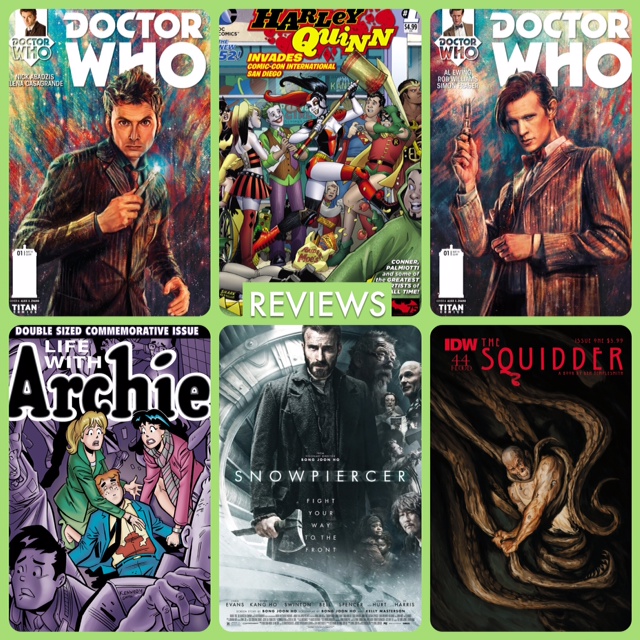 Reviews: Doctor Who: The Tenth Doctor #1, Doctor Who: The Eleventh Doctor #1, Harley Quinn Invades Comic-Con International San Diego #1, Life With Archie #36, Squidder #1, Snowpiercer

Producer Joe joins Jimmy before he heads off to San Diego Comic Con! They chat about what Jimmy will be covering in the show and the madness that will ensue all week. News includes: Thor will be female, Sam Wilson aka Falcon will be Captain America, Marvel's Agents of S.H.I.E.L.D., Powers and The Flash TV shows get casting, Duane "The Rock" Johnson may have let slip that he's playing Shazam, Dynamite gets The Spirit, Valiant's Archer & Armstrong heading to big screen, Archie's Dark Circle Comics annunces first titles, Geoff Johns confirms that the DC film and TV universes will remains separate, and the Harvey Awards nominations are out! Leave your iTunes comments! 5 stars and nothing but love!



Thanks for listening!

Past Episodes:

Episode 551 - Vampire Cowboys Return!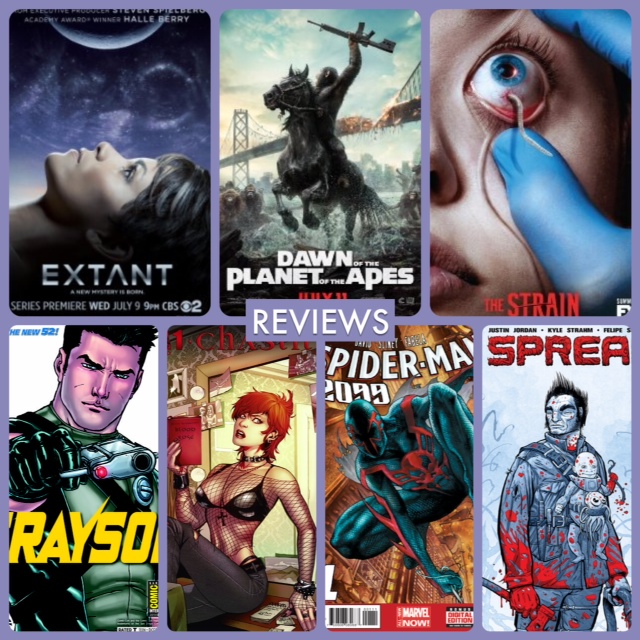 Reviews: Chastity #1, Grayson #1, Spider-Man 2099 #1, Spread #1, Extant, The Strain, Dawn of the Planet of the Apes
The Vampire Cowboys Theater Company returns to CNI! Jimmy heads down to their rehearsal space for their new show Untitled Vampire Cowboys Project and is joined by pals/fellow Asians writer Qui Nguyen and actor Jon Hoche. Both, of course, are very familiar to the CNI audience as they've co-hosted many many times in the past. Be prepared for madness and hilarity! Jimmy and Jon give love to Qui on his Emmy win for Peg+Cat, they chat about the new Doctor Who trailer, praise Gail Simone on her new Comics Survival Kit Tumblr site and Jimmy's obsession love passing fancy of YouTube sensation Zoella. News includes: new Batgirl creative team announced, Archie's superhero line gets rebranded, Dredd illustrated screenplay out this week, Lucy Knisley brings something new, and Lucy Griffiths departs Constantine. Jimmy also gives a little heads up of his upcoming San Diego Comic Con coverage and boy howdy is it as crazy as always! Leave your iTunes comments! 5 stars and nothing but love!



Thanks for listening!
Episode 550 - Fumbling Towards SDCC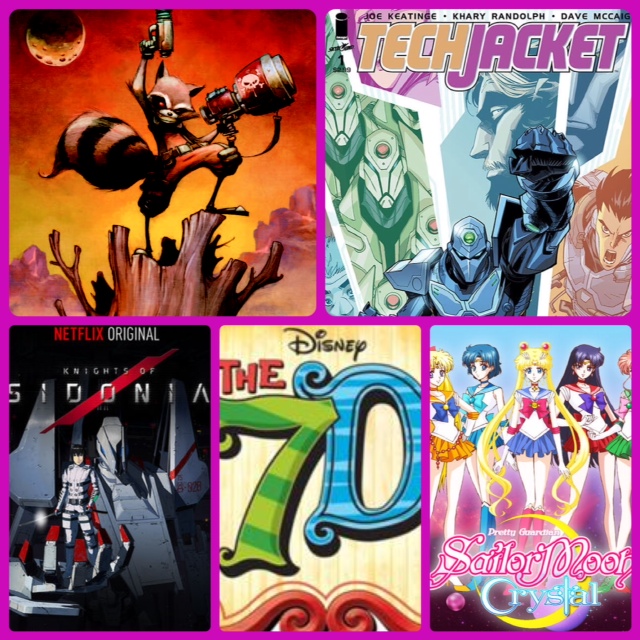 Reviews: Rocket Raccoon Vol 2 #1, Tech Jacket Vol 2 #1, Knights of Sidonia, Sailor Moon Crystal, The 7D
The podcast wife Erica Schultz returns! Jimmy hopes you loved his massive Heroes Con coverage. If you missed it, just go back and check out the last 5 episodes! They give some mad love to the Hero Initiative and their awesome professional volunteers, wish Heidi MacDonald and The Beat a Happy 10th Anniversary, giggle at the broody Superman picture released, guffaw at the Fox ADHD Captain America song parody and Jimmy expresses glee over Community getting a season 6 on Yahoo. They also end with talking about their tentative San Diego Comic Con plans (hint: SUPER BUSY). News includes Starz developing Neil Gaiman's American Gods, Vertigo announces The Kitchen, Amazon announces top comics of 2014 so far, Sleepy Hollow TV show coming to comics, Green Arrow comic gets new writers, Arrow TV show gets many a new cast member, Barnes and Noble announces Get Pop Cultured, and Marge Simpson goes MAC (cosmetics). Leave your iTunes comments! 5 stars and nothing but love!



Thanks for listening!
Episode 549 - Heroes Con: Shop Talk Panel w/ Eric Canete/Cliff Chiang/Michael! Cho/Ming Doyle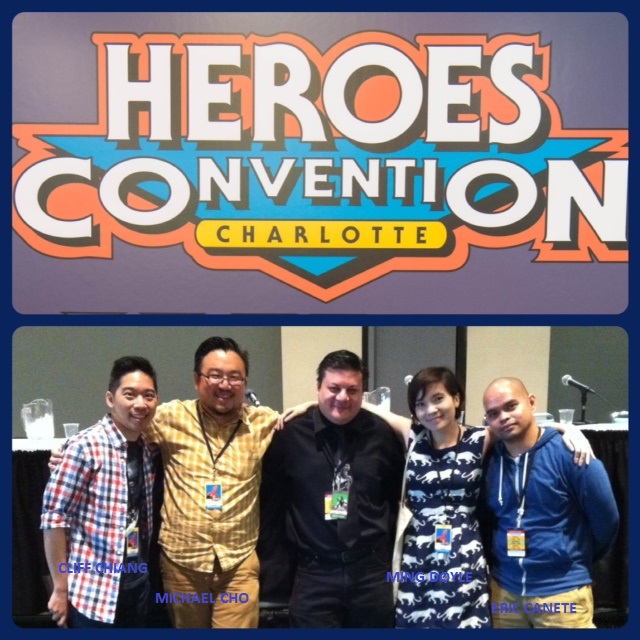 Jimmy moderated the Shop Talk panel with Eric Canete, Cliff Chiang, Michael Cho and Ming Doyle. They chatted about their craft and how they became the incredibly talented artists that they are today. And how they continue to challenge themselves into becoming even better (if that's even possible!). Tools of the trade, penciling, inking, coloring, digital art, styles and so much more was discussed. Leave your iTunes comments! 5 stars and nothing but love!



Thanks for listening!
Episode 548 - More Heroes Con w/ Stephanie Gladden, Paul Maybury, Adam Withers/Comfort Love, Bridgit Connell/Brockton McKinney, Jeremy Whitley, Valerie Stern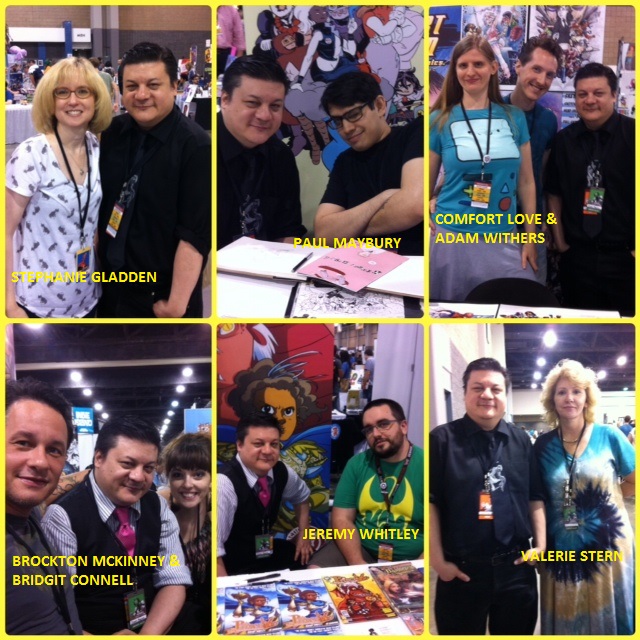 Reviews: Defiance, Falling Skies, Orphan Black (season finale), The Musketeers, True Blood
Yet even more Heroes Con interviews so Jimmy flies solo. He sat down over the weekend with a bunch of awesome cartoonists to talk about their work. You'll hear from Stephanie Gladden (Girls of Monster Paradise), Paul Maybury (Sovereign), Adam Withers/Comfort Love (The Uniques), Bridgit Connell/Brockton McKinney (Killer Queen), Jeremy Whitley (Princeless), and Valerie Stern (Hooray for Harold). News includes: DC announces 2 new Batman books (Gotham Academy & Arkham Manor), Dynamite offers huge Humble Bundle package, Porkins gets a bust and more! Hope you enjoy. Leave your iTunes comments! 5 stars and nothing but love!



Thanks for listening!
Episode 547 - Heroes Con: Archie Panel w/ Francesco Francavilla/Paul Kaminski/Alex Segura!
Jimmy moderated the Archie panel with Afterlife With Archie artist Francesco Francavilla, Paul Kaminski (Executive Director of Editorial) and Alex Segura (SVP Publicity and Marketing) to talk all things Archie Comics from the hit horror series Afterlife With Archie, the upcoming "Death of Archie" in the pages of Life With Archie, the live action Archie movie, video games, Sabrina the Teen-Age Witch, classic Archie stories, crossovers, new characters, Red Circle Comics and much more. They coverA really great and informative discussion. Leave your iTunes comments! 5 stars and nothing but love!



Thanks for listening!
Comic News Insider is your source for news, reviews and interviews on everything comic book, animation, sci-fi and pop culture! Hosted by Joe Gonzalez and Jimmy Aquino, CNI is a weekly podcast that is both informative and entertaining. Joe and Jimmy review new weekly comic titles, deliver the latest industry news and share their Top 3 Pick of the Week. Special episodes include guest interviews with the biggest names in the comic book industry today as well as guest segments including Blair Butler from G4's Attack of the Show. Tune in every week to get your comic book news and more!