This Week's Podcast: Episode 596 - Live Long and Prosper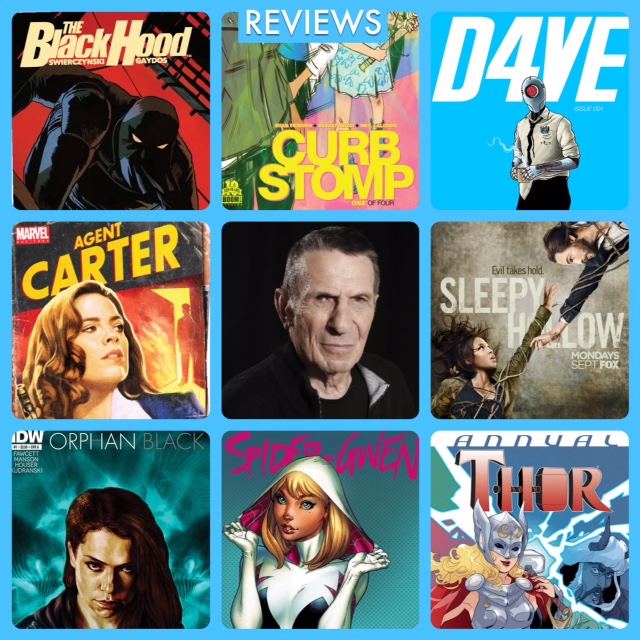 Reviews: Black Hood #1, Curb Stomp #1, D4VE #1, Orphan Black #1, Spider-Gwen #1, Thor Annual, Agent Carter finale, Sleepy Hollow finale

The podcast wife Erica Schultz is back again by popular demand! She and Jimmy chat briefly about that sweet Power/Rangers fan film, the recent Star Wars Rebels reveal and give some major love to the late Leonard Nimoy. News includes: Noelle Stevenson is reviving The Runaways, CW's The Flash and Arrow spawn spinoffs, Adventure Time is heading to the big screen, Joe Madureira's Battle Chasers may be returning, House DeFraction inks a TV deal, DuckTales returns, Harrison Ford is coming back to Blade Runner, Netflix is bringing original/rebooted cartoons, Grace Helbig and Hannah Hart are Electra Woman and DynaGirl, and more casting for Supergirl, Lucifer and Daredevil. Leave your iTunes comments! 5 stars and nothing but love!



Thanks for listening!

Past Episodes:

Episode 595 - And the Oscar For Best Podcast Goes to...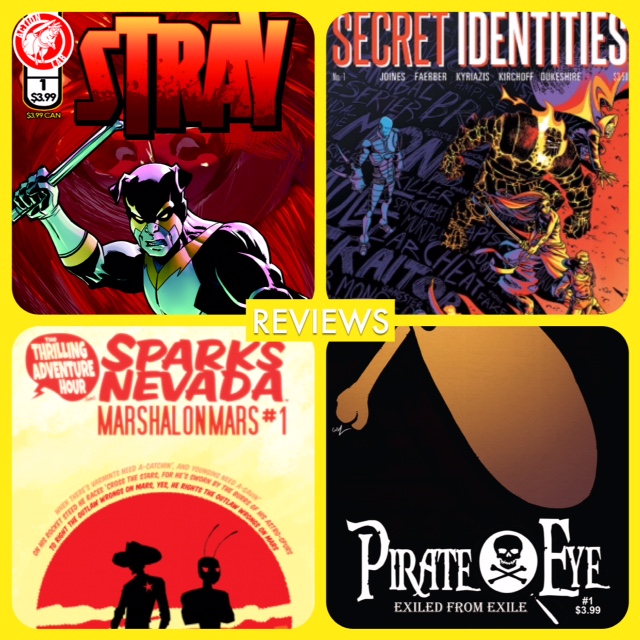 Reviews: Adventure Hour Presents Sparks Nevada Marshal On Mars #1, Pirate Eye Exiled From Exile #1, Secret Identities #1, Stray #1
The podcast wife Erica Schultz returns! She and Jimmy chat briefly about the nerdy bits from the Oscars, the Jason Momoa as Aquaman picture and Spielberg being on board for Chris Pratt to play Indiana Jones. News includes: Dynamite announces Swords of Sorrow series and The Spirit revival, Invader Zim is back in comic book form, Archie Comics to end with issue #666, a man is dressed as Green Lantern at his wake and lots of TV/film casting news. 5 stars and nothing but love!

Thanks for listening!
Episode 594 - Never Live Tweeted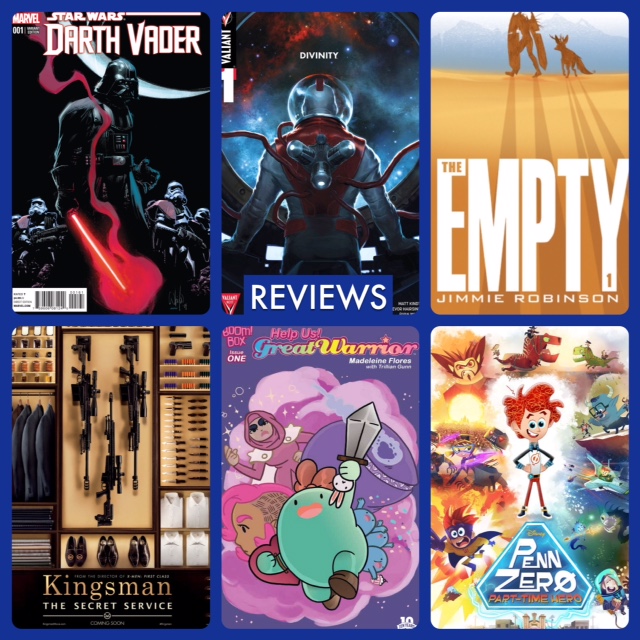 Reviews: Darth Vader #1, Divinity #1, Empty #1, Help Us Great Warrior #1, Kingsman: The Secret Service, Penn Zero: Part-Time Hero
The podcast mistress Emily Edwards returns and once again trudges through the icy snow to co-host. They chat about their weeks and the best line from the SNL 40th anniversary special. (Hint: no live tweeting). News includes: brothers Gabriel Ba & Fabio Moon team up again for Two Brothers from Dark Horse, Game of Thrones Season 5 will kill off characters not dead in books, Star Wars at sea, Kirkman's Outcast coming to Cinemax, Gina Carano joins the Deadpool film (along with "Colossus") and Daniel Kinnaman is in talks to play "Rick Flagg" in the Suicide Squad film. 5 stars and nothing but love!



Thanks for listening!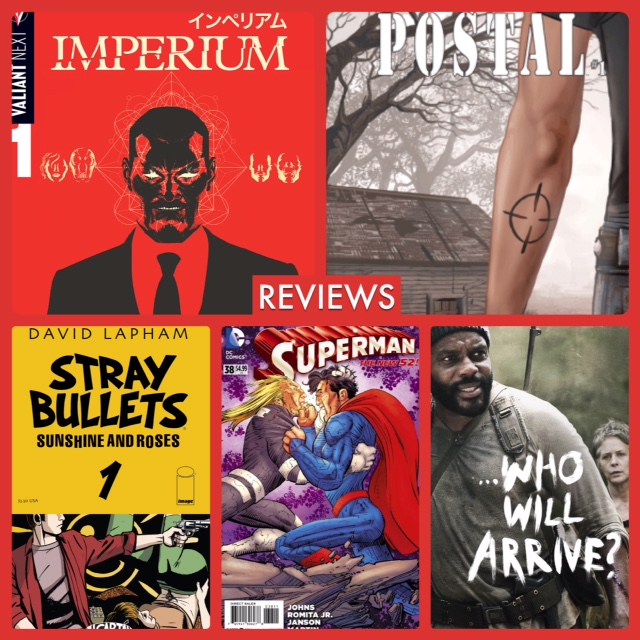 Reviews: Imperium #1, Postal #1, Stray Bullets Sunshine And Roses #1, Superman Vol 4 #38, The Walking Dead
The podcast mistress Emily Edwards makes a comeback! They chat about the Daredevil trailer and the rumor of Constantine possibly moving to the SyFy network. Besides the regular comic book reviews, they talk in length about the mid-season premiere of The Walking Dead. News includes: DC Comics announces 24 new titles for a summer release, all-female Avengers to assemble in A-Force, Sony and Marvel Studios agree to bring Spider-Man into the Marvel Cinematic Universe and Scribd jumps on the scene to stream comics. 5 stars and nothing but love!



Thanks for listening!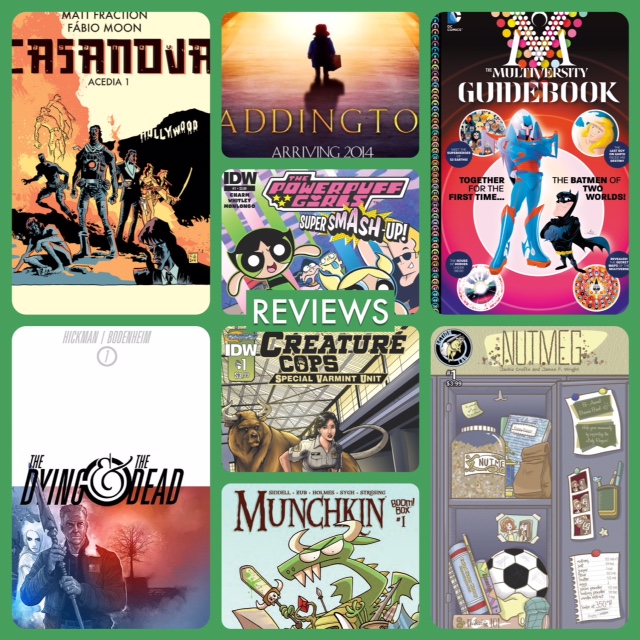 Reviews: Munchkin #1, Casanova Acedia #1, Creature Cops: Special Varmint Unit #1, Dying And The Dead #1, Multiversity Guidebook #1, Nutmeg #1, Powerpuff Girls Super Smash-Up #1, Paddington
The podcast wife Erica Schultz braves the cold and slush to return for a review-filled episode! They chat about the Game of Thrones season 5 trailer and Jimmy is doing Veronica Varlow's 28 Day Danger Diary Instagram Photo Challenge. News includes: Superman gets another power and costume tweaks, upcoming Teen Titans series will not have Beast Boy or Cyborg but will include Hawk & Dove and Barbara Gordon, turn your iPhone 6 into a Batmobile, Copenhagen man can't be called "Superhero" and Akira creator wins Angouleme Grand Prize. 5 stars and nothing but love!



Thanks for listening!
Episode 591 - Snowmageddon Canceled

Reviews: Creeple Peeple #1, Galaxy Quest Journey Continues #1, Powers Vol 4 #1, Reyn #1
Due to the over-hyped storm and transportation cancellations, Jimmy recruits Producer Joe to fill in the rotating co-host chair. They chat about the new Fantastic Four trailer and how Jimmy's buddy John Cassaday finally joins the world of Twitter. News includes: Milestone Media is back, racist bus ads get improved by Ms. Marvel art, Scooby gets LEGO-ed, Special Edition: NYC and MoCCA get new venues, and tons of casting news! Leave your iTunes comments! 5 stars and nothing but love!



Thanks for listening!
Comic News Insider is your source for news, reviews and interviews on everything comic book, animation, sci-fi and pop culture! Hosted by Joe Gonzalez and Jimmy Aquino, CNI is a weekly podcast that is both informative and entertaining. Joe and Jimmy review new weekly comic titles, deliver the latest industry news and share their Top 3 Pick of the Week. Special episodes include guest interviews with the biggest names in the comic book industry today as well as guest segments including Blair Butler from G4's Attack of the Show. Tune in every week to get your comic book news and more!