DYNAMITE ENTERTAINMENT'S JANUARY 2013 SOLICITATIONS!
10/04/12 @ 4:25 pm EST
Source:
Dynamite
|
Comments
(0) |
E-mail Article
|
Add a Comment
You've seen bits and pieces here and there on the internet, now Newsarama has posted all of Dynamite Entertainment January solicits!
http://www.newsarama.com/comics/dynamite-december-2012.html
"LIKE" DYNAMITE'S FACEBOOK PAGE TODAY!!!
http://www.facebook.com/dynamitecomics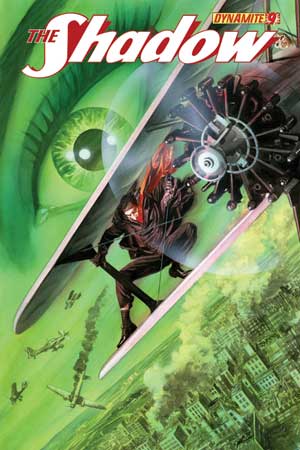 "WHY IS EVERYONE WEARING SWIMMING GOGGLES?" - DAVID AVALLONE ON LEGENDERRY: VAMPIRELLA #4
03/02/15 @ 3:57 pm EST
Source:
Bleeding Cool
| Categories:
Legenderry Vampirella
|
Comments
(0) |
E-mail Article
|
Add a Comment
The five-issue
Dynamite
series
Legenderry: Vampirella
is in comic shops now and
Byron Brewer
caught up with series writer
David Avallone
to talk about taking the iconic character and putting her in a whole new world… and the important question of "Why is everyone wearing swimming goggles?" Cover art by
Sergio Davila
.
BYRON BREWER: Just from the look of the May solicits, you HAVE to be having fun doing this book, David.DAVID AVALLONE:
I am. I'm glad it comes across. I'm trying to write a comic I would want to read. And I want to be entertained. I couldn't be enjoying it more.
BB: What has been the most rewarding part of teaming with artist David Cabrera (besides a sharing of same first name, that is)?DA:
David is great. I can't say that enough: I'm very lucky to have him on the book. The most rewarding part is that he frequently comes up with a visual approach that's more interesting and more imaginative than what I put in the script. It's like working with a great actor. You have in your mind what you think is the best way to play the scene, and then they do something fantastic you never saw coming.
BB: Tell us more about this "Bat-Man" that Vampi meets this issue, if you dare!DA:
The idea came organically (no pun intended): I've got Doctor Moreau as one of my villains. In the Wells book and our series, he creates human-animal hybrids. Well, how would a human/vampire (human/Draculon) hybrid turn out? It seemed like an opportunity to engage in a little cheap satire of certain famous caped crusaders. Additionally… as established by Bill Willingham, the Legenderry universe tries to bring all the Dynamite characters together in one continuum, so this is my twisted steampulp version of the Black Bat.
BB: It looks like you are having a blast writing Kurtz. What is it about this character that you find so enjoyable? Is he your fave character in this book?DA:
I don't think Kurtz is my favorite, but I do love him. He's a mashup of two epic, iconic characters, and in Chapter Four he finally gets to deliver a Kurtz trademark line in a very Kane setting. When I first saw the big Kurtz rally scene, as drawn by David C., it made me laugh out loud. I'm hoping some of the readers have the same reaction.As to my favorite character… I'd have to confess I've fallen for Vampirella. She's irresistible: a composite of all the strong no-nonsense women I've admired and loved my whole life. Second runner up might be Rupert of Hentzau, because he's a fearless coward. That's a fascinating thing.
BB: So I will ask you a question a young reader asked me at my LCS one week: Why is everyone wearing swimming goggles? (laughs)DA:
Believe it or not, this really bugged me and I put a lot of thought into it. I wanted a better explanation than "because Steampunk", and here's what I've arrived at. Fashion is rarely connected that strongly to function. Neckties, for example, have no actual function: they're a weird echo from an earlier time and we don't wipe our mouths on them, nor do we generally use them to display our clan affiliation. I think in the world of Legenderry, they're a fashion trend started by Flash Gordon. The quintessential spaceman crash lands wearing goggles, becomes the biggest celebrity in the world, and now everyone's wearing them. Because they're cool, and Flash Gordon wears them. Flash might have needed them once, but on everyone else they're just like a necktie, or a baseball hat worn backwards. No function, just a world of people who think they look cool.This explanation appears nowhere in the comic, by the way … but you asked, and now you know. That's why. Goggles are "in" right now.
BB: How this book remains adventurous and funny as well baffles me. Is it a thin line?DA:
That sounds like a compliment, and I'll take it. Thanks. I have very little patience for books, movies, comics, plays, anything that is completely without humor. Because that's just not my experience of life, or the world. When I think of some of the worst things that have ever happened to me… there was always some part of it that was funny, even if it was bleakly funny, gallows humor. I find people who aren't funny to be terribly dull, and I get bored writing them. I like the style you find in movies from the thirties, where even the most minor character would get off at least one great, funny, clever line. I think that's more entertaining. Purely realistic dialogue is highly overrated, but the tricky part… the thin line… is making the dialogue smart and funny and yet still feel real. That's what I aim for, anyway.
DF NEWS' BYRON BREWER VISITS THE WIZARD'S DEN OF FRANK THORNE
03/02/15 @ 3:49 pm EST
Source:
Bleeding Cool
| Categories:
MIsc
|
Comments
(0) |
E-mail Article
|
Add a Comment
Dynamite
has released the
Frank Thorne's Red Sonja Art Edition Vol 2
hardcover earlier this month and
Byron Brewer
got the opportunity to visit with the legendary artist about the work and his career. This is the transcript of Byron's visit to
Frank Thorne's
studio.
FRANK THORNE:
Welcome to my studio, Byron.
BYRON BREWER: It's an honor, Mr. Thorne.FT:
Please, call me Frank. Would you like coffee? Tea?
BB: A Sprite if you have it.FT:
(Calls down to wife Marilyn in the first floor kitchen). Two Sprites. I'm an alcoholic, but I've been off the sauce for many years. I went cold turkey. But it's wise to keep this in mind: Once an alcoholic always an alcoholic.
BB: I admire your openness on the subject.
FT:
I stopped when I began my big art period, that's when I started painting on canvas, some are very large, as you see they're stacked against the walls here in the studio and the adjoining computer room and the storage room.
BB:Your work area rooms are surprisingly small.FT:
None are larger than ten by twelve feet, one's even smaller.
BB:The variety of your big art is amazing, here's a huge action painting next to a sizable drip painting.FT:
The subjects vary, most are fantasy images; eerie landscapes, some are my linear renditions of works by my favorite artists. None were spared, I've done some Picassos, Van Goghs, you name it. You can learn a lot by actually painting in the masters style. I've done upwards of 300 paintings, most of them are stacked in the cellar. I ran out of room up here.
BB:In the hall gallery, the big one next to the Sonja painting is impressive.FT:
That's N.C. Wyeth's Blind Pheu. I painted it the same size as his original; his paintings were very large. N.C. was the father of American illustration.
BB: Are you painting any warrior women these days?FT:
Having left my big art period behind, I've been painting a new series; large versions of all the covers of my Red Sonja, Ghita, and my erotic books. Most are twenty-four by thirty inches. Let's have a look.(We move into storage room)
BB:This is quite a collection!FT:
Twenty and counting, I'm preparing for my first one-man show at the Illustration House Gallery in Manhattan, Most of my run of Sonja originals will be on view. Plus Lann, Moonshine McJugs, and the rest of my paper ladies
.
BB:That's quite a cast of characters.FT:
They all have their roots firmly in the great craftsmen of yore. Let's start with Alex Raymond and Harold Foster, they ruled in my generation. I was a Raymond clone in my teens. I did several pulp magazine illustrations in the late 40s. Inexcusably bad. But, as luck would have it, I walked in to King Features with crude samples of some of the comic book work done while I was attending Art Career School atop the Flatiron Building in Manhattan.
BB: And they handed you the Perry Mason daily and Sunday strip!FT:
Bingo! Whatta way to start in this racket. I was making 250 bucks a week, which in today's money is like 2000. We bought a house and a brand-new canary-yellow Chevy convertible. Marilyn and I were just married and 21 years old.
BB:A daily and Sunday strip, that's a lot of work for one person.FT:
It nearly killed me. After two years, of a sudden, William Randolph Hearst died. Earl Stanly Gardner was a bud of Hearst, and the Mason strip had a dwindling number of papers, so the King honchos trashed series. I went over to Western Printing and did Flash Gordon, Jungle Jim, Tom Corbett, Space Cadet, even a couple of Lone Ranger books.
BB:Then came Dr. Guy Bennett.
FT:
I did the good doctor for the Lafave Syndicate. Seven important years. It was in this period that I really started moving away from the Raymond Style. I'm still evolving, 60 years later.
BB:You did commercial illustration during that time period.FT:
A whole bunch. Mostly for the old Bell Telephone Company, now Verizon. I did a series of Tel-News illos, tat gig was the top-paying gig in Jersey at that time: 800 per, think of it in today's money.
BB:Mighty Samson entered your life in the 60's.FT:
Sixty-four. Smelly San was hatched at Gold Key, with the great Otto Binder scripting. It was my first opportunity to design all the characters and create a world of my own, it wasn't the last. Meanwhile, I was doing a lot of titles over at DC: Tarzan, Son of Tarzan, Hunter's Hellcats, Twilight Zone, Boris Karloff Presents assorted others then Tomahawk, Hawk, Son of Tomahawk, Korack, Son of Tarzan, and then Red Sonja, daughter of none.
BB: Kismet!FT:
The rest is writ in the stars. Our lives were changed forever, and I want to thank Roy Thomas for making Sonja a superstar. Sonja opened the doors of National Lampoon, Heavy Metal. Hustler, Vanity Fair, High Times, and Playboy.
BB:Of all those creations, which is your favorite?FT:
Moonshine McJugs, my full-page color comic for Playboy. In 1980 Michelle Urry, the cartoon editor, called me and asked if I would like to contribute to Hefner's magazine. Out popped Moon. Hef bought the sample and ran it. It was the beginning of a 20-year run.
BB:You did full-page gags as well.FT:
Yep, and I won the Playboy Oscar for the best comic in '83. Coming up with a funny gag with a continuing cast on a single page is a challenge. Writing humor is serious business. Linda Correll, my muse, sometime mistaken for my model (I don't use models, I draw what's in my head. That's the difference between illustrators and cartoonists. Cartoonists can't afford models, they draw from their imaginations), performed on the Playboy Channel, doing both Moonshine and Ghita of Alizarr.
BB:What role did you play on the show?
FT:
I was Uncle Zit opposite Moon, and the Wizard opposite Ghita I scripted the show using gags from the magazine series. We, Marilyn and myself, owe a great debt to Hugh Hefner, He tand Michelle Urry treated us like family over the years.
BB:Here we are with book two of the Red Sonja Art Editions, we'd be interested in your opinion so far.FT:
Well done! You do good work. We'll see that all our children (4) grand-children (10) and great-grandchildren (5) receive a copy of each!
BB:And thank you, Wizard for allowing me into see the Wizard
FAITH NO MORE BRINGS 'SUPERHERO' TO MARVEL
03/02/15 @ 3:19 pm EST
Source:
Marvel
| Categories:
Marvel
|
Comments
(0) |
E-mail Article
|
Add a Comment
It's been 18 years since Faith No More last released a studio album--1997's "Album of the Year." Soon, the wait for new music will be over, as FNM delivers "Sol Invictus" on May 19, 2015. With it, comes a deeper touring schedule and much, well-deserved, hype.
The announcement was first made on Marvel.com. Why?
First off, the song is titled "Superhero." Methinks Marvel knows a bit about super heroes. Secondly, Faith No More bassist Bill Gould grew up reading Marvel comics, with his love for Silver Surfer and the art of Jack Kirby being key.
Cool, eh?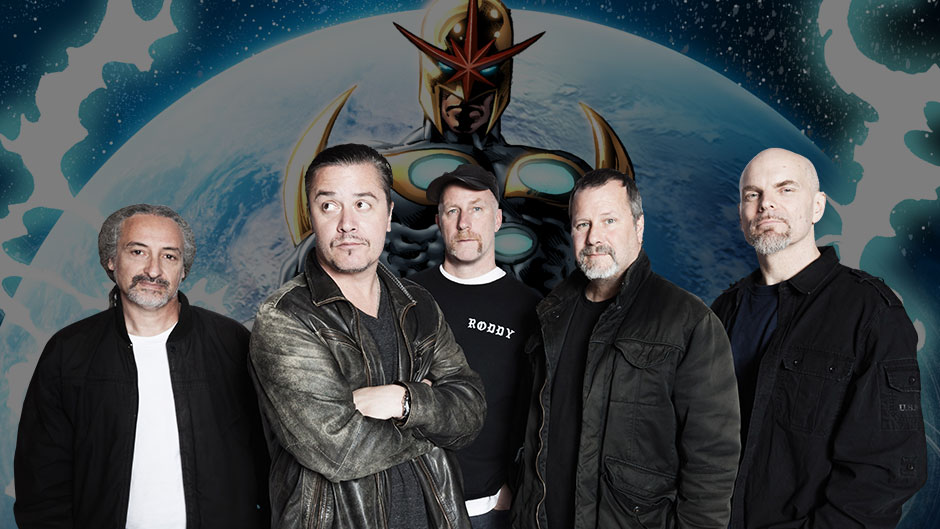 BATTLEWORLD'S BRIGHTEST TEENS ARE NOW – RUNAWAYS!
03/02/15 @ 3:09 pm EST
Source:
Marvel
| Categories:
Marvel
|
Comments
(0) |
E-mail Article
|
Add a Comment
This June, a cult-favorite comes to Battleworld in
RUNAWAYS #1
– a brand new
Secret Wars
series! Rising comic stars Noelle Stevenson (
NIMONA, Lumberjanes)
and Sanford Greene (
Uncanny Avengers)
bring you a new twist on a modern Marvel classic that's sure to appeal to
Runaways
fans old and new!
The best and brightest teens from all corners of Battleworld are hand-picked to attend the most prestigious academy on the planet's capital. Yet not all is as it seems within these hallowed halls. This esteemed educational establishment may just be grooming the next generation of super villains!
What happens when the new class learns they're on the fast track to evil and their headmaster is a diabolical super villain? RUN AWAY!
"Noelle and Sanford have come up with a fun cast of alternate reality versions of some fan-favorite characters (including original Runaway Molly Hayes!), plus a few new characters who we're really excited about," said editor Wil Moss. "It's a different take on
RUNAWAYS
, for sure, but that same fresh, adventurous, character-driven spirit of the original series remains the same!"
Now, teenagers Molly Hayes, Jubilee, Bucky Barnes, Cloak & Dagger, Amadeus Cho, Skaar and a few new faces are striking out on their own -- taking on Battleworld, learning to deal with each other, and learning to deal with themselves. Enter the world of a Secret Wars story unlike any other when Stevenson and Greene bring you a new spin on the Runaways this June in
RUNAWAYS #1
!
RUNAWAYS #1 Written by NOELLE STEVENSON
Art & Cover by SANFORD GREENE
Variant Cover by PHIL NOTO
On Sale in JUNE!
YOUR NEW LOOK AT SIX WHAT THE DUCK?! VARIANT COVERS FOR APRIL!
03/02/15 @ 3:03 pm EST
Source:
Marvel
| Categories:
Howard The Duck
|
Comments
(0) |
E-mail Article
|
Add a Comment
The highly anticipated release of
Howard the Duck #1
is just over a week away. Can't wait till then? Marvel is keeping the celebration going all the way into April with special
WHAT THE DUCK?! Variant Covers
to some of your favorite Marvel titles. Today, Marvel is pleased to present 6 new variant covers from some of the hottest artist in the industry – each with a unique spin on that magnificent mallard!·
Ant-Man #4 - WTD Variant Cover by Dave Rapoza·
Daredevil #15 - WTD Variant Cover by Marguerite Sauvage·
Deadpool #45 a.k.a. Deadpool Number 250 - WTD Variant Cover by Sanford Greene·
Hulk #14 – WTD Variant by Rafael Albuquerque·
Legendary Star-Lord #11 - WTD Variant Cover by James Stokoe·
Spider-Gwen #3 – WTD Variant Cover by Sergio Aragones
Look for these additional WHAT THE DUCK?! Variants to grace the covers of these exciting Marvel comics throughout the month of April:·
All-New Captain America #6·
All-New Hawkeye #2·
All-New X-Men #41·
Amazing Spider-Man #17·
Guardians of the Galaxy #26·
Inhuman #14·
Legendary Star-Lord #11·
Ms. Marvel #14·
Rocket Raccoon #10·
S.H.I.E.L.D. #5·
Silk #3·
Spider-Gwen #3·
Superior Iron Man #7·
Thor #7·
Uncanny Avengers #4· Uncanny Inhumans #0
No fan can afford to miss out on these exciting variant covers featuring that fabulous fowl! Run, don't walk to your comic shops this April to get your hands on these can't miss
WHAT THE DUCK?! Variant Covers
!
TITAN COMICS LAUNCHING BEST OF BRITISH THIS MAY
02/28/15 @ 8:23 pm EST
Source:
Flickering Myth
| Categories:
MIsc
|
Comments
(0) |
E-mail Article
|
Add a Comment
Launching this May from Titan Comics is the Best of British month, which will see some amazingly talented people being celebrated,whilst supporting bold new visions!
With such names as Si Spurrier, PJ Holden, Rob Williams, D'Israeli, Alan Martin, Monty Nero plus many more appearing, this is going to be quite exciting.
Best Of British month will be supported with promotions, events and it'll be kicking off with Free Comic Book Day.
GOD IS DEAD IN THIS TPB (VOLUME 5)
02/28/15 @ 8:17 pm EST
Source:
Avatar
| Categories:
MIsc
|
Comments
(0) |
E-mail Article
|
Add a Comment
Mike Costa's unbelievable ongoing story of divine wrath begins to draw all of its myriad strings together for what is the culmination of centuries worth of god wars on Earth.
The war ravaged planet has endured more than anyone could have imagined at the hands of the greedy gods. But now the master plans of the most devious dieties begin to unfold as century old machinations begin to be revealed.
What will happen in a world where the gods ravage mortals like playthings? You can find out in God is Dead Vol 5 TP due in comic shops this May!
ALAN MOORE'S PROVIDENCE #1 FROM AVATAR
02/28/15 @ 8:14 pm EST
Source:
Avatar
| Categories:
MIsc
|
Comments
(0) |
E-mail Article
|
Add a Comment
Avatar Press is proud to announce the long awaited Alan Moore original Lovecrafitan horror series, Providence is finally here! Over two years of development has lead us to a pivotal point in comic book history. Alan Moore, the man who redefined comic books, once again joins his artistic collaborator Jacen Burrows to create an unparalleled work of fiction.

Providence #1:

The most important work of 2015 begins here with the longrrival of Alan Moore's breathtaking epic PROVIDENCE with his artistic partner Jacen Burrows. In his most carefully considered work in decades, Moore deconstructs all of Lovecraft's concepts, reinventing the entirety of his work inside a painstakinglyramework of American history. Both sequel and prequel to NEONOMICON, PROVIDENCE begins in 1919 and blends the mythical visions of HPL flawlessly into the cauldron of racial and sexual intolerance that defined that era on the East Coast of America. Every line from artist Jacen Burrows is perfectly honed to complete this immersive experience. The result is a breathtaking masterpiece of sequential art that will define modern horror for this generation. Invoking a comparison it to a prior literary masterpiece is not something to be handled lightly, but in scope, importance and execution: Providence is the Watchmen of horror.

Moore has designed every cover, every single page, and every nuance of this work to create his most fully-realized vision to date. There are no ads, all 32 pages are written by Moore, and Jacen Burrows has spent the past two years slaving over the finest detail possible on the pages. The entire work is already written, intricately crafted to tie the most nuanced threads together over the breadth of theries. Painstakingly researched, meticulously produced, this is a sequential masterpiece that will serve as important a call to the next generation of comic book writers as Watchmen did 30 years ago: this is a definitive demonstration of just how good a comic book can be. Available with Regular, Pantheon, Portrait, Dreamscape Wraparound, Women of HPL, and a special Ancient Tome Incentive cover, all by collaborator Jacen Burrows.




HARRISON FORD TO REPRISE ROLE IN "BLADE RUNNER" SEQUEL
02/28/15 @ 8:01 pm EST
Source:
CBS News
| Categories:
MIsc
|
Comments
(0) |
E-mail Article
|
Add a Comment
Harrison Ford is set to reprise his role as Rick Deckard in a sequel to the dystopian, neo-noir "Blade Runner," more than 31 years after the film first premiered.
Ridley Scott directed the 1982 movie, which was adapted from the Philip K. Dick novel "Do Androids Dream of Electric Sheep."
Alcon Entertainment announced Ford's role Thursday and said Scott will serve as an executive producer on the sequel.
Production on the film will begin in the summer of 2016.
Hampton Francher, who co-wrote the original, and Michael Green have written a script based on an idea from Francher and Scott.
The story will take place several decades after the events at the conclusion of the 1982 film.
A director has not yet been cofimed for the project.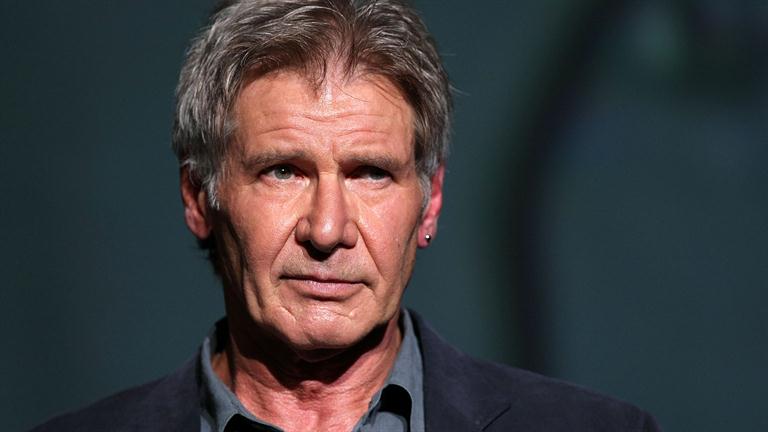 DANIEL CRAIG REPORTEDLY INJURED FILMING "SPECTRE" IN ROME
02/28/15 @ 7:51 pm EST
Source:
CBS News
| Categories:
MIsc
|
Comments
(0) |
E-mail Article
|
Add a Comment
James Bond's newest nemesis isn't a super villain or fellow spy -- it's the cobblestoned streets of Rome.

Current 007 Daniel Craig was reportedly injured in the Eternal City while filming a car chase scene for "Spectre," the next installment in the Bond franchise. The accident is said to have taken place earlier this week while Craig was riding in one of the Aston Martin DB10 cars custom made for the film, according to Italy's La Repubblica. The car hit one of the Rome's notorious potholes, causing the British star to hit his head on the car's interior.Craig was seen by a doctor, according to Britain's Telegraph, and flew to London the next day, as had been slated on the production's timetable.

The Aston Martin was being driven by a stuntman sitting in a metal cage fixed to the roof of the car when the alleged incident happened, the Telegraph reports.

The reported mishap has revived a longtime controversy in Rome over thesanpietrini, as the potholes are called.