DYNAMITE ENTERTAINMENT'S JANUARY 2013 SOLICITATIONS!
10/04/12 @ 4:25 pm EST
Source:
Dynamite
|
Comments
(0) |
E-mail Article
|
Add a Comment
You've seen bits and pieces here and there on the internet, now Newsarama has posted all of Dynamite Entertainment January solicits!
http://www.newsarama.com/comics/dynamite-december-2012.html
"LIKE" DYNAMITE'S FACEBOOK PAGE TODAY!!!
http://www.facebook.com/dynamitecomics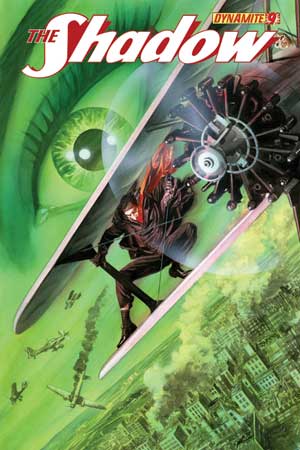 MOVE OVER 007: PARAMOUNT PLANS PIC SERIES ON BRIT SPY ALEX HAWKE
10/25/16 @ 3:49 pm EST
Source:
Deadline
| Categories:
James Bond
|
Comments
(0) |
E-mail Article
|
Add a Comment
Paramount Pictures has acquired rights to the Ted Bell action espionage novel series based on British MI6 agent Sir Alexander Hawke. The studio has set
Salt
scribe Kurt Wimmer to adapt it, with Lorenzo di Bonaventura producing. The series began in 2003 with Hawke, and has spanned nine bestsellers. The most recent,
Patriot
, pitted Hawke against Russian leader Vladimir Putin, who has been a frequent nemesis in the series. The next book,
Overkill
, will be published in 2018 by Harper Collins division William Morrow.
The series is often compared to Ian Fleming's 007, and there is as much mythology and intriguing characters as in Tom Clancy's
Jack Ryan
, Robert Ludlum's
Bourne Identity
or Vince Flynn's Mitch Rapp novels. Much like James Patterson, Bell started writing novels when he was at the top of the advertising game. He was president/Chief Creative Officer of Leo Burnett in Chicago and later Vice Chairman of the Board and World-Wide Creative Director of Young & Rubicam.
FOX ANIMATION PICKS UP 'THE GIRL WHO DRANK THE MOON' FOR 'KUBO AND THE TWO STRINGS' WRITER MARC HAIMES
10/25/16 @ 3:45 pm EST
Source:
Deadline
| Categories:
MIsc
|
Comments
(0) |
E-mail Article
|
Add a Comment
Fox Animation has acquired the rights to acclaimed children's novel
The Girl Who Drank the Moon
, an epic coming-of-age fairy tale written by Kelly Barnhill. Marc Haimes, who recently co-wrote the script for Laika and Focus Features'
Kubo and the Two Strings
, has been set to adapt the script.
Veteran animation director Carlos Saldanha, who directed
Rio
for Fox, and Maresa Pullman will produce through their BottleCap Productions banner. Darlene Caamano Loquet and Fox Animation president Vanessa Morrison are executives on the project.
It's in development and is expected to be a hybrid live-action/animation, sure to whet the appetite of family audiences, if response to the book is anything to go by.
The Girl Who Drank the Moon
sees the people of a land called the Protectorate leave a baby as an offering to a witch who lives in the forest in the hope that the sacrifice will prevent her from terrorizing their town. But the catch is, she's a kind witch called Xan, who shares her home with a swamp monster named Glerk and a tiny dragon named Fyrian.
When the townspeople abandon the babies, Xan rescues them and re-homes them with loving families on the other side of the forest. As she travels through the forest with them, she nourishes them with starlight until one night she accidentally feeds a baby moonlight, which fills the child with extraordinary magic. Xan decides to keep this baby and name her Luna. But as the girl's 13th birthday approaches, her magic begins to surface with potentially dangerous consequences.
'DOCTOR STRANGE' TO CAST SPELL OVER INTERNATIONAL BOX OFFICE - WEEKEND PREVIEW
10/25/16 @ 3:41 pm EST
Source:
Deadline
| Categories:
Marvel
|
Comments
(0) |
E-mail Article
|
Add a Comment
Disney/Marvel's Benedict Cumberbatch-starring
Doctor Strange
debuts in 32 markets — about 45% of its international footprint — this week, and one frame ahead of the domestic (and China) release. It's been six months since the last MCU superheroes roamed the globe with
Captain America: Civil War
capturing a 2016 high of $1.15B worldwide after its April start.
Doctor Strange
is a different sort of Marvel beast, making his first major leap from the page to the screen with the Scott Derrickson-helmed mystical adventure.
Doctor Strange
enters the international dimension this session in several key majors including the UK, France, Germany, Spain, Italy, Mexico, Australia and Korea. It's also playing on 211 IMAX screens and has over an hour of footage formatted for IMAX 3D screens.
The range for
Strange
this overseas debut weekend is pegged at $55M on the low end to about $60M, with aggressive estimates coming closer to $70M. That's roughly the same spread that the
Doctor
had when he first came on domestic tracking. Similar to the situation domestically, even if the movie hits the low end, it will be the best international opening thus far this autumn (
Inferno
currently leads the season in offshore debuts with a $50M start earlier this month).
'KNIGHT RIDER' TO RIDE AGAIN AS MACHINIMA SERIES WITH JUSTIN LIN AT THE WHEEL
10/25/16 @ 12:16 pm EST
Source:
Deadline
| Categories:
MIsc
|
Comments
(0) |
E-mail Article
|
Add a Comment
Knight Rider,
the 1980s action series that made David Hasselhoff a star, is getting the Machinima treatment. The digital network said today it is partnering with producer-director Justin Lin, YOMYOMF and NBCUniversal Brand Development to produce a digital series reboot that will target a 2017 launch.
Lin, who knows something about the care and feeding of franchises after directing
Fast & Furious 6
and most recently
Star Trek Beyond
, is set to produce the series which is now in development. He also is developing another car-centric property,
Hot Wheels
, as a feature film at Legendary Pictures.
Machinma is backed by Warner Bros but is teaming with NBCU here. NBC aired the original series about the smart-car named KITT and its mysterious do-gooder driver Michael Knight, played by Hasselhoff. Created by Glen A. Larson, it ran four seasons from 1982-1986. The network tried to reboot the series in 2008 with Justin Bruening in the lead role but it lasted only one season.
BATGIRL TURNS 50; DC CELEBRATES IN 2017
10/25/16 @ 10:17 am EST
Source:
ICv2
| Categories:
DC
|
Comments
(0) |
E-mail Article
|
Add a Comment
The celebration of Wonder Woman's 75 years in comics has just begun, but DC is already looking ahead to another golden anniversary: 50 years of Batgirl.
The
Batgirl: A Celebration of 50 Years
hardcover will include some of Batgirl's most iconic stories from Gardner Fox, Chuck Dixon, Kelley Puckett, Gail Simone, and others; with art by Carmine Infantino, Marcos Martin, Damion Scott, Cameron Stewart, Babs Tarr, and more. Martin provides the cover art.
The full-color, 384-page hardcover will be on sale February 15, 2017. MRSP is $39.99.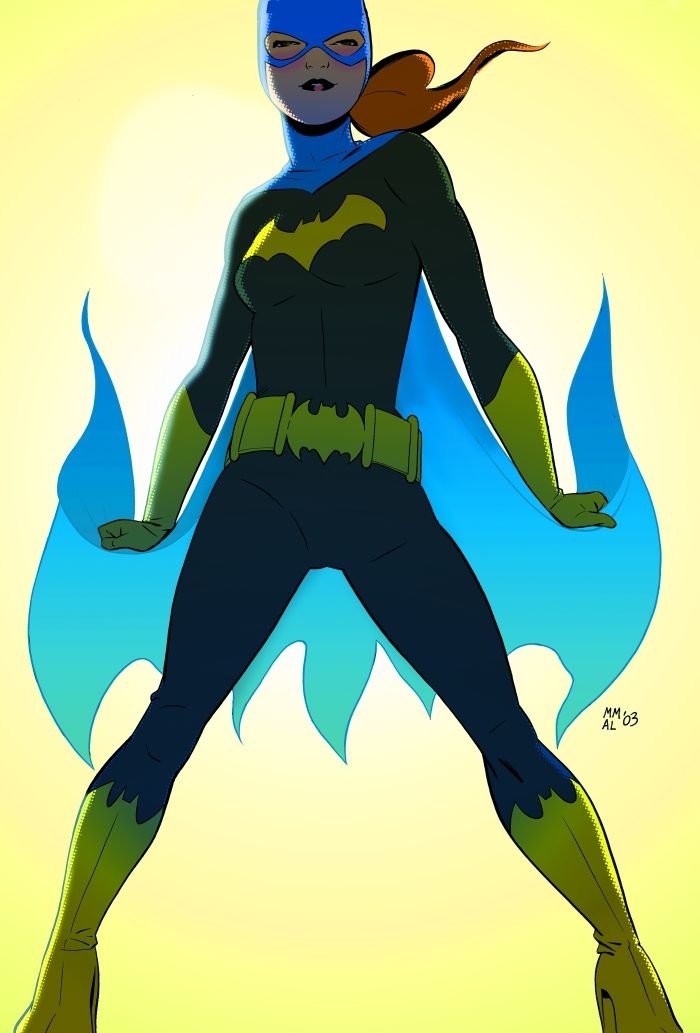 X-MEN RETURN TO A BRIGHTER UNIVERSE
10/25/16 @ 10:04 am EST
Source:
ICv2
| Categories:
Marvel
|
Comments
(0) |
E-mail Article
|
Add a Comment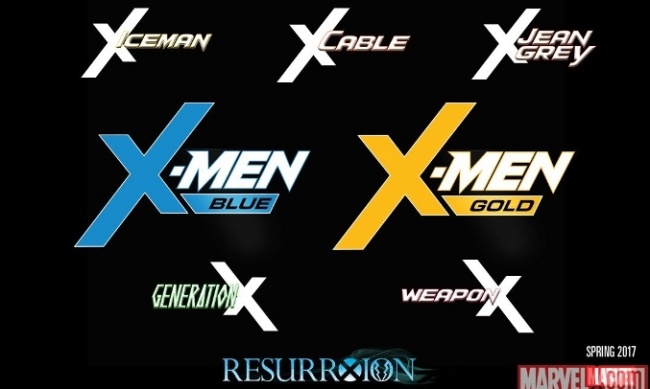 Marvel has announced two new flagship series for the Children of the Atom launching in Spring 2017:
X-Men Blue
and
X-Men Gold.
The titles are part of Marvel's
ResurrXion
event that includes new solo series featuring Cable, Generation X, Iceman, Jean Grey, and Weapon X . Marvel editors Mark Paniccia and Daniel Ketchum shared information on the direction and tones of the upcoming series as mutantkind exits the events of
Inhumans Vs. X-Men
.
According to Panniccia, the books will feature "(t)he same stuff that made these stories and characters we love so much stand out time and time again. Crazy cool adventures. Awesome super powers. Groundbreaking science fiction and heartbreaking romance. And the element of surprise."
"These new titles won't cast the X-Men as members of a species fighting for their survival but rather as big, bright, colorful super heroes who want to demonstrate to the world that they want to walk with them hand-in-hand into the future," Ketchum added.
The editors offered hints about the themes of the books as well.
Generation X
will focus on the X-Men school and will feature Jubilee.
Weapon X
will be a dark, boundary pushing book.
X-Men Blue
and
X-Men Gold
will feature all-star lineups and will focus on "classic heavy-hitter X-Men, doing what they do best," Ketchum said.
'WALKING DEAD' BLOODBATH MATCHES ALL-TIME AUDIENCE HIGH
10/25/16 @ 10:00 am EST
Source:
The Hollywood Reporter
| Categories:
Walking Dead
|
Comments
(0) |
E-mail Article
|
Add a Comment
Seven seasons in,
The Walking Dead
seems to have an awful lot of life left in it.
TV's highest-rated series, which returned to AMC on Sunday night with a controversial cliffhanger to address, essentially tied its all-time ratings high with an average 17 million viewers tuning in on premiere night. That's only off a hair from the standing record holder. (Season five kicked off with 17.2 million viewers in 2014.)
Nielsen's live-plus-same day ratings paint an equally favorable picture in the key demographic.
The Walking Dead
, already renewed for a eighth season, averaged a 8.4 rating among adults 18-49. That's more than double the same-day score of any broadcast scripted series this season. (It's still slightly shy of its best ever, an 8.7 rating for that same 2014 episode.)
Interest in the episode was no doubt driven by the summer-long question of which series regular — or, as it turned out, regulars — the zombie drama planned to kill off. The large live tune-in likely means comparatively smaller time-shifting for the episode, which has recouped more and more viewers from DVR, and a drop-off next week. But there's no question that these ratings are especially good news for the aging franchise.
In terms of growth from the sixth season, viewership was up 16 percent from the comparable episode last October and 20 percent from the finale. Improvement in the key demo was 16 percent from last premiere and 18 percent from the finale. It's also worth mentioning that Sunday's episode ranks as a best-ever among adults 25-54 with an 8.7 rating.
Good news also extended to companion series
Talking Dead
. The talker, which aired an expanded 90-minute episode with half the cast, averaged series records 7.6 million viewers and a 3.7 rating among adults 18-49.
BENEDICT CUMBERBATCH CONFIRMS DOCTOR STRANGE WILL JOIN THE AVENGERS
10/25/16 @ 7:56 am EST
Source:
Comicbook
| Categories:
Marvel
|
Comments
(0) |
E-mail Article
|
Add a Comment
The next time the Avengers assemble, it looks like a new face will be added to the team's line-up. Rumors began swirling that Doctor Strange would star in
Avengers: Infinity War
months ago, and Benedict Cumberbatch seemingly confirmed his involvement with the film in an interview. Since the revelation was made, fans have wondered how exactly the Sorcerer Supreme would fit into the blockbuster.
The answer is simple: he's going to be an Avenger.
Cumberbatch gave fans that answer at a London press junket for
Doctor Strange
. The British actor told attendees that Stephen Strange is going to join Earth's team of mightiest heroes and become a full-fledged Avenger.
Of course, fans of the Marvel Cinematic Universe aren't too surprised by this revelation. After all, the franchise tends to rope in its biggest silver screen heroes onto the team at some point.
SUPERGIRL SEASON 2 EPISODE 4: SURVIVORS SNEAK PREVIEW
10/25/16 @ 7:45 am EST
Source:
Comicbook
| Categories:
DC
|
Comments
(0) |
E-mail Article
|
Add a Comment
Hello, Megan! After making her debut in last night's "Welcome to Earth," we'll learn even more about Miss Martian/M'gann M'orzz (played by Sharon Leal) in next Monday's "Survivors" episode.
For a taste of what's to come, check out a sneak preview in the video here:
https://youtu.be/PbZT-jlq0oQ
GOTHAM SEASON 3 EPISODE 7: RED QUEEN SNEAK PREVIEW
10/25/16 @ 7:41 am EST
Source:
Comicbook
| Categories:
DC
|
Comments
(0) |
E-mail Article
|
Add a Comment
Last night, FOX debut the sixth episode of
Gotham
Season 3. "Follow The White Rabbit" focused on Mad Hatter's ongoing vendetta while Penguin and Nygma see a major change in their relationship. Now, the network has released the sneak preview for next week's episode has been released.
You can watch the video here:
https://youtu.be/17xytbTNg0o