DYNAMITE ENTERTAINMENT'S JANUARY 2013 SOLICITATIONS!
10/04/12 @ 4:25 pm EST
Source:
Dynamite
|
Comments
(0) |
E-mail Article
|
Add a Comment
You've seen bits and pieces here and there on the internet, now Newsarama has posted all of Dynamite Entertainment January solicits!
http://www.newsarama.com/comics/dynamite-december-2012.html
"LIKE" DYNAMITE'S FACEBOOK PAGE TODAY!!!
http://www.facebook.com/dynamitecomics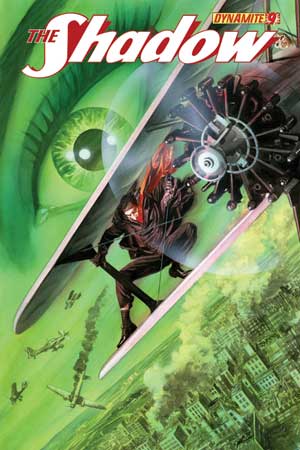 "CAPTAIN AMERICA: STEVE ROGERS" REVEALS CAP'S SHOCKING [SPOILER]
05/25/16 @ 12:45 pm EST
Source:
Comic Book Resources
| Categories:
Captain America
|
Comments
(0) |
E-mail Article
|
Add a Comment
This article contains spoilers for "Captain America: Steve Rogers" #1, on sale now.
With the launch of a new "Captain America" series focusing on the recently rejuvenated Steve Rogers, Marvel is -- for the first time -- publishing two concurrent series starring the Sentinel of Liberty. "Captain America: Steve Rogers" joins "Captain America: Sam Wilson,"both written by Nick Spencer, on the stands. And the debut issue of "Steve Rogers," which features art from Jesus Saiz, includes one major reveal that puts not only the "Sam Wilson" book in a new context, but possibly reframes all of "Captain America" history as well.The issue features numerous callbacks to Captain America's 75-year-long history. Sharon Carter is by his side as the director-in-waiting of S.H.I.E.L.D. (Maria Hill is in the process of being tried for war crimes following the events of the "Standoff" storyline). Rick Jones is serving out his sentence for his actions as the whistle-blower Whisperer by running tech and communications for Steve Rogers' field missions. Even two of Captain America's forgotten sidekicks from the '90s, Jack Flag and Free Spirit, are involved and serving as backup for the returned hero.But the issue's end is where the major reveal takes place, and it potentially alters all of Captain America's history.The team finally locates Baron Zemo, the former HYDRA lead that's been on the run since the end of "Standoff." Cap tracks Zemo to Bagalia and intercepts the villain's plane, foiling his attempts to escape with his prisoner Erik Selvig. But during their mid-flight altercation, Jack Flag interrupts the skirmish and knocks Zemo out cold. Cap then repays Jack by shoving him out of the plane, seemingly to his death. He then turns to the bound and gagged Selvig and says...
"Captain America: Steve Rogers" #1 interior art by Jesus Saiz Cap's sudden shift in allegiance is also set up in the issue via a flashback subplot set in 1926. We see young Steve Rogers' turbulent home life and witness his father abusing his mother. This abuse is stopped, suddenly, by the arrival of the mysterious Elisa Sinclair -- a woman that defends Sarah Rogers from her husband and then, later, invites her to join a community that might be beneficial to her. That community is HYDRA.
Writer Nick Spencer spoke with Entertainment Weekly about the reveal, solidifying the fact that this
is
Steve Rogers. "[T]he one thing we can say unequivocally is: This is not a clone, not an imposter, not mind control, not someone else acting through Steve," said Spencer. "This really is Steve Rogers, Captain America himself."For context, this is a Steve Rogers that was just returned to his youth by a Cosmic Cube -- a reality warping device that has, at times, been used for nefarious purposes. While this is definitely Steve Rogers, as Spencer says, it's still possible that this is a
different
Steve Rogers than we've seen before.Regarding the other "Cap" book, Spencer added that this revelation is "going to have a profound impact on Sam's story and Sam's life. He's about to be put through the ringer in a way we rarely see with a character. He's going to be challenged in fundamental ways. Sam is a huge part of what we have planned.""Captain America: Steve Rogers" #2 arrives in stores on June 29.
DC UNIVERSE: REBIRTH" #1 CONTAINS A SURPRISING AND LIKELY CONTROVERSIAL CROSSOVER
05/25/16 @ 12:42 pm EST
Source:
Comic Book Resources
| Categories:
DC
|
Comments
(0) |
E-mail Article
|
Add a Comment
SPOILER WARNING:
This article contains major spoilers for "DC Universe: Rebirth" #1, on sale today, following select midnight sales at participating stores last night.
First, if you're made it this far without yet being spoiled on the events of "DC Universe: Rebirth"#1, congratulations -- that couldn't have been easy, as a leak late Friday led to details quickly circulating around the Internet, prompting DC Comics itself to reveal some of the surprises via official channels.
As to the book itself: You didn't see
that
coming, did you? For the first time ever, there is acknowledged contact between the characters of Alan Moore and Dave Gibbons' seminal 1986-1987 series, "Watchmen" and the DC Universe that's home to Superman, Batman and Wonder Woman -- a completely unexpected move that will likely not sit well with some fans, given the sacrosanct status the story has long held.
A lot of the major surprises in "DC Universe: Rebirth" -- a one-shot meant to kick-start the "Rebirth" relaunch of the DC Universe comics with a stated focus on hope, optimism and legacy -- were easy enough to guess. Geoff Johns -- the writer of the issue and DC's Chief Creative Officer -- stressed the importance of legacy in early promotion for the book, so the returns of Wally West, Ryan Choi and Ted Kord all fit nicely into that theme. But then there's the end of the book.
During the course of the 80-page (counting house ads in the back) issue, Wally West's narration reveals that the rebooted history of the New 52 was not caused by the time-altering events of 2011's Johns-helmed crossover "Flashpoint," but rather an outside force that took 10 years away from DC Universe history. Wally explains this to the current Flash, Barry Allen, stating, "Whoever they are, they did this for a reason. I think they took years from us to weaken us." Barry guesses that it might be the Reverse-Flash, but Wally tells him it's someone else, someone even more powerful than Darkseid -- which, within the DC Universe, doesn't leave a lot of contenders.
Of course, no one said the options were limited to the DC Universe.
As Wally and Barry's conversation continues, the scene shifts to Batman in the Batcave, glancing at the letter from his father that Barry gave to him at the end of "Flashpoint" (in "Flashpoint," Thomas Wayne became Batman, with Bruce dying in Crime Alley). Batman's attention is then drawn to something shiny in the walls of the Batcave, and he chips away to find -- insert dramatic pause -- the Comedian's blood-stained badge, the most iconic image from "Watchmen" and something that doesn't seem to make any sense at this point to be hanging out in the Batcave. Wally's dialogue on that page puts a finer point on it: "We're being watched."
And that's not it: A four-page epilogue also by Johns and Gary Frank shifts the narrative from Earth to Mars, where Wally West's missing watch -- seen on the first page of the issue -- is telekinetically disassembled and reassembled by an unseen presence; depicted in a nine-panel grid reminiscent of Gibbons' "Watchmen" storytelling. The narration is dialogue direct from the end of "Watchmen," with Ozymandias asking Doctor Manhattan, "I did the right thing, didn't I? It all worked out in the end." Doctor Manhattan answers, "In the end? Nothing ends, Adrian. Nothing ever ends."
So, yes: Somehow, Doctor Manhattan -- the only superpowered character in "Watchmen," who possesses seemingly limitless godlike abilities -- is responsible for the creation of the New 52, and for changing DC Universe history as fans knew it. The two pages following the epilogue are issue credits in the distinct black-and-yellow palette of "Watchmen," along with a watch face -- indicating 15 minutes to midnight -- adorned with the iconic blood splatter from Comedian's badge, accompanied by the text, "the clock is ticking across the DC Universe."
Like much of "Rebirth," the use of Doctor Manhattan feels like meta-commentary on the direction of DC Comics. A commentary by Devin Faraci on Birth Movies Death argues that the use of Doctor Manhattan is drawing a straight, metaphorical line between "Watchmen" and some of the drearier comics of the New 52, as the more realistic and adult tone of Moore and Gibbons' deconstructionist work has led to conventional superheroes being affected in a negative way by similar approaches. Doctor Manhattan literally made a fictional superhero universe a darker place, much like "Watchmen" did to real-life comic book series.
This marks the first-ever crossover between "Watchmen" characters and the DC Universe proper. "Watchmen" took place in its own, separate fictional universe, one with superheroes inspired by the Charlton Comics characters DC had acquired in 1983. It's also only the second time "Watchmen" has been revisited with new comics material since the original 12-issue series. The first time was "Before Watchmen," a controversial initiative that saw eight miniseries and a one-shot published between 2012 and 2013, acting as a series of prequels to the initial story.
As "Watchmen" is one of the most celebrated works in comic book history, attempts to revisit the story in any form has been met with scrutiny from critics and observers. Additionally, Moore himself has made his disapproval of any "Watchmen" follow-up extremely clear over the years, completely disavowing "Before Watchmen" or any similar efforts -- he was once quoted as saying he'd be "spitting venom all over" the 2009 Zack Snyder-directed live-action film.
"It seems a bit desperate to go after a book famous for its artistic integrity," Moore said of "Before Watchmen" in 2012. "It's a finite series. 'Watchmen' was said to actually provide an alternative to the superhero story as an endless soap opera. To turn that into just another superhero comic that goes on forever demonstrates exactly why I feel the way I do about the comics industry. It's mostly about franchises."
Gibbons was measured in his approval of "Before Watchmen" -- in DC's official press release announcing the event, he stated, "The original series of 'Watchmen' is the complete story that Alan Moore and I wanted to tell. However, I appreciate DC's reasons for this initiative and the wish of the artists and writers involved to pay tribute to our work. May these new additions have the success they desire." Neither Moore nor Gibbons are credited in the "Rebirth" one-shot.
It's not clear exactly how much of an uproar will be caused by the use of "Watchmen" characters and concepts in the DC Universe. It's probable that the existence of "Before Watchmen" has lessened the potential controversy of this move, as the seal has already been broken. It's also possible, fair or not, that Moore's increasingly ambivalent reputation among comics reader will impact public reaction; given comments like calling superhero fans "emotionally subnormal" and renewed criticism of a perceived over-reliance on sexual violence as a trope in his stories.
It's also not clear when DC plans to follow up on Doctor Manhattan's connection to the DC Universe. While plenty of future stories are teased in the "Rebirth" one-shot, with house ads in the back of the book directing readers to the Rebirth series set to continue those plot lines, it's not yet evident where the "Watchmen" of it all fits in going forward (though the cover for "Titans" #1, featuring the just-returned original Wally West does feature a blue-hued, apparently cosmically-powered individual in the background). An interview with Johns in USA Todayindicates the rest of the story won't come anytime soon, with the paper's Brian Truitt writing, "How 'Watchmen' is involved in the DC Universe is a mystery that will unfold in the background over the course of a couple years."
No matter what direction this story may take, it's still one of the most legitimately surprising developments in a superhero comic in years -- though maybe readers should have seen it coming, given that it now seems fairly obvious that it's Doctor Manhattan's hand on the cover of the "Rebirth" one-shot, an image that was released back in March:
"DC Universe: Rebirth" #1, from Johns, Frank, Ivan Reis, Phil Jimenez and Ethan Van Sciver is on sale now. (Via CBR)
DISNEY MULLING LIVE ACTION VERSION OF 'THE LITTLE MERMAID'
05/25/16 @ 12:27 pm EST
Source:
Deadline
| Categories:
Disney
|
Comments
(0) |
E-mail Article
|
Add a Comment
Execs at Disney are in the early stages of reviving Hans Christian Anderson's
The Little Mermaid
as a live-action feature. Disney production chiefs recently heard a new take and are currently evaluating whether to proceed with the idea. Deadline understands that initial discussions have also taken place with major producers, including some with a strong connection to the studio.
The Little Mermaid
holds special significance for Disney, which produced an animated version of the story in 1989. That pic, which followed the adventures of Ariel the singing mermaid, gave viewers classic songs such as "Under The Sea" and helped usher in a new golden age of animation at Disney. That streak would include
Beauty And The Beast
and
Aladdin
.
The teaser for Disney's live-action version of
Beauty And The Beast
, starring Emma Watson, was viewed almost 92 million times in its first 24 hours alone this week, beating the previous record holder for most viewed teaser
Star Wars: The Force Awakens
, as well as the latest installments of Marvel titles
Captain America: Civil War
and
Avengers: Age Of Ultron —
all of which are Disney movies.
X-MEN' AND 'ALICE' TO BOOST MEMORIAL DAY WEEKEND AFTER LAST YEAR'S HOLIDAY APOCALYPSE
05/24/16 @ 10:23 pm EST
Source:
Deadline
| Categories:
MIsc
|
Comments
(0) |
E-mail Article
|
Add a Comment
Franchises — big, strong four-quad ones — make all the difference over the Memorial Day weekend. While that might be a
duh
of a statement, consider how often studios have tried to launch original fare over the four-day holiday and flopped: Disney in 2010 with
Prince Of Persia,
or Warner Bros. in 2014 with Adam Sandler's
Blended
.
But, not this time.
After Disney and 20th Century Fox delivered some of the biggest duds at the Memorial Day box office last year with
Tomorrowland
($42.7 million four day) and MGM's
Poltergeist
($26.3M four-day debut), this year both studios are changing it up with bigger brands:
Alice Through The Looking Glass
and
X-Men: Apocalypse
, respectively.
That combo, which together could reach $160M, is set to push the four-day B.O. up by at least 55% over last year's FSSM total of $194.9M. Last year's figure was the third-lowest Memorial Day weekend at the box office since 2005 after 2012's $194M and 2010's $192.8M. This year's holiday could potentially rank as the second best with a four-day total of $300M-plus. 2013 posted the best Memorial Day weekend holiday ever with $314.2M.
The fourth Bryan Singer-directed
X-Men
movie will hit 4,100 estimated theaters starting Thursday night at 7 PM praised by exhibitors but scorned by critics.
Apocalypse
is currently the worst-reviewed
X-Men
per Rotten Tomatoes at 52%. However, if Fox is lucky, the tweeds won't curb any cash. Brett Ratner's
X-Men: The Last Stand
didn't blow critics' toupees off with a 58% rotten score, and that wound up being the franchise's best opening of all time ($122.9M) and title ($234.4M domestic) in the series.
Conservative projections have
Apocalypse
in the low $80M range, but many analysts think it has a shot at $100M. Two years ago, propped by a critical score of 91%,
X-Men:
Days Of Future Past
made $110.6M over FSSM and became the second-highest-grossing
X-Men
movie with a domestic B.O. of $233.9M. I hear
Apocalypse
is tracking close to
Days Of Future Past
with guys being the strongest quad; however, this time there are more women interested
.
Fox will have all the mutant powers of PLFs and 3,000 3D bookings. No Imax on this
X-Men; Alice
ate all of those up. Estimated production cost on
Apocalypse
is $178M, which is 11% cheaper than
Days Of Future Past.Apocalypse
opened last weekendabroad with $101.6M in 76 markets on 20,796 screens. That number beat the debut of
X-Men: Days Of Future Past
at today's exchange rates. South Korea opens tomorrow.
In this
X-Men
, the mutants battle the super mutant – Apocalypse – played by Oscar Isaac. And it stars the young bunch of X-Men played by Jennifer Lawrence, Nicholas Hoult, James McAvoy and Michael Fassbender, the baby-faced characters that Fox introduced in Matthew Vaughn's 2011
X-Men: First Class.
There's a few new characters thrown in, specifically Olivia Munn as Psylocke.
With
Alice Through The Looking Glass, Captain America: Civil War, The Jungle Book
and
Zootopia,
Disney is a tear, and will have its product on close to 10,000 screens by Friday.
Alice 2
in 3,750 theaters is looking at $55M-$60M over four days, and will achieve some growth from such tarts as 3,100+ 3D locations, 380 Imax, 77 PLF, and 79 D-box sites. Something to consider with this
Alice
in addition to any accusations of sequelitis for its projected lower-than-original opening: When
Alice In Wonderland
opened in March 2010 to $116.1M, it was the first major 3D film post the
Avatar
craze. Seventy-one percent of
Alice In Wonderland
's B.O. was generated by the format. In addition,
Alice In Wonderland
didn't face the type of competition and hefty holdovers this weekend boasts.
Alice 2
is directed by
The Muppets
and
Flight Of The Conchords
creator James Bobin, not Tim Burton. But the original gang is back with Johnny Depp, Anne Hathaway, Mia Wasikowska, Helena Bonham Carter and Matt Lucas, with Alice trying to save the Mad Hatter.
Looking Glass
' price tag of $170M before P&A is 15% less than
Alice In Wonderland.
Last weekend's top new entries, Sony/Rovio's
The Angry Birds Movie
and Universal's Neighbors 2: Sorority Rising, will have the benefit of the holiday working in their favor with a 40%-45% drop in their four-day versus three-day figures. On the high end, Angry Birds is looking at $23M and Neighbors 2 at $13M.

Jungle Book is heading into its seventh weekend — currently Jon Favreau's highest-grossing film of his directing career with $328.6M domestic/$860.3M worldwide. When does the cover finally close on Jungle Book? There's no doubt the movie stole family business from Angry Birds last weekend. JB made $10.9M in its sixth session, a B.O. haul that's within the vicinity of what Jurassic World ($11.5M) and Avengers ($11.2M) posted at the same point during their runs. A final domestic B.O. of $350M wouldn't be unheard of.

Why are people still going? Says one studio executive, "There's a need to see this movie in the theater. The artistry, and use of technology demand that the movie be seen in a movie theater. This is what has made Jungle Book stand out from other movies in the marketplace." (Via Deadline)
'THE FLASH' REVEALS IDENTITY OF THE MAN IN THE IRON MASK:
05/24/16 @ 10:15 pm EST
Source:
The Hollywood Reporter
| Categories:
Flash
|
Comments
(0) |
E-mail Article
|
Add a Comment
[Warning: this story contains spoilers from Tuesday's season two finale of The Flash, "The Race of His Life."]
John Wesley Shipp's days as a speedster are no longer behind him on
The Flash
.
The original Barry Allen from the 1990
The Flash
series has played father to Grant Gustin's Barry Allen on The CW reboot for two years. But the season two finale revealed that, just one episode after Henry Allen's tragic death at the hands of Zoom (Teddy Sears), Shipp is also playing the identity of the man in the iron mask that Zoom kept locked up in his lair. But this isn't just another Earth's version of Henry Allen. Shipp is the Earth-3 version of Jay Garrick, the original speedster that Zoom/Hunter Zolomon was pretending to be all year to get closer to Barry and the S.T.A.R. Labs team.
"I never saw this coming," Shipp tells
The Hollywood Reporter
of the twist. "I left at the beginning of the season, I came back once, but for the most of the season, I was gone. So to be brought back as part of a triple whammy, first with Henry's death, which I expected, then the reveal of the man in the iron mask, which is me, which I didn't expect, and then I certainly didn't expect the man in the iron mask to be Jay Garrick. It's a triple whammy for sure."
But Shipp wasn't told about this shocking revelation in any concrete way.
"I went up on March 1 to film the last four episodes and I began hearing things," Shipp says with a laugh. "I was fitted in this costume that was all brown and shredded and like a prison costume. But it obviously wasn't a Henry Allen costume. And then I started hearing about fittings for an iron mask. I wrote [executive producer] Greg [Berlanti] and email saying, 'I'm starting to hear things about characters that I may or may not be playing going forward. What's going on here?'"
Shipp continues with a laugh, "I was dying for him to talk to me. Of course he got back to me within three minutes and he was like, 'Oh my God, I thought they had already talked to you!' So we had a great conversation and he laid out this story for me and the series of reveals in the last couple of episodes. I have to tell you, my mind was blown."
When Shipp first began to process the big Jay Garrick revelation, he wasn't sure how he felt about it.
"I had a couple of reactions. One is that it's great TV," Shipp says. "And it's really an expert channeling of fan expectations, because the audience always wanted me to be Jay Garrick from the very beginning. And I felt some apprehension of assuming the role of a costumed superhero, a quarter of a century later after I had done it before."
While viewer speculation ran rampant all season long about who was the man in the iron mask, Shipp didn't have any ideas or theories of who he thought it would be.
"The writers know how to keep things secret and how to throw everyone off," Shipp says. "I also think it worked to our advantage that absolutely everyone was convinced that Henry Allen was actually Zoom. When they turned out to be wrong about that, they were a little gun shy about being burned twice by saying that I was the man in the iron mask."
But Shipp was glad that he didn't have to play this speedster role right out of the gate.
"When this role came to me initially, I wanted to play Henry Allen. I didn't want to suit up again right away," Shipp says. "'Is this all this guy can do? Run around in a costume?' But Henry Allen was a quiet, truthful, emotional character grounded in grit. He was a true character role in the midst of all this action and adventure. Having done that for two years, now I feel like, OK, I've proven myself again as an actor. Now maybe I can get in and have a little fun as a costumed superhero again."
What excites Shipp the most about taking on the new role is the acting challenge of making this character completely different from Henry Allen.
"He looks like just Barry's father but it's vital that he not be Henry Allen," Shipp says. "Coming out of the iron mask, my challenge was: how do we let the audience know right away that this is not Henry Allen?"
And that means Jay's dynamic with Barry is going to be completely different from Henry's.
"Barry just lost the person he's closest to, his father, the person he could be vulnerable with, who he could cry with," Shipp says. "They had a very physical, hands-on relationship. It was very important to Barry. But that's not who Jay is. Jay has no idea when he comes out of that iron mask, the emotional mine field that he is walking into. Going forward, that's going to be interesting to explore."
Of course, Jay's appearance means quite a lot to Barry.
"He wants to have the same relationship with Jay that he had with his father, but Jay is coming from place of, 'That has nothing to do with who I am,'" Shipp says. "Barry and Jay have to make their own relationship which will be separate and distinct from the Henry and Barry relationship. That was the challenge."
He continues, "This isn't the Henry/Barry relationship in another form. Jay is a very different guy. People say that I, John Wesley Shipp, am the original Flash, but he's the original original Flash. This is the Golden Age Flash, the head of the Justice Society. This is the real Flash daddy. I have to remind myself of that, because there were some aspects of the Henry/Barry relationship that I treasured, the absolute emotional vulnerability, being a safe haven for him, that emotional connection. It's going to be very tempting for me to want to go back and play that dynamic again, but the Jay/Barry dynamic is going to be very different."
It's pretty coincidental timing that
The Flash
would introduce the founder of the Justice Society of America right at the same time that
Legends of Tomorrow
revealed that Justice Society member Rex Tyler aka Hourman (Patrick J. Adams) would have a major role in season two of the
Arrow/The Flash
spinoff series.
"There have been endless suggestions and possibilities [that I can cross over to
Legends
as Jay Garrick]," Shipp says. "Jay Garrick formed the Justice Society. Not that I know of anything concrete, but this character is so open-ended. Henry Allen had a shelf life. He had one purpose: to be there to support Barry. Jay Garrick, it's wide open. Who knows what we're going to see? That's very exciting."
Shipp is grateful that his time on
The Flash
will extend long after his first character's tragic death.
"It has been indicated to me that I will play an important role going forward, again," Shipp says. "But this is Grant Gustin's
The Flash
. He is the speedster on the show. I will be privileged to show up and support his journey in any way that I can. But it has been indicated to me that the palate is so much broader now and there's so many more things I can do on the show now."
But most of all, he's relieved that he can finally live up to fan expectations when it comes to who he's playing on
The Flash
.
"No matter where I go, I always get the same message from fans: 'Yes, we love you as Henry Allen, but we really were hoping you'd be Jay Garrick,'" Shipp says with a laugh. "Now that that's coming to fruition, I can't wait to see what's going to happen on the Twitterverse. I can't wait to see fans' reactions when suddenly, I'm dawning the mantle of the character that just about every
Flash
fan wanted me to play from the get go. That's going to be a wonderful treat for the audience. I'm just going to bathe in the reaction."
The Flash
season three returns this fall on The CW. (Via THR)
BREAKING: DC COMICS REVEALS FULL "REBIRTH" CAST OF CHARACTERS
05/24/16 @ 8:23 pm EST
Source:
Comic Book Resources
| Categories:
DC-Universe
|
Comments
(0) |
E-mail Article
|
Add a Comment
SPOILER WARNING: This article contains spoilers for "DC Universe: Rebirth" #1, on sale tomorrow.
DC Comics continues to peel back the curtain of its "DC Universe: Rebirth" one-shot, which goes on sale tomorrow. After a shared unveiling on DC's social media channels, the publisher has released to press the superhero-filled double-page spread that appears at the end of the issue by artists Ivan Reis, Joe Prado and Hi-Fi.
The image is reminiscent of classic group shots by DC legend José Luis García-López, or the "Drawing the Line at $2.99" campaign from 2010. Dozens of heroes appear on the illustration, from the classic -- Superman, Batman and Wonder Woman are naturally front and center -- to the recently returned (that's freshly revived former Flash Wally West in the lower-left hand corner) to entirely/relatively new characters, including the New Super-Man Kenan Kong and Green Lanterns Jessica Cruz and Simon Baz.
Written by Geoff Johns and illustrated by Reis, Gary Frank, Ethan Van Sciver and Phil Jimenez, "DC Universe: Rebirth" #1 is on sale tomorrow, May 25, with midnight sales tonight at participating retailers.
PROTECT THE FUTURE OR CHANGE THE FUTURE? YOUR FIRST LOOK AT CIVIL WAR II: CHOOSING SIDES #1
05/24/16 @ 7:42 pm EST
Source:
Marvel
| Categories:
Civil War II
|
Comments
(0) |
E-mail Article
|
Add a Comment
If you knew something bad was about to happen, would you stop it? How far would you go to prevent an uncertain future? The line in the sand has been drawn, and you must decide­­—do you stand with Captain Marvel, or with Iron Man? That question will be answered this June as heroes and villains across the Marvel Universe make their decisions in
CIVIL WAR II: CHOOSING SIDES #1
!
Featuring fan-favorite characters and top-tier creators, each issue of
CIVIL WAR II: CHOOSING SIDES
contains three all-new stories detailing the conflict across the Marvel Universe. First, comic superstar Declan Shalvey (
Moon Knight
,
Deadpool
) pulls double duty as he writes and illustrates a Nick Fury story running through all six issues. Which side of the issue will Marvel's premier super-spy fall on? Then Brandon Easton (
Marvel's Agent Carter
) and Paul Davidson (
Magneto
) bring you a tale of the Night Thrasher and Chad Bowers, Chris Sims and Leonardo Romero present the return of Damage Control!
And that's just the first issue! Don't miss future issues featuring Jessica Jones, War Machine, Power Pack, the Punisher and more! Will they fight to protect the future? Or battle to change it? Find out as the Marvel Universe picks a side this June in
CIVIL WAR II: CHOOSING SIDES #1
!
CIVIL WAR II: CHOOSING SIDES #1 (of 6) (APR160866)Written by DECLAN SHALVEY, BRANDON EASTON, CHAD BOWERS & CHRIS SIMSArt by DECLAN SHALVEY, PAUL DAVIDSON, LEONARDO ROMEROCover by JIM CHEUNG
Variant Cover by DECLAN SHALVEY (APR160867)Character Variant by PHIL NOTO (APR160868)Young Variant by SKOTTIE YOUNG (APR160869)
Action Figure Variant by JOHN TYLER CHRISTOPHER (APR160870)FOC – 05/30/16, On-Sale – 06/22/16
MARVEL CONGRATULATES MOON GIRL AND DEVIL DINOSAUR
05/24/16 @ 7:35 pm EST
Source:
Marvel
| Categories:
Marvel
|
Comments
(0) |
E-mail Article
|
Add a Comment
Each year, the annual Glyph Awards recognize the best comics made by, for and about people of color – showcasing diverse voices across the comics industry. Marvel is pleased to congratulate our newest Inhuman, Lunella Lafayette, a.k.a. Moon Girl, on taking home the 2016 Glyph Award for Best Female Character. Written by Amy Reeder and Brandon Montclare (Rocket Girl) with art by Natacha Bustos (Spider-Woman), Moon Girl and Devil Dinosaur follows the adventures of pre-teen super genius Lunella Lafayette and her prehistoric partner-in-crime on a story of unlikely friendship in the Mighty Marvel Manner!

Started in 2005 by comics journalist Rich Watson, the Glyph Comics Awards goal is to provide news and commentary on comics with black themes, as well as tangential topics in the fields of black science-fiction/fantasy and animation. Marvel would also like to congratulate all the other nominees and winners of the 2016 Glyph Awards.

If you haven't checked out this award winning story, head out to your local comic shop and meet Marvel's newest leading lady in Moon Girl and Devil Dinosaur!




TIMELY COMICS: MOON GIRL AND DEVIL DINOSAUR #1 (APR161025)Written by AMY REEDER & BRANDON MONTCLARE
Art by NATACHA BUSTOS
Cover by AMY REEDER
$3.00…On-Sale June 15th! MOON GIRL AND DEVIL DINOSAUR VOL. 1: BFF TPB (MAR160937)
Written by AMY REEDER & BRANDON MONTCLARE
Art by NATACHA BUSTOS
Cover by AMY REEDER
$17.99…On Sale June 22nd!
BATMAN V SUPERMAN' FALLOUT: PRODUCER CHARLES ROVEN TO SHIFT ROLE ON DC MOVIES
05/24/16 @ 7:27 pm EST
Source:
The Hollywood Reporter
| Categories:
DC
|
Comments
(0) |
E-mail Article
|
Add a Comment
Charles Roven, the veteran producer who has worked on every DC Comics movie at Warner Bros. since 2005's
Batman Begins
, is no longer producing certain DC movies, sources tell
The Hollywood Reporter
.
Talks are underway to have Roven — who was a producer on Zack Snyder's
Batman v Superman: Dawn of Justice
, as well as the recently completed
Suicide Squad
and next year's
Wonder Woman —
segue to a different role going forward, likely that of an executive producer who is not involved in day-to-day production. However, he potentially could continue to be a producer on some sequels to the movies he's currently producing.
The extent of Roven's involvement, and which titles he would work on, is "evolving," according to multiple sources, who also stress that no final decisions have been made."
Roven is a key member of not only the DC slate but of the Warner Bros. family," says a studio spokesman.
The move comes as Warner Bros. continues to scrutinize its DC movies in the wake of
BvS
's so-so performance at the box office and chilly reception from audiences. The movie, released March 25, wrapped its run with $871 million worldwide with a production budget of at least $300 million. While Warners insists the movie will be profitable, it was meant to kick off the studio's DC cinematic universe with a billion-dollar bang, but instead was met with an unenthusiastic response from fans for being too dark and unheroic.
In stark contrast, Marvel Studios, well into its cinematic universe with 13 movies, has seen outsized success for its similarly themed
Captain America: Civil
War
, which pits its heroes against each other.
Civil War
has earned raves from fans and critics and has grossed more than $1 billion in about three weeks.
Warners, which leverages its DC IP across multiple channels, among them publishing and video games, now is taking steps to course-correct its approach as it develops its superhero slate. It recently shuffled its executive ranks to have executive vp Jon Berg and Geoff Johns, DC's chief content officer, co-run the newly created DC Films. It also is seeking to hire a more established director on
The Flash
(2018) after parting ways with screenwriter Seth Grahame-Smith, who initially was attached to make his directorial debut with the project.
BEAUTY AND THE BEAST' TEASER TOPS 'STAR WARS: FORCE AWAKENS' IN FIRST DAY
05/24/16 @ 7:23 pm EST
Source:
The Hollywood Reporter
| Categories:
Disney
|
Comments
(0) |
E-mail Article
|
Add a Comment
Talk about the power of femmes.
The first teaser trailer for Disney's live-action
Beauty and the Beast
was viewed a record 91.8 million times in its first 24 hours — besting previous champ
Star Wars: The Force Awakens
, as well as
Captain America: Civil War
and
Avengers: Age of Ultron
(each of them Disney films as well).
The second teaser trailer for
Force Awakens
garnered 88 million views, followed by 61 million views for
Captain America: Civil War
, 55 million views for the second teaser for
Force Awakens
, and 34 million views for
Avengers: Age of Ultron
, according to Disney.
Beauty and the Beast,
directed by Bill Condon, is a retelling of Disney's classic 1991 animated film that stars Emma Watson as Belle and Dan Stevens as the Beast. Kevin Kline, Luke Evans, Josh Gad, Ewan McGregor, Stanley Tucci, Gugu Mbatha-Raw, Audra McDonald, Ian McKellen and Emma Thompson also star in the film, which hits theaters March 17, 2017.
The teaser trailer debuted on ABC's
Good Morning America
Monday morning before appearing online around the globe. On Monday night, it also aired during the
Bachelorette
premiere on Disney-owned ABC, while it will be seen on the big screen this weekend before the studio's Memorial Day tentpole,
Alice Through the Looking Glass
.
Dave Hoberman and Todd Lieberman produced
Beauty and the Beast
, while Alan Menken, who won two Oscars for the 1991 animated movie, is doing the score.