PRAISE FOR LATEST ISSUE OF THE BOYS!
04/04/12 @ 2:55 pm EST
Source:
CBR
| Categories:
The Boys
|
Comments
(0) |
E-mail Article
|
Add a Comment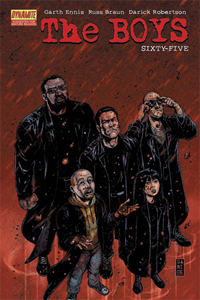 The Boys" #65
gets us straight into the action after Butcher stormed off to face the Homelander in last month's cliffhanger. This storm has built over 64 issues and the wait was worth it. Garth Ennis decides to throw a curve ball into the monumental moment that is either genius or completely ridiculous depending on whether you wanted this book to live up to its farce foundation or were hoping for something more serious. When you take into account all the things that have come before, this bloody denouement is the climax the central animosity deserves.
While the concept of the introduction of a third party in this issue makes for interesting retroactive knowledge, the characterization is mostly distracting and downright silly. It's a great idea that reads well on the first pass but loses fidelity with inspection and any desire to find deep understanding. From here, the madness descends and readers will be given the violence and grand ideas they crave from this title. It's a shame it comes at a cost to the seriousness of the book and possibly even the showdown.
"The Boys" #65 takes the showdown through all its stages right here. Nothing is decompressed. The manner it plays out is gonzo wacky but the greatest part is Butcher's reaction to every little moment. He's a smart man who….
For the full review visit CBR

JEREMY RENNER SIGNS ON TO LEAD A NEW TEAM
08/25/16 @ 9:51 pm EST
Source:
Bleeding Cool
| Categories:
MIsc
|
Comments
(0) |
E-mail Article
|
Add a Comment
Jeremy Renner
is joining a new team as the
Avengers
actor signs on to voice the lead in the
AMBI Group
3D Animated film
Arctic Justice: Thunder Squad
. Renner joins a cast that already includes
Alec Baldwin, James Franco, Anjelica Huston
and
Omar Sy
as a group of inexperienced heroes combining to thwart the evil
Doc Walrus
, voiced by
John Cleese
, and save the Arctic. Renner will be a fox named
Swifty
.
The screenplay is written by
Cal Brunker
and
Bob Barlen
.
VAMPIRE HUNTER D, REVIVED BY STRANGER COMICS FOR NOVEMBER 2016
08/25/16 @ 9:46 pm EST
Source:
Bleeding Cool
| Categories:
MIsc
|
Comments
(0) |
E-mail Article
|
Add a Comment
Originally a series of Japanese novels, then adapted into an anime movie in 1985, one of the first distributed in the West,
Vampire Hunter D
holds a special place in the American anime fan canon.
But it took until 2007 before it was adapted as a manga. And nine years later, this November, it is getting more of a Western comic book feel, courtesy of Stranger Comics.
VAMPIRE HUNTER D: MESSAGE FROM MARS #1
(W) Brandon Easton (A/CA) Michael Broussard
Drawn to Mars by an ancient message from Cecile, a girl who could see the future, D arrives to find a colony that is little more than a blood farm. With Left Hand by his side, D sets out to cleanse Mars of the vampiric scourge! (STL022424)
MICHAEL BROUSSARD COVER—36pgs, FC (1 of 5) $3.99
JAE LEE COVER—36pgs, FC $3.99Blank Cover -36pgs, FC $3.99
THE KID FROM BROOKLYN GOES HOME – UNVEILING THE 75TH ANNIVERSARY CAPTAIN AMERICA STATUE
08/25/16 @ 9:39 pm EST
Source:
Bleeding Cool
| Categories:
Captain Amerca
|
Comments
(0) |
E-mail Article
|
Add a Comment
Marvel
has released the unveiling ceremony for the 75th anniversary
Captain America
statue being placed in
Prospect Park
in Brooklynn. On hand for the ceremony was hostess
Lorraine Cink
, Marvel EiC
Axel Alonso
, and Borough President of Brooklyn
Eric Adams.
The statue will only remain in the park for a short amount of time before moving on to Barclay Center and then through out Brooklyn. Weighing in at close to a ton, that's a heavy statue to keep moving.
Marvel has also released a 'making of' video for the statue.
"Home" video:
https://youtu.be/dvJs6z68vic
"Making of" video:
https://youtu.be/zvjToCXHjlI
LUCIFER SEASON 2 "WHO ESCAPED HELL?" PROMO RELEASED
08/25/16 @ 9:33 pm EST
Source:
Comicbook
| Categories:
MIsc
|
Comments
(0) |
E-mail Article
|
Add a Comment
"Lucifer is terrified of the most recent escapee of the Underworld, his mom."
With the Season 2 premiere only weeks away, Fox has released a new promo for their comic book-based television series
Lucifer
, and it asks the question: "Who Escaped Hell?"
Promo video:
https://youtu.be/hxhJaFWnV74
Bit of an odd question since anyone following news on the upcoming season or watches this promo will know the answer to that question is Lucifer's mom, who is played by Tricia Helfer. However, the better question is: How did she get out of Hell?
In Season Two, LUCIFER MORNINGSTAR (Tom Ellis) and his brother, AMENADIEL (DB Woodside), who have been sparring over Lucifer's resistance to returning to the underworld, will now be brought back together for one common goal – to find their mother, CHARLOTTE (Tricia Helfer, "Battlestar Galactica"), who escaped Hell. After all, Lucifer doesn't take after his dad, so the parent he does resemble is sure to be quite terrifying. Lucifer's work with the LAPD also is upended when the police force hires ELLA LOPEZ (Aimee Garcia "The George Lopez Show"), a smart, tough forensic scientist whose mutual belief in both faith and science proves a point of interest to Lucifer.With mom on the loose, DR. LINDA MARTIN (Rachael Harris), who has become not only a therapist, but also a confidante to Lucifer, will surely have a lot of advice to dole out. And, by the time she's done with them, she may need a therapist of her own.Lucifer
is produced by Warner Bros. Television, in association with Jerry Bruckheimer Television. The series is based on characters created by Neil Gaiman, Sam Kieth and Mike Dringenberg for DC Entertainment's Vertigo imprint. Tom Kapinos ("Californication") wrote and executive-produced the pilot. The series is executive-produced by Jerry Bruckheimer, Jonathan Littman, Ildy Modrovich and Joe Henderson.
Lucifer
rises once again on Monday, September 19th at 9:00-10:00 PM ET/PT on FOX.
'BLADE RUNNER' SEQUEL CONSTRUCTION WORKER KILLED ON SET
08/25/16 @ 9:28 pm EST
Source:
Comicbook
| Categories:
MIsc
|
Comments
(0) |
E-mail Article
|
Add a Comment
A Hungarian construction worker has been killed while dismantling part of the set from the
Blade Runner
sequel.
The victim's identity has not yet been identified, butAlcon Entertainment confirms that the tragedy happened in Budapest's Origo Studios on Thursday as the victim was working beneath a platform on which the set was constructed when it collapsed.
The
Blade Runner
sequel was already wrapped at the time and further information on the accident has not been disclosed at this point.
BATMAN COSPLAY EARNS FAN A SPOT IN THE GUINNESS WORLD RECORDS
08/25/16 @ 9:26 pm EST
Source:
Comicbook
| Categories:
DC
|
Comments
(0) |
E-mail Article
|
Add a Comment
If you're ready to see a cosplay that'll make you say "Holy Smokes," then you've got to check out Julian Checkley's stunning
Batman
suit. The special effects artist created a hyper-realistic cosplay that's sourced straight from
Batman: Arkham Origins
, and the impressive suit has nowearned him a spot in the Guinness World Records.
Julian was awarded a world record which says his cosplay has the most functional gadgets with over 20 pieces. Given the creator's background, Julian was able to create all of Batman's hi-tech gadgets. The suit includes several classic
Batman
tools such as the hero's Batarang, but it also houses several exclusive pieces from
Arkham Origins
. Armed with a grappling hook and Bluetooth 'Bat Tracker,' Julian's cosplay looks like it was lifted straight from the game itself.
Discussing his suit's gadgets, Julian said, "there were many long hours trying devising the gadgets and finding ways to store them on the suit." But it's good the creator was able to find clever ways to incorporate all 23 pieces of gear into his cosplay. After all, Julian's record says his gadgets
must
be integrated in the suit instead of being separate, carried pieces. The creator even went so far as to enlist the help of an electrical engineer to ensure his EMP Stun Gun would safely fit in his suit despite its 2000 wattage.
But, for Julian, the project was one of passion given his love of
Batman
. "I've always been a
Batman
fan," he said. "He's kind of an anti-hero. He's kind of dark, but he's still a good guy. And there's so much scope to do so many fun things with the suit - I love the suit. I loved building it."
As for why the creator chose to base his
Batman
suit off
Arkham Origins
, Julian explained the game really focused on utilizing the hero's tools. He said, "
The Arkham Origins
game really has Batman's gadgets in there, and they're quite specific to
Arkham Origins."
When Julian is suited-up, the cosplay makes him stand at over 6"10' due his cowl's ears. Even without its gadgets, the suit easily stands up to nit-picky fans. Julian used 3D printing to create moulds which he then cast in rubber. He then detailed the parts and mounted them onto an undersuit before weathering Batman's suit so it looked like it had fought on Gotham's crime-ridden streets.
Of course, Julian is thrilled to have his cosplay honored with a world record. "To be a record-holder is amazing, quite literally amazing," he explained. And, when asked about which suit gadget was his favorite, the creator said he really loved Batman's gas dispenser and Bat Tracking device.
Video:
https://youtu.be/otCDg8kmVs4
CAPTAIN AMERICA: CIVIL WAR NEARLY FEATURED ZOMBIES, ACCORDING TO RUSSO BROTHERS
08/25/16 @ 9:18 pm EST
Source:
Comicbook
| Categories:
Marvel
|
Comments
(0) |
E-mail Article
|
Add a Comment
Before there was
Civil War
, there was
Madbomb
. The two comic book stories are staples for
Captain America
fans, and many of them wondered whether the stories would be brought to the big screen. Of course, fans know
Civil War
recently entered the MCU's canon \ this year - but did you know the block-buster almost didn't happen? According to the film's directors, Civil War was very nearly turned by
Madbomb
's zombie-like hoards.
Speaking with Entertainment Weekly, the Russo Brothers talked about the struggles they faced in securing
Civil War
as a storyline. "It was not a given that we were even going to do
Civil War
when we were talking about the next movie after Winter Soldier. So there was a period of time when we explored possibilities for Cap stories that did not include it," Joe Russo explained.
Of course, the pair had been eyeing
Civil War
for
Captain America
's third film for awhile. However, one problem stood between the directors and the storyline: Robert Downey Jr. The actor's contract with Marvel Studios was completed ahead of the film, and negotiations to extend Robert's deal was in a state of constant tug-of-war. As such, the Russo Brothers made sure they created a failsafe plan should
Civil War
go bust, and their search eventually lead the duo to look at Jack Kirby's
Madbomb
comic.
Anthony Russo revealed that, "there was a period where we did discuss a third act that revolved around the
Madbomb
from Cap mythology. It didn't have anything to do with
Civil War
, and if we couldn't get Downey – in the very, very early conversations before we nailed him – somebody pitched the idea of a third-act that revolved around the
Madbomb
, which makes people crazy. It almost like zombifies them – but not literally."
For those who're unfamiliar with the comic,
Madbomb
stands as one of
Captain America
's most notable storylines. The comic follows the hero after a bomb is set off in New York that turns civilians into mindless, violent machines of rage. Using sonic waves, the Madbomb wreaks havoc upon the minds of its unsuspecting civilians, and Kirby's art depicts those infected as if they were a crowd of zombies. The event forces Captain America to dismantle the bomb and reverse its effects, leaving him to face off against tons of undead wannabes.
As for why the Russo Brothers were interested in
Madbomb
, they said the story pitted Captain America against a totally unexpected opponent. Joe said, "The notion of the
Madbomb
would have been Cap having to fight civilians and how he would he handle that. We were always trying to put him into these interesting moral conundrums because of his nature. That would have made a compelling third act because if civilians are the antagonists, how could he stop them without killing them?"
And, what's more, the two said the hero would have to face-off against some old friends. While it's unlikely Vision would fall prey to the Madbomb, some of the Avengers members would have fallen victim to the weapon's crazy side-effects.
In the end, though, Robert Downey Jr. sorted out his contract with Marvel Studios and let the Russo Brothers scrap their
Madbomb
idea. However, fans of
Agent Carter
might recall that one of Howard Stark's stolen weapons closely resembled Madbomb. Labeled 'Midnight Oil,' the weapon used chemicals rather than sonic waves to make anyone who inhaled its aerosol insanely violent. So, who knows? Perhaps Madbomb - or Midnight Oil, rather - could still show up in the MCU in the future.
BATMAN: ASSAULT ON ARKHAM'S GIANCARLO ESPOSITO WOULD HAVE LIKED TO DO SUICIDE SQUAD
08/25/16 @ 9:07 pm EST
Source:
Comicbook
| Categories:
DC
|
Comments
(0) |
E-mail Article
|
Add a Comment
He may have found work at Disney under
Iron Man
filmmaker Jon Favreau in
The Jungle Book
-- out on Blu-ray and DVD this week -- but
Breaking Bad
's Giancarlo Esposito's comic book roles thus far have all been animated -- and they've mostly been DC.
Esposito, who played Ra's al Ghul in
Son of Batman
, also had a role in the animated adaptation of
Axe Cop
. And fairly recently, the actor played Black Spider in
Batman: Assault on Arkham
, the first feature-length movie to feature the Suicide Squad.
"It has been weird," Esposito said of having a live-action adaptation of the same source material come out so soon after the animated film in which he appeared. "I haven't seen the film yet. I know, I don't like to poo poo anything. I know I heard some various different critical comments on how the movie is. I would like to see it because I did work on the animated one. I think it's a wonderful story. It's certainly been successful. What does that mean? I'm very happy for their success. I will see. I'm proud to have been part of the animated version. I'm sorry that I wasn't a part of this version. It probably would have been fun to. I love Will Smith. I love a bunch of the actors in it but haven't seen it yet."During a chat about
The Jungle Book
and all things movies earlier this week -- the full text of which will run tomorrow -- Esposito said that he was proud to have been a part of the animated version and that it "would have been fun" to play a part in director David Ayer's recent live-action
Suicide Squad
movie -- if only because of the film's talented cast.
When it was pointed out that there may still be a role for him -- after all, Black Spider didn't actually appear in
Suicide Squad
at all, so it's not as though he was recast -- Esposito agreed: "That's right! So there's still room for [the sequel] to be even better!" He laughed.
In
Batman: Assault on Arkham
, Amanda Waller is trying to find a dirty bomb hidden somewhere in Gotham by The Joker. She uses Task Force X to do so, infiltrating Arkham Asylum while Batman is seemingly on a series of wild goose chases. The film is unique among DC's recent feature-length direct-to-DVD films in that it is set in the world of the
Batman: Arkham
video game series, and features character designs and plot points from that version of the mythology.
The film was released in August of 2014, two years prior to the theatrical release of
Suicide Squad
earlier this month, and five months after the Suicide Squad appeared in a hugely popular episode of
Arrow
.
THE FLASH MOVIE TO REPORTEDLY FEATURE THE ROGUES AS VILLAINS
08/25/16 @ 9:02 pm EST
Source:
Comicbook
| Categories:
DC
|
Comments
(0) |
E-mail Article
|
Add a Comment
Movie rumor maven Umberto "El Mayimbe" Gonzalez revealed during a Periscope broadcast tonight that he has learned Rick Famuyiwa's
The Flash
will feature not one villain, but a team of them.
The Rogues, to be specific -- as specific as one can be without actually naming any of the Rogues that might be appearing.
One assumes that if the report at Heroic Hollywood, Gonzalez's site, is true, the first villain added to the film will be Jai Courtney, who appeared in
Suicide Squad
as Captain Boomerang. In the film, he was brought into custody by The Flash.
There have been rumors that in a movie filled with antiheroes,
Suicide Squad
's Captain Boomerang was originally one of the least sympathetic, making racist and sexist comments and harassing his teammates, before his role was cut way down and he became essentially comic relief in the final version of the movie. If true, that could have been setting him up as a truly despicable person who could turn back to being an outright villain in
The Flash
and not totally spoil any potential arc he had in
Suicide Squad
.
In the comics, the Rogues are The Flash's most famous group of villains, and usually include Boomerang, Captain Cold, Heat Wave, Mirror Master, Abrakadabra, Weather Wizard, and more.
Two major Rogues -- Mirror Master and The Top -- will debut on The CW's
The Flash
this season. The Trickster, Boomerang, and Weather Wizard have all appeared in one or more episodes, and both Captain Cold and Heat Wave are headed into their second season on
DC's Legends of Tomorrow
this year.
Typically, DC has avoided having characters on both TV and in film at the same time -- see
Suicide Squad
characters like Amanda Waller, Deadshot, Katana, and Captain Boomerang being shuffled off the show once that movie was in production -- but with Superman coming to
Supergirl
and the inevitability that
The Flash
, currently The CW's top-rated show, will be on the air when Famuyiwa's film version comes to the big screen in 2018, on has to wonder whether the Rogues will be cleared out of
The Flash
to make way for their movie counterparts or if that's no longer part of the math producers are doing.
Ezra Miller will star in 2018's
The Flash
from
Dope
and
Confirmation
director Rick Famuyiwa. After first appearing in
Batman v Superman: Dawn of Justice
and again briefly in
Suicide Squad
, Miller's take on Barry Allen, the Fastest Man Alive, will make one last stop in next year's
Justice League
before he finally gets his own movie, starring alongside
Dope
's Kiersey Clemons as Iris West and
Justice League
's Ray Fisher as Victor Stone, the Justice League member better known as Cyborg. The film is expected to film in London in 2017 and be released in the U.S. on March 16, 2018.
GUARDIANS OF THE GALAXY VOL. 2 DIRECTOR REVEALS WHEN FILM IS SET
08/25/16 @ 8:56 pm EST
Source:
Comicbook
| Categories:
Marvel
|
Comments
(0) |
E-mail Article
|
Add a Comment
There are two things one needs to know regarding Director James Gunn. No. 1, he's not prone to give out spoilers, and No. 2, you should never insult his cat. Seriously, cats are sacred ground, and one should never refer to their weight. It's just not classy.
Cat comments aside, the Director of
Guardians of the Galaxy Vol. 2
recently hopped onto Facebook Live for an impromptu Q&A session, and when asked about Cosmo or any other unrevealed characters, he decided to instead lay out everything that has been previously released.
"I think we've given out the people that are in
Guardians 2
that we're going to give out so far, uh, which is we know Baby Groot is in the movie and that he's not an adult. We know that the movie takes place 2 months after the first movie ends. We know that Ego is the father of Peter Quill, that he's an ancient being. He's played by Kurt Russell. We know, what else do we know, we know that Mantis is in the movie. We know that Yondu and Nebula have more important roles in the film. We know that Sylvester Stallone is playing someone in the film. We don't know who. So those are kind of the things that we know that are out there right now, and as time goes on we'll let you know a little bit more."
While all of that has been heavily discussed already, there is one trinket of information that isn't common knowledge, and that is the timeline.
Guardian's of the Galaxy Vol. 2
is set a mere two months after the events of the first film. That isn't truly significant until you look at the bigger Marvel Cinematic Universe, which would place the events of this sequel before
Captain America: Civil War
. If the film is like the original, then it won't have much effect. If it decides to intertwine more with the rest of the film universe, however, it could make things a bit murky going forward.
Guardian's of the Galaxy Vol. 2
hits theaters on May 5th, 2017.
Video:
https://www.facebook.com/jgunn/videos/10153562475666157/