PRAISE FOR LATEST ISSUE OF THE BOYS!
04/04/12 @ 2:55 pm EST
Source:
CBR
| Categories:
The Boys
|
Comments
(0) |
E-mail Article
|
Add a Comment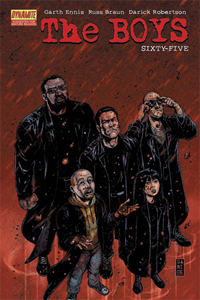 The Boys" #65
gets us straight into the action after Butcher stormed off to face the Homelander in last month's cliffhanger. This storm has built over 64 issues and the wait was worth it. Garth Ennis decides to throw a curve ball into the monumental moment that is either genius or completely ridiculous depending on whether you wanted this book to live up to its farce foundation or were hoping for something more serious. When you take into account all the things that have come before, this bloody denouement is the climax the central animosity deserves.
While the concept of the introduction of a third party in this issue makes for interesting retroactive knowledge, the characterization is mostly distracting and downright silly. It's a great idea that reads well on the first pass but loses fidelity with inspection and any desire to find deep understanding. From here, the madness descends and readers will be given the violence and grand ideas they crave from this title. It's a shame it comes at a cost to the seriousness of the book and possibly even the showdown.
"The Boys" #65 takes the showdown through all its stages right here. Nothing is decompressed. The manner it plays out is gonzo wacky but the greatest part is Butcher's reaction to every little moment. He's a smart man who….
For the full review visit CBR

POLICE SEIZE 'WOLVERINE'S HAND' IN DRUG RAID (WAIT, WHAT?)
02/26/15 @ 3:28 pm EST
Source:
CBR
| Categories:
Wolverine
|
Comments
(0) |
E-mail Article
|
Add a Comment


Police in Guelph, Ontario, probably didn't mean to sound alarming when they reported they'd confiscated "Wolverine's hand" during a drug bust. However, the hirsute mutant can regenerate, and these are (alleged) meth dealers we're talking about, so what are expected to think?

But no, CBC News reports, these were Wolverine claws found among the cash, small quantities of meth, ecstasy, heroin and marijuana, bulletproof vest and assorted knives, hatchets and machetes.

A police department spokesman suggested "Wolverine's hand" is actually a "push dagger," but that's not right, either. It's actually called a claw gauntlet, among other things, but it seems awfully popular in … certain circles: U.K. customs officials seized steel Wolverine claws on at least two occasions in 2009, and in Utah in 2012, a 19-year-old man was arrested after he allegedly went after his roommate with a pair.
EXPLORING UNTOLD TALES OF THE MARVEL CINEMATIC UNIVERSE IN COMICS FORM
02/26/15 @ 3:24 pm EST
Source:
CBR
| Categories:
Marvel
|
Comments
(0) |
E-mail Article
|
Add a Comment


For the production staff of Marvel Studios, comic books are more than just source material to adapt and inspire film and television projects. They're also a valuable storytelling tool that can expand the history of their interconnected universe and explore how their characters would react on some fun adventures that aren't necessarily integral to the history of the universe.

As a result, Marvel Studios and Marvel publishing have recently begun collaborating on a number of print and digital Infinite tie-in comics that expand the history of and play with the characters of the Marvel Cinematic Universe. These projects fill in gaps and extend personalities beyond the boundaries of the studios' twice annual films and various TV series.

One of the chief architects behind these collaborations is Will Corona Pilgrim. The writer is currently heading up the two-issue "Marvel's Ant-Man Prelude" series featuring art by Miguel Sepulveda as well as April's "Avengers: Operation Hydra" with artist Andrea Di Vito.
HEY, THE HULK'S IN CENTRAL PARK! MARVEL COMICS COVERS HIGHLIGHT NEW YORK
02/26/15 @ 3:03 pm EST
Source:
New York Times
| Categories:
Marvel
|
Comments
(0) |
E-mail Article
|
Add a Comment
Unlike the heroes of DC Comics, which often protect fictional cities like Gotham and Metropolis, the heroes of Marvel Comics tend to cluster around New York: Spider-Man, or rather Peter Parker, grew up in Queens, the Avengers and the Fantastic Four are headquartered in Manhattan, and the X-Men have a school for gifted youngsters in Westchester.
Marvel is celebrating the New York roots of its heroes in May with a series of covers that showcase the city and its colorful champions.
"Each cover is carefully considered to make a statement about New York," said Axel Alonso, the editor in chief of Marvel Comics.
The images include Ant-Man hanging out atop a hot dog cart, agents of the intelligence agency S.H.I.E.L.D. in aerial combat near the Statue of Liberty's torch and the Incredible Hulk catching some non-gamma rays in Central Park.
There will be New York-themed covers on 15 series.
GWEN STACY: 'SPIDER-GWEN' BRINGS ICONIC SPIDER-MAN GIRLFRIEND BACK TO LIFE
02/26/15 @ 2:57 pm EST
Source:
ABC News
| Categories:
Spider-Gwen
|
Comments
(0) |
E-mail Article
|
Add a Comment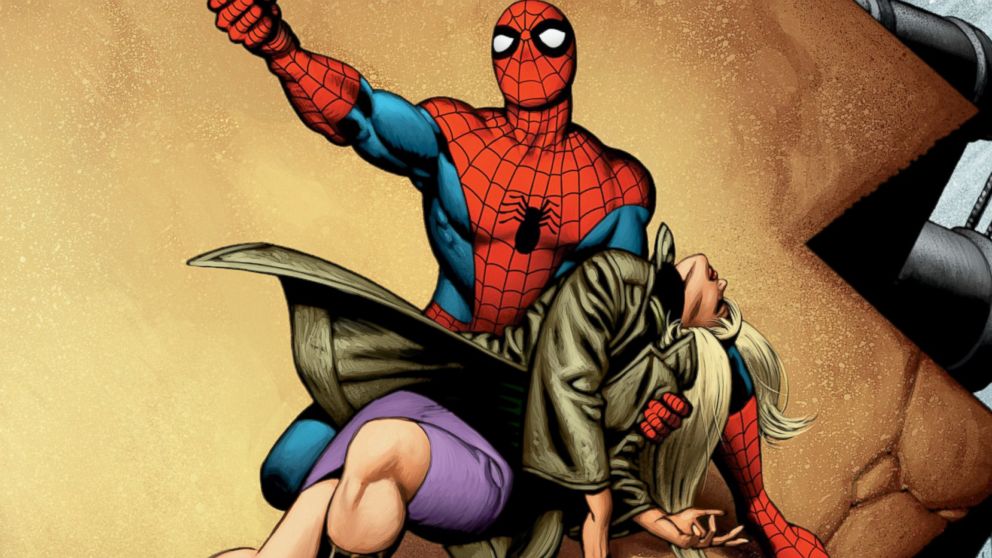 Gwen Stacy is iconic since becoming one of the first main characters in comic book history to kick the bucket.
Spider-Man's girlfriend died in 1973 after an epic battle between the web slinger and the Green Goblin, a huge move for comics and Marvel when no heroes died.
Well, now Marvel is bringing her back to life in "Spider-Gwen."
Yeah, you read that right. The magazine premiered Wednesday and has Stacy as a superhero in an alternate universe.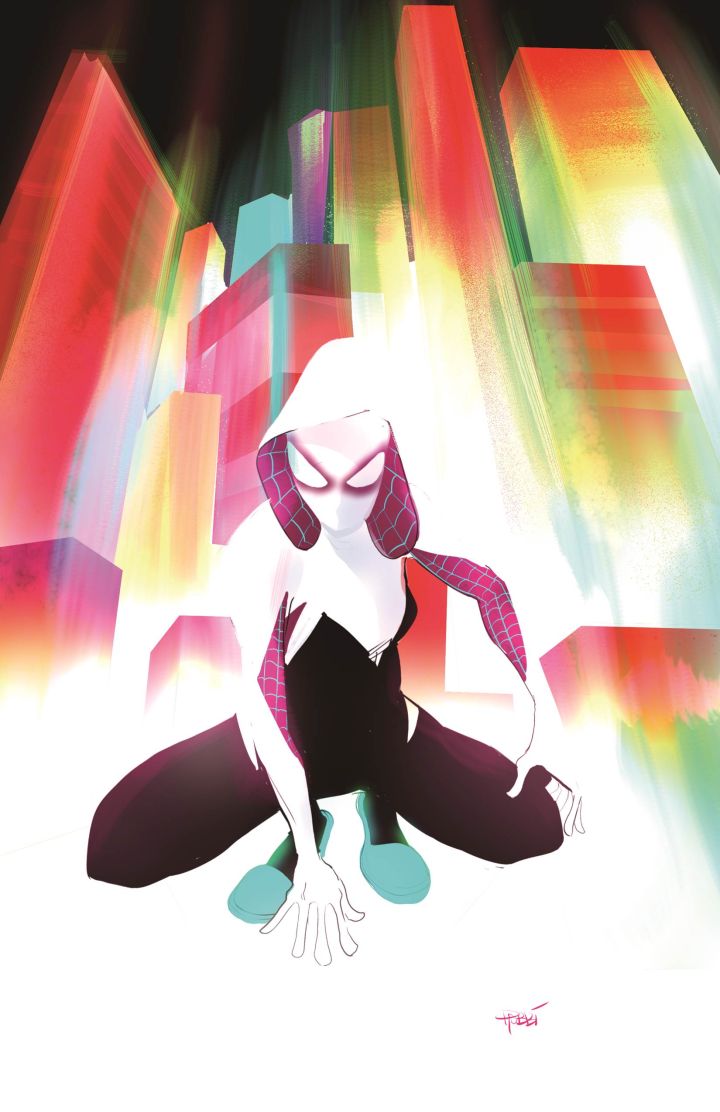 The story goes that the radioactive spider that bit Peter Parker actually bit Stacy on Earth-65, an alternate reality..
This isn't "Spider-Gwen's" first appearance though. She debuted in "Edge of Spider-Verse No. 2," where she watched Peter Parker die, not the other way around in the classic Spider-Man.
This version of Gwen Stacy is a rocker who plays in a band and gets slammed by Daily Bugle publisher J. Jonah Jameson, who you may know as Parker's angry, Spider-Man hating boss in the original series. He blames her for Parker's death.
ALL'S FAIR IN LOVE & BATTLEWORLD IN STAR-LORD AND KITTY PRYDE #1
02/26/15 @ 2:38 pm EST
Source:
Marvel
| Categories:
Legendary Star Lord
|
Comments
(0) |
E-mail Article
|
Add a Comment
War rages across the patchwork planet of Battleworld. Domains far and wide clash in an unending conflict for territory. Yet amid the fury and the fire of battle, there is love to be found as well. This June, one of the Marvel Universe's burgeoning romances will be put through the
Secret Wars
wringer in
STAR-LORD AND KITTY PRYDE #1
– an all-new Secret Wars series! Fan-favorite writer Sam Humphries and Marvel newcomer Alti Firmansyah ask the question – can love really conquer all?
"Star-Lord and Kitty Pryde is an action romantic comedy," says Sam Humphries. "It is the emotional and spiritual continuation of the great Peter Quill/Kitty Pryde romance that has been developing in
Legendary Star-Lord.
It's going to be funny, and fun – but also heartbreaking and thrilling."
The events of
Secret Wars
have brought these two together once more. Yet, hailing from entirely different realities, can these two-star crossed lovers reconcile their feelings for one another – even though they are not the ones they know?! Sure – if they don't kill each other first! The Kitty Pryde from the Age of Apocalpyse domain learned a long time ago not to trust anyone. Especially strangers from other realities who claim to be her boyfriend!
Star-Lord and Kitty Pryde are finally together in their own series! But are they TOGETHER together? The burgeoning romance of these two fan-favorite characters will be tested like never before on the surface of Battleworld. Will their love triumph across space and time? Or will the events of
Secret Wars
prove too much? The answers lie within True Believer – so don't miss
STAR-LORD AND KITTY PRYDE #1
on salte this June!
STAR-LORD AND KITTY PRYDE #1
Written by SAM HUMPHRIES
Art by ALTI FIRMANSYAH
Cover by YASMINE PUTRI
On Sale in JUNE!
FRACTION AND DECONNICK SIGN WITH UNIVERSALTV TO ADAPT SEX CRIMINALS
02/25/15 @ 8:10 pm EST
Source:
Bleeding Cool
| Categories:
MIsc
|
Comments
(0) |
E-mail Article
|
Add a Comment


Matt Fraction And Kelly Sue DeConnick have signed a two-year deal with Universal TV to adapt some of their comic properties for television as well as some original TV series concepts. Their Milkfed Criminal Masterminds production company will also be used to as a launch pad for other comic creator's IPs. They have hired Lauren Sankovitch as Managing Editor.

One of the first properties to be developed under the new deal is Sex Criminals by Fraction and Chip Zdarksy where a male actor and a female librarian discover they can freeze time when the orgasm. The series has won Eisner and Harvey awards and was named the best comic of the year in 2013 by Time Magazine.
"I THINK YOU NEED TO TREAT ALL YOUR CHARACTERS AS REAL" – DEL COL AND MCCREERY ON HOLMES VS. HOUDINI
02/25/15 @ 8:06 pm EST
Source:
Bleeding Cool
| Categories:
Sherlock Holmes Vs Harry Houdini
|
Comments
(0) |
E-mail Article
|
Add a Comment
Paul Tobin
, writer of
Turok: Dinosaur Hunter
#12, talks with writers
Anthony Del Col
and
Conor McCreery
about
Sherlock Holmes vs. Harry Houdini
#4, both on sale February 25th. Interior art by
Carlos Furuzono
PAUL TOBIN: Both Sherlock Holmes and Harry Houdini have a lot more to them than at first glance. Sherlock has his love (however reluctant) for the arts, and also his entirely enthusiastic love of a good fight. Harry, meanwhile, was far more than just an escape artist. He had a huge interest in the occult, in mysticism. How important was it for you to portray these two men as more than one-dimensional, and how did you go about it?ANTHONY DEL COL:
People hold Holmes and Houdini up in such high regard these days and for us it was important to really focus on not only what they do well but more importantly what they don't do well. What their weaknesses are. What will keep them back from being the great men that could do no wrong? That's the essence of making characters more than just one-dimensional.
CONOR McCREERY:
The bottom line is any character that is one-dimensional is not going to be an interesting character. It would be a horrible shame if we took these two amazing personalities and put them in a little box. My biggest regret is that we couldn't do more with them. We had some fun ideas to play with Holmes' struggles with women and Bess Houdini's outgoing nature. Maybe in another series?
?
CONOR:
We didn't see them differently because of the whole "Holmes is fictitious and Harry isn't" thing, I think you need to treat all your characters as real. But we definitely did approach them differently. We saw Houdini as more brash and impulsive and Holmes as more superior and aloof. Weirdly, though, it was easier to find research on what Holmes is like than it was Houdini.
ANTHONY:
It's funny – so many people around the world are aware of Sherlock Holmes that is almost feels like he was an actual person.
PAUL: Did you do any hands-on "escape artist" research? Can you escape from handcuffs now? It would be great if you could enter comic conventions by escaping a straight jacket while dangling over the show floor. Please tell me you can do that?ANTHONY:
I wish! We looked into it but the comic-cons have strict dangling policies… They only allow Marvel and Spider-Man writers to have access to any sort of above-floor dangling…
CONOR:
Although there is ONE amazing comic creator, who as it happens created a very cool Houdini book, that is legendary for escaping from a strait-jacket on the convention floor. We'll leave his identity as a Holmesian mystery for the readers to solve.
PAUL:
A couple of somewhat related questions, here. First… it's 1887 and you're having a drink with Arthur Conan Doyle. He's telling you about his new writing, the soon-to-be-published "Study in Scarlet" starring a chap named Sherlock Holmes. He asks you for advice on how to steer the character's future. What do you tell him?CONOR:
I, uh, tell him to show me his manuscript. Because I, uh, I want to help edit it. Yeah… edit it… And then I tell him to meet me outside in a dark alley, at midnight, and just, you know, "keep your back turned, Artie…"
ANTHONY:
I would tell him to get in contact with that Yankee Thomas Edison. First off, he could broker a film rights deal with ol' Edison. Secondly, Edison could show him how to protect his work. Thirdly, Edison would have been an interesting character in one of Holmes' future stories…
CONOR:
Curse you, Del Col! Point two just cost me millions! Millions!
PAUL:
And, now… it's 1913, and Harry Houdini is in jail after a bare knuckle brawl at a local pub. Harry tells you that either YOU have to fill in for the night's performance of the extremely risky Chinese Water Torture Cell escape, or that you have to help him pick the cell door lock and switch places with him, staying in jail for at least two weeks. Which do you choose?ANTHONY:
It depends – do I have to share the prison cell with anyone else…? Does my cell have good cell phone reception…? Can I get a big picture of Rita Hayworth in my prison cell…?
BEN ABERNATHY IS NOW DIRECTOR OF TALENT RELATIONS FOR DC COMICS
02/25/15 @ 7:59 pm EST
Source:
Bleeding Cool
| Categories:
DC
|
Comments
(0) |
E-mail Article
|
Add a Comment


Ben Abernathy, former DC Comics and Wildstorm editor left the company a few years back to work with Madefire… but now he is returning as the Director of Talent Relations.

Abernathy teased his return on twitter today, but then Gail Simone let the cat out of the bag all together.
MAGIC AND MYTH UNLEASHED ON THE STREETS OF MODERN JAPAN IN WAYWARD
02/25/15 @ 7:53 pm EST
Source:
Image
| Categories:
Image
|
Comments
(0) |
E-mail Article
|
Add a Comment
Writer Jim Zub (SKULLKICKERS,
Samurai Jack
) and artist Steven Cummings (
Legends of the Dark Knight, Deadshot
) spin enchantment and mystery together in a fantasy story about one girl's battle against the mythological creatures everyday mortals fail to see. Set in Japan, WAYWARD's depiction of the busy city streets of Tokyo and its rich occult history make it as much a living, breathing character as teen protagonist Rori.
"
Wayward
is about disaffected youth battling myths of old and, just like being a teenager, it's intense, funny, emotional, and violent," said Zub. "'String Theory' is our first step into this twisted world of modern, mystic mystery and I'm excited to bring readers along for the ride."
In WAYWARD, VOL.1: STRING THEORY, readers meet Rori, a misfit teen reluctantly transplanted from Ireland to her strange and new home in Japan with her mother. From the get-go there are some cultural adjustments to be made and Rori feels like a fish out of water—but things take a turn for the weird when she begins glimpsing things — creatures — that no one else can see.
"
Wayward
is a coming of age tale that comes up against monsters set in the very real Japan that everyday people experience," said Cummings, who lives in Yokohama. "Well, except they don't experience monsters... With every new step in the voyage we get to take our readers along for a guided tour of Tokyo and its Yokai side."
WAYWARD, VOL. 1: STRING THEORY arrives in comic book stores on March 25 and bookstores on April 7 for the low introductory price of $9.99. It is available for pre-order now.
FUNKO AND MARVEL ANNOUNCE A VARIANT COVER IN THE MARVEL COLLECTOR CORPS DEBUT BOX MARVEL'S AVENGERS: AGE OF ULTRON
02/25/15 @ 7:24 pm EST
Source:
Marvel
| Categories:
Marvel
|
Comments
(0) |
E-mail Article
|
Add a Comment
Funko announced a variant cover will be included in the Marvel Collector Corps debut box Marvel's Avengers: Age of Ultron shipping April, 2015.
"We are excited to announce the addition of the variant cover to the Avengers box," says Funko CEO Brian Mariotti. "This addition proves our promise to provide exclusive and premium product, to the dedicated Marvel fan through Marvel Collector Corps."
The variant will highlight the first edition of the new and ongoing series Guardians Team up Meet the Avengers. This major Marvel event highlights the crossover between The Avengers & Guardians of the Galaxy, depicted by artist Nick Bradshaw. The variant cover will be exclusive to Marvel Collector Corps.
"What a better way to kick off the historic launch of Marvel Collector Corps than with the Avengers AND by throwing in the Guardians of the Galaxy for good measure," says Marvel SVP Sales & Marketing David Gabriel. "We're beyond excited to bring this stunning variant cover exclusively to subscribers, uniting the current roster of Avengers with the biggest movie stars of 2014, the Guardians of the Galaxy for an all-new action-packed adventure!"
Marvel & Funko launched Marvel Collector Corps at the end of January in order to provide a service with a more dedicated point of view. This bi-monthly subscription service includes Marvel exclusives valued at over $50 per box. Funko announced the first mystery box would be devoted to Marvel's Avengers: Age of Ultron and included a sneak peek of the exclusive 6" Hulkbuster POP featured inside.
The announcement to include a variant cover in the debut box illustrates the partnership between Marvel & Funko, and drives the importance of exclusive product offering from both Marvel Comics and Marvel Studios. The debut box will ship in April, for the Marvel Studios release of Marvel's Avengers: Age of Ultron in theatres May 1, 2015.
The Marvel Collector Corps subscription service from Funko is available for $25 per box.