PRAISE FOR LATEST ISSUE OF THE BOYS!
04/04/12 @ 2:55 pm EST
Source:
CBR
| Categories:
The Boys
|
Comments
(0) |
E-mail Article
|
Add a Comment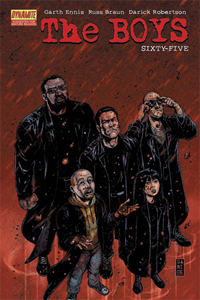 The Boys" #65
gets us straight into the action after Butcher stormed off to face the Homelander in last month's cliffhanger. This storm has built over 64 issues and the wait was worth it. Garth Ennis decides to throw a curve ball into the monumental moment that is either genius or completely ridiculous depending on whether you wanted this book to live up to its farce foundation or were hoping for something more serious. When you take into account all the things that have come before, this bloody denouement is the climax the central animosity deserves.
While the concept of the introduction of a third party in this issue makes for interesting retroactive knowledge, the characterization is mostly distracting and downright silly. It's a great idea that reads well on the first pass but loses fidelity with inspection and any desire to find deep understanding. From here, the madness descends and readers will be given the violence and grand ideas they crave from this title. It's a shame it comes at a cost to the seriousness of the book and possibly even the showdown.
"The Boys" #65 takes the showdown through all its stages right here. Nothing is decompressed. The manner it plays out is gonzo wacky but the greatest part is Butcher's reaction to every little moment. He's a smart man who….
For the full review visit CBR

WEIRDWORLD #1 BRINGS THE STRANGE & BIZARRE TO THE MARVEL UNIVERSE THIS DECEMBER
09/02/15 @ 2:05 pm EST
Source:
Marvel
| Categories:
Marvel
|
Comments
(0) |
E-mail Article
|
Add a Comment
Just when you thought the journey was coming to an end! This December, book an extended stay in the Marvel Universe's newest and most dangerous destination in
WEIRDWORLD #1
– a brand new ongoing series set in the All-New, All-Different Marvel Universe! Critically acclaimed writer Sam Humphries (
Legendary Star-Lord)
joins forces with fan-favorite
Weirdworld
artist Mike Del Mundo for a brand new adventure ripped from the pages of Secret Wars and planted firmly in the All-New, All-Different Marvel Universe!
"Weirdworld is a place where
anything
can happen," says series writer Sam Humphries in an interview. "Weirdworld is a place
inside
the Marvel Universe. Weirdworld is a place where the lost can be
found.
But only if you're strong enough…"
Imagine a world of sword and sorcery, a land where lost things go. Now imagine being trapped there with zero sword or sorcery experience! Meet Becca, an ordinary girl in an extraordinary world with one mission in mind – GET HOME ALIVE! Easier said than done! But how did she come to be here? And how can she hope to escape in one piece?
"Weirdworld is a place that is ever changing, always chaotic, and a place of infinite discovery," continued Humphries. "Its essential nature is so mysterious that no complete map can ever be created. It is a polyglot of fantasy, horror, sci-fi, and other weird things dug up from the brains of myself and [artist] Mike Del Mundo."
Barbarians! Wizards! Goblins! Even tricked out sports cars! All await Becca around every turn in the depths of Weirdworld. Be there as Marvel's own twisted fantasy realm comes alive before your eyes as Humphries & Del Mundo plunge headlong into
WEIRDWORLD #1
– available in comic shops and on digital devices this December!
WEIRDWORLD #1Written by SAM HUMPHRIES
Art & Cover by MIKE DEL MUNDO
On Sale This December!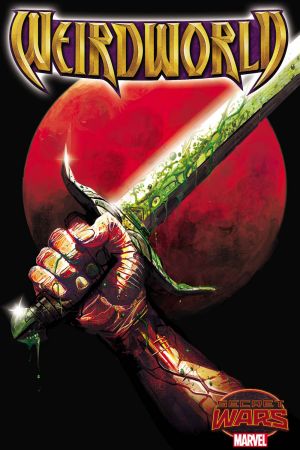 BREAKING: MARVEL'S 'LUKE CAGE': THEO ROSSI CAST, ROSARIO DAWSON TO REPRISE 'DAREDEVIL' ROLE
09/02/15 @ 1:47 pm EST
Source:
Deadline
| Categories:
Marvel
|
Comments
(0) |
E-mail Article
|
Add a Comment
Netflix's Marvel series Luke Cage has added two more key players. Deadline is reporting that Sons Of Anarchy standout Theo Rossi has been cast as a regular opposite Mike Colter and Alfre Woodard in the third series from Marvel's four-series package for Netflix. Additionally, it is reporting that Rosario Dawson will reprise her Daredevil role as Claire Temple in Luke Cage. That makes sense since in the comic books, Claire is a romantic interest of Luke Cage. First introduced on Daredevil, Dawson's Claire also is set to appear in the second Marvel series, Jessica Jones — where Colter's Cage also will make his debut — before moving to Luke Cage.

Like most comic book adaptations, the breakdown forLuke Cage features fake character names. Rossi was cast to play the "Sonny" role, described as relentless and menacing, smooth and manipulative, street smart and controlling. It is rumored Rossi would be playing Luke Cage's enemy Shades aka Alvarez, a well known criminal.

In Luke Cage, Mike Colte plays Cage, a wrongly accused man who, granted superstrength by a sabotaged experiment, escapes prison to become a superhero for hire.

Cheo Hodari Coker serves as executive producer and showrunner on the series, produced by Marvel Television in association with ABC Studios for Netflix.


SUPERGIRL: GLENN MORSHOWER CAST AS GENERAL SAM LANE
09/02/15 @ 1:29 pm EST
Source:
IGN
| Categories:
DC
|
Comments
(0) |
E-mail Article
|
Add a Comment
When DC Comics character General Sam Lanemakes his debut on Supergirl, he'll be portrayed by an actor who has plenty of experience playing military men, as IGN can exclusively reveal that Glenn Morshower has been cast in the recurring role on CBS's new fall series.
The Supergirl version of General Lane is described as a powerful military lifer -- and an overprotective father to both Lucy Lane and her sister, Lois. His arrival in National City stirs up trouble for Supergirl when he enlists her in a dangerous government initiative.
General Lane's introduction will come on the heels of meeting Lucy Lane on Supergirl, played by Jenna Dewan Tatum, who will also appear in a recurring capacity in the show's first season.
KENNETH BRANAGH TO DEVELOP DISNEY'S 'ARTEMIS FOWL'
09/02/15 @ 1:25 pm EST
Source:
Comic Book Resources
| Categories:
MIsc
|
Comments
(0) |
E-mail Article
|
Add a Comment
"Cinderella" director Kenneth Branagh will reportedly take the reins of Disney's long-developing adaptation of "Artemis Fowl."

The Tracking Board reports Branagh will develop and direct the project, based on the popular series of young-adult fantasy novels written by Eoin Colfer. Irish playwright Conor McPherson is in negotiations to write the script.

Debuting in 2001, the the eight-book series follows the adventures of Artemis Fowl, a 12-year-old criminal mastermind who, in the first novel, who hatches a dangerous plot to extort the Fairy People in an attempt to restore his family's fortune.

Branagh will produce "Artemis Fowl" alongside Harvey Weinstein.
BREAKING: STEVEN SPIELBERG'S DREAMWORKS TO SPLIT FROM DISNEY, IN TALKS WITH UNIVERSAL
09/02/15 @ 10:31 am EST
Source:
The Hollywood Reporter
| Categories:
MIsc
|
Comments
(0) |
E-mail Article
|
Add a Comment
With
Jurassic World
crushing box-office records,
Steven Spielberg
has reminded Hollywood of his might, putting him in a powerful position as he negotiates a distribution deal for DreamWorks before its current arrangement with the Walt Disney Co. expires in August 2016.
Sources say the Spielberg-directed
The BFG
, based on the
Roald Dahl
book and set to unspool on July 1, 2016, will be the last released under the Disney deal, which began in 2009.
The consensus among those with knowledge of the situation: Spielberg's likely future home is Universal, where he has maintained his offices even as DreamWorks distributed its films through Paramount and then Disney. Spielberg, 68, who was a hands-on executive producer on Universal's
Jurassic World
, is essential to future dinosaur movies (the next already is dated for June 2018) as well as associated theme-park attractions. Sources say Spielberg commanded his rich director's fee for
Jurassic World —
a percentage of profit worth tens of millions of dollars — from which he then paid helmer
Colin Trevorrow
. He also is key on potential reboots of other Universal franchises such as
Jaws
and
Back to the Future
. Universal declined to comment, as did DreamWorks. A Universal source says "the studio would welcome the chance to be DreamWorks' distribution partner" but any deal is premature.
DreamWorks will bring money to its new arrangement as sources say
Jeff Skoll'
s Participant Media is making an investment of $200 million and the company is said to be raising an additional $150 million to $200 million from other sources. That financing could enable DreamWorks to greenlight its own films and set budgets.
Spielberg, whose next film is the
Tom Hanks
Cold War thriller
Bridge of Spies
(Oct. 16), is not known for overspending, but in the current Hollywood climate, the studios are not investing much in the kind of adult fare that Spielberg often likes to make. As the low-profile Universal Filmed Entertainment chairman
Jeff Shell
hammers out terms with DreamWorks, says a longtime Spielberg associate, "This is a new generation coming to terms with Steven's desire to make quality movies at whatever price."
Several DreamWorks movies are in or near production.
Lasse Hallstrom
's
A Dog's Purpose
, filming now, might appeal to Disney but likely will be released by the company's new partner, as will two other films:
The Girl on the Train
, with
Tate Taylor
(
The Help
) directing and
Emily Blunt
starring, set for release in 2016; and
Ghost in the Shell
, starring
Scarlett Johansson
, which is dated for March 2017 (Paramount will distribute that movie overseas.) Spielberg has committed to direct his next movie,
Ready Player One
, for Warner Bros.
A new deal could mean a fresh start for DreamWorks, which has faced struggles from the inception of the Disney relationship. Sources say the DreamWorks team felt something of a strain from the start because its deal was negotiated with
Dick Cook
, then chairman of the studio, with the understanding that Disney would invest in DreamWorks' films and invite DreamWorks to participate in some of its projects. But soon after the deal was made, Cook was ousted and Disney CEO
Bob Iger
set a strategy of fully financing Disney movies.
Given market factors at the time, DreamWorks was left to fight for financing. It found backing from Indian giant Reliance, which could retain some participation in a new deal, but money became very tight as DreamWorks hit a prolonged cold streak, with disappointments including
Need for Speed
and
Delivery Man
. Spielberg's partner in DreamWorks, CEO
Stacey Snider
, left last year for a top job at Fox and was replaced by former Turner exec
Michael Wright
, who will maintain the job as the company transitions to a new distribution partner.
'THE WALKING DEAD': IS LOVE NEXT FOR RICK AND MICHONNE?
09/02/15 @ 10:25 am EST
Source:
The Hollywood Reporter
| Categories:
Walking Dead
|
Comments
(0) |
E-mail Article
|
Add a Comment
The beleaguered former sheriff can't seem to catch a break in the postapocalyptic world. While he managed to locate his wife, Lori (
Sarah Wayne Callies
), and son, Carl (
Chandler Riggs
), after awaking from a coma to find the world as he knew it had ended, he learned that she had cheated on him with Shane (
Jon Bernthal
), his best friend.
Ever since Lori died during childbirth, Rick has been a single father of two navigating the walker-filled world without a love interest. But die-hard fans have picked up on something more between Rick and Michonne (
Danai Gurira
) — aka
Richonne
. But can the alliance between the leader of the survivors and his katana-wielding companion evolve into something more?
The Hollywood Reporter
took that question to
Walking Dead
showrunner
Scott M. Gimple
and the stars to find out where they stand.
A romantic pairing would make sense given the group's arrival at Alexandria. The location is the longest-running home for the survivors in the comics and [spoiler alert!] finds Rick and Andrea's relationship evolving to more than friends and confidants. That storyline, however, is off the table after the AMC drama killed off
Laurie Holden
's Andrea, leaving an opening for a new potential love interest for Rick,
Alexandra Breckenridge
's Jessie currently appearing poised to take over that role.
"Comic book-wise Andrea is still the most important character in the books, and there is that vacancy in our show, and I think a lot of aspects of Andrea are going to be shared among a lot of characters — and not necessarily female characters," Gimple stresses.
Lincoln, meanwhile, says he most enjoys the light-hearted banter that Rick shares with Michonne.
"There's a kind of jokiness to them," he says. "They're both warriors, but she's one of the few people who can take the piss out of Rick, which is great. She has the arched eyebrow kind of smart-ass remark [persona], and I love playing those scenes. But also she has a great point of contact. There aren't that many people in the apocalypse, but when everybody is dead and it's just me and her left, let's get it on!"For her part, Gurira is appreciative that fans want her loner character to "get some."
"I always say to Gimple that she's the nun and she don't get none! But it's cool, it shows that there's a palpable true friendship there [for Michonne and Rick] that people can pick up on. But there's a friendship there that I treasure with Michonne's connection with Rick. He's the one who really challenges her to step out of who she was and who she was becoming. After that fight with the Governor (
David Morrissey
), she was becoming something quite ugly. … She had to go through that because of Rick, so that caused her to have a respect for him, and eventually he gained a trust and respect for her. There's definitely an intimacy of friendship there."
THE MUPPETS: KERMIT THE FROG'S NEW GIRLFRIEND DENISE FIRST LOOK
09/02/15 @ 9:58 am EST
Source:
People
| Categories:
MIsc
|
Comments
(0) |
E-mail Article
|
Add a Comment
Well, that didn't take long.

It's been less than month since Kermit the Frog and Miss Piggyannounced they were splitting after four decades together, but it appears the plush amphibian has already moved on.

Kermit, who is still working with Miss Piggy on her late-night talk showUp Late with Miss Piggy – a situation that is being documented on the upcoming ABC series The Muppets – has been spotted around town numerous times with a head of marketing at ABC named Denise, a source tells PEOPLE exclusively.

"She's always stopping by the set of Up Late," the source says of Denise.


STAN LEE HASN'T SEEN THE NEW FANTASTIC FOUR MOVIE
09/02/15 @ 9:54 am EST
Source:
Comicbook
| Categories:
Fantastic Four
|
Comments
(0) |
E-mail Article
|
Add a Comment
Like most of America,
Fantastic Four
co-creator Stan Lee hasn't seen the new
Fantastic Four
movie.
During an interview with Larry King on Ora.tv, Lee revealed that in spite of his pre-release support for the film, he hasn't gone out of his way to actually watch the historic flop.
"Well, it was probably because I didn't have a cameo in it, and they didn't discuss the story with me," Lee half-joked of the film's failure. "I haven't seen it yet, so I really can't comment."
He conceded that "That may be true" when confronted with the notion that some of the superhero franchises are starting to frustrate viewers by rebooting too soon.
LIEV SCHREIBER TALKS SABRETOOTH IN WOLVERINE 3, HEARD IT'S OLD MAN LOGAN
09/02/15 @ 9:50 am EST
Source:
Comicbook
| Categories:
Wolverine
|
Comments
(0) |
E-mail Article
|
Add a Comment
Back in August, Hugh Jackman said that there were lots of calls for Victor Creed (Sabretooth) to come back for
Wolverine 3
. Then, after Jackman tweeted a photo of himself working out, Liev Schreiber (who played Sabretooth) replied, "Do I have to do that?"
Many fans took Schreiber's reply as confirmation that he also was going to be soon working out to return as Sabretooth in
Wolverine 3
.
During an appearance on Tuesday night's
Tonight Show
, host Jimmy Fallon pointed out Schreiber's reply to Jackman's tweet and asked him if he was indicating he was returning as Sabretooth in
Wolverine 3
.
Schreiber said, "People have surmised that from my tweet, but I wasn't. I was really just saying is that something I have to do as I get older. Is that how I approach middle age? Like that."
Then, Fallon asked Schreiber if he would be willing to come back for
Wolverine 3
. Schreiber replied, "Well, what I heard was... I don't know if I'm invited," said Schreiber. "But I heard that the storyline is Old Man Logan. And when I heard that, I thought, 'Well, you know there's Old Man Logan, there could be Old Man Sabretooth.'"
KODANSHA COMICS NOW ON COMIXOLOGY
09/02/15 @ 9:45 am EST
Source:
ICv2
| Categories:
MIsc
|
Comments
(0) |
E-mail Article
|
Add a Comment

Kodansha Comics and comiXology announced a digital distribution deal that will make over 350 manga titles available immediately on the digital platform, including hit series Attack on Titan and Fairy Tail.

"Kodansha is a publisher that comiXology fans have been clamoring to read on our platform," comiXology's co-founder and CEO David Steinberger said in the announcement. In addition toAttack on Titan and several of its spin-off series, initial offerings include new series Noragami and The Seven Deadly Sins, and omnibus editions ofXXXholic, Tokyo Mew Mew and Tsubasa. Several new series will be added in the coming months.

"It's wonderful to bring our deep manga library to comiXology and their passionate audience," said Alvin Lu, General Manager of Kodansha Advanced Media, the Kodansha subsidiary in charge of its digital distribution. "We're thrilled to provide a significant boost to comiXology's manga selection."

Yesterday, Viz Media announced that the digital English edition of Weekly Shonen Jump will be made available on comiXology and Amazon's Kindle Store.