PRAISE FOR LATEST ISSUE OF THE BOYS!
04/04/12 @ 2:55 pm EST
Source:
CBR
| Categories:
The Boys
|
Comments
(0) |
E-mail Article
|
Add a Comment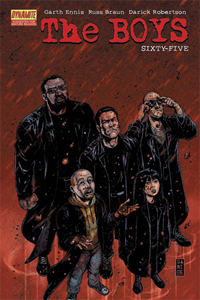 The Boys" #65
gets us straight into the action after Butcher stormed off to face the Homelander in last month's cliffhanger. This storm has built over 64 issues and the wait was worth it. Garth Ennis decides to throw a curve ball into the monumental moment that is either genius or completely ridiculous depending on whether you wanted this book to live up to its farce foundation or were hoping for something more serious. When you take into account all the things that have come before, this bloody denouement is the climax the central animosity deserves.
While the concept of the introduction of a third party in this issue makes for interesting retroactive knowledge, the characterization is mostly distracting and downright silly. It's a great idea that reads well on the first pass but loses fidelity with inspection and any desire to find deep understanding. From here, the madness descends and readers will be given the violence and grand ideas they crave from this title. It's a shame it comes at a cost to the seriousness of the book and possibly even the showdown.
"The Boys" #65 takes the showdown through all its stages right here. Nothing is decompressed. The manner it plays out is gonzo wacky but the greatest part is Butcher's reaction to every little moment. He's a smart man who….
For the full review visit CBR

LEANDRO OLIVEIRA INTERVIEW - THE ARTIST OF DYNAMITE'S PATHFINDER: CITY OF SECRETS!
02/26/14 @ 3:26 pm EST
Source:
Dynamite
|
Comments
(0) |
E-mail Article
|
Add a Comment
How did you break into comics? When did you decide you wanted to do this as a career?

I have enjoyed drawing comic book characters since I was small, but it was just for fun. Later I met Ed Benes, who had a studio near my home, and I was fascinated by the process of drawing comics. Then I realized I could make a living at drawing, and I started drawing more seriously, until I got my first professional job.

Who has been the biggest influence on you and on your comics career?

Ed Benes has been a huge influence, and has had the biggest impact on my career. I also really enjoy the work of Pasqual Ferry, Ivan Reis and Olivier Coipel.

What projects have you worked on in the past? Any favorites?

I have drawn Superman for DC and Darkness for Top Cow, as well as Warlord of Mars for Dynamite. I take great joy in seeing progress in my work, and I am really enjoying Pathfinder, which I like to think is some of my best work so far.

Do you typically work by yourself? What do you do to recharge your creative batteries? What do you find relaxing / enjoyable in your spare time?

I do most of my work at home or at Ed's studio. In my free time I enjoy hiking and watching movies.

Can you describe a typical day at work for us?

I start work at around 8am and go until noon, then break for lunch. I resume work in the afternoon, and often work into the evening.

Do you use computers at all in your work or is it all drawn by hand? Have you had any professional training as an artist?

My art is all drawn by hand, I use the computer only for reference. I have spent several years as a member of the Ed Benes studio, where I have worked directly with Ed on improving my skills.

What element of your work gives you the most personal satisfaction?

I really enjoy seeing my work as it is published. It is always exciting to see the final product in color!

You have a great handle on drawing fantasy. Were you into RPG (role-playing games - games like Pathfinder, Dungeons & Dragons, Final Fantasy) when you were younger? If you did not play these types of games, were you exposed to fantasy material in other ways?

I played very little RPG, but always liked the look of the characters and their universe. I enjoy watching fantasy movies when I have time.

Are there any particular Pathfinder characters that you're enjoying drawing the most? If so, who?

All characters have their quirks, and are fun to work with for different reasons. I'm really enjoying Ezren right now, as I think I identify most with this character (ha!). It is also fun to work with Harsk.

Do you have a top list of favorite characters or stories you'd like to tackle drawing in the future? Can you name a few?

My favorite characters are Batman, Captain America, and Green Lantern, and I hope I have an opportunity to work with them in the future. I would also enjoy working on Westerns.
JIM ZUB INTERVIEW - THE WRITER OF DYNAMITE'S PATHFINDER!
02/24/14 @ 3:04 pm EST
Source:
Dynamite
|
Comments
(0) |
E-mail Article
|
Add a Comment
How did you break into comics? When did you decide you wanted to do this as a career?

I guess it depends on your definition of "breaking in". In 2001 I created an online comic called The Makeshift Miracle that I serialized online. It was a creative outlet, a way for me to work on my art and have regular output so I'd get it done. Through that website I met a bunch of other comic creators (including Scott McCloud, Joey Manley, and Lea Hernandez) and they convinced me to travel to San Diego Comicon in 2002. That was the first time I felt like I was a comic creator, even if it was still a hobby at that point.

My first professional comic credit would be as a colorist for the UDON studio on the Chronicles of Conan reprints Dark Horse was putting out at the time. From there I'd move on to doing other illustration work at the studio, then over to Project Management, Editorial, and eventually writing. My first professional comic writing credit is on the Exalted comic series UDON released in 2005.

Who has/have been the biggest influence(s) on your on your comics career?

Growing up as an avid comic reader I went through a bunch of reading phases, from superheroes, through to indy black & white comics, to manga, mature readers books, and everything inbetween, so it's a bit hard to pin down influences that people would be able to see in my work.

Reading manga by Masakazu Katsura, Katsuhiro Otomo, and Izumi Matsumoto opened my brain up to the possibilities for stories that weren't just superheroes or Hollywood-style action-adventure.

Seeing the script sample by Neil Gaiman in the back of the Sandman: Dream Country collection was a big deal. It really drove home that these stories were being written by someone and it demystified some of that process for me.

Bone by Jeff Smith mixed an all-ages animation sensibility with a fun and engaging story. I was in college taking animation courses and reading that Jeff started as an animator and moved into comics was definitely an inspiration.

I know you always have a full plate, as you do some teaching in addition to your writing workload. Can you describe a typical day/work routine for us?

My day to day schedule can vary quite a bit, but on a week by week basis there is some sense of consistency.

I teach at Seneca College here in Toronto. I've been coordinator of Seneca's 3 year Animation advanced diploma program for the past 8 years, so I take care of curriculum development, scheduling instructors, equipment budgeting, and handling student concerns while also teaching a few courses each semester. It's a full time job so I'm at the college on most weekdays. When I have free time at the school I squeeze in some comic scripting, either between classes or during my lunch break, but the bulk of my comic writing happens at home in the evenings or on weekends. I try to do a bit each day, maintaining a regular page count during the week and then tend to write bigger blocks of material on weekends, with the occasional marathon writing session in there if things fall behind.

All of that jammed together with convention travel during the spring and summer doesn't leave a lot of free time, but I'm doing something I love, both at the college and with my writing, so it's worth it.

Have any writing methods you care to share?

I cover quite a bit of this on some writing tutorials on my blog, but I tend to be quite structured in my writing approach. I outline and do page pacing breakdowns so I have a really solid idea of what's happening in the story before I start scripting. Having that structure already figured out saves me a lot of stress and I think helps cut down on extensive revisions later in the process. That structured method doesn't work for everyone, but I've found it invaluable.

Were you into RPG games/D&D growing up? Do you still play?

Big time, yeah. My older brother and cousins started me on Dungeons & Dragons when I was 8-9 years old and it really ignited that storytelling fire within me. At a table full of older people I'd get my turn to speak and could help guide the story, which was a really cool feeling to me at the time. By high school I was usually the game master for my group of friends and we played any tabletop game we could get our hands on – Rifts, Shadowrun, Vampire the Masquerade, TMNT, Call of Cthulhu, Feng Shui. You name it and we probably played it at some point.

I'm way too busy to have a regular campaign going anymore, so when I get together with friends to play we tend to gravitate towards board game nights. We love co-op games that have a bit of that RPG feel, and our current favorites include Zombicide, Arkham Horror, Pandemic, and Escape from the Temple.

You're known for your fantasy writing. What're the differences between working with a large established world like Pathfinder as opposed to creating one wholly as you've done with Skullkickers?

They're both great in their own way. Having an established framework already in place can really help when I'm trying to come up with story ideas. Golarion, the fantasy world of Pathfinder, is so chock full of amazing material that you can build from or use as a springboard for other ideas.

Working on Skullkickers and generating the whole thing from scratch is obviously satisfying too. There's a freedom there that's scary and wonderful at the same time. It's like a circus trapeze without a safety net. When people tell me they're enjoying Skullkickers I have such an incredible amount of pride because I know it wouldn't exist if Edwin and I didn't put it together.

You seem to prefer fun RPG-style character banter/action as opposed to stodgy, uptight fantasy stuff. Is that a fair statement?

That's pretty dead-on, yeah. I love 'earthy' fantasy like Conan or Fafhrd and the Gray Mouser rather than high fantasy dross packed with unpronounceable names and an over-inflated sense of gravitas. I think that's the D&D influence rearing its head. When you're creating fantasy stories with your friends around a table it tends to be frantic and a bit ridiculous. That's always felt like the proper sword & sorcery mix to me.

There has been a lot of positive response to the first 12 issues of the Pathfinder comic. How does City of Secrets tie into those issues?

I'm really proud of what we've done with the Pathfinder comic and I'm thrilled that fans have been enjoying the stories I've put together.

City of Secrets picks up right after issue #12 and the Pathfinder Special. The iconics are now in Magnimar and that exciting new location brings with it greater challenges and higher stakes. The group's unity will be tested as each of them are pulled in different directions based on what they want or choices they've made in their past.

What's got you most excited about this new mini series?

The first two story arcs were groundwork for establishing the group, defining their personalities and the bonds between them. Now that we have that in place we can dig deeper in terms of their motivations and needs while also showing more of the great things that make the Pathfinder setting so unique and exciting.

Any new projects or plans for 2014 you want to tell us about before you go?

I'm juggling a lot of different projects this year in addition to Pathfinder: City of Secrets. I can't say too much beyond that right now, but there are a lot of new Jim Zub-penned comics coming throughout 2014. Right now I have 7 projects at 6 publishers all at different stages of production. I hope that if people are enjoying Pathfinder they'll check in with other comics I'm working on as they're announced and released.

The best way to keep up on what I'm doing is through my website: www.jimzub.com. In addition to announcements and interviews I've got tutorials about writing, pitching, and working in comics that people may find helpful.
DYNAMITE'S 10 YEAR ANNIVERSARY COMIXOLOGY SALE EXTENDED TO SUNDAY FEBRUARY 16TH AT MIDNIGHT EST! 50% OFF ON OVER 1,500 DYNAMITE COMICS!
02/14/14 @ 9:49 pm EST
Source:
Dynamite
|
Comments
(0) |
E-mail Article
|
Add a Comment
Dynamite Entertainment is celebrating their 10th anniversary in July of 2014, and we're kicking off the year right with an incredible sale at ComiXology, with the sale now lasting until February 16th at midnight EST so make sure to get your favorite Dynamite titles on this monumental anniversary!! With one of our many celebrations, Dynamite is offering all of our titles 50% OFF for all Dynamite titles (that's over 1,500 titles) that were released before today, Tuesday, February 11th!
Go to the link below to find all of Dynamite's comics at an incredible discount! To get this discount, the code word is DYNAMITE. Remember, only Dynamite offers deals like this to celebrate our 10th Anniversary!
http://www.comixology.com/Dynamite-Sale/page/774
This offer can only be redeemed on comiXology.com!
DYNAMITE INTERVIEWS FRANCAVILLA, BARBIERE, ABNETT AND BUNN ON 10TH ANNIVERSARY!
02/14/14 @ 9:59 pm EST
Source:
Dynamite
|
Comments
(0) |
E-mail Article
|
Add a Comment


Interview with Francesco Francavilla

1 - It's Dynamite's 10th Anniversary, and your first series with them, Zorro, received overwhelming positive reviews, with the legendary Matt Wagner. What are your thoughts on the final comics?

I have fond memories of the two arcs of Zorro I did with Matt: he is a great writer and, on top of that, an artist himself, so that helped in making those some of the most striking takes on Zorro in recent years. I am still very very happy and proud of the work done on those comics.

2 - Was this your first major work?

Let's see: 14 issues drawn, working with one of the modern masters of the medium on one of the most popular icon of literature and cinema? Yeah, I think that qualifies as my first major work.

3 - What brought you to Dynamite? What did you think of your work there?

Zorro was the main reason. I had approached them about doing some cover work on other properties, but when I found out they had acquired the Zorro license and that Matt was writing it, I made sure they knew how much I wanted to draw that book And they have been a pleasure to work with since then.

4 - You've recently won awards including the Eisner Award? How gratifying was that.

Pretty gratifying, especially considering all the hard work many of us put in making comics, getting that extra recognition is like the cherry on the cake.

5 - What are your thoughts on digital comics as a creator and as a fan?
With all these new tools (ipad and the like) it's great that comics are available for other platforms than just paper; it helps reach more readers and might be the perfect solution for those who are running out of shelf space. At the end, most digital comics are available as collected print edition as well, so really there is no excuse today to not read comics, one way or the other.

Interview with Frank Barbieri

1 - It's Dynamite's 10th Anniversary, and your first series with them - Solar: Man of the Atom - is in the newest Previews Magazine and fans and retailers are ordering now for shipping in April, and the monthly will hit through the anniversary. Before Solar you had worked with both Image with 5 Ghosts and Dark Horse on Dark Horse Presents, and on the upcoming White Suits. What drew you to working with Dynamite?

A: Nick (Barruci--the CEO) reached out to me personally after reading Five Ghosts, and I was immensely flattered. We chatted about comics, the mutual properties we were into, and took it from there. Dynamite has such a wonderful stable of classic characters, and has really been stepping up their game with the level of talent they've been bringing in, so it was a no brainer when I was offered a shot to work with them. Luckily, the stars aligned, and my first project is Solar.

2 - You're part of a huge universe launch with the Gold Key characters, and your in a class with Greg Pak, Fred Van Lente and Mark Waid. Any pressure?

A: Haha, well with every project I put a lot of pressure on myself to make it as good as I can. I'm certainly amongst a lot of crazy talent, and everyone has been so open and wonderful in communicating and collaborating. I really just want this to be my unique take on the character and build a book I'm proud of--and so far, so good! I have to give a shout out to my wonderful editor Nate Cosby who's really taken the time to develop the character with me and keep everything on track. He manages the whole line, as well as his own projects, so…he probably doesn't sleep.

3 - Turok #1 has sold out and gone to a second printing. Any more pressure there for Solar: Man of the Atom?

A: It's exciting to see the books resonating with fans and retailers! I wouldn't say there's pressure as much as there's excitement--people are ready to love these characters again and I'm glad to know there's an audience willing to give us a shot.

4 - Are you pleased with the way the series is coming together? What do you think fan reaction will be?

A: I'm beyond proud of the stuff we've put together so far and think fans, new and old, are going to really enjoy it. We've really emphasized on building the characters and the world, so readers should come to know our cast and hopefully be invested in who they are. I think there's certainly plenty to love for fans both new and old.

5 - What are your thoughts on digital comics as a creator and as a fan?

A: I think digital comics really open the door to a generation of readers who aren't accustomed to going into comic shops. The fact that anyone can buy comics at anytime is really exciting to me…and I think it's helping grow the hobby, as well as getting some new faces into the comic shops! I personally love that I can buy a lot of back issues that I'd have no shot of finding on my own, and don't have to pay crazy, premium prices.

6 - What roll do you see digital comics playing in the macro of the comics industry?

A: As I said, I think digital comics are very important for growing the hobby and getting a whole new generation on board. I personally love retailers and comic shops, but digital is definitely an important part of the whole equation. I think fans that get on board digitally will find their way to shops, and into the culture. It's a great and accessible avenue, and Iook forward to seeing it evolve!

Interview with Dan Abnett

1 - It's Dynamite's 10th Anniversary, and last year you helped relaunch Battlestar Galactica for it's 35th Anniversary. Before BSG you had worked with primarily both Marvel and DC, with some work with other smaller publishers, and had been a DC Exclusive writer for quite a bit. What are your thoughts on working with a "non-Big 2" publisher.

Dan - I've worked for many publishers over the years, big and small, and I'm always happy to write for a "non- Big 2" because of the opportunities that offers. Smaller publishers work very hard to find spaces in the marketplace to thrive, and that often leads to the production of varied and interesting work - either unusual creator owned books, or the opportunity to work on great and classic franchises, like Battlestar, which are used as eye-catching brand leaders. Working with the Dynamite crew of Battlestar has been an absolute blast so far. The 35th anniversary story was huge fun, and I've been particularly delighted by the way Dynamite has let me build character dynamic and fresh continuity from issue six onwards. I am really proud of those issues, where there is a sense of ongoing development through individual adventures, and I urge readers who haven't picked them up so far to go take a look.

2 - What are your thoughts on digital comics as a creator and as a fan?

Dan - I don't think the storytelling possibilities of digital comics has yet been pushed to its limits, but I love digital as a delivery system. A opportunity to try things instantly? To put together collections? To subscribe so you don't miss out? Fantastic.

3 - What roll do you see digital comics playing in the macro of the comics industry?

Dan - I think it's increasingly vital, and by lowering print costs etc, it may be the salvation of comics, especially given that the world now expects to be able to access and download almost everything from the comfort of home. A great publisher is one who balances the delivery and availability of print and digital. Dynamite seems to be doing just that.

Interview with Cullen Bunn

1 - It's Dynamite's 10th Anniversary, and your first series will be hitting later this year through the anniversary. You're largely know for the work you do with Marvel and Oni. What are your thoughts on working with a other publishers.

It's a pretty awesome time to be working in comics. There are so many wonderful publishers, and each and every one of them have their own look and feel. As a writer, it's a thrill that there's so much variety out there.

2 - What are your thoughts on digital comics as a creator and as a fan?

I'll admit that my first reaction (as a fan) to digital comics was negative. I couldn't see myself ever moving away from floppies. But the convenience is a pretty great selling point. There are books that I have in floppies that I've ended up buying in digital format, too, just so I don't have to go through all those disorganized boxes of books. As a writer, I think digital comics are wonderful, because its another avenue for readers to pick up my work. I know people who wouldn't be reading comics right now if it wasn't for the digital option. Anything that gives fans more options is great by me!

3- What roll do you see digital comics playing in the macro of the comics industry?

I think digital comics will be an entry-point for new fans, just as the growth in trade sales has introduced a new way for readers to get their fix. I think there are those readers who will always buy floppies, some who will only by trades, and some who will only buy digital. Then there are those who--God bless them!--will buy all three! I think expanding the options for readers (existing and potential) is the key to longevity, and digital books are one rung on that ladder.



A DYNAMITE TENTH ANNIVERARY INTERVIEW WITH J. MICHAEL STRACZYNSKI
02/14/14 @ 7:55 am EST
Source:
Dynamite
|
Comments
(0) |
E-mail Article
|
Add a Comment
It's Dynamite's 10th Anniversary, and you're first series with them, Twilight Zone, has received overwhelming positive reviews, with issue #2 just having hit last week. How are you finding your first project with Dynamite?

It's been great fun. Nick is ridiculously supportive of his writers, and creates a terrific in which to work. I'm very happy with how the book has come out.

Following an incredible run at Marvel, and then DC, you're main home is now Image, with multiple titles. What made it viable for you to work on Twilight Zone at Dynamite?

I wanted to. I think we all make time and space for the things that matter to us, and the opportunity to work with Nick on something as iconic as Twilight Zone was simply too amazing to pass by. So one makes the window, then dives through it.

You're a huge fan of the series and Rod Serling. It's well documented. You've written for the TV series, short stories, the magazine, and a single story for Now Comics. Many years later, what continues to draw you back to the series?

I think there must be something in the ether, because no matter what I do or where I go, every year or two something comes at me from either the Rod side or the Twilight Zone side. (There's another project involving Rod that's just come my way, which I can't talk about yet...but again, there it is, and there he is.) Beyond the vagaries of fate, for me the main attraction is the history and legacy of that title, and the structure of anthology storytelling. There's so little opportunity for such storytelling right now, so the chance to play in that sandbox is far too tempting to ignore.

You've set this up as a maxi-series. It seems that this is a better way to tell the story to truly engage fans. The single story/single issue format doesn't allow for fans to really get to know/love/hate characters to feel the depth of the story. This has changed that dichotomy. What inspired you to go in this direction?

The prototypical Twilight Zone story is one in which you emotionally engage with the character -- whether he's a good guy or a bad guy -- then over time see terrible or wonderful or terrifying things happen to him (or her). It's a gradual slide into something larger. What folks need to remember is that the original Twilight Zone was broken up into acts: each act ended on a cliffhanger, there was a break, then the next act. What we're doing is thus not really any different than what was done with the series. Each issue of the book is one act of the story; four acts per arc, tracking pretty close to the average TV episode.

What are your thoughts on digital comics as a creator and as a fan?

I see their utility but I don't think we've yet figured it out yet on an artistic level. Right now it's being treated as another distribution platform, stapling Object A onto System B without quite making it an organic part of the system. What do I mean by that? When film moved from silent movies to talkies, they brought all these playwrights out of New York to write scripts and give it a sense of dramatic legitimacy. (They did much the same thing in the oft-cited Golden Age of Television.) If you look at those very early films, they're practically just stage plays committed to film. It took directors a while to figure out how to use the medium of film in new and dramatic and compelling ways that were completely outside the purview of live theater...instead of simply stapling a stage play onto a film delivery system. A similar paradigm shift hasn't yet taken place in the world of digital comics.

What role do you see digital comics playing in the macro of the comics industry?

That will be determined and defined entirely by the answer to the previous question. As the early film-makers knew the language of playwriting and had yet to invent the language of cinema, we know the language of comics and have not yet invented the language of digital storytelling.
DYNAMITE'S 10 YEAR ANNIVERSARY SALE AT COMIXOLOGY! BEGINNING FEBRUARY 11TH - 50% OFF ON OVER 1,500 DYNAMITE COMICS!
02/12/14 @ 2:54 pm EST
Source:
Dynamite
|
Comments
(0) |
E-mail Article
|
Add a Comment
Dynamite Entertainment is celebrating their 10th anniversary in July of 2014, and we're kicking off the year right with an incredible sale at ComiXology! With one of our many celebrations, Dynamite is offering all of our titles 50% OFF for all Dynamite titles (that's over 1,500 titles) that were released before today, Tuesday, February 11th!

Go to the link below to find all of Dynamite's comics at an incredible discount! To get this discount, the code word is DYNAMITE. Remember, only Dynamite offers deals like this to celebrate our 10th Anniversary!

http://www.comixology.com/Dynamite-Sale/page/774

The sale lasts until February 13th, so make sure to get your favorite Dynamite titles on this monumental anniversary! This offer can only be redeemed on comiXology.com!
TUROK: THE DINOSAUR HUNTER #1 REVIEWS!!!!!!!
02/10/14 @ 12:57 pm EST
Source:
Dynamite
|
Comments
(0) |
E-mail Article
|
Add a Comment
Check out the tremendous reviews Dynamite has received for Turok #1!

TUROK: THE DINOSAUR HUNTER #1 (Newsarama) – " Each iteration of Turok: Dinosaur Hunter sees the creative team putting their own take on what's basically a man-versus-nature story. Writer Greg Pak takes some of the best lessons from Planet Hulk and creates a Turok that is among his people, but still very much an outsider. It's refreshing to read the character still so new to the world he will soon inherit. However, the real star of this comic is artist Mirko Colak. His line work sets a fantastic tone for the book and drafts a world that feels very much alive, both in beauty and brutality. His inks balance perfectly with smart coloring choices by Laureen Affe. While Pak's dialog reads a little choppy at times, the twist and art more than raises Turok: Dinosaur Hunter #1 to a must-read."

TUROK: THE DINOSAUR HUNTER #1 (Comic Book Resources) – "As Turok: Dinosaur Hunter #1 closes, the setting comes into clearer focus, giving readers a sense for the where and the when, but the what remains a mystery and has promised to pack an adventure-filled picnic basket for lunch."

TUROK: THE DINOSAUR HUNTER #1 (Newsarama) – "We love the classics and are always a bit hesitant when those classics are revamped and repackaged with a shiny new cover and presented to us all over again. As someone who's only exposure to this character is by controlling him in a 64-bit video game, this comic serves as a great introduction to Turok's personality and the world that he inhabits. Gone is the running and gunning tough guy that I played in the video game and in his place is a sensitive, relatable outcast in a dangerous world - he is every bit of a classic hero. Pak uses simple storytelling techniques to tell a compelling story, and coupled with the slick art of Colak and Affe, we are presented with a great introduction to Turok and this line of classic books."

TUROK: THE DINOSAUR HUNTER #1 (IGN Comics) – "Pak keeps the dinos at bay so we can spend some time getting to know Turok, which really pays off. There's a ton of heart in this first issue as we see the pain and burden that the character carries. His world feels real, even though it's one completely foreign to us. It's not immediately clear why this otherwise straight forward tale has dinosaurs in it, but if your hook is "There are dinosaurs here!" then you can sign me up. This is just a great comic book. It's well written, fully realized and, oh yeah, it has dinosaurs in it. Dinosaurs with feathers."

TUROK: THE DINOSAUR HUNTER #1 (Comics Spectrum) – "Dynamite action & explosive storytelling get the Gold Key relaunch off to a great start. Pak's story and Colak's art blended perfectly to draw me into Turok's world. The last two pages of the issue were the icing on the cake adding in an additional story element that I'm going to love seeing played out over the course of the series. We have something here that is respectful of its roots but completely fresh. I'm on board for this series and am looking forward to seeing the other titles in Dynamite's Gold Key relaunch; Pak and Colak have set the bar pretty high for the other titles debuting soon."

TUROK: THE DINOSAUR HUNTER #1 (Unleash the Fanboy) – "Pak added some action to the issue as well, but it was the build-up of character along with the symbolism that I enjoyed the most. Mirko Colak did an astonishing job of the artwork. The detail and layouts were particularly impressive, as despite having a lot of scenery it was still very smooth and realistic. Turok opens the Golden Key Universe nicely and if the remaining three series are like this I will be a very happy fanboy. Highly recommended."

TUROK: THE DINOSAUR HUNTER #1 (Graphic Policy) – "The Gold Key Universe begins here as Dynamite brings back numerous classic characters such as Turok, Magnus, Dr. Spektor, and Solar, with some amazing talent. First up is Turok: Dinosaur Hunter #1 courtesy of writer Greg Pak and artist Mirko Colak."

TUROK: THE DINOSAUR HUNTER #1 (Bagged and Bored) – "Colak's art is beautiful, and he captures the natural setting with beautiful tones by Lauren Affe. I have high hopes for this series. With Pak at the helm we can expect that the story will be entertaining and high energy. Even if there end up being no bionic dinosaurs I'm sure that Dynamite will continue their successful rebooting of comic characters."
DYNAMITE.COM EXCLUSIVE!!! GREG PAK INTERVIEW WITH QUESTIONS BY ROBERT PLACE NAPTON
02/10/14 @ 11:35 am EST
Source:
Dynamite
|
Comments
(0) |
E-mail Article
|
Add a Comment
1) Greg, your first project for Dynamite was Syfy's Battlestar Galactica. As with Battlestar, Turok is pre-existing concept with plenty of history. What is your approach in general to jumping into a creative sandbox and making the story your own?

I just dive in with foolhardy abandon and come up with the best story I can using the available material and hope it resonates. With both the BSG series back in the day and the Turok series now, I've been incredibly lucky to work with great licensors who have basically greenlit my biggest, craziest ideas. It's been a blast -- can't wait 'til y'all see what we're cooking up!

2) As a follow up, Turok has a long publication history -- the 50s to the present, with some interruptions. What influences did you draw upon for this new iteration of Turok from that vast canon of source material?

I read a bunch of the original Gold Key comics, which I loved. Huge emphasis throughout on killing and eating various prehistoric animals. Just crazy fun adventure stuff. And I read a number of more recent books, just to get a sense of what different writers and artists had done. But editor Nate Cosby gave me the greenlight to approach the character with a clean slate.

3) Turok is an outcast when we meet him in your version. What was the appeal of making him a loner? Does he have something to prove?

I didn't really think about it too much when I came up with the idea of making Turok an outsider -- it just felt right. But now that I'm rolling it around in my head, I think it's just a classic set up for this kind of story. Shane, Wolverine, Harry Potter, Toshiro Mifune in "Seven Samurai," Ripley in "Aliens"... there's just something really compelling about the central character being drawn into a fight for a community that doesn't accept him or her.

4) Dinosaurs and Lost Worlds never seem to lose their appeal. I've always thought it was because they were here first (on earth) and now they are gone, so they seem almost fantastical to humans, but we know they were real, so there's a primal thing there. What's your take on your appeal?

First, dinosaurs are awesome and we all wish we could see 'em for real. Second, the more regimented and regulated and antiseptic our modern lives become, the more we subsceptible we become to the fantasy of escape into a primitive world. I think that's part of the draw of both "Walking Dead" and "Lord of the Rings," in a funny way. The characters in both of those worlds are constantly under threat -- but they're fighting concrete things that can be defeated with enough grit and smarts and physical effort. In everyday life, we face terrible bureaucratic snarls that can be more deadly than any dragon -- but we can't just draw a sword and hack off the monster's head. Lost World stories put us in a place where we CAN fantasize about fighting our way through, and that can be a very attractive fantasy.
HOLLYWOOD REPORTER NEWS! - DYNAMITE ENTERTAINMENT TEASES 'CAPTAIN VICTORY' RETURN
01/31/14 @ 12:00 pm EST
Source:
Dynamite Forums
|
Comments
(0) |
E-mail Article
|
Add a Comment
Jack Kirby's creations include some of the most famous superheroes in existence: Captain America, Iron Man, the X-Men, the Hulk and many more. Even in the creator's post-Marvel career, he went on to create Darkseid, the Demon and OMAC, concepts and characters that have powered years of stories for DC Entertainment in comics, animated series and elsewhere. Now one of his last creations is about to see new life from a host of creators, including one of the men responsible for Cartoon Network's hugely successful Ben 10.

Dynamite Entertainment has announced that Captain Victory and the Galactic Rangers -- a series Kirby created for independent publisher Pacific Comics in 1981 -- will return later this year with Man of Action Studios' Joe Casey writing, and an amazing lineup of creators (Farel Dalrymple, Ulises Farinas, Michel Fiffe, Jim Mahood, Benjamin Marra, Jim Rugg and Connor Willumsen) providing the art for the series.

This will be the second revival of the character for Dynamite; Captain Victory was one of many Kirby creations to appear in the 2012 Kirby: Genesis series, with a short-lived Captain Victory spinoff series launching as a result. This new series -- teased by Dynamite with the tagline "The next level has arrived" -- will launch in July.
COMIC VINE INTERVIEW - BRANDON JERWA TALKS LIíL BIONIC KIDS AND WRITING ALL-AGES COMICS
01/31/14 @ 11:59 am EST
Source:
Dynamite Forums
|
Comments
(0) |
E-mail Article
|
Add a Comment
Brandon Jerwa has written all kinds of work, but he's not known for doing all-ages, kid-friendly titles… so how did he end up on Li'l Bionic Kids? Ande Parks asks him…

Ande Parks: I thought your Li'l Bionic Kids comic was really fantastic. Charming and completely entertaining throughout. I'm curious how it came to be. Did you pitch this idea to Dynamite, or did they come to you?

Brandon Jerwa: Thanks very much, pal. This was definitely an out-of-the-blue thing; the editor, Molly Mahan, approached me about doing one of these books. Bionic was definitely on the table, but Vampi were mentioned as well. In the case of Vampi, there was no way I would even consider it, because Eric Trautmann has been ringing the bell for that idea for a couple of years now. Naturally, he nailed it.

I was a big Steve Austin fan from childhood, so there was no hesitation on my part.

AP: Forgive me if I've missed it, but I don't recall seeing you work on this kind of book in the past. Have you done all-ages stuff like this before?

BJ: I have taken swipes at it before – there is a finished "pilot" for a supernatural all-ages book, with art by Rob Guillory, pre-Chew – but Rob doesn't feel the art represents his skill level now, so it's locked away in cold storage. It's a shame, because I think his work on that book is stellar.

This is definitely something I've wanted to do since Day One of writing comics. Now that I've finally accomplished it, I'm hoping the reception will open some doors for more of this kind of stuff.

AP: What's your goal when you write something like this? Are you aiming at kids as your primary audience, and hoping that older readers will dig it, too, or do you keep the scope broad? Personally, I think it works on both levels, which is ideal.

BJ: I'm glad it worked for you as an adult. If you look at the various LI'L books in this line, I think mine is written the "youngest", which was intentional to some degree. It's a real balancing act, because kids are a lot smarter than we give them credit for, especially if they're voracious readers to begin with. You don't want to write down to them, but you can't necessarily just write the same way you would for an adult, minus the language and more mature themes. That's an entirely separate argument, though.

I learned how to read from comics. I wanted this book to offer something that is truly all-ages, within a reasonable radius. We didn't get all the jokes when we were kids, and I've tried to throw in some nods for the grown-ups along the way.

AP: I was not aware of Ian McGinty's work. He's great. I like that he did the lettering, too. There are a lot of fonts and sound effects here, and they all work well together. Do your scripts go into great detail on those kind of production elements?

BJ: I am a "super-full-script" kind of guy, no doubt. I try to let the artist do their thing, too, so for every massively-detailed panel description, I always do my best to have a couple of pages that say "Here's the basic idea, go nuts with it." Ian did a great job of taking my script further, and making his mark on the book. I love it.

AP: You're widely recognized as one of the sexiest men in comics. Is it the baldness?

BJ: I hear this a lot, and the best I can offer is this: Can you capture the first light of a new dawn in a pickle jar? Could you whistle the song of the wind? Have you ever heard the wolf cry to the blue corn moon? No? So it is with the mystery of me, Ande.

AP: Your story deals a lot with being the "new kid": confronting established cliques in a new environment, finding your own way, etc. I thought it was a really interesting way to go with these super-characters. Is it a theme that speaks to you due to your own experience, or just something you find to be universal?

BJ: I was the new kid more times than I can count. We moved a lot, and I was a weirdo to boot. This book was definitely written from firsthand experience. Plus, I have a younger brother who is autistic, and that definitely influenced my story angle for this book. You don't learn this until you're much older, usually, but here's a big life lesson:

Everybody feels like the new kid sometimes. You don't just wake up being cool one day, and the cool kids are just as insecure and uncertain as you are. I would advise against walking around, thinking you're cooler than everyone else…but it couldn't hurt to remind yourself that no one is really cooler than anyone else. That goes for kids AND insecure comic creators.