DYNAMIC FORCES CLOSES OUT THE SUMMER WITH A BANG
Special Guest George Perez To Appear On Collectibles Show
August 20, 2004, Runnemede, NJ – The weather this summer may be cooling down, but August is going out with a whole lot of sizzle as Dynamic Forces President Nick Barrucci and Special Guest George Perez take to the air August 27, 2004, at 11:00 (EST) on The Shopping Channel in Canada!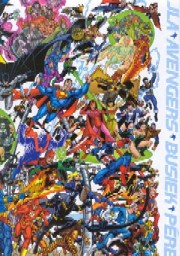 "When we were prepping this show, we were planning to offer our signed copies of the massive Avengers/JLA Hardcover collection," said Nick Barrucci. "We contacted George to see if he was up for a trip North and he agreed! It's going to be a blast!"
In addition to the special Signed and Re-Marked JLA/Avengers Hardcover – which, in addition to Perez's signature features the great signatures of writer Kurt Busiek, and colorist Tom Smith -- DF will also be presenting signed comics and lithographs featuring the authenticated signatures of such creators as Terry and Rachel Dodson, Alan Davis, Mark Farmer, Jae Lee, Mark Millar, John Romita Sr., Joe Quesada, Chris Claremont, Adam Kubert, Brian Michael Bendis, Todd McFarlane, Michael Turner, Peter Steigerwal, Jim Lee, Scott Williams, Alex Ross, Brian Azzarello, Eduardo Risso, Dave Johnson, Roy Thomas, Greg and Tim Hildebrandt, and so many more!

Also included are special Signed and Re-Marked pieces, featuring original art from such creators as Randy Queen and John Watson!
So tune in Friday, August 27 beginning at 11:00 PM (EST) and join George Perez and Nick Barrucci in the special show!
For more information on Dynamic Forces specialty merchandise, product art, exclusive creator interviews and upcoming releases, please visit the Dynamic Forces website at www.dynamicforces.com
---