DYNAMIC FORCES RETURNS TO THE UK FOR THE GRAND FINALE OF THE YEAR!
Special Boxing Day Show Set on QVCUK.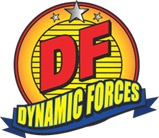 December 22, 2003, Runnemede, NJ – Nick Barrucci loads up his bag of gifts and tricks and heads over for a special 2-hour show exclusively on QVCUK. This event features close to 40 items in a bonanza of specials, signings and limited editions! Be sure to tune in December 26 beginning at 8:00 GMT to get in on all of the action, and just take a look at what Nick's bringing with him:
Lord Of The Rings Fellowship Signed Lithograph -- Signed by Greg and Tim Hildebrandt, James Bond Card & Comics Are Not Enough Package, the Dynamic Forces Spring Time Fun Package, the DF exclusive Fathom 90 Card Set Complete Uncut Trading Card, the Marvel Encyclopedia Signed By Stan "The Man" Lee, the Dynamic Forces Mighty Marvel Mutants Comic Set, and the Dynamic Forces Marvel Marquee Comic Package – which includes Incredible Hulk Volume 1 Hardcover signed by writer Bruce Jones, Ultimate X-Men #12 signed by Mark Millar, Spider-Man/Black Cat signed by Marv Wolfman, Origin #2 signed by Herb Trimpe, Ultimate X-Men #1/2 signed by Joe Quesada, Uncanny X-Men #94 Wizard ACE edition signed by Dave Cockrum, Transformers Volume 2 #1 Incentive cover CGC graded 9.6 or better and Magneto Rex #1 Marvel Authentix!
Plus, keep an eye out for the Dynamic Forces Sci-Fi Perfect 10 Starter Comic Set – featuring Farscape Trading Cards, Lexx trading cards, Star Trek comics and more, the world-famous DF Lucky 21 Set, the equally world-famous DF 40 Item Starter Set, an X-Men Lithograph -- Signed By Artist Alex Ross, the Dynamic Forces/DC Comics Larger than Life Lucky 7 Comic Set, the Dynamic Forces Amazing 10th Birthday Comic Package and much, much more!
You definitely want to tune in early, as most of these special packages will never be offered again, and a few are "last call"! And you know that good ole St. Nick here has a lot of traveling to do this year, (and he's a little under the weather), so to have a thoroughly enjoyable show, Nick's bringing in one of his "helpers", Rich Johnston, to co-host the show with him! Now you know that this show will be fun!
Don't miss out on the BIGGEST, the BEST and the most INCREDIBLE show of the year! We're closing out 2003 with a big BANG, so be sure to tune in starting at 8:00 GMT on December 26 for Nick Barrucci and Dynamic Forces!
For more information on Dynamic Forces specialty merchandise, product art, exclusive creator interviews and upcoming releases, please visit the Dynamic Forces website at www.dynamicforces.com
------------------------
Dynamic Forces is the comic book and collectible industry's top producer of limited edition comic books, lithographs, and more.
A licensee of DC Comics, Marvel Comics, Top Cow Comics, Dark Horse Comics, Universal Studios, Paramount Studios, Pressman Film's classic film "The Crow", Sony Pictures "Underworld", T2, Sandy Frank Productions "Battle of the Planets (G-Force)" and many other industry giants, DF continues to set the pace in the comic collector and comic memorabilia markets. Recent product line expansions includes: action figures, vinyl and poly resin statues, lunchboxes, trading cards, lithographs, giclees, apparel and much more!