DYNAMIC FORCES TAKES TO THE AIR
Collectibles Show Planned 2/28 With Special Guest
February 13, 2004, Runnemede, NJ – DF President Nick Barrucci is firing up the jet and heading to the UK for a special hour of collectibles to air at 5PM (GMT) on Saturday the 28th – and he's bringing a special guest!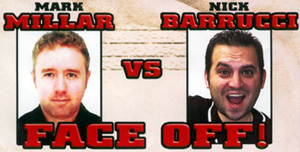 Joining Nick in bringing the best comic collectibles to air on QVCUK will be world-renowned creator – Mark Millar! That's right, the writer of such hit series as Ultimate X-Men, Ultimates, Wanted, Ultimate Fantastic Four, and more will be live in studio with Nick as they bring you the following HOT product!
Featured items for the hour of collectibles include: THE X-MEN 5 STAR DF 5TH ANNIVERSARY SET, featuring Magneto #1 signed by Tim Townsend, X-Men #25 signed by Andy Kubert, Origin #6 signed by Herb Trimpe and Richard Isanove, X-Force #25 signed by Greg Caputo and the X-Men Movie Prequel: Rogue DFE signed by Dorian and Alan Evans; SUPERMAN/BATMAN AND FRIENDS LUCKY 7 COOL COMIC PACK PLUS BONUS, featuring Batman/Planetary #1 signed by John Cassaday, Batman/Superman/Wonder Woman: Trinity #1 signed by Matt Wagner, Superman #166 signed by Ed McGuinness, Superman: Day of Doom #1-4 signed and with issue 4 remarked by artist Dan Jurgens, and Dark Knight Strikes Again #1; The DF Exclusive X-WOMEN UNITED LITHOGRAPH signed by Salvador Larroca, The X-MEN CANVAS GICLEE by Bill Sienkiewicz and Signed by Stan "The Man" Lee!
Also, look for The BUFFY/ANGEL STAR STUDDED PACKAGE, featuring BUFFY THE VAMPIRE SLAYER: SPIKE AND DRU signed by actor James Marsters, BUFFY: THE VAMPIRE SLAYER # 21 DF exclusive gold foil cover signed by Christopher Golden, and BUFFY THE VAMPIRE SLAYER: LOST AND FOUND signed by writer Fabian Nicienza; BATMAN AND HIS SUPERFRIENDS featuring BATMAN #620 - signed by Brian Azzarello and 6 random DC books; the DF 11TH ANNIVERSARY EXTRAVAGANZA PACKAGE featuring Unopened Box of ASH TRADING CARDS, The BATTLE OF THE PLANETS KEY COLLECTIBLE TRADEPAPERBACK; 4 random signed and sketched trading cards and 5 random limited edition books.
And let's not forget about the rest of the great product DF is offering, like The DF SPIDER-MAN/GREEN GOBLIN BONUS LITHO SET by Jae Lee which comes with 4 bonus random DF Lithos; The ULTIMATE 4 BOOK FANTASTIC SET featuring Ultimate X-Men #34 signed by David Finch, Origin signed by Len Wein & Herb Trimpe, Ultimate Daredevil Elektra #1 signed by Danny Miki and Ultimate X-Men signed by Mark Millar; the ULTIMATE X-MEN #12 PLUS BONUS BOOK featuring Ultimate X-Men signed by Mark Millar and the Alex Ross Millenium art book; and finally The SPIDER-MAN VERSUS THE SINISTER 6 ACETATE LITHOGRAPH by Jae Lee!
So, tune in to QVCUK beginning at 5PM (GMT) on Saturday the 28th to see all of these great collectibles as well as the antics of Mark Millar and Nick Barrucci! And check out www.dynamicforces.com for updates on the show!
For more information on Dynamic Forces specialty merchandise, product art, exclusive creator interviews and upcoming releases, please visit the Dynamic Forces website at www.dynamicforces.com
------------------------