SWAMP THING: A MURDER OF CROWS TPB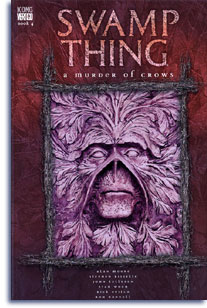 PRICE:


$15.96 MSRP: $19.95 YOU SAVE 20%
Written by Alan Moore and featuring art by Stephen Bissette and John
Totleben!

This forth volume in the saga of the Swamp Thing finds the man-monster
interacting with Deadman the Phantom Stranger the Spectre and the Demon
as he continues on his journey of self-discovery. Traveling through the
horrors of a haunted house the improbabilities of the afterlife the depths
of hell and the heights of heaven the Swamp Thing continues his evolution
from a simple monster into a powerful elemental being with a potential to
exceed the bonds of the Earth itself.

HIGHLY RECOMMENDED FOR MATURE READERS!
Note: Please allow at least two weeks for processing (not including delivery time) from time of order.