THE ULTIMATES #1 - #6 SIGNED COLLECTION - SIGNED VERSION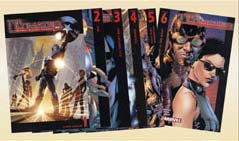 PRICE:


$Sold Out.00
The SOLD-OUT and HOT first 6 issues of Mark Millar and Bryna hitch's ultimate" Avengers are available here for the first time as a signed set!

Each issue will be signed by writer Mark Millar and presented in a binder to hold them all! Limited to only 299 signed Sets IN THE WORLD!