DF SPECIAL - FINE ART FRIDAY!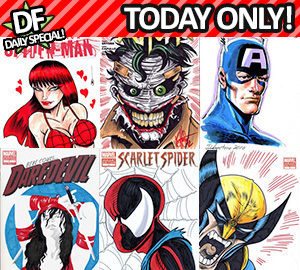 PRICE:


$33.33
It's FRIDAY and today's special features a lucky chance for you receive an ORIGINAL, HAND-DRAWN work of art IN FULL, GLORIOUS COLOR on a blank variant edition Marvel or DC comic book! We have a great collection, some of which have NEVER BEFORE BEEN OFFERED BY DF, and for this special we will randomly select one just for you! For one day only, we are offering you the chance to add a one-of-a-kind work of art to your comic book collection. Not a hoax! Not a dream! Not a reproduction! The selection will be from an array of Marvel and DC titles with all-original hand-drawn sketches (AND IN COLOR!) by some of our best and most DYNAMIC artists!!! These works of art are ready for framing to amaze your friends and only 7 of these randomly selected original masterpieces are available for today's DF Daily Special, and we are offering them at the DF Daily Special price of just $33.33!!! With a regular MSRP of $89.99 or higher, this is a deal you don't want to pass up!

* RANDOMLY CHOSEN BLANK EDITION Marvel OR DC COMIC BOOK WITH ORIGINAL, HAND-DRAWN CHARACTER, IN COLOR! (Regular MSRP $89.99)

* PLEASE NOTE: Books are picked at random. No requests. Multiple orders may receive duplicate items.