DF SPECIAL - EASTER SUNDAY EGGSTRAVAGANZA!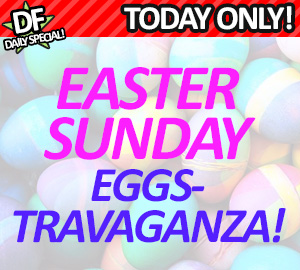 PRICE:


$121.00
It's Easter Sunday!!! The last day of the weekend!!! Today's special features a package that is PERFECT for the ultimate collector of RARE, SIGNED and CGC graded comics!!! Spoiler alert!!! There's even a REMARKED comic tucked in there!!! We can't keep a secret when we're giving deals this awesome!!! Can you tell we're EXCITED?!?!?! YYYEEEAAAHHH!!! And it keeps on going!!! These will all arrive atop a giant stack of 21 randomly chosen rare and out of print VARIANT comic books!!! An AMAZING VALUE of well over $350 of great signed collectibles for just $121.00!!! We only have 7 of these EASTER SUNDAY EGGSTRAVAGANZA COLLECTORS SETS to offer today so don't delay!!! GET READY, BECAUSE HERE IT COMES!!!

* ONE ULTRA-RARE RETAILER EXCLUSIVE OR INCENTIVE VARIANT CGC GRADED AT A HIGH 9.8!!! Yes, you read right!!! You will receive a CGC Graded 9.8 VARIANT comic book!!! Each of these CGC Graded comics carries a regular MSRP of $99.99 or higher!!! SWEET!!!

* TWO RETAILER EXCLUSIVE ALTERNATE EDITION COMICS!!! A pair of rare Retailer Exclusive alternate variant edition comics!!! The prized possession of any awesome collection!!! (Regular MSRP $19.99 each or higher!!!) YES!!!

* THREE SIGNED COMICS!!! A premium mix of Marvel, DC, and independent publisher comics, each signed and DF certified!!! Each comic is signed by one of today's great writers or artists, or a classic creator!!! Includes a DF Certificate of Authenticity!!! BUT WAIT!!! We're taking it a step further and transforming ONE of these SIGNED comics into a HAND-DRAWN REMARKED EDITION COMIC!!! So you get ONE REMARKED and TWO SIGNED!!! (Combined regular MSRP $150!!!) SAY IT!!!

* FOUR RARE RETAILER VARIANT EDITION COMICS!!! Three great variants for purchasing one amazing package!!! (Combined regular MSRP $50 or much, much higher!!!) OH YEAH!!!

* TWENTY-ONE SUPER COLLECTIBLE OUT OF PRINT COMIC BOOKS INCLUDING RARE VARIANTS, INCENTIVES, AND EXCLUSIVES!!! Not hoax! Not a dream! Not an imaginary tale! This LUCKY 21 PACK of collectible comics is LOADED with all sorts of SURPRISES and EASTER EGGS!!! From across the years of comicdom's greatest adventures, this is a senses-shattering, pulse-pounding mix of comics that will have you shouting "Excelsior" in no time!!! SHOUT IT OUT LOUD!!!

* Please note, items are chosen at random, multiple orders may receive duplicate books. No actual eggs are included with this set.