JUSTICE VOL. 1 HARDCOVER - SIGNED BY PAINTER ALEX ROSS WITH WRITER JIM KRUEGER!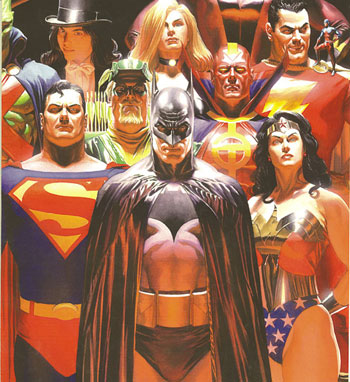 PRICE:


$49.99
The Justice League of America is reimagined by fan-favorite painter Alex Ross (JLA: LIBERTY & JUSTICE, KINGDOM COME) and writer Jim Krueger (Earth X, Universe X) with pencil art by Doug Braithwaite (Paradise X) painted by Ross in this fantastic new hardcover collecting the first four issues of the best-selling maxiseries!
The members of the fabled Justice League of America are about to learn they aren't the only ones who can band together toward a common goal. The greatest criminal masterminds of our time appear to be acting in concert - but with a surprising plan that seeks to achieve more good than the JLA ever could! This first volume of three contains expanded character bios and sketches.
Each Signed copy is hand-numbered features a certificate of authenticity and is sealed with a DF Holo-Foil sticker!
Specially Priced at just $49.99 for the beginning of this masterpiece!
ADVANCE-SOLICITED; SIGNED VERSION AVAILABLE IN NOVEMBER