SHANNA #1 - SIGNED BY FRANK CHO!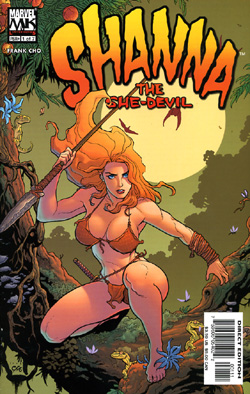 PRICE:


$19.99
COVER BY: Frank Cho; WRITER: Frank Cho; PENCILS: Frank Cho; INKS: Frank Cho
She's bold, she's beautiful, and she's your best hope of escaping the raptors nipping at your heels. She's Shanna, the She Devil! That's right, fanboys - the wait is finally over: Award-winning creator Frank Cho brings you Marvel's bodacious jungle girl as you've never seen her before: Reborn from Nazi science gone mad to battle her genetic destiny on an island full of prehistoric horrors. Trust us, Shanna has never looked this good or acted this bad.
Fans will be talking about this series for years and you'll be the envy of them all with your signed edition featuring the authenticated and limited signature of Frank Cho!
Each signed copy features a certificate of authenticity and is sealed with a DF Holo-Foil sticker!
ALSO AVAILABLE: SHANNA: THE SHE DEVIL #1 CGC GRADED 9.6 EDITIONS - $29.99 each for one week only; after that, they return to their regular MSRP of $69.99
ALSO AVAILABLE: SHANNA: THE SHE DEVIL #1 CGC GRADED 9.8 EDITIONS - $39.99 each for one week only; after that, they return to their regular MSRP of $89.99