TIM VIGIL'S WEBWITCH TPB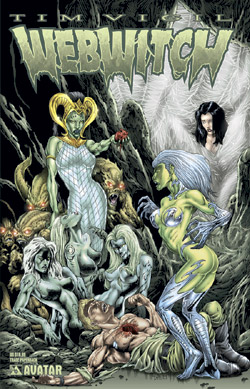 PRICE:
$8.79 MSRP: $10.99 YOU SAVE 20%
Fans of horror rejoice, because Vigil is back! Nina the Webwitch holds a special place in
the evolutionary ladder; she is the bridge between the alien Spidernation and humanity.
Her choices can help determine who controls the globe in the next century. Biologically
part of both worlds, but not fully embraced by either, she is torn between the desire to
help the Spidernation expand, and the human's quest to rid the world of the greatest
predators the Earth has seen! The collected edition include all three issues of the series, as
well as the special preview story from the Web Witch Companion, with art by the master
of the macabre Tim Vigil and special assists from Adam McDaniel (Witchblade)!

HIGHLY RECOMMENDED FOR MATURE READERS!