LEGENDARY SCULPTOR JOINS "DYNAMIC" TEAM
Clayburn Moore To Sculpt And Create Exclusively For Dynamic Forces, Inc.
May 20, 2004, Runnemede, NJ -- Collectors Rejoice! The most dynamic company in comics, Dynamic Forces, has joined forces with one of the best sculptors around, Clayburn Moore, to create a line of statues, busts, dioramas, and toys that will rock the collectors markets for years to come!
Moore and DF have previously collaborated on two projects: a Limited-Edition bust of Spider-Man's main squeeze, Mary Jane, and a stunning Diorama recreation of the classic X-Men scene with Wolverine, tracking prey in the sewers of NYC. Both pieces were released to tremendous critical acclaim and sold out immediately.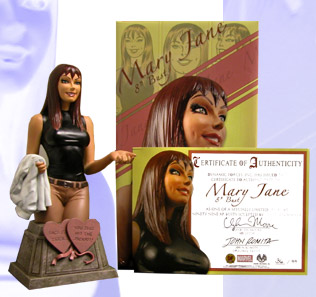 This new collaboration will allow DF first-hand access to new projects from the sculptor, as well as offer Moore his pick of projects from DF's various licensing relationships, and will also open new doors for new licensing ventures.
"Clay has been both one of my closest friends, and one of the colleagues in this business that I respect the most. He also happens to be a genius when it comes to taking 2-D and turning it into 3-D," said Nick Barrucci, President of Dynamic Forces. "We've had a great relationship for over seven years, and this new chapter will be even more dynamic!"
"Nick and I have worked together on some terrific projects over the years," added Moore. "And I couldn't be happier to expand our relationship to bring fans and collectors what we hope will be some of the finest character sculptures ever."
The new partnership will take the market by storm and will raise the bar for 3-D collectibles! From the aforementioned Marvel busts and dioramas, upcoming projects, this relationship will allow Dynamic Forces and Clay Moore to maximize relationships and work with such luminaries in the comics industry as Howard Chaykin's groundbreaking American Flagg!, David Mack's award-winning Kabuki series, Frank Cho's incredibly popular Liberty Meadows, Witchblade, The Darkness, and other fan-favorite characters from the Top Cow Universe, and last, but not least, one of the grooviest movie characters of all time – Ash from the Army of Darkness!
More details, including projects planned under the new arrangement, will be available in the weeks to come.
----
For more information on Dynamic Forces specialty merchandise, product art, exclusive creator interviews and upcoming releases, please visit the Dynamic Forces website at www.dynamicforces.com.