DF & IMAGE TEAM TO PRESENT HAMMER OF THE GODS MODI STATUE
Michael Avon Oeming and Mark Obie Wheatley's epic HAMMER OF THE GODS has captured the imagination of countless readers since its Image Comics debut, and will soon be headed to movie theaters everywhere.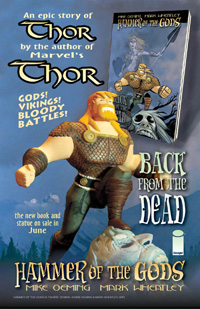 Now, Dynamic Forces and Image Comics are proud to present the first HAMMER OF THE GODS statue, sculpted and painted by Andrew Wiernicki under the careful eye of series creator and statue designer Michael Avon Oeming.
This beautiful collectible statue is based on the book's lead character, Modi, the super-human Viking hero who goes to war with the Norse Gods, whom Modi feels have abandoned their loyal followers.
The Modi statue rests on a base constructed from a fallen foe, and stands 5 1/4" long, 3 1/2" wide, and a full 6" tall.
HAMMER co-creator Michael Avon Oeming considers the statue to be something of a dream come true.
"Not only did Andrew Wiernicki (check spelling) bring Modi to life in this statue," notes Oeming. "But we wrote it into the final HAMMER OF THE GODS story because it was so strong. Any fan of Hammer or mythology will love it!"
According to Dynamic Forces president Nick Barrucci, the opportunity to collaborate with Oeming, Wheatley and Wiernicki on the statue was too good to pass up.
"Working with this crew has been a blast, and the results are really spectacular. Oeming and Wheatley have created a true classic in HAMMER OF THE GODS ," says Barrucci. "Now, Oeming and Wiernicki have truly brought Modi to life and created a classic piece of their own with this statue."
The Modi statue coincides with the release of the HAMMER OF THE GODS, VOL. 2: BACK FROM THE DEAD trade paperback, which collects all three issues of the acclaimed HAMMER OF THE GODS: HAMMER TAKES CHINA miniseries, and includes several brand new stories.
Both the HAMMER OF THE GODS: MODI STATUE and HAMMER OF THE GODS, VOL. 2: BACK FROM THE DEAD TP are solicited in the May issue of Diamond PREVIEWS, and will be in stores together on July 20.