CHUCK BROWN

SEND THIS TO A FRIEND!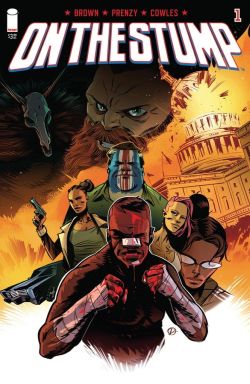 DF Interview: Chuck Brown takes politics to the extreme in 'On the Stump'
By Byron Brewer
The campaign trail is paved with blood and broken bones. History diverged in 1868 when a pivotal presidential debate turned violent. Today, elections are decided by highly publicized hand-to-hand combat in arenas called Stumps. Unfortunately, the violence doesn't end in the ring, and powerful people can still get away with murder. Senator Jack Hammer and FBI Agent Anna Bell Lister are teaming up to bring it all down.
Eisner-nominated writer Chuck Brown (Bitter Root) joins forces with Italian artist Prenzy (#Like4Like) and letterer Clayton Cowles to create a hyper-violent tale full of countless injustices – and people who have to fight for their place in it. Refusing Stump combat, DF sat down quietly to discover more about this new series with scribe Chuck Brown.
Dynamic Forces: Chuck, tell readers about the genesis of On the Stump. I know you never go into ANY book without rhyme, reason and research.
Chuck Brown: I've always been fascinated yet frustrated by American politics. Two sides bickering over policy, ideology and theatrocracy. All the while, we the people stand by as spectators. The 2016 election was insane, and I just keep thinking how much more ridiculous can politics become? So, On the Stump was born. I tackle a lot of different issue and social injustices in the story. It's mixed with a ton of bloody action and larger-than-life characters.
DF: On this Earth, history obviously diverged around 1868, the year of the first American presidential elections to be held after the Civil War, and central to its outcome were the issues of Reconstruction of the South and suffrage for the newly-freed slaves; meanwhile the military was occupying former Confederate states and President Andrew Johnson was being impeached. Sooo ... what happened on this divergent Earth?
Chuck Brown: Stump fighting began in 1868 when presidential candidate Horatio Seymour lost his temper at a debate and nearly beat Ulysses S. Grant to death. Word of the fight spread and Seymour's popularly soared. Seymour won by a landslide and became the 18th president, not Grant.
Since that day, the United States has chosen its Presidents, Senators and other elected officials by letting them duke it out. This had a huge impact on the newly-freed slaves you mentioned above and generations to come. Readers will see this impact in the book.
DF: Introduce us to your protagonists, Senator Jack Hammer and FBI Agent Anna Bell Lister. Who are they as people (at least as we first meet them in On the Stump) and what challenges do they face going forward?
Chuck Brown: Jack use to fight for what was right. Now he just fights to keep his seat in the House, earn a few bucks and numb the pain of his past. Anna has seen the political system in this world get progressively worse. She has one last chance to do some good in the world or else she will lose all hope. She needs Jack as a guide into Stump fighting and he needs her to bring him back from the abyss to hope again.
DF: What other characters are important to this book? Can you name a few and kind of give us thumbnail intros please?
Chuck Brown: Senator Thunder Bearer – A ruthless, cutthroat Congressman that believes a battle on the Stump is spiritual and sacred.
Joe Doakes – One of many forced into gay conversation therapy military camps and turned into remorseless assassins.
Cam & Kay Cee – These mysterious women will make you laugh on one page and cringe on the next.
DF: Tell readers about the rules and regs for these "Stumps". (Sort of gives a new meaning to the political "stump speech", eh?)
Chuck Brown: Exactly, no more speeches on the stump. Action will speak louder than words on this world. If there's an election, head to the Stump; a debate, head to the Stump; talking trash on Twitter – nope – head to the Stump to resolve it. The only rule is no killing.
DF: What else do we need to know about the storyline unfolding in this new series?
Chuck Brown: There are a lot of layers and moving parts. The antagonists are vast and relentless but our heroes won't stop punching their way to justice. I think everyone will have a different take on the stories' messages. And they need to be prepared for a lot of blood and my potty mouth.
DF: Talk about the epic art of Italy's Prenzy.
Chuck Brown: I've been wanting to work with Prenzy for several years. I had just finished the scripts for OTS when he reached out to me to check in. His art has so much bright and brilliant energy. I've never worked with someone that produces such beautiful quality pages so quickly. OTS would be nothing without his "epic" talent!
DF: Chuck, what else is boiling over on the Brown backburner? What other projects of yours can you tell readers about?
Chuck Brown: Oh, man. What can I say? Well, I have a book of short stories I'm STILL working on. I hope to get those out into the world in 2020.
As for comic books, let's just say I'm curious about folks that believe the Earth is flat. Yeah, they exist, and I've already written issue #1.
I've working on a comic with superheroes but with a history lesson and twist.
And I have several ideas about expanding the Bitter Root universe into other books. They're just ideas now, nothing concrete.
On the Stump #1, Bitter Root #6, and my Wolverine story in Marvel Voices #1 all drop in February 2020!
Dynamic Forces would like to thank Chuck Brown for taking time out of his busy schedule to answer our questions. On the Stump #1 from Image Comics hits stores Feb. 19th!
---
NEW! 1. 11/30/2020 - SKYLAR PATRIDGE
5. 11/16/2020 - RYAN O'SULLIVAN