DONNY CATES

SEND THIS TO A FRIEND!
DF Interview: Donny Cates is brewing a storm in God Country
By Byron Brewer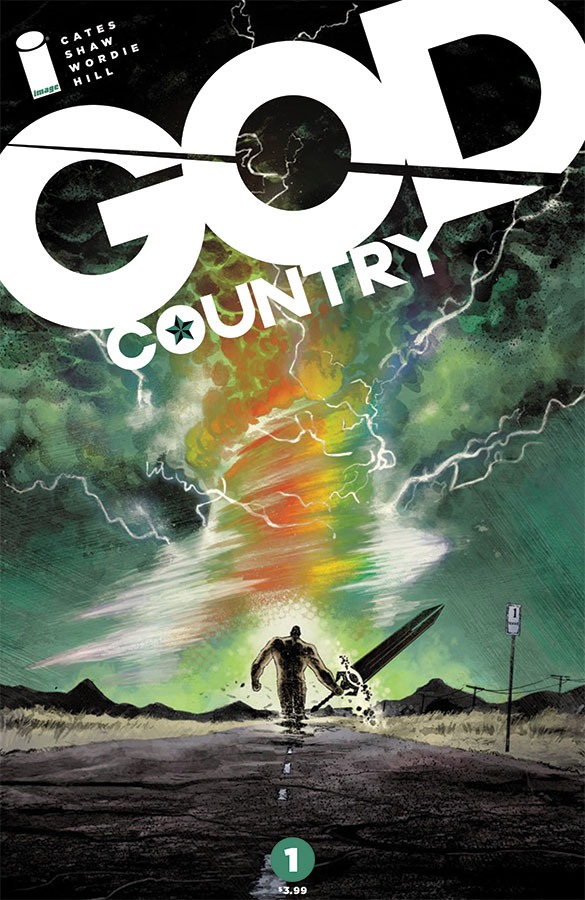 Emmett Quinlan, an old widower rattled by dementia, isn't just a problem for his children. His violent outbursts are more than the local cops can handle. When a tornado levels his home as well as the surrounding West Texas town, a restored Quinlan rises from the wreckage. The enchanted sword at the eye of the storm gives him more than a sound mind and body, however. He's now the only man who can face the otherworldly creatures the sword has drawn down to the Lone Star State.
Full of imagination – and Texans! – writer Donny Cates and artist Geoff Shaw unite for God Country, an all-new series from Image Comics. To get the 411, DF met with the scribe and had the chat which follows. And it was all for you!
Dynamic Forces: Donny, God Country is not a story I have really heard before, in comics or other media. How long have you and artist Geoff Shaw been wanting to tell this tale, and how did it come to Image Comics?
Donny Cates: I've had this one rolling around in my head for a very, very long time. It was one of my very first ideas for a comic (before Buzzkill, and Ghost Fleet even) and I honestly think it was one of those things where I had to develop enough as a creator to get to a point where I felt like I could execute what the story needed. If that makes sense.
Basically, I had to get better at my job to be able to tell God Country. Once I got to that place (or … rather, I think I am … I suppose we'll see), Geoff and I brought it to Image and away we went. The approval came pretty quick as I recall, maybe a week or so between pitching and moving forward. Geoff and I, like every creator out there, have been dying to do something with Image. And to be able to do God Country as out first Image book … that's so cool to us. We love making it.
And then (if I may brag for a second), getting John J. Hill on letters and design, Jason Wordie on interior colors, Dave-freaking-Stewart on our first cover and Gerardo Zaffino on variants! I gotta tell ya, our art team kicks some ass. I'm INCREDIBLY proud of what they've been putting together.
DF: What can you tell us about the concept of the book, which I've heard described as "Southern Bastards meets American Gods"?
Donny Cates: Well, it has a lot of moving pieces. A lot of giant folklore and Fourth World Kirby god-type stuff going on, but at its core this is a story about a small family dealing with forces that are much bigger than them, and things that are just impossible to control. The underlying messages are about family, about dealing with loss, and learning how to let go. About what you pass to your children when you leave … that kind of thing.
DF: Tell us about widower Emmett Quinlan, before AND after a tornado seemingly levels his home.
Donny Cates: That question is kind of the crux of the whole thing. Before the tornado, Emmett is an old and very, very sick man. He has Alzheimer's, and as a result, he is very confused and angry a great deal of the time. While the illness is destroying Emmett's mind and body, Emmett, inadvertently, has been destroying his family who have moved back to West Texas to care for him.
His son Roy is caught between caring for his ailing and fading father and being a father to his own young daughter, a husband to his wife.
It's an extremely tough spot for all involved. And then, yeah …the magical tornado and giant sword don't exactly simplify things.
DF: Excalibur, Dane Whitman's Ebony Blade … there have been a lot of enchanted swords. What can you tell us, non-spoilery, about the sword Quinlan finds himself wielding?
Donny Cates: It's kinda tough to explain Valofax (the swords name) in the book without giving too much away. It's not a regular "enchanted sword," if that makes any sense. The lineage of enchanted blades is heavily referenced in the book, though. You'll have to read it to find out how Valofax is maybe … related to those other famous swords.
DF: We have Kirby gods AND Texans in one book?! Which is bigger (laughs)? Tell us about these "gods" … and about these Texans.
Donny Cates: This kind of goes back to what I was talking about in regards to the Quinlans and what they are going through coming first and foremost in this book. Their struggles with illness and letting go are mirrored in these enormous Fourth World Kirby gods.
The gods and the conflict surrounding the sword are really just metaphorical extensions of that core idea. Big things that can't be controlled. Can't be ignored. Only battled through. Only dealt with.
DF: What other characters round out God Country's cast?
Donny Cates: Besides Emmett and Roy, on the family side you have Janey, Roy's wife and partner through all of this. When we meet them, their relationship is at a crossroads. The pressure of dealing with this old and hateful man while trying to raise a young daughter (Deena) is beginning to be too much. Lots of people say things they don't mean in the first issue.
And then on the GOD side….I'm not going to say too much about that right now. Suffice it to say you'll be seeing some pretty far-out stuff. Meeting some … interesting beings. Traveling to their kingdoms … okay, that's all I can say.
DF: Did Geoff design all the characters? Did he have carte blanche or did you collaborate on those designs?
Donny Cates: Anyone who's read The Paybacks and seen the (literally) hundreds of characters he designed in that book knows that Geoff is a TOP NOTCH designer. We also talk a lot, that guy and me, so by the time he gets to put ink on paper we are usually lock step with each other as far as the look and feel of things. That being said, there's some … stuff … on this book that Geoff did that is going to blow you away.
This isn't The Paybacks. It's not a joke. The stakes are real. The consequences are dire. And Geoff makes it feel that way. This is both the smallest, most emotional story we've ever told, and somehow the biggest, most bombastic story we've told as well. It's really cool, you guys. We promise.
DF: What has been the most fun element for you of finally being able to get this into comic book form?
Donny Cates: Being able to talk about it! It's the most surreal thing ever when you finally get to tell everyone. Geoff and John and Jason and I have been working on it in the dark for so long, and now to have people on twitter and online talking to us about it, and reading the PDFs and all that … it's nuts! Doing a book with Image is the BEST.
DF: Donny, do you have any projects current or near-future that you can tell us about?
Donny Cates: I certainly do! The Paybacks wraps up on November 11th! Then the first volume of Interceptor drops, then perhaps … some more things involving Interceptor that I can't talk about right now.
Then the second installment of Atomahawk hits in December in the pages of Heavy Metal Magazine. Also in that issue is my new story, The Simulationists, that I'm doing with comedian Duncan Trussell and the amazing Andy Belanger. Then there's more on the horizon involving me and Star Trek things … and that's all I can tell you about right now! But there is much, much more to come!
Dynamic Forces would like to thank Donny Cates for taking time out of his busy schedule to answer our questions. God Country #1 from Image Comics hits stores Jan. 11th!
For more news and up-to-date announcements, join us here at Dynamic Forces, www.dynamicforces.com/htmlfiles/, "LIKE" us on Facebook, www.facebook.com/dynamicforcesinc, and follow us on Twitter, www.twitter.com/dynamicforces
---
NEW! 1. 11/25/2020 - STEVE SKROCE
4. 11/16/2020 - RYAN O'SULLIVAN
5. 11/16/2020 - RYAN O'SULLIVAN