DAVID WALKER

SEND THIS TO A FRIEND!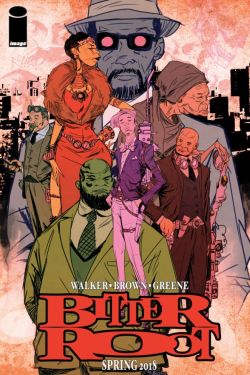 DF Interview: David Walker looks at race, gender, ideology through a supernatural lens in Bitter Root
By Byron Brewer
Bitter Root is set in the 1920s with the Harlem Renaissance in full swing. The new series will follow the Sangerye Family – New York's (and the world's) only hope for salvation from supernatural forces threatening doom and destruction. Once the greatest family of monster hunters in the world, the Sangeryes must move beyond the tragedies of the past, or be forced to sit back and watch an unimaginable evil ravage the human race.
From co-writers David Walker and Chuck Brown and artist Sanford Greene comes Bitter Root, a series so highly anticipated DF just had to know more. So we sat down with co-writer David Walker.
Dynamic Forces: OK, David, right out of the gate (as we say here in Kentucky horse country): In the press release for this book, you say, "Bitter Root is going to be unlike any comic book people have seen." Why? (Press release response not acceptable. Laughs)
David Walker: Where to begin? For several years, there has been a lot of talk about diversity in comics, both in terms of content and creators. We've also seen a lot of negative backlash against diversity and inclusion – but that's another topic. In many ways, Bitter Root is our response to the subject of diversity, and by "our," I mean Chuck, Sanford and myself. We are working to create something unlike anything else in comics, in terms of the characters and the story. What you have with Bitter Root is a series being created by three African-American men, with an African-American editor and colorist as well. That in and of itself is pretty rare at this level in comics. Now, I realize that this series may be seen as lacking in diversity by some people – for instance, we have no women on the core creative team – but at the same time, two of our lead characters are black women, which is more than some publishers have in all their books combined. As a team, we are working to create the kind of comic that we wanted to read but couldn't seem to find.
DF: I love that Bitter Root is set in 1920s and in the midst of the Harlem Renaissance! What type of research did you do on the period, if any? Did you perchance get an opportunity to actually speak with someone who lived during the period? This atmosphere has the potential to actually become a character in and of itself.
David Walker: We are doing research all the time. In fact, I think Chuck and Sanford are starting to regret having brought me in on Bitter Root because I'm all about the research. Chuck and I have both spent time studying what I would call the "basics" of the Harlem Renaissance – which is actually a ton of stuff. Right now, I'm trying to focus my research on aspects of the time period that feel a bit more obscure, because to me that is more fun to play with. None of this is all that easy, because what we know as the Harlem Renaissance covered a vast array of artistic and socio-political territory, and lasted a significant amount of time. I personally haven't had the opportunity to talk to anyone who lived through the Harlem Renaissance, but I've talked to a lot of people who have studied it, and everyone has their idea of what we need to put in the story. It actually gets a little overwhelming. We are creating a work of fiction that deals with the supernatural, but it is grounded in historical fact, all of which can make for a precarious juggling act.
DF: That is cool! … What can you tell us about the Sangerye Family?
David Walker: For lack of a better term, the Sangerye Family are monster hunters. Miss Etta, the matriarch of the family, was a runaway slave, active in the Underground Railroad. As the series progresses, we will actually see some of her backstory, and learn about the history of monster hunters in this particular world. Our story starts in the early 1920s, and most of the Sangerye Family are dead. They were once the greatest of the Purifiers, which is what we call monster hunters. Purifiers don't kill monsters, they cure them by purifying the soul. Unfortunately, most of the family was killed, and those that survive are divided. Some hold to the family history of Purifying, but some have veered from the path, and are now Amputaters. An Amputater doesn't cure the soul, they simply remove the infected soul from the body…which leaves you with a dead person. That right there is the conflict with the family – cure or kill.
DF: Can you introduce us to some of your individual protagonists?
David Walker: Miss Etta is the head of the family, and she is a "seer." She can see monsters, even when they appear fully human. She is a master of creating the formula needed for Purification, which utilizes a very specific root. Then there are Miss Etta's grandchildren, Cullen, Blink and Ford – the last of the Sangeryes. Cullen is the youngest, and he's not the best of Purifiers. Blink is Cullen's older cousin, and she is a total badass. She is a seer, and expected to do "root work," but not be out in the streets fighting, which is where she wants to be. And then there is Ford, who has given up Purifying for Amputating.
DF: I know this is "spoilery," but can you whet reader appetites at all with any hints about the "supernatural forces threatening doom and destruction"?
David Walker: The monsters in this world are known as Jinoo, which comes from the Mandinka language of western Africa. Jinoo means devil, and in the world of Bitter Root, it has become a term to describe anyone who has been turned into a"monster." In this series, America is a nation plagued with Jinoo – people whose souls have been corrupted by hate and greed, which has literally turned them into a breed of monsters.
DF: David, knowing you as I do, there is bound to be subtext in this book. What are some of the real-world, non-monster issues you will be delving into with Bitter Root? Is there something you are saying with the series?
David Walker: Oh, there's something we are saying, that's for sure. We are delving into issues of race, gender and ideology, all of which are sure to have some people loving Bitter Root, and having others hate us. But more than whatever subtext we might be playing with, our primary agenda is to create a compelling and entertaining series. I personally don't have an overt political agenda with this book, even though there will likely be people shaking their fists at me, screaming that I'm ruining comics.
DF: How does it feel to be re-teamed with your Power Man & Iron Fist buddy, Sanford Greene? What does this artist bring to this unique table?
David Walker: Working with Sanford is always great. We'd known each other for years before working on Power Man and Iron Fist, but that was where the friendship really came together. He and Chuck had been developing Bitter Root for a while when Sanford asked me to come on board. The thing that Sanford brings to the table artistically is his passion for the project. When I look at most Image books, the thing I see from the artist involved is almost always their best work. This is because it is a project they have ownership of, which is not being controlled by corporate entities. Sanford gives his all to everything he draws, but he's giving just a little bit more to Bitter Root.
DF: How are you and Chuck Brown handling the co-writing duties?
David Walker: Bitter Root started with Chuck. The initial idea and storyline are his, and I came along and started working with him to refine it. He had originally conceived of it as a finite series – something like five or six issues. But I could see that within his initial outline he had enough material for at least ten issues, and enough interesting characters and concepts to carry another five to ten issues. What I suggested was that we decompress the story a bit – give things more room to live and breathe – and think about this as an on-going series. Since then, Chuck and I have reworked the outline. Chuck takes the first pass at the script, then I mess with it a bit, and hand it back to him. Initially, when they brought me in on this book, I was worried about stepping on toes creatively. I still worry about that, but I no longer hesitate to throw out ideas or make suggestions. Personally, I don't think I'm the easiest co-writer to work with – I'm very demanding on myself, and no less demanding on my partners. Part of it is an ego thing. I don't want Chuck or anyone else to ever feel like their work was diminished by my contribution/collaboration. At the same time, I push my writing partners so that it makes me look better. Honestly, I sometimes feel bad for anyone working with me.
DF: David, I know you are a busy man. Tell readers what they can expect to be seeing from you at their LCSs.
David Walker: My goal is to launch a second creator-owned book in 2018, Prison City. I'll be writing more Planet of the Apes stuff for BOOM!, and there's some Marvel work that I can't talk about at the moment. I'm co-writing Superb for Lion Forge, which has been a great book to work on. I'm also trying to carve out the time for a return to prose. I'm more than five years behind schedule on the follow-up to my debut novel, and I really need to get that incredible weight off my chest. I love writing comics, and I love the medium, but there are other itches that I need to scratch in 2018.
Dynamic Forces would like to thank David Walker for taking time out of his busy schedule to answer our questions. Bitter Root #1 from Image Comics hits stores in June 2018!
For more news and up-to-date announcements, join us here at Dynamic Forces, www.dynamicforces.com/htmlfiles/, "LIKE" us on Facebook, www.facebook.com/dynamicforcesinc, and follow us on Twitter, www.twitter.com/dynamicforces.
LUKE CAGE #1 SIGNED BY DAVID WALKER
SHAFT #1 RARE Denys Cowan "VIRGIN ART" EDITION FEATURING SILVER ELITE EDITION SIGNATURE BY DAVID WALKER
SHAFT #2 RARE DENYS COWAN "VIRGIN ART" EDITION FEATURING SILVER ELITE EDITION SIGNATURE BY DAVID WALKER
SHAFT: A COMPLICATED MAN TRADE PAPERBACK
SHAFT #1 RARE Denys Cowan "VIRGIN ART" EDITION
SHAFT #1 RARE FRANCESCO FRANCAVILLA "VIRGIN ART" EDITION
DEADPOOL #13 ACTION FIGURE VARIANT!
VAMPIRELLA #1969 RARE ROBERT HACK "BLACK & WHITE" EDITION
---
NEW! 1. 01/21/2021 - RORY MCCONVILLE
5. 01/07/2021 - DARICK ROBERTSON