GABRIEL RODRIGUEZ

SEND THIS TO A FRIEND!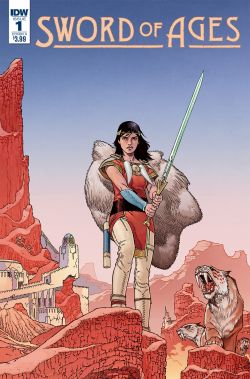 DF Interview: Gabriel Rodriguez gives Arthurian myth a space-age makeover in Sword of Ages
By Byron Brewer
A mythic origin story you never expected to see! This winter, the Sword will be drawn for the first time ever, courtesy of writer/artist/Locke & Key co-creator Gabriel Rodriguez in a 5-issue miniseries adventure of epic proportions from IDW Publishing.
A young woman will become the first wielder of the most famous sacred weapon of all time to champion for her world's survival, inspiring a legion of heroes to join her struggle against a merciless alien force. The line between science fiction and magic might get fuzzy, but the line between heroes and villains will be drawn in blood.
Excited about this coming comic, DF sat down with MOST of the Sword creative team: Gabriel Rodriguez.
Dynamic Forces: Gabriel, in approaching this great new miniseries Sword of Ages, what do readers need to know about the legendary Sword itself?
Gabriel Rodriguez: They need to know that it is more than a mere weapon or relic. It's more like an embodiment of ideas that will challenge the purposes of the characters in this story, leading them to figure out what they will live, fight or die for. As the founding stone at the very beginning of a mythology, the journey of both the characters and the readers will be to figure out what this Sword ultimately is, and what it's meant to be.
DF: Tell us something about the world you are building in this book.
GR: Inspired by familiar characters and themes, this world, set eons ago on the fourth planet of a certain solar system, is an evolving construction of a fantastic biosphere founded on elements known to us. A visually rich environment in which familiar turns into things of wonder by transformations of scale or context. It's a world that's in a state of shifting phases. From the ruins of very ancient cultures a new humanity is rising, clashing forces with different ideas, beliefs and a sense of purpose disputing how to build a new and enduring civilization.
DF: Who is your prime protagonist? What can you tell readers about her as a character?
GR: Avalon is a young woman, a survivor of a castaway family who has been raised by a foster family of mutant sabretooth tigers and taught and trained by an old wizard. She has grown to become a master athlete with a gifted mind, but from time to time steps on her own tail as she's stubborn, impatient and reckless. She has been preparing her entire life to join the crusade of the monks of Caledia, (some of the last survivors of older, more civilized times) which is to end slavery amongst the most barbaric cultures, when suddenly, in the brink of adulthood, her cause gets shattered and she has to discover if she'll have what's needed to lead an even more ambitious cause by herself.
DF: What other characters might we meet that will play a role in her quest? Can you introduce some of them to us please?
GR: Alongside Avalon we'll meet three adventurers – Lancer, Gawyn and Trystan -- who will become the Athos, Porthos and Aramis to her D'Artagnan self. Each of them has a very special motivation to be by her side. Also, there's going to be a certain old man that will be her teacher and mentor, a member of a Council of supernatural beings that will play a key role in the power struggle to be unleashed. We'll also discover a few members of the order of the Caledian Monks that had become her other foster family as counterparts of the giant cats of the wild mountains. And surrounding them all, we'll be introducing a lot of creatures, cultures and characters that will set up the world around the main cast and will ground the reality for conflicts to come.
DF: Can you give us any hints at all about the alien force that is threatening all?
GR: Threats will be coming from all around. This is a world of rising cultures in conflict. But the stakes will rise as a new alien force will come to shatter the board in this power game. These will be the members of a fascist force, a conquering race set to explore the unknown universe to crave knowledge and to get their view of a civilized world to "inferior beings". So we'll end up with multi-focused conflicts, in which we will discover good and bad guys on every front. And an additional twist of the drama will be detonated once Avalon discovers her own link to this foreign force.
DF: Gabriel, you've had quite the long history with IDW. Tell us a little of it.
GR: Basically, the story of my professional life in comics. After a few attempts of publishing here in Chile, which all failed, I got hired in 2002 by IDW to be the artist for one of their first licensed projects, a comic book series based on CSI: Crime Scene Investigation. From then on, I've been working non-stop with them, in a relationship that has been not only professionally successful, but also incredibly rewarding in personal terms as I've made friendships that have become life changing. After CSI, I continued working with IDW in several comic adaptation projects (George Romero's Land Of The Dead, Clive Barker's The Great And Secret Show, Beowulf) and then, a series of creator-owned collaborations like Little NEMO: Return To Slumberland, Onyx and the one that became the most successful so far, Locke & Key, co-created and developed throughout six years with writer Joe Hill. Three years ago, I started an exclusive services deal with IDW, and right now I have several projects in mind to keep developing in the years to come.
DF: If memory serves, Sword of Ages marks your first series as both writer and artist. What does that feel like, and tell us a little about the difference in process.
GR: It has been a completely new creative experience, and a tremendous opportunity to test everything I have learned as a storyteller in almost 14 years of my career. Starting with the difficulty of writing from scratch in a language that's not your native one, to the challenge of being able to tell an interesting and compelling story. And this is where I'm hit by the awareness of being blessed to get incredibly talented writers as collaborators in so many different projects. I had chances to learn so, so much from people like Joe, Chris Ryall, Eric Shanower, Max Allan Collins, and so many more. Something you truly appreciate when having the chance to propose something from scratch. The load of the responsibility is HUGE, we all know how risky it is to try original new stories in such a competitive editorial industry, but we are all very excited about the potential of this book.
DF: How is it working with coloring artist legend Lovern Kindzierski?
GR: It's an unbelievable blessing, a dream come true. Both Lovern and Dave Stewart were the first colorists I identified by name as artists on their own and I've been following his career for a while, especially his collaborations with artists like P. Craig Russell. After our first discussions about this project, we discovered that what he wanted to bring to Sword of Ages was EXACTLY the kind of color approach we discussed with the series editor [IDW's Chief Creative Officer Chris Ryall]. And even starting from this common idea about what we were aiming to do, he still manages to surprise us with every new finished page sample. The man is simply a one-of-a-kind genius of his craft, and we're incredibly lucky to have him on board with us.
DF: On a whole other note, as co-creator of the great Locke & Key comic, can you update us on its very long journey to television land?
GR: It's moving forward fast, and in the best possible way. With the leadership of Carlton Cuse as showrunner and Ted Adams and David Ozer from IDW, a team of incredible talents has been assembled for the TV series project. Add Andy Muschietti as director of the pilot, and Barbara Muschietti in production, both responsible for the hugely successful IT movie, and you have a nothing less than a dream team. Can't think of more talented and caring hands for the story to be entrusted to. Both Joe and myself will be assisting the production as Executive Producers, and Joe is also writing the pilot and the show bible. Everyone involved loves the story and the characters, so we're pretty sure it will be very respectful of its comic book roots, but also exploring all the new possibilities offered to tell the story in a completely different medium. As a fan of good, creative storytelling, I can't be more impatient and excited to see what the team will come up with.
DF: What other projects current or near-future can you tell readers about?
GR: Well, of course, more Sword of Ages if our readers are willing to let us expand this world, this tale and its characters' journeys beyond this first story arc. I do have ideas for a longer run, so I'm crossing all fingers for that to happen. Aside from that, there's another thing that might likely happen that I know is going to be very exciting, but it's still not 100% confirmed and I can't make any more comments about it yet. But stay tuned!
Dynamic Forces would like to thank Gabriel Rodriguez for taking time out of his busy schedule to answer our questions. Sword of Ages #1 from IDW Publishing hits stores Nov. 29th!
For more news and up-to-date announcements, join us here at Dynamic Forces, www.dynamicforces.com/htmlfiles/, "LIKE" us on Facebook, www.facebook.com/dynamicforcesinc, and follow us on Twitter, www.twitter.com/dynamicforces.
---
NEW! 1. 11/30/2020 - SKYLAR PATRIDGE
5. 11/16/2020 - RYAN O'SULLIVAN