SKOTTIE YOUNG & JORGE CORONA

SEND THIS TO A FRIEND!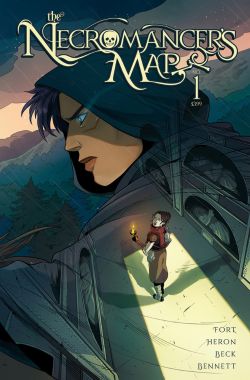 DF Interview: Skottie Young & Jorge Corona create a coming of age story filled with adventure, magic in Middlewest
By Byron Brewer
The lands between the coasts are vast, slow to change, and full of hidden magics. Mistakes have been made, and in a new ongoing series an unwitting adventurer searches for answers to quell a coming storm that knows his name.

From writer Skottie Young (I Hate Fairyland, Deadpool) and artist Jorge Corona (No. 1 with a Bullet, Feathers, Big Trouble in Little China: Old Man Jack) comes Middlewest, the tale of Abel, a young boy who must navigate an old land in order to reconcile his family's history.
Searching for the full 411, DF sat down with scribe and artist to learn more about this coming Image comic.
Dynamic Forces: Skottie, tell readers how you came together with Jorge to collaborate on this very different type of ongoing.
Skottie Young: I met Jorge a few years back when I went down to talk at an art school. After that, I started seeing his work pop up on shelves with Goners and Feathers and few projects at DC. I loved his work, reached out to see if he'd want to possibly collaborate on a creator-owned project together sometime and he was in. But then there was the small hurdle of actually having a story to tell. Haha. So we would reconnect from time to time and kick an idea around here and there. But Jorge was off to the races on other cool projects and I figured I missed my window. He was too good to wait around for me.
Then I started developing Middlewest. After some starts and stops on my own, the stars aligned: Jorge was free, he agreed to team up and create this book with me. And I couldn't be happier!
DF: What can you tell us about the world you are creating here in Middlewest
Skottie Young: It's a more fantastical version of Midwest America. I grew up in the Midwest and lived here most of my life. We want you to feel like it's a world your familiar with but then there's an extra layer of magic, but more magical realism. Or, I don't know ... something like that.
DF: Can you introduce us please to Abel?
Skottie Young: Abel is a young teenager trying to figure out where he fits in his world. He's a hard worker and tries to fit in with his friends. He's a little bit of all of us around that 7th/8th grade time … when we're learning who we are going to become and maybe discovering what we don't want to become.
DF: Give readers an overall view of the storyline for the first arc of this series and going forward please.
Skottie Young: Hmmm. Well, that's tough without ruining the experience so I'm not going to say much. I'll say that Abel will go on a journey, but he doesn't know yet if he's running away from a problem or running towards a solution. We'll follow him on his quest to find that out. We'll explore what it's like to be from a small town and finally be exposed to the bigger world beyond your borders. In a lot of ways, it's a coming of age story filled with all the adventure and drama that goes along with that.
DF: Jorge, tell us how you utilized your artist's tool box to create that kind of world that Skottie has described for the book. It certainly has a sweeping style that I really find enjoyable.
Jorge Corona: Worldbuilding is probably my favorite part of storytelling. From the get-go, Skottie and I had many conversations about the visuals that we had in mind every time we pictured Middlewest. We wanted a world that felt close to ours but with a pinch of magic in it. We came up with a ratio of fantasy per real into the elements that we wanted to see. After that, it was a lot research into the type of scenery you would see in the American Midwest and twisting it a bit to create fantastical versions of it. I went back and looked at a lot of animation designs, mostly cartoons and movies from my childhood, that had a similar feel to what we wanted to show.
DF: Did you get to design all the characters and set pieces in Middlewest? If so, tell readers a little about what went into that process please.
Jorge Corona: Yeah! From the start, Skottie was super supportive of letting me find the right visual language for the series and, trust me, working with an artist like him, that meant a lot. There was a lot of back and forward at the beginning while we tested out different approaches and designs for Abel since we knew that it was from him that the rest of the cast would start to come from. The main thing with Abel's design was to get an appealing character that rang ordinary in a world that was anything but. Once we had a lock on him, coming up with the supporting members was easy. One specific case that was great was the creation of the Tornado monster you can see in the preview. After sending some initial concepts, Skottie felt something was missing from it. That turned into a jam session where we kept sending sketches and drawings over drawings of the character. It was a blast.
DF: Thus far, and I realize it is early, who is your favorite character (maybe the most fun to design or "direct") and what scene or locale in the book has proven most challenging (or just plain fun)?
Jorge Corona: I think my favorite character to draw is Fox. There's just something about Fox's expressions (or lack thereof) that I love. It's always trying to show the most with a character who always has a poker face.
As for scenery, the most challenging thing has been to keep the environment alive. There is a lot of exploring and traveling in this book, and even though we want to show a coherent version of our fantasy Midwest, I want each location to feel fresh, almost new while remaining part of a whole. I don't want the readers to ever get bored of seeing trees in the background, haha.
DF: Jorge and Skottie, tell readers a little, if you would, about other projects in which you may be involved.
Skottie Young: I'm currently writing an ongoing series at Image Comics called Bully Wars. That's drawn by Aaron Conley and is a really fun all-ages book about the struggles of navigating school and ups and downs of bullies and the bullied. And I'm also writing Deadpool over at Marvel.
Jorge Corona: I just wrapped two series, No. 1 With a Bullet for Image and Big Trouble In Little China: Old Man Jack with BOOM! Studios. Both trades just came out recently. Now I just want to concentrate on Middlewest. The only thing coming out at the same time are covers I did for the new Adventure Time book from BOOM!
Dynamic Forces would like to thank Skottie Young & Jorge Corona for taking time out of their busy schedules to answer our questions. Middlewest #1 from Image Comics hits stores Nov. 21st!
For more news and up-to-date announcements, join us here at Dynamic Forces, www.dynamicforces.com/htmlfiles/, "LIKE" us on Facebook, www.facebook.com/dynamicforcesinc, and follow us on Twitter, www.twitter.com/dynamicforces.
STAR WARS: PRINCESS LEIA #1 SKOTTIE YOUNG RETAILER VARIANT SIGNED BY SKOTTIE YOUNG!
STAR WARS: DARTH VADER #1 SKOTTIE YOUNG RETAILER VARIANT SIGNED BY SKOTTIE YOUNG!
ROCKET RACCOON #1 - SKOTTIE YOUNG RETAILER VARIANT COVER SIGNED BY SKOTTIE YOUNG!
DEATH OF WOLVERINE #1 SKOTTIE YOUNG RETAILER INCENTIVE VARIANT CGC GRADED 9.8!
MIRACLEMAN #1 FIRST PRINTING SKOTTIE YOUNG RETAILER VARIANT CGC GRADED 9.8!
DEADPOOL #1 RARE RETAILER VARIANT BY SKOTTIE YOUNG!
VENOMIZED #1 RARE SKOTTIE YOUNG VARIANT!
SPIDER-MAN #1 SKOTTIE YOUNG VARIANT!
CHAMPIONS #1 RARE SKOTTIE YOUNG VARIANT!
GWENPOOL #1 SKOTTIE YOUNG VARIANT!
DEADPOOL #7 SKOTTIE YOUNG VARIANT!
SECRET WARS #9 SKOTTIE YOUNG VARIANT COVER!
CHEWBACCA #1 SKOTTIE YOUNG VARIANT COVER!
CAPTAIN AMERICA WHITE #1 SKOTTIE YOUNG RETAILER VARIANT!
STAR WARS LANDO #1 SKOTTIE YOUNG VARIANT!
PLANET HULK #1 SKOTTIE YOUNG VARIANT!
SECRET WARS #1 BABY RETAILER VARIANT BY SKOTTIE YOUNG!
INFINITY GAUNTLET #1 SKOTTIE YOUNG VARIANT!
SPIDER-GWEN #1 FIRST PRINTING RETAILER INCENTIVE BY SKOTTIE YOUNG!
HOWARD THE DUCK #1 RETAILER VARIANT BY SKOTTIE YOUNG!
---
NEW! 1. 11/30/2020 - SKYLAR PATRIDGE
5. 11/16/2020 - RYAN O'SULLIVAN