JOHN LAYMAN

SEND THIS TO A FRIEND!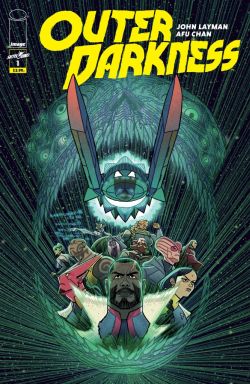 DF Interview: John Layman demonstrates that space is terrifying in Outer Darkness
By Byron Brewer
Mankind has colonized the galaxy, but during our interstellar travels, we discovered a terrifying secret out in the Outer Darkness of space. Join Captain Joshua Rigg and the crew of the starship Charon as they encounter demonic possessions, hauntings, cosmic horror and more!
Writer John Layman (Chew) and artist Afu Chan (Immortal Iron Fists) are ready to let you know that outer space is terrifying in their new cosmic comic, Outer Darkness.
DF wanted you to know more about this series, so we summoned up our courage, beamed to the Charon and discussed the new book with scribe John Layman.
Dynamic Forces: John, from what you have said and what I have heard, this new series Outer Darkness is a total labor of love for you. What can you tell us about its genesis as a concept?
John Layman: I've only got the brain space for one "big" project at a time, and Outer Darkness started developing as I was wrapping up Chew. I was watching a lot of Deep Space Nine and Next Generation at the time, along with Asian horror movies, and I was in more of a sci-fi mindset anyway, which is sorta evident if you look at the end of Chew. Sci-fi/horror is a genre I love, and feel like I don't see enough of. I'm a big believer in "make the comics you want to read." Hence: Outer Darkness.
DF: Not since Chew have I seen you this enthralled; your enthusiasm is palpable. Can you at all compare and/or contrast Chew with Outer Darkness?
John Layman: Outer Darkness plays it straight, at least compared to Chew. Not to say it's completely devoid of humor, but it's not as overtly silly as Chew became. At the same time, it's not straight horror, either. Not too bleak. Weird and fun sci-fi with horror overtones is the best description, I think.
DF: What can you tell us of the world you and artist Afu Chan will be building here?
John Layman: Outer Darkness exists in a universe where we've discovered the truth about death. There is no heaven, there is no hell. When you die, your soul is cast about into the infinite abyss of space and it is out there forever. It's lonely and scary and horrible, and filled with the spirits and ghosts of terrible things that have been around forever, and are pissed off and usually want to kill the living.
The good news is we have the technology to bring you back to life, to retrieve your soul and put it in a new lab-grown body. The bad news is it's tremendously expensive to send a starship out to the farthest reaches of the universe to retrieve a soul. You have to be a very important person to the Galactic Service for them to provide the resources to retrieve a soul.
DF: Wow! … So is that part of the main storyline of Outer Darkness going forward?
John Layman: The starship Charon has been tasked with bringing back the soul of somebody very important to the current war effort against the bug-like alien Dryx race that the Galactic Service has been fighting. The Charon has to go into the deepest reaches of space to retrieve the soul… but new Captain Rigg now has command of the ship, and he's got a very different and more personal mission that's his priority.
DF: Yes, who IS Captain Joshua Rigg, as a character? Can you give us a little (non-spoilery) insight into his motivations and the challenges he faces?
John Layman: He's a disgraced former crewman given a second chance, and very likely he's going to blow it. He's got his own command position on a starship, but he's more concerned about pursuing his own agenda than he is serving his bosses, or leading his crew.
DF: Can you introduce readers to some of the other characters important to the series, on or off the starship Charon?
John Layman: Well, just for starters, there's:
•Alastor Satalis, the alien second-in-command who covets the captain's position, and is scheming to take it.
•Soreena Prakash, the dutiful administrator tasked with enforcing rules, on a ship with a captain that does not obey rules.
•Malachi Reno, the ship's chief exorcist.
•The Crone/The Beauty, ship's psychic and oracle.
•Mathematician Willets, a quantum math wizard.
•Gallus, a caged Sumerian god who served – against its will – as the ship's engine.
And that's just the start. There's probably a half dozen more crucial characters. Outer Darkness is an ensemble book, and everybody shares the spotlight on an issue-to-issue basis.
DF: Talk a little about your collaboration with Afu Chan. What has it been like building this world with the artist, and what have been his contributions to this extended saga?
John Layman: Afu is a phenomenal storyteller, meticulous and with a real cinematic eye, and he's just as good at character design. Mostly I give lose descriptions and just let him go nuts. He's got a great eye for making characters immediately distinct and memorable. Man, I just love Afu. LOVE him!
DF: John, as excited as you are about Outer Darkness, I know there are other projects in which you are involved. Can you tell readers about any of those coming up?
John Layman: I just wrapped up Charlie's Angels with Joe Eisma for Dynamite. I've got Leviathan with Nick Pitarra through Image. And with Chew's ten-year anniversary coming up, Rob Guillory and I are talking more and more about getting some new Chew going.
Dynamic Forces would like to thank John Layman for taking time out of his busy schedule to answer our questions. Outer Darkness #1 from Skybound/Image Comics hits stores Nov. 7th!
For more news and up-to-date announcements, join us here at Dynamic Forces, www.dynamicforces.com/htmlfiles/, "LIKE" us on Facebook, www.facebook.com/dynamicforcesinc, and follow us on Twitter, www.twitter.com/dynamicforces.
DETECTIVE COMICS #19 FIRST PRINTING MAD RETAILER INCENTIVE COVER SIGNED BY JOHN LAYMAN!
DETECTIVE COMICS #19 FIRST PRINTING STANDARD COVER SIGNED BY JOHN LAYMAN!
RED SONJA/CLAW #1 JIM LEE/ALEX ROSS COMPLETE COVER SIGNED PAIR - SIGNED BY WRITER JOHN LAYMAN AND ANDY SMITH!
CHARLIE'S ANGELS VOL. 1 TRADE PAPERBACK
XENA: WARRIOR PRINCESS VOLUME 1 OMNIBUS TRADE PAPERBACK
THE TWILIGHT ZONE: SHADOW & SUBSTANCE TRADE PAPERBACK
RED SONJA/CLAW: DEVIL'S HANDS TRADE PAPERBACK
---
NEW! 1. 11/25/2020 - STEVE SKROCE
4. 11/16/2020 - RYAN O'SULLIVAN
5. 11/16/2020 - RYAN O'SULLIVAN