GERRY DUGGAN

SEND THIS TO A FRIEND!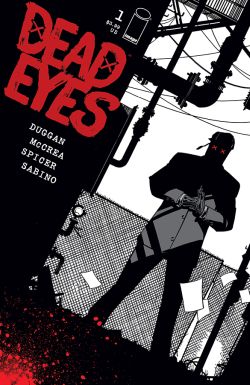 DF Interview: Gerry Duggan has a former felon give a second look at crime in 'Dead Eyes'
By Byron Brewer
In the 1990s, Dead Eyes was a prolific stick-up man and hoodlum in Boston until he took down one last big score and disappeared. Nobody ever discovered the truth. He retired to be with the love of his life, but now he's back in the mask to save her. No one – not his wife, the mafia, or the cops – is happy that he's out of retirement.

From John McCrea, the artist and co-creator of Mythic and Hitman, and Gerry Duggan, the writer of Analog and Deadpool, comes the action, comedy and drama of Martin Dobbs, a.k.a. Dead Eyes, the man who says he's descended from one of the original gangs of New York City. Get on board the over-sized first issue of an all-new ongoing series for mature readers, one that DF chatted up recently with scribe Gerry Duggan.
Dynamic Forces: Gerry, tell readers how Dead Eyes worked its way into the comic book we'll be buying in October. What is the genesis of the concept?
Gerry Duggan: It's a comic about living in a world without justice. Just who are the crooks in that world? Sure, Dead Eyes looks like a crook. And acts like a crook...but he's not the biggest crook in this story.
DF: Tell us about the world you are building here with artist John McCrea.
Gerry Duggan: It looks like the world outside most people's window. People are dying from insulin rationing. Who are the crooks?
DF: What can you say about your protagonists, especially Martin Dobbs, the "prolific stick-up man and hoodlum," and the lady he later loved?
Gerry Duggan: [Dobbs] retired from the mask out of love, and now when the chips are down, he's putting the mask back on to try and save her.
DF: Any other characters we need to know about going forward? Can you introduce some here please?
Gerry Duggan: There are some characters that are in Dead Eyes/Dobbs' orbit, and you'll meet them as the world slowly expands over the course of the first arc. Wheels is one of my favorites, but Megan Dobbs will make some friends in the hospital and I like them, too.
DF: This story flashes back to 1990s Boston. What research, if any, did you or John do to get the 'feel' of these scenes just right?
Gerry Duggan: I lived there in most of the decade and it's where I learned to write, and fight and drink and win and lose. A lot of that ends up flowing onto the page courtesy of McCrea.
DF: The world of Dead Eyes is violent, funny and sad all at once … kinda like real life, eh? But how do you get that great mix of emotions across in a comic book with limited space?
Gerry Duggan: I think if you can just be honest and tell a joke and break hearts, you have a real shot at finding traction with an audience. The best Dead Eyes panels are the ones with no caps or balloons.
DF: Talk about the always-stunning art of John McCrea.
Gerry Duggan: John is a sublime talent, and I've been excited to work with him for years. This is our chance. We've rolled with some punches, but together with Mike Spicer's excellent colors and with the edits of Will Dennis, we're on our way back. I just want this story to be told, and these guys are making me look good.
DF: Gerry, what projects you're involved in, inside of comics or outside, can you tell our readers about?
Gerry Duggan: I have Marauders coming up after HoX & PoX at Marvel. Savage Avengers will continue for a long time to come, I have some new secret Image books that are cooking, and Analog is back. Plus, maybe some movie and TV news. Keep your fingers crossed, and thanks for reading and supporting Dead Eyes.
Dynamic Forces would like to thank Gerry Duggan for taking time out of his busy schedule to answer our questions. Dead Eyes #1 from Image Comics hits stores Oct. 2nd!
For more news and up-to-date announcements, join us here at Dynamic Forces, www.dynamicforces.com/htmlfiles/, "LIKE" us on Facebook, www.facebook.com/dynamicforcesinc, and follow us on Twitter, www.twitter.com/dynamicforces.
CHEWBACCA #1 AOD COLLECTABLES EXCLUSIVE VARIANT COVER BY DALE KEOWN!
DEADPOOL #1 - SIGNED BY DEADPOOL CO-CREATOR FABIAN NICIEZA AND REMARKED WITH A DEADPOOL SKETCH BY KEN HAESER
DEADPOOL #13 ACTION FIGURE VARIANT!
DEADPOOL #1 SIGNED IN BLOOD RED BY DEADPOOL CO-CREATOR FABIAN NICIEZA
DEADPOOL #27 WEDDING ISSUE - GOLD SIGNATURE ELITE SERIES - SIGNED BY CO-CREATOR FABIAN NICIEZA!
---
NEW! 1. 11/25/2020 - STEVE SKROCE
4. 11/16/2020 - RYAN O'SULLIVAN
5. 11/16/2020 - RYAN O'SULLIVAN