DAVID PEPOSE

SEND THIS TO A FRIEND!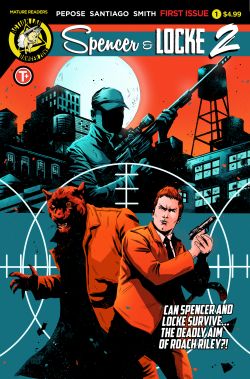 DF Interview: David Pepose unleashes the Cat & Cop again in Spencer & Locke 2
By Byron Brewer
Spencer & Locke, the comic that mixes Calvin & Hobbes with the noir attitude of Sin City, is returning for a second series next winter, and things are going to get even darker.
How dark? That is what DF asked writer David Pepose, who brings us this comic strip analog sequel along with artist Jorge Santiago Jr. Here is what the scribe told us.
Dynamic Forces: David, before we begin with this sequel series, congratulations on the success of your first Lab Action book, Spencer & Locke. It was nominated for a ton of 2018 Ringo Awards, including Best Series, Best Writer, Best Cover Artist, Best Colorist and Best Letterer. How does that feel?
David Pepose: Publishing your first comic is a surreal enough experience – getting nominated for an award for it is just crazy. Getting five nominations? I've been stubbing my toe on every hard surface in my apartment just to confirm this hasn't all been a dream.
But it just speaks to the incredible fan base that Spencer & Locke has picked up since our debut, which I think makes plenty of sense given how ridiculously talented my creative team is. If anything, that's the thing I'm proudest of – it's not just us getting one nomination, but all four of the main creative team got recognized for their efforts.
DF: The series, of course, is a clever and twisted look at a classic comic strip, Calvin & Hobbes. Why did this imaginative strip by Bill Watterson inspire you and how did you come up with the detective format?
David Pepose: It's funny, because I actually started at it backwards. I wanted my first comic to be in that vein of classic Frank Miller, because he was the writer who made me realize as a kid that real writers created comics, not just some greeting card-style committee. And as a big fan of mashup music, I wondered what a mashup comic would look like.
The problem was, a lot of the initial ideas I had relied too much on shock value – that's good for getting your foot in the door, but that tactic will wear readers down quick, you know? But when I thought of Bill Watterson's iconic work in Calvin & Hobbes, that's when the gears started turning. I always thought it was a little sinister for Calvin to have so vividly imagined a best friend, but if you extrapolated that dynamic to a hard-boiled detective as an adult, what kind of home life does that imply?
Once I asked that question, the answers came to me pretty quickly – perhaps disturbingly so, haha. But that's the beauty of a concept like Spencer & Locke, is that we hinge it upon not just an unreliable protagonist, but one who is actively hallucinating on every page. It means there's a lot of unexpected places we can go in this story, and it always feels organic.
DF: For the uninitiated (you know who you are!), (re)introduce us to your two main protagonists … one, quite unique!
David Pepose: Detective Locke is a hard-boiled cop with a harrowing past… but he manages to keep his inner demons (barely) in check thanks to his trusty partner, Spencer – who happens to be his imaginary talking panther from childhood.
While Spencer manifests himself as a seven-foot-tall blue behemoth, he's actually the softie in this team dynamic, with the scrappy Locke being the violent headcase that you really, really don't want to mess with. Spencer represents a lot of things to Locke, whether it's his conscience, his sense of humor or his keen intuition as a detective – but Locke's abusive childhood has left him some deep emotional scars that he has vowed not to let happen to anyone else.
DF: What is the storyline of this new series?
David Pepose: Spencer & Locke 2, at its core, is about two things: escalation and consequences. We're going to see that Spencer and Locke are still dealing with the fallout of our first volume, because no matter what action movies like to tell you, you're never going to get over your past by shooting people in the face. If anything, Locke's scars might be even deeper than before – because at least back then, he thought there was a cure.
With all that bad mojo going on in Locke's head, his relationship with Spencer is going to be tested – which is why we also decided to ramp up the scale and stakes for our sequel. Whereas the original Spencer & Locke was a fairly intimate psychodrama, our newest adventure is going to spill out across the city, affecting everyone in Locke's orbit as he goes head-to-head with someone faster, stronger and meaner than even him.
DF: I nearly fell over in my chair when – and it took me a moment – I realized your new villain for this book, Roach Riley – "a scarred former soldier set on violence and terror" [press copy] – is in fact an analog on my granddad's favorite comic strip ever … Mort Walker's Beetle Bailey! How did THIS brilliance happen?!
David Pepose: Haha, thank you! I try to write modularly in case people might want more material, and when I was developing the first volume of Spencer & Locke, the idea clicked pretty quickly about the various sorts of threats that the police face. With our first volume centering on street-level crime, I thought about terrorism as sort of the massive-scale threat that no one man could ever hope to withstand. Which, of course, made me want to throw Spencer and Locke right into the fray.
I've been biting my tongue for over a year, waiting to reveal a sort of Fables-style twist to the Spencer & Locke universe, and this just felt like the best way to expand Locke's world while simultaneously blowing it all to hell. Parodying a happy-go-lucky character like Beetle Bailey by turning him into a nihilist engine of destruction like Roach has just an incredible amount of fun, but having a pair of lead characters and a villain that I adore? It couldn't be more exciting.
DF: So tell us Beetle … er uh, Roach's story.
David Pepose: Without giving too much away… Roach is the sole survivor of his platoon overseas. And somewhere out there, Roach saw something that utterly broke him as a functional human being… and turned him into an unrepentant killing machine.
In a lot of ways, Roach is Locke's mirror opposite – except that given his military training and his own fearsome wit, Roach can absolutely take Locke apart with his bare hands. Because while Locke has had a lifetime to deal with his pain, Roach got his scars in a more… accelerated fashion.
DF: Talk about your collaboration with artist Jorge Santiago Jr.
David Pepose: Jorge is just an insanely talented artist, and I plan on riding his coattails until the day he files a restraining order. It's easy for me to say "anything goes" in a script, but Jorge is just a champion with execution, switching between high-octane action and heartbreaking drama in a way that almost seems effortless.
And what's even more exciting is that it's so obvious he's leveled up since the first volume of Spencer & Locke. I'm a fairly action-heavy writer as is, and seeing what Jorge has delivered with our sequel is just astonishing. He's also funny as hell – seeing the Easter eggs that Jorge keeps dropping into our book is a source of endless amusement to me, even after the books have hit print.
DF: Can you tell us anything at all about the progress of film development as optioned by Hitman producer Adrian Askarieh?
David Pepose: I can't say too much about our Hollywood pursuits, other than we've had some really awesome conversations about where Spencer & Locke might go in terms of multimedia. What's so great about me being based in Los Angeles is that I've been fortunate enough to be a part of the development process, making sure that our story maintains its unique tone and message while being as accessible to as wide an audience as possible. I feel like I've learned a ton already from this process, and with our sequel coming out, I'm excited for our next big push.
DF: David, aside from this and coming cons, what else is keeping you busy? Anything you can share with readers?
David Pepose: All I can say is comics isn't getting rid of me anytime soon. In addition to making sure Spencer & Locke 2 sticks the landing, I've got a handful of unannounced properties that I'm working on for 2019 and 2020 – and heaven help me, I'm brainstorming a third Spencer & Locke arc already (so readers, be sure to preorder with your local comic book shops when this thing hits Previews!). We've been so fortunate that fans and professionals across the industry have embraced Spencer & Locke the way they have, and that's not an opportunity I plan on squandering.
Dynamic Forces would like to thank David Pepose for taking time out of his busy schedule to answer our questions. Spencer & Locke 2 #1 from Action Lab hits stores in Winter 2019!
For more news and up-to-date announcements, join us here at Dynamic Forces, www.dynamicforces.com/htmlfiles/, "LIKE" us on Facebook, www.facebook.com/dynamicforcesinc, and follow us on Twitter, www.twitter.com/dynamicforces.
---
NEW! 1. 11/25/2020 - STEVE SKROCE
4. 11/16/2020 - RYAN O'SULLIVAN
5. 11/16/2020 - RYAN O'SULLIVAN