DONNY CATES & ELIOT RAHAL

SEND THIS TO A FRIEND!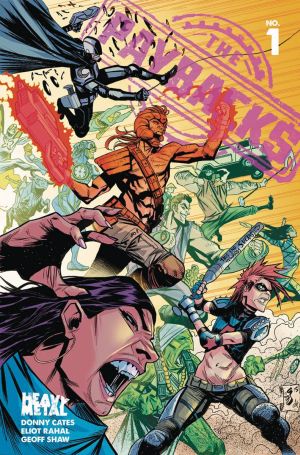 DF Interview: Donny Cates & Eliot Rahal return The Paybacks to comics … and our lovable losers are in trouble already!
By Byron Brewer
The secret identities of the world's superhero community have been leaked to the press (Lois??), and the blame has fallen on the team of super-indebted losers known as the Paybacks. It's our underachievers vs. the whole dang world as former series The Paybacks, from writers Donny Cates and Eliot Rahal and artist Geoff Shaw, gets a new beginning and a new #1 courtesy of Heavy Metal.
Dynamic Forces wanted to get the scoop on the relaunch, so we sat down with the scribes for a chat.
Dynamic Forces: Donny, when I first interviewed you as The Paybacks came out from Dark Horse Comics, there seemed a whole world to explore there. Then things seemed to come to a crashing halt with #4, and a cliffhanger to boot! What does this new chance at Heavy Metal mean for the creative team and for fans of this zany series?
Donny Cates: Well, obviously it means a second chance to dive back into this crazy world, like you said. More importantly, yeah, if we hadn't ever had a chance to come back and do this, that cliffhanger was gonna be the end! And I don't think that would have made anyone happy. So yeah, Heavy Metal allows us to tell our story and bring it to a satisfying conclusion. I think that's pretty metal of them.
DF: How does it feel to have the team back together: your co-writer here, Eliot Rahal, and also artist Geoff Shaw?
Donny Cates: This was never going to happen without Eliot and Geoff. Geoff is the heart of this book, and the man who brings everything to life, and Eliot is obviously amazing and hilarious. It wouldn't be Paybacks without them. We have now been joined by colorist Dee Cunniffe (Interceptor) and letterer Taylor Esposito! I think fans are really going to dig what we've put together for them.
DF: So do we have a new beginning, or do we resume where #4 left off, storywise?
Donny Cates: Yes to both. The story picks up where it left off (Everything that happened still happened), but it's a great new jumping-on point for readers as well. You'll see.
DF: For the uninitiated, can you re-introduce us to the brilliant concept behind the adventures of these repo revengers please?
Eliot Rahal: I'll jump in here. Hi, Eliot Rahal here -- co-writer of The Paybacks and soon to be voted "Sexiest Man with a Beer" in the year 2024. First, I just want to echo Donny's previous thoughts. I, and we, are thrilled at the opportunity to return. We put a lot of heart into this book. Really threw ourselves into it. Heck, we even went on a comic book signing promotional tour and lived off of gross cooler-sandwiches for nearly two weeks. Why? Because the story …
Ever want to be hero? Ever want to put on the cape and cowl and go fight crime? Well, what if you didn't have Tony Stark's money? What if you were broke? Now… what if you could take out a loan that gives you the chance to buy all the gadgets you need to become a superhero? Awesome, right?! Now… what happens when you default on that loan? Meet the Paybacks -- A group of "C-List" super-indebted superheroes who have defaulted on loans and now work to pay them off by repossessing others who have fallen in the same trap… It's super hero repo men and women, people! It's fun. And cool. And we love it.
DF: Thanks for jumping in their, Eliot. I was wondering if Donny was going to let you talk. (laughs) Why don't you tell us about the main protagonists?
Eliot Rahal: Ugh -- So many… Well, you got Miss Adventure, who might be one of the most complex characters I, or Donny, have had the privilege of writing. She is a person at war with herself, but is also super cool and a total bad ass. Then there is Bloodpouch -- a loving homage to the 90's. He is essentially our heart. Oh, and there is The Soviet Nunchuck -- THE ONLY MAN WHO FOUGHT IN THE COLD WAR. He only speaks English through movie quotes. It's pretty cool. Then we got Night Knight -- he… well everyone hates him, which is really fun. Plus there is Emory Rains, she's a Texas vampire. Nothing unusual there. And those are just our heroes. The villains list goes on and on. But the most important one is Pierce. I mean, you need to ask yourself here, why would somebody give out money to people so they could become superheroes knowing full well they wouldn't be able to pay it back?!
Oh! And there's a van that has an infinite mansion on the inside of it. It's where they live and eat popsicles.
DF: Will you continue to have little inside cameos, etc. for all us comic book fanboys that do nothing but search comic pages for such things? And if so, can you hint at some?
Donny Cates: Well yeah! Of course. Honestly, and this is the secret to all of that stuff. It's all Geoff. Geoff just goes bananas and fills in every little inch of space with amazing stuff. Geoff (and the rest of the team) is just a huge comics fan and I think it shows. We hope everyone understands we do that kind of stuff out of love. We're having a blast making this book.
DF: So when old story gets wrapped, what do we have planned for The Paybacks going forward?
Donny Cates: I suppose the answer to that question depends on if there are any of them left alive, huh?
DF: Donny and Eliot, what are some of the other current or near-future projects you guys might have that you can talk about?
Donny Cates: Man, there's a lot of them, but unfortunately I can't say anything about any of them! I'd say keep an ear out for San Diego Comic Con announcements.

Eliot Rahal: I have so many things I want to say right now. But I can't. So instead, I'll be announcing them at Cons to come in the future!
Dynamic Forces would like to thank Donny Cates and Eliot Rahal for taking time out of their busy schedules to answer our questions. The Paybacks #1 from Heavy Metal hits stores July 13th!
For more news and up-to-date announcements, join us here at Dynamic Forces, www.dynamicforces.com/htmlfiles/, "LIKE" us on Facebook, www.facebook.com/dynamicforcesinc, and follow us on Twitter, www.twitter.com/dynamicforces
---
NEW! 1. 11/30/2020 - SKYLAR PATRIDGE
5. 11/16/2020 - RYAN O'SULLIVAN