CONLEY LYONS & CRAIG YEUNG

SEND THIS TO A FRIEND!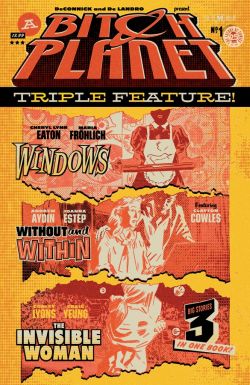 DF Interview: Satire by the page from Conley Lyons & Craig Yeung in "Invisible Woman," just one-third of Bitch Planet Triple Feature
By Byron Brewer
Ripped directly from the world of Image Comics' Bitch Planet, a crack team of creators spin three teeth-clenching tales of rage, revolution and ridicule in this unique anthology. 100 percent Grade A satire. Accept no substitutes.
One such story in Bitch Planet Triple Feature #1 is "Invisible Woman" by the team of writer Conley Lyons and artist Craig Yeung. To not cast too wide a net, DF focused on this third of the mag and talked with the creators about their tale as well as the book entire.
Dynamic Forces: Conley, tell us how you became involved in this wonderful new kind of "Tales of Bitch Planet" anthology? Is there anything about the book as a whole you can elaborate on for readers?
Conley Lyons: Love to! Kelly Sue [DeConnick] and I met through a mutual friend a couple of years ago. We had all signed up to run the same Disney half marathon, but when race day came, everyone happened to be injured. I had just broken my foot a couple of months earlier. So we decided to just walk the thing together! Since we were all writers, we spent a big chunk of the race chatting about different projects and brainstorming. Not long after that, she invited me to pitch an idea to the team.
I won't spoil too much about the book in terms of plot, but each story really deals with the ways that day-to-day abuses and insults affect the main characters, and how they react to that bad treatment. They're all very different stories, and they focus on very specific parts of this new Earth, but despite the fact that there's not an overlap in terms of plot or shared characters, the thematic connection is very strong. And I was so impressed by the other two installments.
DF: What can you tell us about your third of these "three teeth-clenching tales of rage, revolution and ridicule," Invisible Woman, and its connection to Bitch Planet? (I take it Sue Storm will NOT be appearing, lol!)
Conley Lyons: Ha, yeah, don't expect a Fantastic Four cameo anytime soon. I'd probably get sued for that! My story is about a young woman on Earth who is trying and failing to fit into these Protectorate hierarchies. She has a big dream, and is attempting to accomplish her goals, but has trouble figuring out how to make that happen. And like I said before, she deals with a lot of day-to-day abuse from the people around her. One heads up: you may want to read a few back issues before you pick up my story, because a couple of those tiny series details will definitely come up again during Invisible Woman!
DF: Who are your protagonists? Can you give us a little look-see into these characters?
Conley Lyons: Sure, I'll give you a little preview! My main character is named Leslie Hernandez. She's an everyday person just trying to live her life under this weird Protectorate regime. And although we focus on a small circle of people in her orbit, she's front and center in this story.
Overall, I'd say she's unsure of herself, and pretty naive, but eager to prove her worth. And the people around her really don't know her, or don't respect her, so that's a tough goal. Essentially she wants what we all want — which is to be more than a face in the crowd.
One of the best parts about doing this anthology was watching Leslie's transformation - literally - after we finished up the script and went to art. Craig has this beautifully expressive style that translates really well to the story we're telling. He was able to do so much with her character in terms of body language and situational detail, so you can immediately pick out how well she fits — or rather, doesn't fit — into the world we created.
DF: Craig, I take it you did some design work for this story? Tell us a little bit about that please.
Craig Yeung: Yes, I did the pencil and ink work for this short and my buddy Marco D'Alfonso did the colors. Since this story was satirical in nature, I was given a lot of leeway in making it larger than life. I was able to play around with type and panel shapes to accentuate the mood of the story as well as expressions on the characters. On the first page is a dream sequence that I was hopefully able to present a callback to wartime propaganda posters.
DF: Not having the space of a regular comics tale, how does that affect how you budget panel space, create mood, etc.?
Craig Yeung: Sometimes with a shorter story, you are forced to stick to the important elements and for the type of story we did, I think Conley did a fantastic job on getting the main story through. I don't think I had too much of a problem fitting most of what I wanted in this story. I think there could have been a few shots that could work as full page splashes, hehe, but that is more a luxury that you can often afford in a full 20-22 page comic. Often that's just to have more fun with the elements and details in panels.
DF: Is this a tale you would like to see expanded, if demand warranted?
Craig Yeung: I think for the purpose of what the story is telling, Conley and I got most of it down. Now what happens to the protagonist, Leslie, afterward and where her story goes, that could be interesting. There are also several supporting characters that I wouldn't mind learning more about.
DF: Tell our readers of any projects current or near-future that may be coming up for you.
Craig Yeung: I don't have anything at the moment down the pipeline, although I occasionally do ink work for Marvel and DC. I did do a book for the Baltimore Museum of Art with Amy Chu and Laura Martin that you can check out at their gift shop if you're ever in Baltimore. It condenses the story of the goddess Guanyin from their Asian antiquities section. The book is called The Precious Scroll of Incense Mountain.
Conley Lyons: Right now, I'm working on a lot of projects, although none of them are comics-related. I'm writing a semi-autobiographical novel about my Native grandfather. He ran away from his reservation at a young age, and hopped a cattle train East, eventually ending up in Chicago in the late 1910s/early 1920s. So the research alone on that story has been intensive! I'm also working on a children's book with a local artist friend of mine. Hopefully we'll get to exhibit previews of that at Heroes Con. The book is based on the Jack Tales, a series of folk stories which are very popular in the Appalachian Mountains where I grew up.
Dynamic Forces would like to thank Conley Lyons and Craig Yeung for taking time out of their busy schedules to answer our questions. Bitch Planet Triple Feature #1 from Image Comics hits stores June 14th!
---
NEW! 1. 11/25/2020 - STEVE SKROCE
4. 11/16/2020 - RYAN O'SULLIVAN
5. 11/16/2020 - RYAN O'SULLIVAN