PETER MILLIGAN

SEND THIS TO A FRIEND!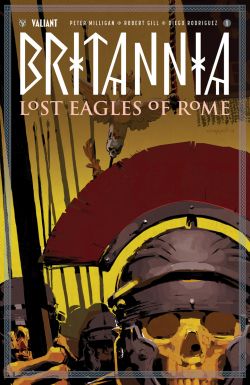 DF Interview: Peter Milligan brings us an empire's shame, a new mystery, and old friends in Britannia: Lost Eagles of Rome
By Byron Brewer
The Roman standard – the eagle borne at the front of each Roman legion – was more than just a symbol of the soldiers that carried it. It was a symbol of Rome itself, the ultimate embodiment of the empire's power.
But now, in the mist-shrouded Germanic forest of Tottenwald, the unthinkable has happened: A rampaging barbarian horde has crushed three of Rome's most highly skilled detachments in battle… and captured their mighty Roman eagles.
His authority threatened by this all-too-public shame, the mad emperor Nero has dispatched Antonius Axia, the empire's finest "detectioner" and hero of Britannia, and Achillia, the sword-wielding champion of the gladiatorial arena, to reclaim his stolen relics at any cost.
But what began as a simple mission will soon become a terrifying journey into the dark heart of belief itself as the isolated woodlands of Rome's enemies reveal unseen dimensions… and the true power of the legion's lost eagles threatens to consume any who would pursue them!
From comics master Peter Milligan (Detective Comics) and Harvey Award-nominated artist Robert Gill (Book of Death) comes Britannia: Lost Eagles of Rome, an otherworldly mystery of monsters, magic and conspiracy at the boundaries of human understanding. DF sat down with scribe Peter Milligan to sort all this out.
Dynamic Forces: Peter, how does the third arc of this franchise you seem to love so much, Britannia: Lost Eagles of Rome, tie into the two that have gone before?
Peter Milligan: First off, you're right. I do love this series. I love being in this ancient Roman world, being around Antonius Axia the detectioner, and I really enjoy the characters in his world. This third story – Lost Eagles of Rome – very much ties in with the previous stories. For a start, we and Antonius are re-united with the female gladiator (gladiatrix is a modern term) Achillia. Once again Nero is at the center of things and making Antonius' life difficult. And once again we see the Chief Vestal Virgin, Rubria. It's the same world, the same empire, but a different story offering us a view of a different aspect of it.
DF: Perhaps you've said in previous DF interviews, but for those valued new readers, why did you choose this era of history? Why does it fascinate you so?
Peter Milligan: I think my interest began when I was a teenager and I read the I, Claudius novels by the great Robert Graves. I was beguiled by the cast of dreadful characters and the world – both familiar yet strange – that they occupied. Later I really became intrigued by Greece and in particular Greek theatre, which of course all had an influence on Roman society.
DF: What can you tell us about the crux of the story for Lost Eagles of Rome?
Peter Milligan: Deep in a German forest, there is a military disaster when barbarians overrun a Roman army. What makes this even worse is that three Roman eagles are lost in the debacle. The Roman eagles – or standards – were incredibly important to the Romans. They were symbols of Roman power, they were imbued with an almost sacred aura, and hence losing them had a profound effect on the people of Rome. Those people are so shaken by the loss of the eagles that emperor Nero fears an insurrection. And so he sends the detectioner and Achillia to look for them. In Britannia, the first storyline, we explored the northernmost part of the Roman empire. In We Who Are About to Die, the second story, we see life in Rome and the gladiatorial arena. In Lost Eagles of Rome, we go to another very different part of the empire: Egypt. The military disaster in Germany and the loss of the eagles is based loosely on a real event, when the Roman General Varus was defeated by Germanic tribes and lost three eagles. That was in the time of Augustus. It is said that Augustus went mad with grief and would wander his palace crying out for his lost legends and eagles (an image that stuck in my brain!). Our story takes place later, in the time of Nero.
DF: What can you tell readers about Antonius Axius, history's first detective ("detectioner")? Who is he as a character and, coming into this series, what has he been through and what challenges will face him in this tale?
Peter Milligan: Antonius is usually our point-of-view character in these stories. Though he lives in Ancient Rome, he often has what might be called a modern way of thinking. Rather than looking to the vagaries of the gods to explain events or the actions of people – as most of his contemporaries do – Antonius looks for logical or psychological reasons. He examines. He thinks. He was not always this way: years earlier, he'd been a soldier who had undertaken a secret mission for Rubria and the vestal virgins. What he saw that day destroyed his mind and Rubria and her virgins used their ancient knowledge to rebuild him. The relationship between Rubria and Antonius is a complex one. Both are at different times useful to each other. Whether Rubria has some other ultimate aim for this man whom she has recreated has yet to be revealed.
DF: Any old characters returning or new characters we should know about? If so, can you introduce some here?
Peter Milligan: I think I've pretty much answered that already. Nero, Rubria, Achillia. We also see Antonius' son and his British slave, Bran. There are some important new characters introduced in this story, including someone calling himself Twelve, who claims to be a direct descendent of the great Egyptian Pharaoh Rameses II. We also meet Bulbus, the general who lost the three eagles in Germany. General Varus killed himself when he lost his legions and eagles. Bulbus, for reasons we will discover, survived and now prospers.
DF: What types of research, if any, did you or artist Robert Gill do on this dark era?
Peter Milligan: I can't speak for Robert, but there are a number of sources. I pick up various books that give me ideas or details that I can use. From classics like Yourcenar's Memoirs of Hadrian to lesser known works.
DF: Speaking of Robert, talk about his art and your collaboration.
Peter Milligan: [At the time of this interview] It's early days, but I'm very excited to be working with Robert on this. Making the world visually believable is so important with a story like Britannia and I know that Robert is going to do an incredible job.
DF: Peter, what else might be coming from your kinetic keyboard readers might enjoy?
Peter Milligan: There are a number of things as always but some I don't want to talk about quite yet. The Prisoner out now [from Titan Comics]. I'm also working on a strange, dark and horrible tale about the bitter side of happiness. More to be announced soon.
Dynamic Forces would like to thank Peter Milligan for taking time out of his busy schedule to answer our questions. Britannia: Lost Eagles of Rome #1 from Valiant Entertainment hits stores July 25th!
For more news and up-to-date announcements, join us here at Dynamic Forces, www.dynamicforces.com/htmlfiles/, "LIKE" us on Facebook, www.facebook.com/dynamicforcesinc, and follow us on Twitter, www.twitter.com/dynamicforces.
ALL NEW MIRACLEMAN ANNUAL #1 JEFF SMITH VARIANT CGC GRADED!
ALL NEW MIRACLEMAN ANNUAL #1 JOE QUESADA VARIANT CGC GRADED!
ALL NEW MIRACLEMAN ANNUAL #1 SIGNED BY MIKE ALLRED!
TERMINAL HERO: THE DEATH AND LIFE OF RORY FLETCHER TRADE PAPERBACK
---
NEW! 1. 11/25/2020 - STEVE SKROCE
4. 11/16/2020 - RYAN O'SULLIVAN
5. 11/16/2020 - RYAN O'SULLIVAN