JOHN BARBER

SEND THIS TO A FRIEND!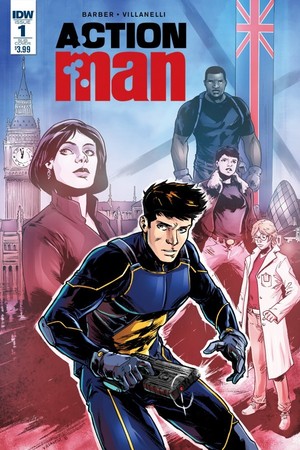 DF Interview: John Barber brings the toy story of Action Man to new life
By Byron Brewer
Action Man!
He was the world's greatest special agent ... until he died saving the planet, with all the world's eyes on him. Now his young protégé has to step into the role … whether he's ready or not!
New tales of the United Kingdom's most popular toy soldier are coming from IDW and the talented hands of writer John Barber and artist Paolo Villanelli.
To get the full 411 on this toy story (get it?), Dynamic Forces sat down with John Barber.
Dynamic Forces: For those not in the know, John, please explain what "Action Man" was in the beginning, and the product's relationship to G.I. Joe.
John Barber: As I understand it—back in the 1960s, a guy from a British toy company called Palitoy traveled to the States and brought back a G.I. Joe toy, which his grandson instantly loved. So the guy realized they should team up and Palitoy should make the toy in the U.K., where (obviously) "G.I. Joe" as a name didn't have the resonance it has in the U.S. So they named this new toy Action Man, and in 1966 the legend was born!
Now, at this point, G.I. Joe and Action Man were both big "action figures"—12 inches tall. The Action Man toy had U.K. uniforms, and represented the U.K. fighting forces. Both sides of the Atlantic would share their enhancements, like the kung-fu grip, or the flocked hair, or the moving "Eagle Eyes."
And like G.I. Joe, Action Man had a few versions since that initial one—there was an Action Force that was a 3 ¾" inch toyline and comic book series that went the same way as G.I. Joe, remaking the line into an organization instead of an individual.
And then in 1996, Action Man was reborn in a Hasbro toyline and cartoon series that moved the character away from his military roots and gave the story a more specific narrative and character, as Action Man was recast as an adventurer and went up against a supervillain called Doctor X and his various henchmen.
So now here we are in Action Man's 50th Anniversary, with a new iteration that draws in elements from the past, and a lot of new stuff.
DF: How did this rebirth (for lack of a better term) by Hasbro and IDW come about?
John Barber: The idea came up that Hasbro was interested in reviving Action Man, and as part of that, they were into the idea of doing new fiction. IDW has a really strong relationship with Hasbro—we do the Transformers, G.I. Joe, Micronauts, Rom, Jem and the Holograms, My Little Pony, Dungeons & Dragons, Littlest Petshop—we do a lot of comics with Hasbro.
So, I always had a love of the idea of Action Man… and I had this idea I really wanted to do, that played with the legacy of the character, that brought in the idea of these early versions that really didn't have a specific character attached to the Action Man premise (just like G.I. Joe didn't really become a specific guy until several years in). I don't know, the whole mythology of the character impacted me at once.
DF: What can you tell us about the storyline of the new Action Man comic?
John Barber: The idea is there's an Action Man Programme that's existed for a very, very long time, defending the interests of the Crown. Different people have held the Action Man role over the decades, of course, and he's got a support crew that helps him on missions.
So, [in the] Free Comic Book Day story, one of those support crew gets caught uncovering a doomsday scenario that Doctor X has unleashed, and Action Man rescues the guy—Ian Noble is his name—and Ian and Action Man shut down Doctor X, but Action Man is killed… and by virtue of having very publicly saved the world, Ian is thrust into the Action Man role—a role he's dreamed of, but isn't really ready for.
I wanted to do something that harkened back to some of the great British adventure and action fiction—like, so much of popular culture has its roots in the sort of stories Alistair MacLean or Ian Fleming wrote after World War II, these stories that really built the heroism of soldiers and spies in a pretty unironic way.
And I'm a huge fan of the Avengers TV show, and spy fiction in general, and I wanted to bring some of that in to the story, which seemed to fit in well with what Hasbro was interested in. But I really like the sort of fun Spy Who Loved Me/Steed and Mrs. Peel type of stories. I mean, I love the darker stuff, too, but the stuff with a sense of humor and fun, I really like that.
DF: Tell us a little about your protagonist.
John Barber: Ian's extremely smart, very skilled in fighting and espionage-type skills—and a little of a troubled youth. In the sense that he was bored by school, didn't get along with people—and when he wound up getting recruited by the Action Man Programme (we'll see how that happened in the series) that becomes the first place where he really felt like he fit in.
And his predecessor as Action Man was somebody Ian genuinely looked up to—his predecessor was this amazing tactician, fighter, a great cook, a clever wordsmith. And then that guy dies saving the world. It's a legacy Ian can't live up to, or that he believes he can't, anyway.
Ian blames himself for the old Action Man's death—and he's not alone in that.
DF: And supporting cast?
John Barber: The Action Man Programme is all focused around the idea of a single individual as a tactical force, as opposed to the group tactics of something like the G.I. Joe team. But there is a big supporting crew.
Pauline Bestley runs the Programme, and she has to deal with the crew and their various opinions of Ian. And she herself is pretty hard on Ian—her hand was forced by the public nature of the death of the previous Action Man, so Ian maybe wouldn't have been her choice to become A.M. Well, Ian definitely wouldn't be, but he's what she's got, so she's doing what she can with him.
Agent Salmons is a guy who thinks—and not without reason—that he should have been the new Action Man, and that Ian just leapfrogged him and got the role despite not having earned it.
Agent Grace worked with the previous Action Man the longest, but she sees something of a spark in Ian that makes her think Ian might have a future in the role. Her primary job is intel, but she's usually on the field with Ian and Salmons.
Bryce Chan is about Ian's age, and they both worked together in the Action Man Programme's tech division, until Ian became Action Man. And then Bryce was promoted to quartermaster, running the division. Bryce sees the tech division as the most important part of the Programme, so he's not bitter toward Ian—they're best friends.
DF: What about the big-bad?
John Barber: Well—everybody but Ian thinks Doctor X is dead. Spoiler alert—there's more than one issue of this comic, so Ian's probably right.
Doctor X is a mysterious figure, with an army of high-tech, dangerous soldiers—more technologically advanced than your garden-variety terrorists… but his motives and goals remain a mystery.
All Ian really knows is Doctor X's plan killed the last Action Man… and that's enough to keep Ian on his trail.
DF: There are whole mythologies around both Action Man and G.I. Joe depending on what part of the world in which you live. What has made this kid's plaything of decades past into such an icon?
John Barber: There's something about the heroism represented by the characters—the chance to see a version of yourself that's part of something bigger.
DF: I know this has nothing to do with the comic, but will Hasbro be releasing a new Action Man toy line?
John Barber: You'd have to ask Hasbro!
DF: How has it been working with artist Paolo Villanelli?
John Barber: Fantastic! Paolo is amazing. His layouts are incredible—the book is fast paced; there's always three things going on in every panel, and he makes it so clear and crisp. And his designs are great. Chris Evenhuis drew the short story in the Rom Free Comic Book Day comic, and developed the look of the Action Man outfit he wears—and Chris is great too!—but Paolo has knocked it out of the park with the looks for the other characters. We've really been in sync. There's an action scene in issue #1 that has two trains, bad guys with a bomb, crashes, gunfights, jet packs, and tigers—and Paolo's choreography there is astounding. I can write the craziest stuff and he'll make it work on the page!
DF: And finally, John, as you just indicated, our hero actually made his first comic book appearance BEFORE his comic comes out in the Rom #0 comic on Free Comic Book Day this past Saturday?
John Barber: YEAH! There's an essential short story in the comic—you'll want that comic anyway because the Rom story by Chris Ryall, Christos N. Gage, and David Messina is amazing, but I think you'll want to give Action Man a read, too! It's one of my favorite things to write. I hope people like it!
Thanks for asking about it!
Dynamic Forces would like to thank John Barber for taking time out of his busy schedule to answer our questions. Action Man #1 hits stores June 22nd!
For more news and up-to-date announcements, join us here at Dynamic Forces, www.dynamicforces.com/htmlfiles/, "LIKE" us on Facebook, www.facebook.com/dynamicforcesinc, and follow us on Twitter, www.twitter.com/dynamicforces
BACK TO THE FUTURE #1 DF EXCLUSIVE SIGNED & REMARKED BY KEN HAESER Scripts by John Barber & Erik Burnham
---
NEW! 1. 12/04/2020 - JOSH BLAYLOCK
3. 11/30/2020 - SKYLAR PATRIDGE