TINI HOWARD

SEND THIS TO A FRIEND!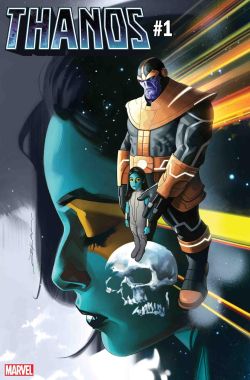 DF Interview: Tini Howard explores Gamora's beginnings with the Mad Titan in 'Thanos'
By Byron Brewer
Thanos has been executed by the deadliest assassin in the galaxy … his daughter, Gamora. But before their relationship came to a bloody end, how did it begin? Find out in this all-new miniseries from Marvel Comics by Tini Howard (Marvel Knights 20th and Age of Conan: Belit) and Ariel Olivetti (Death of the Inhumans).
DF is always excited to reach new depths with our favorite cosmic characters, so we sat down with scribe Tini Howard to discuss this little-explored area of Thanos and Gamora's complex father/daughter relationship.
Dynamic Forces: Tini, I am excited about this miniseries dealing with two of my favorite Jim Starlin creations, Thanos and the Most Dangerous Woman in the Galaxy, Gamora. Were you a fan of Starlin's cosmic capers back in the day? Captain Marvel, Warlock?
Tini Howard: I've read comics my whole life, but I read a lot of comics from my library and local book stores, rather than comic shops. Which means I read a lot of indie comics and not a lot of superhero comics. It wasn't until after high school that I got into the Marvel Universe, but those classic Starlin books are my favorites. His prose so perfectly builds you a fantastic story right out of the gate.
DF: The Mad Titan was executed in Infinity Wars by his adopted daughter. What is your approach for this great detailed telling of their history? Did you do a lot of research, and was there any other media inspiration for this mini?
Tini Howard: I was lucky enough to read a lot of the current Guardians status quo a bit early, when it was still in the script phase, and I'll say this -- you don't have to have read Infinity Wars and be reading Guardians to read our Thanos book, but there's definitely some bombs dropped in this series for those who are.
My biggest media influences for these two are every great duo of a big mean dude and a smaller, meaner little girl.
DF: How do you as a writer view these larger-than-life cosmic characters? To Tini, who is Thanos? Who is Gamora?
Tini Howard: Thanos is The Man Who Has Everything. It's not that he has everything but the one thing he wants, it's that he really does have everything and doesn't realize it. It's not enough and he wants more. That drives us mad, it makes us anxious and suspicious and angry and it makes us lash out.
Gamora is a child who has lost everything and has to rebuild her life from the ground up. Thanos is both the person responsible for the "death" of her old life and the "rebirth" she experiences here. That'll screw you up.
DF: Obviously Gamora as a young child being forged into an assassin must have experienced all kinds of things coming into adulthood. One can imagine everything from the cruelest case of loneliness to Stockholm syndrome. Does your story touch on these types of things? If so, can you discuss that aspect just a little?
Tini Howard: We never stop considering it. I'm not interested in writing a book where a child takes to being a child soldier without a lot of introspection about the pain that causes and the inherent dysfunction of it all.
DF: Will we be seeing any guest stars in this series? Perhaps Thanos' brother Eros or father Mentor? Nebula?
Tini Howard: If folks have seen the previews, they know that we see young Proxima Midnight and Ebony Maw as members of Thanos' crew. We'll see a few other familiar faces too!
DF: Talk a little about the work of artist Ariel Olivetti.
Tini Howard: I can't stop talking about his work. I have to say, Ariel and I live incredibly far from one another, so if he didn't post progress images, I would have to assume he's some sort of deep-space art wizard.

This book is heavy and dark and Ariel still manages to make his people incredibly emotive and easy to love, his spaces airy and haunted, his storytelling always crisp. You're all in for a treat.
DF: Tini, while we're here, any other projects you're working on current or near-future you can tell readers about?
Tini Howard: Well, I'm at Marvel for the foreseeable future and I have a ton of exciting projects there. If you're looking for more cosmic stuff from me, I have a story in the Guardians of the Galaxy Annual about Adam Warlock. And I'd be remiss if I didn't end this interview about death and space with a nod to my creator-owned book, Euthanauts.
Dynamic Forces would like to thank Tini Howard for taking time out of her busy schedule to answer our questions. Thanos #1 from Marvel Comics hits stores April 24th!
For more news and up-to-date announcements, join us here at Dynamic Forces, www.dynamicforces.com/htmlfiles/, "LIKE" us on Facebook, www.facebook.com/dynamicforcesinc, and follow us on Twitter, www.twitter.com/dynamicforces.
---
NEW! 1. 05/24/2023 - DOUG WAGNER
3. 02/10/2022 - SIMON SPURRIER