TAD STONES

SEND THIS TO A FRIEND!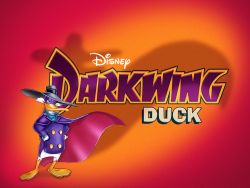 DF Interview: The life of Tad Stones is the story of American animation
By Byron Brewer
Best known for his work at Disney, Tad Stones is a screenwriter, producer and director, trained by some classic Disney animators: Walt's famed Nine Old Men. He's done everything from create Darkwing Duck to work on Bob's Burgers.
When DF got a chance to sit down and talk with this gentleman whose life is the story of American animation across several generations, we most definitely took advantage. Here is what Tad Stones told us.
Dynamic Forces: Tad, you practically went to work for Disney right out of college. As a matter of fact, three days after graduation. Tell us about your love of animation and learning the craft under the legendary Eric Larson, one of Walt's original Nine Old Men.
Tad Stones: My dad had wanted to be a cartoonist. Although he never took that path, I grew up with a lot of comic strip and animation books. Besides watching Disneyland and The Wonderful World of Color, I learned the basics of animation from two books, "The Art of Animation" by Bob Thomas, which focused on the production of Sleeping Beauty and, foremost, "Animation" by Preston Blair, one of the Walter Foster line of art books. I think every Disney trainee had that book.
Eric didn't have formal classes, he just worked with each trainee as they brought in their test. I came to Disney about five months after Ron Clements and three months before Glen Keane. This was before Cal Arts had a character animation program which sent a flood of applicants to the studio. Because I knew the basics, I sort of dove into my test. I wish I bothered Eric more because he was a wealth of knowledge.
I survived the training program and shared an office with Ron Clements. People think of him as a director because of the game changing films he wrote and directed with John Musker, but Ron was a fantastic animator. His personal test was a Cruella DeVille scene which wowed the review board. Frank Thomas quickly took him under his wing so I got a series of second hand lessons from Frank as I grilled Ron relentlessly after his every meeting.
My favorite part of traditional animation was rolling the animation paper on the desk as I drew. You could flip about five pages at a time as you inbetweened. This is the moment when your drawings come to life as you draw them.
When Ron became an animator, I was his assistant. Sadly for Ron, I was TERRIBLE at inbetweening, to the point of almost getting fired. I won't get technical, let's just say I didn't get it conceptually. A year later, when I was in story, I suddenly had an epiphany and got it. It wasn't that they weren't describing it the right way, I just didn't get it. Who knows where I would be if I hadn't gotten a chance to work in story.
DF: What are some of the works we might know from early in your animation career?
Tad Stones: I have one animated scene in the original The Rescuers. Bernard Mouse tiptoeing across a desk then turning at the sound of a cuckoo clock. I then moved onto story. Storyboarding then wasn't following a script. You made it up as you built the scene. Dialogue was then finalized by Larry Clemmons. In The Fox and the Hound, I storyboarded the Hunter laying out traps for the fox with Copper, his bloodhound. I also reworked some existing animation into a new sequence where the old dog, Chief, is injured and is firing up Copper to go after Todd. I did my work under Woolie Reitherman who was replaced by new directors while I was at Imagineering. That was before never ending end credits so I missed my chance to have my name on a Disney feature. It didn't bother me until I learned they gave a credit to a fictional worm.
I don't think they knew where to put me so I ended up writing, boarding and producing an educational film called Health and Alcohol Abuse. That's what got me transferred to WED, what Imagineering was known as back then. They were in the middle of designing rides for EPCOT Center. It was a great time. I spent about nine months in an 8 by 12 room with Ward Kimbal, working on a ride for the Transportation Pavillion then met George Lucas while I worked on a proposed Space Pavilion. Finally, I spent the rest of my time there working with Tony Baxter on the Imagination Pavilion
DF: If memory serves, you were among those who got the studio heavily into television toons in 1984 with the formation of Walt Disney Television Animation. What do you recall about this historic move, and about some of the properties that rolled off the animation assembly lines first?
Tad Stones: I had been asked to look into getting Disney into TV Animation by Ron Miller who was running the company at the time. It's probably hard for people, used to today's Disney, to understand how small the company was back then. Anyway, there had been an animation strike over, among other things, the use of overseas studios to produce animation. Obviously, the union lost that battle. But Ron was gun shy about the issue so he wanted to avoid that. So with that decision, there was no way to do the kind of animation that merchandising was hungry for; that is, telling stories with classic Disney characters or the creation of new characters with a Disney feel. All we could have done were shows that repurposed old cartoons like The Bugs Bunny/Roadrunner Hour.
Sometime after that, I was asked to develop animated half hour specials for the merchandising side. That led to me writing and partially boarding the first pitch of Sport Goofy which used Scrooge McDuck and the nephews to tell a story about soccer. This did NOT lead to DuckTales. That had a completely separate genesis. However, my work with those execs got me invited to Michael Eisner's house, on a Sunday, after his first week at Disney to discuss TV animation.
Michael had started in Saturday morning TV and thought that Disney was the premiere name in animation. He believed Disney should be the top in any medium that had animation. He didn't mean that TV animation had to look like feature animation, but it should be the best TV animation.
After that meeting I went back to whatever nebulous assignment I had. I was considering leaving the company to just freelance storyboards. I felt that if I could pay the bills storyboarding by day, I could write science fiction short stories to feed my soul at night. Obviously, I was forgetting that kids make that scenario very difficult. But when I saw the new head of TV animation, Michael Webster, walking through the animation building, I asked him if he had any storyboarding assignments available. He said, "Oh, you don't want to do that. Why don't you come over and visit us?"
I had forgotten that they had wanted me to join TV animation from the start. Anyway, I talked to Jeffrey Katzenberg. He said they could use me and it wasn't a one way street (it was). That started my career in Disney TV Animation so I'm sorta considered one of the founding fathers. They were already getting their first shows back, Wuzzles and Disney's Adventures of the Gummi Bears. At first I was technically in management as Creative Director. It put me in development. They wanted me to work at bringing in outside writers but, because Disney is so insular, I didn't know any. I generated ideas on my own and with Jymn Magon, story editor of Gummis. I helped on DuckTales, giving notes and story ideas, story edited a special, then took over the third season of Gummi Bears with Alan Zaslove. After that, Jymn and I created Chip 'n' Dale's Rescue Rangers which I went on to run with Alan. After that, it was time to return to ducks.
DF: I have a friend who is a Darkwing Duck VERY fanatic fan. Tell us about the creation of this character and his show. (Wasn't there something about Gosalyn Mallard and your young daughter …?)
Tad Stones: Jeffrey Katzenberg asked me to develop a show with the title, "Double-O Duck." It had been an episode title in DuckTales featuring Launchpad McQuack and he thought the title would bring in viewers to check out the show. But Jeffrey wanted a new character. My first attempt was the obvious, a James Bond parody. For whatever reason, we had given Double-O Duck a hat, mask and cape. But I didn't believe in it and Jeffrey hated it. Fortunately for me, instead of giving the assignment to someone else, he told me to come up with something new. I was brainstorming ideas with some of the other story editors and Duane Capezzi remarked that with the tuxedo, mask and cape, he looked less like a spy and more like a pulp hero like the Green Hornet or the Shadow. Pivotal moment. I lit up because I loved those old stories, comics and radio shows. I thought about Doc Savage and how he had a team of experts. That would be a way of getting around the usual James Bond tropes. But it didn't gel until we brought in Gosalyn. As a toddler, my daughter was fearless, taking all sorts of physical risks then falling and cutting open her chin doing something "harmless" like pushing a doll in a baby carriage. I crossed her with Bill Watterson's Calvin to create Gosalyn. Later, I would describe the dynamic with the question, "What if Batman had a little girl who refused to stay at home?"
The team of experts got trimmed down to Launchpad for practical reasons and we sold the show. Soon after, Disney lawyers were contacted. "Double-O" is owned by the folks who have the media rights to James Bond and they weren't about to let us use it. Double-O became Darkwing Duck. Losing the name freed me from spies and let me chase the Silver Age comics that I grew up with. I also wanted to add Disney heart and storytelling to the tone of old WB shorts and the series went into production.
DF: Tad, as opposed to the classic Disney animated films with theatrical runs, what do you think of the direct-to-video market that reared its head with some of your works like the Aladdin sequels, Buzz Lightyear, etc.? It was a whole new ballgame for animation, I would think.
Tad Stones: We always started our syndicated shows with a multi-part story that would be run as an evening movie the week before the series started. At the time, our budgets were tightening and I was looking for a way to fight that. I called up some people I knew at Home Video and told them that, technically, I was producing the sequel to Aladdin and asked if they'd be interested in releasing it on video. They weren't . Well, they weren't until they released Aladdin on video and it made gobs of money. I called them again and this time they wanted to release it. I was just trying to protect our budgets. I thought that is there was another revenue source we could fend off the budgeteers. Features thought it hurt the Disney name. Eisner agreed until he learned how much it made, almost $200 million domestic. It cost about three and a half. And so a new division was formed. Aladdin and the King of Thieves was a better movie. Buzz Lightyear benefited from a delayed series release. We had all sorts of characters and locations already designed and used the video budget to focus on new stuff. That also kept the costs way down. In time, the animation on the direct to videos got better and better, largely thanks to our Australian studio. The later ones even had Disney feature animators on them, since features was moving into CG.
DF: What led to the decision, after almost three decades, to leave the House of Mouse?
Tad Stones: The same executive who laid off Musker and Clements laid me off. Ron and John were saved by John Lasseter but he had nothing to do with TV. And by then I was gone. After 30 years, many in key positions, my salary was deemed too high.
DF: I will wager, with a new live-action film slated to bow this April, not a lot of folks know you directed, produced and co-wrote with character creator Mike Mignola two direct-to-video animated films starring Hellboy. Talk about your work on the Hellboy toons and working with Mignola.
Tad Stones: My two favorite projects of my career are Darkwing Duck and Hellboy Animated. With Hellboy, I got to create and write suspense and horror as if they were live action movies. I had always loved the character and even pitched it at Disney. And Mike Mignola, who I got to work with on a canceled Atlantis series, is one of the most creative people I know. And I know a lot of creative people. He's imaginative at a blinding speed and taught me to think about bigger concepts instead of getting lost in the details.
DF: If Hellboy catches fire in this age of the superhero film this time 'round, do you think the screenplay you completed for that original toon series, Hellboy: The Phantom Claw, may be someday produced?
Tad Stones: No. Geez, I hope I have a print out of that script somewhere because it was many computers ago and I don't have the file. The production of the first two films overlapped so there was no learning curve. When writing The Phantom Claw, I knew what worked and what didn't in our animation. It would have been the best of the three. Sword of Storms was like a collection of Mignola short stories, Blood and Iron dealt with Hellboy's roots in Central European folklore but Phantom was all about Nazis, cyber-apes, walking dead, floating heads, mad scientists and Lobster Johnson.
DF: How was it working on Bob's Burgers?
Tad Stones: It was not a good fit for me. I was a storyboard artist on a show that was so dialogue driven that you weren't allowed to add a gag. The only things that kept me from going crazy were, 1) It's a brilliant and hilarious show, and 2) I wrote and produced a pilot for Disney Jr. while I was there. Had it sold, it would have been produced by Bento Box who does Bob's Burgers. But it didn't go and I went a little crazy, or at least became disgruntled. I wasn't asked back after working there about three years. That was a good thing because I managed to sell some scripts and then got a chance to write and direct a series for Netflix, Kulipari: An Army of Frogs. It was an unusual project for me because I had to adhere to the story of the client, but it made me write scenes and characters that were way out of my usual style. It was received well and got picked up for a second season but I retired before that.
DF: Tad, what is keeping you, a classically trained animator and storyteller, busy these days?
Tad Stones: I have a two ideas that would have been series. I thought I'd turn them into comics, graphic novels, novels or something. The trick is finding a format that doesn't turn into a full time job which is sort of the point of retirement. But who knows? I've stopped stressing about it for now.
Meanwhile, I do several comic conventions each year where I sell original sketches of the Darkwing Duck gang and the Rescue Rangers crew. That means paid travel around the continental United States with special trips to Maui, Belgium and possibly Russia!
Add to that some random craft projects like steampunk jetpacks for my grandkids and I find myself with less time to fill than I expected. So far, it's still an adventure!
Dynamic Forces would like to thank Tad Stones for taking time out of his busy schedule to answer our questions. Stay tuned to DF News to catch future endeavors by the veteran animator!
For more news and up-to-date announcements, join us here at Dynamic Forces, www.dynamicforces.com/htmlfiles/, "LIKE" us on Facebook, www.facebook.com/dynamicforcesinc, and follow us on Twitter, www.twitter.com/dynamicforces.
UNCLE SCROOGE #1 SIGNED & REMARKED WITH AN UNCLE SCROOGE SKETCH BY KEN HAESER!
BOB'S BURGERS: CHARBROILED TRADE PAPERBACK
BOB'S BURGERS: PAN FRIED TRADE PAPERBACK
BOB'S BURGERS #1 NYCC VIRGIN VARIANT SIGNED BY SHOW CREATOR LOREN BOUCHARD!
BOB'S BURGERS ONGOING #1 RARE DEREK SCHROEDER "VIRGIN WORK OF ART" EDITION
BOB'S BURGERS #1 BALTIMORE COMIC CON VIRGIN EXCLUSIVE BY TONY GENNARO BONUS PACKAGE (PLUS ONE)
BOB'S BURGERS: WELL DONE TRADE PAPERBACK
BOB'S BURGERS: MEDIUM RARE TRADE PAPERBACK
THE NEW YORK FIVE COMIC CON EXCLUSIVE DYNAMITE COLLECTORS PACK!
HELLBOY: WEIRD TALES VOLUME TWO TPB
ITTY BITTY HELLBOY #1 FIRST PRINTING CGC GRADED 9.8!
---
NEW! 1. 11/25/2020 - STEVE SKROCE
4. 11/16/2020 - RYAN O'SULLIVAN
5. 11/16/2020 - RYAN O'SULLIVAN