JEAN-MARC LOFFICIER

SEND THIS TO A FRIEND!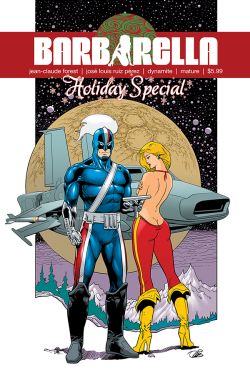 DF Interview: Jean-Marc Lofficier talks translating comics, working with Moebius, and his current writing of a Stan Lee documentary
By Byron Brewer
French author Jean-Marc Lofficier has had his fingers into some interesting creative circumstances, inside and outside comics. Along the way, he has written panel-graphic literature, translated same, worked with legendary artist Moebius and, even as this interview was being conducted, was about to embark on writing a documentary on the late Stan Lee (no ID necessary, nuff said) for French TV.
DF took the opportunity to speak with the bilingual (thank goodness!) comics creator on his career and extraordinary adventures.
Dynamic Forces: Jean-Marc, tell us how you first got interested in writing. I understand you were doing your own comic strips from a very young age. All this was in France, correct?
Jean-Marc Lofficier: When I was 14, I drew a whole slew of little comics with stick figures, telling new adventures of The Saint. (After all, what better character to illustrate with stick figures?) Despite their rudimentary style, to say the least, they were very popular among my school friends. I think I drew like 30 issues… They taught me that if I couldn't draw, at least I could tell stories. Two years later, I began submitting short stories to Lunatique, the most prestigious French SF fanzine at the time, and a few got published. That was really my first semi-pro sale.
I had always been a voracious comics reader since early childhood. In France, at the time, one usually started with the Disney and Hanna-Barbera comics, then moved on to the weeklies (Tintin, Spirou, Pilote…). But there were also lots of b&w digest-sized comics, such as the ones published by Editions Lug, which were my favorites. That was the "ancestor" of what became Hexagon Comics. When I purchased Zembla #1 at the newsstand at age 9, if someone had told me that I would later be in control of that entire universe, or work with the original artist, Luciano Bernasconi, to finish the saga of Wampus, which I devoured in 1969, I would have been flabbergasted! Life can be strange, sometimes...
Editions Lug was the first in France to publish French versions of the Marvel series, starting in 1969 with Fantastic Four, Spider-Man, Silver Surfer, then in 1970 with X-Men, Iron Man, Daredevil… Prior to that, another publisher, Artima, had put out comics featuring DC stories from the '50s and '60s. So I was familiar with J'onn J'onzz, Adam Strange, etc. Superman and Batman began being published by Sage in the fall of 1967, and around the same time Artima, which had become Aredit, extended their DC license to publish Spectre, Doom Patrol, Eclipso, The Challengers, etc.
I avidly purchased them all. In 1971, I began buying imported American comics at Brentano's in Paris. Thanks to that, my level in English skyrocketed! I was able to read the entire Lord of the Rings in English in 1972. That was the year I passed the Baccalauréat exam, which marks the end of high school in France.
After that, the pressure of attending both business and law schools simultaneously didn't leave me too much time to write. I almost completed an SF novel, which I finished only in 2004, thirty years later! But I did find the time to write a few SF short stories, in English, which were published in a Canadian zine called Asterisks. These were my first sales in English!
In 1978, I traveled through the U.S. on a kind of sabbatical, and I met Randy in Los Angeles. She'd just moved from Philadelphia. I found a way to return to the U.S. by joining the French bank Crédit Lyonnais which had branches all over the world, and we were married a few months later in May 1979.
DF: So you did not immediately make writing a career. But I have heard that marrying Randy and her desires to write actually helped you enter the field?
Jean-Marc Lofficier: Actually, it was more like the other way around, in the sense that I already had some published credits, while Randy had written some really good short stories, but not submitted them anywhere.
Prior to moving to the U.S., I had been doing articles for a French cinema magazine called L'ecran Fantastique. The editor was very excited, because me being based in Los Angeles now made it possible to conduct interviews, do set visits, etc. And with me working during the day at the bank, Randy stepped in and enthusiastically took over that side of the business. I recall that her first solo interview was with Ralph Bakshi over Wizards, which had just been released in France, and the animated Lord of the Rings, which was in the last stages of post-production. We screwed up the tape, and she had to go and re-interview him which was rather embarrassing.
I would help during the weekends with the transcriptions of the tapes and some of the writing, but that was all Randy's. We kept supplying L'ecran Fantastique with articles, and Randy quickly established a good reputation in the field as "Hollywood correspondent." It made it easy to attract or pitch to other markets, and we soon began supplying articles to Starlog, Twilight Zone Magazine, American Cinematographer, Cinefex, Starburst, San Antonio Express-News and others. In 1983, I think, Randy went to Australia to be on the set of Mad Max III: Beyond Thunderdome. We did extensive coverage on Blade Runner, Ghostbusters, Something Wicked This Way Comes, etc.
It was through doing this that we first met Roy Thomas and Gerry Conway, interviewing them both on Fire & Ice and Conan II. And that really led to me writing comics for the U.S. market.
DF: Talk, if you will, about working with the great French artist Moebius.
Jean-Marc Lofficier: Randy met Moebius' (then first) wife, Claudine, at Comicon in 1984. At the time, the Girauds, who had been living in Tahiti for a couple of years, had just relocated to Los Angeles because Jean (Giraud, Moebius) hoped to make some inroads in Hollywood. He was trying to sell an animated feature entitled Internal Transfer, and was also working for the Japanese studio TMS on the script for Little Nemo.
We went out for dinner a few times, and had a fun time. That's when TMS hired us, at Jean's suggestion, to help him generate a proper script in English. Clearly, English not being his mother tongue, he needed help there, but also with the screenplay style and format. After the Nemo job was over, we segued into selling the concept of a new and exhaustive publication of all of the Moebius works to Marvel, which we achieved thanks in great part to David Scroggy, and also Archie Goodwin at Epic, who became our champion and a great friend.
At that point, Jean and Claudine founded an American company called Starwatcher Graphics, and they decided to hire me to run the day-to-day operations. In addition to overseeing the Marvel deal, we were trying to license rights to film and TV studios, and we also sold high-quality art prints and merchandise, so it was a very busy time.
The first Marvel/Epic Moebius graphic novel came out in 1985 and it was a huge success. In fact, the first three books went through a second printing! Three years later, I also oversaw the Stan Lee/Moebius Silver Surfer, which both were very keen to do. We knew Stan already, having met him a few times before. Once, we'd served as intermediaries between Marvel Animation Studio and a potential French subcontractor; another time, Randy had gone in to pitch an idea for an Iron Man script. Jean was delighted to meet Stan, and Stan was thrilled at the idea of working with him. Jean wanted to do a "real" comic, newsprint, ben-day color and all, out of pure nostalgia, and he had a huge admiration for and fond memories of the Lee-Buscema Surfer stories which had been published by Editions Lug. So it was a match made in heaven, you might say! A little known fact is, Jean was short of a page on the second issue, so I "wrote" Page 2, initially intended as a flashback, which Stan then incorporated into the current narrative.
Also, at the onset of the Moebius graphic novel program, Archie had asked Jean for a new Arzach story to make volume #2 different from the Heavy Metal Arzach collection that was still sitting on the shelves in comic book stores. So Jean used a movie treatment that Randy and I had written for a potential Arzach pitch, and turned that into a new story. That treatment later became the basis for an Arzach novelization released by Byron Preiss in 1999. I think.
I also collaborated with Jean on the Airtight Garage spinoff series, where basically, he would provide me with the plot, and I would do the rest. I worked with the artists, Eric Shanower first, then Jerry Bingham. Randy and I had worked with Jean on a screenplay for an animated Airtight Garage feature, that had been fully storyboarded by Sylvain Despretz. Unfortunately. we could never secure the financing to make it, even though we went to Russia and Japan to find partners. However, that effort eventually morphed into the Sony Metreon Airtight Garage attraction, which opened in downtown San Francisco in 1999. Sadly, they've taken it down since then, but it was very beautiful. We were all there for the grand opening, George Lucas was there, it was a lot of fun. We had such high hopes for it at the time.
That was pretty much the last time we worked together with Jean. He had remarried a few years earlier, had gone back to France, and his new wife, who spoke little or no English, was not thrilled at all with all that was happening in the U.S., especially with Sony. I think she feared losing control. For obvious reasons, Starwatcher Graphics (which still included Jean's first wife as a stockholder) was disbanded in 2000, and that was the end of that relationship. We went on to create Hollywood Comics, basically working with Steve Bissette, the estate of Jean-Claude Forest, Paul Pope, Steve Rude, Stan Sakai, Jay Stephens and a few others in interfacing with the Hollywood studios. We helped sell several animation TV projects based on Jay's works, and now, hopefully, Stan's as well, and negotiated several movie deals for Paul—sadly, none made yet.
Jean-Claude Forest, the creator of Barbarella, had been a friend of ours since we had interviewed him for Comic Scene, and we'd worked together for a planned licensed Barbarella comic book series for Topps in the mid-'90s. After Jean-Claude passed in 1998, I began working with his only son, Julien. That led to many movie deals and also the Dynamite licensed comic.
So while I really missed working with Jean (Moebius), from a purely business standpoint, our "break up" wasn't a huge loss. Unlike some of his other friends, we'd never been exclusively dependent on him, which turned out to have been a good thing.
DF: You and Randy were immersed in sci-fi entertainment for a long time, with Starlog and other publications. Talk about those days, and your love (if that is the term) for the genre of SF.
Jean-Marc Lofficier: I mentioned how we segued from writing for L'ecran Fantastique to Starlog and other U.S. media. Some of that did have some interesting consequences.
For instance, a lengthy article and interview I did for L'ecran on the topic of Doctor Who helped us secure a contract to write The Doctor Who Programme Guide (2 volumes), which were published in 1980. The DWPG was the first mainstream book about a genre TV show to be published by a major publisher. (There was Bjo Trimble's Star Trek Concordance, but that was more of a fan publication.) That in turn led to us writing more Doctor Who non-fiction books, and much later, to us translating and publishing the French 1906 novel Doctor Omega which helped launch our small press publishing company, Black Coat Press, in 2003.
Some of the articles we wrote for Starlog ended up being collected into two books, along with others, by our friends and fellow authors, Lee Goldberg and Bill Rabkin, by the non-fiction publisher, McFarland. That in turn led us to write a rather massive tome about French Science Fiction & Fantasy in the Cinema, Literature & Comics, which McFarland published in 2000. It took Randy and I the best of three years to pull that one together.
We met a lot of wonderful people through doing interviews for Starlog, which often led to other things. And our editor, Dave McDonnell, was absolutely the best! I very much regretted the end of that era. The last piece we did for Starlog, I think, was a "fake" interview with Jules Verne made up of actual, real-life Jules Verne quotes which I had dug up in old newspapers, an interview with Sylvain Chomet, the director of The Triplets of Belleville. We both miss Starlog.
DF: It was about this point when you became involved in scripting animated shows and also with comic books. Reminisce a little about that beginning – your projects, etc.
Jean-Marc Lofficier: In 1985, Randy took a writing course at Hanna-Barbera to familiarize herself with animation writing; her "final" was an 11-minute script for Clash of the Super-Powers which received great marks from the instructor, Harry Love. That in turn led us to write two episodes of The Real Ghostbusters for J. Michael Straczynski (the best story editor in the business then – that was before Babylon-5), a Duck Tales, two Bionic Six, and a few more forgettable contributions. The Duck Tales was great because I could use the character of Magica De Spell, which I loved in the Disney comics I read as a kid. (She is known as "Miss Tick" in the French version.) The idea was basically mine, but Randy did a terrific job on the script. I understand other writers at Disney had tried to "steal" our premise, but the story editor, Patsy Cameron, read the script and fought for us.
The animation writing business became much tougher in the late '80s, with giant cattle calls where a hundred writers were summoned into a single amphitheater and invited to come up with premises for a show. This was at the same time than Starwatcher with Moebius really took off, and we had a lot of other writing to do, so after about three years, we concentrated on books and comics, and let animation slide by. Nevertheless, I have great fondness for the two Ghostbusters and the Duck Tales we did.
DF: You worked with two of the greats, Roy Thomas and Marv Wolfman. What did they add to your career as a comics writer?
Jean-Marc Lofficier: We also worked with Len Wein, and to a lesser degree, Gerry Conway. That was more me than Randy, since I was (am) the one more familiar with the Marvel and DC universes, and also I genuinely enjoy the collaboration process, especially with all of those great writers. I often felt that the end product was, in fact, better than what each of us could have done separately; well, in most cases.
The first collaboration was with Gerry who, because of deadlines on the Conan II script, entrusted us with an issue of his beloved Firestorm. We pitched the idea to him of using the Phantom Stranger; then he told us to go ahead, and made only a few minor tweaks.
Then, pretty much for the same reasons, Roy let us script the last six issues of Arak, which was a book I loved very much. Randy did a lot of the scripting. In #45, we worked with French artist Gerald Forton, who at the time lived in Los Angeles and was working for the animation studio Filmation. (He did a lot of designs on Bravestar.) Arak #45 may well be the only original U.S. comic entirely produced by French expats!
Over the years, I have done many, many collaborations with Roy, usually providing the concepts, or fleshing out his ideas, with bits of copy thrown in. We collaborated on Dr. Strange, several What Ifs, Infinity Inc., Young All-Star, Secret Origins, Dracula-Frankenstein War (for Topps), Call of Cthulhu (for Millennium), and a few years ago the Marvel Arcana devoted to the Original Black Knight. My favorite in all of these is what we did together on Dr. Strange, which was one of my favorite Marvel books, when I grew up, especially the Thomas-Colan period. A few years ago, when Marvel put out a Handbook of its supernatural characters, it hit me how much we had contributed to that subset of the Marvel Universe in a space of 5 or 6 years!
With Marv and Len, it was pretty much the same thing, mostly doing plots with the occasional issue where I'd take over entirely. We did some Teen Titans and Deathstroke for Marv, and a run of Blue Beetle (Ted Kord) with Len. It was all great fun, except that we never had the opportunity to wrap up a plot line involving Agent Axis and the adult Boy Commandos we'd started in Blue Beetle. I think I may be the one who came up with the sentient scarab concept much reused since, and killed on the original Dan Garrett Blue Beetle. The Titans Spotlight / Brotherhood of Evil issue (drawn by Joe Orlando, one of his last jobs) got DC a nasty letter from the attorneys representing the Hergé Estate. It was a rather thinly-disguised homage to Tintin, and they got very nasty over it. A French Tintin fan website commented that it was because it was the best Tintin parody ever, and it hurt.
Obviously we've also done quite a few comics, just ourselves: the "German Cinema" trilogy of Elseworlds at DC with Ted McKeever, although that one got started with Roy, and an issue of Action Comics we did for Julie Schwartz with Keith Giffen that featured a parody of Asterix; plus two Clive Barker's Hellraiser at Epic, which Clive praised a lot, and a couple of Star Trek: Deep Space Nine, two Superman / Legends of the DCU with Ladrönn, an Alone in the Dark comic based on the video game, the creator-owned Tongue*Lash at Dark Horse, and Robur, published in Heavy Metal, with French artist Gil Formosa, and I'm probably forgetting a bunch of stuff!
Eventually, in 2000, Thierry Mornet, then-editor in chief of what wasn't yet called Hexagon Comics, asked me to take over and revamp their universe. Since I'd read all those books as a kid, it was like a dream job on a silver platter! Then, three years later, when they went bankrupt, we took over and since then, I've been my own "Stan Lee" (or more accurately, "Roy Thomas") with the characters! Hexagon will celebrate its 70th year anniversary this year (2019) and I just put out a special book, in French and English, to celebrate the occasion.
DF: Together with Randy, Jean-Marc, you have done something I never really thought of before: translating various comic books, graphic novels and other publications. This eventually led to the Lofficiers receiving the coveted Inkpot Award. Memories?
Jean-Marc Lofficier: Because we're both bilingual, translation from French to English and vice-versa has always been very important to us. For Starlog, we did interviews with (which we then translated) Jean-Claude Forest, René Laloux, Luc Besson and others. With Stan's blessing, we did the origins of Spider-Man in a bilingual book for French children to help them learn English. We did a comic called French Ice Featuring Carmen Cru for Deni Loubert at Renegade Press in the mid-1980s. French Ice translated stories like Carmen Cru and Kador from the French comic humor mag Fluide Glacial. We were the first translators/co-editors of Dark Horse's Cheval Noir, which published Tardi, Druillet, Schuiten, Vatine, and others, in English. Some of these later got reprinted by NBM.
In the case of the Moebius books at Marvel, we did more than just translating; we packaged the material, interviewed Moebius about each of the stories, wrote intros, provided extra bio- and bibliographical materials, and even traced down earlier versions of some of the pages.
I think the Inkpot Award, for which we are very grateful, was in recognition of all the good work we'd done to bring proper versions of some of the best French comics to America. This was a bit of a golden age, because I feel there isn't much of it left today. It's a bit like a wonderful, but dead, city in the desert, slowly being buried under the sand.
DF: I don't know if you are allowed to talk about this, but I hear you have recently been hired by a French TV network to write a documentary on the late Stan Lee, whom you used to know. True? And what else can you tell us about the gig?
Jean-Marc Lofficier: As I mentioned, the first Marvel stories were introduced in France in 1969, and Stan has been nearly as much of an icon here as he was in the U.S. Canal-Plus, which is like the French HBO, obviously was receptive to a pitch about doing a 52-minute documentary about him, and the producer contacted me to ask if I'd write it. Let's face it, as far as possible French writers are concerned, I was pretty much the obvious choice, especially since I worked with Stan on the Moebius Silver Surfer. And we'd also stayed in touch after that, at least until we moved back to France. The last contact I had with him was when, soon after we moved, in 2006 or 2007, we did a comic project with the schoolchildren of my village featuring Spider-Man, and I sent a copy to Stan, who wrote me back a very sweet letter.
With respect to the documentary, we just signed the contract and we'll start discussing production requirements in the new year. I would very much like them to send a crew to interview Roy, who's just done a terrific book on Stan.
DF: What other projects of yours can you tell our readers about?
Jean-Marc Lofficier: My big thing today is Hexagon Comics, which has a strong and loyal, if smallish, cult of devotees in France. On the one hand, we have a program of reprinting the old comics from the '50s to the '80s in massive 500-to-600-page TPBs. We release them monthly and the 100th volume will come out in the spring of 2019. Then, there are the new comics, the new stories we do with the characters. We have three regular series, Strangers, Garde Republicain and Strangers Universe (an antho series), plus the occasional one-shot.
I was fortunate to get Roy to plot a WWII one-shot called The Partisans and Marvel a vampire tale featuring a character called Scarlet Lips. Both books are available in English now, although not through Diamond. Not being based in the U.S., it's impractical for me to deal with Diamond from here; but I'm looking to partnering with someone who could handle things for me as proxy. However, the books are available on Amazon and at our www.hexagoncomics.com website. I certainly plan to release more books in English in 2019.
Dynamic Forces would like to thank Jean-Marc Lofficier for taking time out of his busy schedule to answer our questions about his amazing career!
For more news and up-to-date announcements, join us here at Dynamic Forces, www.dynamicforces.com/htmlfiles/, "LIKE" us on Facebook, www.facebook.com/dynamicforcesinc, and follow us on Twitter, www.twitter.com/dynamicforces.
---
NEW! 1. 11/25/2020 - STEVE SKROCE
4. 11/16/2020 - RYAN O'SULLIVAN
5. 11/16/2020 - RYAN O'SULLIVAN