RORY McCONVILLE

SEND THIS TO A FRIEND!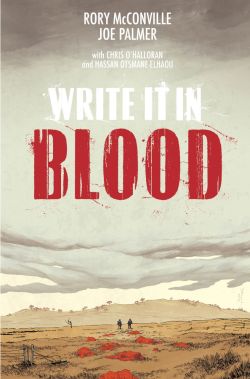 DF Interview: Rory McConville brings us crime drama with a twist in the 'Write It In Blood' OGN
By Byron Brewer
On the eve of their retirement, two hitmen – Cosmo and Arthur Pryce – drive through the Texas countryside with the infamous Little Harkness in the trunk of their car. The brothers are meant to deliver Harkness to their boss, but matters become complicated when Arthur's recklessness jeopardizes Cosmo's retirement plans and puts a target on their backs.
Write It In Blood is a tragicomic crime tale of family loyalty and broken dreams from Rory McConville (Judge Dredd) and Joe Palmer (2000 AD). DF was glad to see this refreshing story from these talents that are not that well known in America. Anxious to discuss their work, I sat down with scribe Rory McConville (with special thanks to my friend, Declan Shalvey).
Dynamic Forces: Rory, some U.S. comics fans might not recognize your name as a writer because you have spent much of your career writing for 2000 AD in the United Kingdom. So before we talk about your great graphic novel coming out, tell readers how you became enamored with writing… and then writing for comic books.
Rory McConville: I can't remember a time where I wasn't really into writing. When I was a kid, I was mainly working on short stories. I always wanted to write for comics but there weren't a lot of opportunities or resources in Ireland to find out about breaking into comics.
The internet made things a lot more accessible so I started submitting stories to small press anthologies in my teens and early 20s, as well as self-publishing shorts online and putting out a few graphic novels focused on Irish history.
I ended up writing for 2000 AD after winning the 2000 AD Pitch Competition that's held annually at Thoughtbubble in Leeds. Writers have 2 minutes to pitch a Future Shock (a 4-page sci-fi story with a twist at the end) in front of a panel of judges and an audience. Whoever wins gets to have the story published in 2000 AD.
Thankfully, 2000 AD liked my stuff and I've continued to write for them over the last few years. I started out writing Future Shocks and other shorts, before moving onto longer multi-part stories, and now I mainly write Judge Dredd.
DF: Image Comics is publishing your new OGN, Write It In Blood. Is this the first comic that you have had distributed in America and from an American publisher? If so, how does that feel?
Rory McConville: It is the first time and it feels great, especially to be coming from a publisher of Image's caliber. They've been brilliant to work with on this and our whole team is really excited to be getting Write It In Blood into people's hands.
DF: Tell us the genesis of Write It In Blood.
Rory McConville: I'd had the vague bones of the story rattling around in my head for some time. Aside from sci-fi, I've always been a big fan of off beat crime stories with a streak of dark humor. I'm thinking of stuff like Martin McDonagh, the Coen Brothers, Tarantino and Shane Black. Films like In Bruges and Kiss Kiss Bang Bang are up there. A lot of it came from wanting to have a go at writing that kind of story myself.
I also wanted to try writing in a different format. A lot of the stories I've written for 2000 AD have required a level of compression. An episode of Judge Dredd, for example, is usually between 6-10 pages. These stories are a great way of training you not to leave any fat on a story but I also wanted to do something that had a bit more space to breathe. Mind you, Write It In Blood still has plenty of action, but working on something of this size gives you the opportunity to dig into the characters a bit more, which readers seem to really be responding to.
DF: Introduce readers to Cosmo and Arthur Pryce. Who are they, and what's going on with them as we first meet them in the OGN?
Rory McConville: Cosmo and Arthur are a pair of middle-aged brothers who work as enforcers for a local crime lord called The Baron. We first meet them on the eve of their retirement, bickering about whether The Baron is going to get them a retirement present and whether they should get one for him. They're in the process of transporting Little Harkness, a member of the rival Harkness family that they've kidnapped, back to The Baron, but they've a long drive ahead of them and things quickly go awry….
Cosmo is the far more idealistic brother and has his head in his clouds. He sees himself as pretty cultured and sophisticated but when push comes to shove, he's just as foul mouthed and violent as Arthur. He's got big plans for his retirement and is in the final stages of buying a big family home… now he just needs to track down a wife and kids to fill it. Of course, that's easier said than done given he gets tongue tied around every woman he meets.
Arthur, Cosmo's older, brusquer sibling, doesn't know what he's going to do with himself once he retires. He's got a pretty big secret that's going to cause a lot of trouble for him and Cosmo.
DF: Who is Little Harkness?
Rory McConville: Little Harkness is a member of the Harkness crime family, who are currently embroiled in a turf war with The Baron. When our story begins, Cosmo and Arthur have just completed an attack on one of the Harknesses' homesteads and kidnapped Little, so things aren't looking too good for him.
DF: This is a serio-comic one-and-done crime tale. Is crime drama your favorite genre? And I am correct that some comedy is entwined into the story, correct? If so, how do you keep one from spoiling the other, as a writer?
Rory McConville: Crime's definitely up there. It's probably tied with sci-fi as my favorite genre.
There's a fair amount of comedy in this, though definitely the darker variety, which is easier to incorporate with the more serious elements. A lot of readers and reviewers have said it's got the same kind of flavor as Fargo, for example. Ultimately, I think it's just about figuring out what fits with the tone of the story.
DF: Talk about the work of artist Joe Palmer.
Rory McConville: I first came across Joe's work back in 2016. I mentioned that I broke in by winning the 2000 AD Pitch Competition. Well, that same year there was also an Art Competition which Joe won. He ended up drawing my script 'Lifosuction', which was about two rival chromo-cosmetic surgeons (think plastic surgery for your timeline) who find themselves working on the same patient at different points in his life.
We worked on another story for 2000 AD a year or two later and had talked about working on something longer form. When I was looking for someone to collaborate with on Write It In Blood, I checked in with him and fortunately he was interested.
Joe's work and particularly his storytelling instincts have always been great but he's leveled up hugely on this book. His character acting is also brilliant — there's a few phone call sequences in the book and he really nails those smaller panel-to-panel beats. He and Chris [O'Halloran, who colors the book] have also proven to be a fantastic combo.
DF: Rory, aside from this new graphic novel, tell readers what other stuff you might have out or ready to come out, inside or outside comics.
Rory McConville: There's a lot of new Judge Dredd on the way in 2000 AD throughout 2021. I've been working on several stories with artists like Karl Richardson, Nick Dyer and others. There's one called Project Providence that I'm doing with Staz Johnson, which will be the biggest Judge Dredd story I've done so far.
Department K, a sci-fi series I co-created with PJ Holden, will be returning to 2000 AD for a 10-part story as well.
Other than that, there's also an Image ongoing series I'm co-writing that will be coming out later this year. It hasn't been announced yet so I can't say much but the rest of the WIIB team might be involved. I was saying that crime and sci-fi are two of my favorite genres and this mixes both together into what I think is going to be a really cool book.
Dynamic Forces would like to thank Rory McConville for taking time out of his busy schedule to answer our questions. The Write It In Blood OGN from Image Comics is slated to hit stores February 24th!
For more news and up-to-date announcements, join us here at Dynamic Forces, www.dynamicforces.com/htmlfiles/, "LIKE" us on Facebook, www.facebook.com/dynamicforcesinc, and follow us on Twitter, www.twitter.com/dynamicforces.
---
NEW! 1. 03/04/2021 - HIROMI GOTO
4. 02/22/2021 - STEPHANIE PHILLIPS