IMAGE AND DYNAMIC FORCES WAVE AMERICAN FLAGG! IN NOVEMBER
Landmark Chaykin series collected in trade paperbacks, hard cover, and exclusive signed hard cover
For years, fans have been clamoring for new editions of Howard Chaykin's legendary American Flagg! series. In response to this demand, Dynamic Forces, Inc and Image Comics have teamed up to present one of the most anticipated collections in recent years.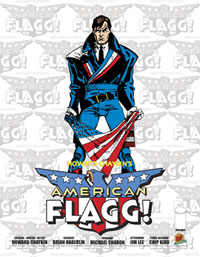 This November, Image and Dynamic Forces will present two simultaneously released American Flagg! trade paperbacks, collecting the first twelve issues of Howard Chaykin's watershed creation. At the same time, for the discriminating collectors, there will be a single deluxe hardcover edition.
The first trade paperback collects issues 1 through 6 of the original series (including the complete stories "Hard Times" and "Southern Comfort"). The second features issues 7 through 12 ("State of the Union" and "Solidarity -- For Now"). The first volume also includes a nine-page prelude written and illustrated by Chaykin that was never printed in the original comic.
Dynamic Forces' 376-page hardcover edition will contain all of the material in the two trades, as well as additional cover paintings and promotional pieces by Chaykin, a Michael Chabon introduction, a special dust jacket designed by Chip Kidd, an afterword by Jim Lee and, as a special bonus, a brand-new 12 page American Flagg! story written and illustrated by Howard Chaykin exclusively for this edition. And for the true connesiur, there will also be a signed edition available signed by the man himself, Howard Chaykin!
"Working with Nick and the terrific staff at Dynamic, and with Erik and his wonderful crew at Image has been a great experience for me. I'm delighted with the prospect of American Flagg! coming back under these two sensational imprints. Thanks, guys!" stated series creator Howard Chaykin!
"Howard and I have been close friends for years, but have never worked together on a project of this scale, and scope. American Flagg! is one of the definitive works of graphic literature of not only the '80s, but of any decade. To be part of the process that will put this masterpiece into the hands and onto the shelves of fans both old and new, is truly an honor. Having read this in my early days as a comics fan, it will be wonderful to see both new fans and old, reading one of Howard's best works!" said Nick Barrucci
As a fan of the original series, Image Comics Publisher Erik Larsen is especially enthused about the project.
"Lord knows the guy has produced an impressive body of work post-Flagg!, but American Flagg!, for a LOT of us, stands out as Howard Chaykin's signature book," notes Larsen. "The book that raised the bar, set the standard, and showed the world what a talented son of a bitch he is."
"The book, the world, and its entire cast were unlike anything that had preceded it," he adds. "Chaykin's innovations sent a shockwave through the industry. Nobody, prior to Chaykin, had so successfully combined illustrations and sound effects. Nobody had integrated rock & roll riffs and rhythms into a comic book. Nobody approached the page with such a sense of design or wrote stories that were so sophisticated, complex, compelling, and real. Chaykin's outstanding use of duo-shade not only gave American Flagg! a look all its own but made other books look flat and dull in comparison. And the women -- oh my."
Originally published in the early eighties, American Flagg! tells the story of Ranger Rueben Flagg as he navigates an American landscape that, in retrospect, feels more prophetic with each passing year. The winner of numerous industry awards, including nine Eagle Awards, American Flagg! is set in 2031, in a world ravaged by nuclear conflict, environmental disasters, and nationalism that had driven the United States government - and the corporations that owned it - to the relative safety of the planet Mars. The government and the corporations, now renamed the Plex, govern from a distance, relying on the Plexus Rangers to maintain any semblance of law and order.
Once the star of a television series dramatizing the fictional adventures of one such Ranger, Flagg was replaced by a hologram, and then drafted into the real Rangers, where he was assigned to protect the city of Chicago. Along with Raul, the smartest talking cat alive, and Luther Ironheart, the stupidest robot ever, and surrounded by a bevy of the most beautiful women of the 21st century, Flagg faces an uphill battle protecting and defending the American way of life -- or rather, what's left of it.
All three books, plus the signed Hard Cover Edition, will be available for preorder in the upcoming September issue of Previews.

For more information on Dynamic Forces specialty merchandise, product art, exclusive creator interviews and upcoming releases, please visit the Dynamic Forces website at www.dynamicforces.com