DF AND TOP COW TEAM UP TO PRESENT HUNTER-KILLER
Premier Collectibles Company to Produce Exclusive Editions of New Top Cow Series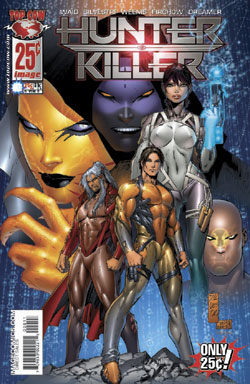 October 12, 2004, Runnemede, NJ – While Top Cow Productions preps the new Hunter-Killer comic book series by writer Mark Waid and artist (and Top Cow head-Cow) Marc Silvestri, Dynamic Forces, Inc. announced today a comprehensive marketing and product plan to support the launch.
"Dynamic and Top Cow have been friends and partners for as long as both companies have been in existence," explained Nick Barrucci, President of Dynamic Forces. "Each time Marc Silvestri launches a series, whether it was the initial eight issues of The Darkness, or the exciting 4 issue run on X-Men, he does it with guns a'blazin! And this time, he's partnering up with Mark Waid – one of the most talented writers in comics. With this new series, we're both poised to bring the maximum amount of excitement to the fans, and the industry!"
"Nick and I have done a lot of business over the years, but even I was a little shocked at his extensive proposal on what he wanted to do with Hunter Killer," says Top Cow President Matt Hawkins. "Top Cow and Dynamic Forces are looking to kick off 2005 in a major way and Mark Waid and Marc Silvestri's Hunter Killer will undoubtedly be our big book for the year."
Hunter-Killer #1 will debut in February '05 and promises to kick-start the year! Hunter-Killer shows signs of being the #1 book in February and one of the top books of the year. DF will be working closely with Top Cow to help maximize sales and attention by producing cool limited edition collectibles beginning in February, and throughout the rest of '05! With the marketing support planned by both Top Cow and Dynamic Forces, retailers and fans can feel confident that a steady stream of merchandise will be coming out throughout the year. The fun begins in February with exclusive DF covers for the series as well as the exclusive Signed and Re-Marked (featuring original pieces of art from the series creators) editions, exclusive sketchbooks featuring the art of Marc Silvestri, an exclusive Lithograph featuring incredible art from the series. As the series progresses, DF will release an additional lithograph and Statues based on characters from the series throughout the year. DF also plans to produce a trading card series based on Marc Silvestri's awesome Hunter-Killer art.
To help gain further attention outside of the comics market, and expand the awareness of Hunter-Killer, DF is also working to schedule TV shows to spotlight the Hunter-Killer comics and collectibles as well as other great Top Cow merchandise, which will be an incredible treat for fans of Top Cow, this new series, and comics in general.
Look for more information on DF's Hunter-Killer program – including art and pre-order information -- in the coming weeks.
For more information on Dynamic Forces specialty merchandise, product art, exclusive creator interviews and upcoming releases, please visit the Dynamic Forces website at www.dynamicforces.com
------------------------