June 14, 2004, Runnemede, NJ – With such past creative credits as Amazing Spiderman, Avengers, Batman (Death of Robin), 'Breed, Captain Marvel, Cosmic Odyssey, Dreadstar, Infinity Abyss, Infinity Crusade, Infinity Gauntlet, Infinity War, Marvel: The End, Thanos, Warlock, The Amazing Adventures of the Escapist and a list of so many more, creator/writer/artist/visionary Jim Starlin is returning with his own brand-new series – the Cosmic Guard from Devil's Due and Dynamite Entertainment!
A young orphan is chosen by a mysterious light from space to become the latest in a long line of cosmic guardians, super-powered defenders who are charged with protecting the galaxy.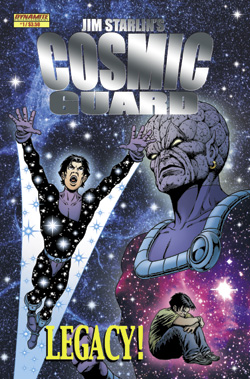 Ray Torres is literally teetering on the edge of suicide -- planning to leap from the roof of the orphanage where he lives -- when a shooting star changes his life forever by choosing him to join a long line of space superheroes called the Cosmic Guard.
"Working with Nick [Barrucci], and the DF team on releasing Dreadstar had been really smooth sailing," said Starlin. "And when I originally was planning this new series, I talked with Nick about it, and he wanted to have me create a DF Exclusive cover. I was impressed with his standards and ability to promote projects, asked his advice. He helped set-up the project with Devil's Due and Dynamite! The Guard is very close to me, and I wouldn't trust it to just anyone."
"The chance to work with Jim on The Definitive Dreadstar Collection, was, I thought, a once-in-a-lifetime opportunity," said Nick Barrucci, President of Dynamic Forces. "The chance to work with him on a new Starlin creation! Mind-blowing! I was more than happy to help Jim find a home with Josh and the Crew at Devil's Due through Dynamite Entertainment!"
Along with Starlin and DF, publisher Devil's Due is on board for the new series, through the Dynamite Entertainment imprint; retailers and fans can look for ordering information within their section of the June Preview catalog (issue #6; look for the interview with Starlin featuring additional, unseen art!) as well as at the Dynamite Entertainment website (www.dynamiteentertainment.com).
This first issue of this brand-new series by the legendary creator, Dynamite Entertainment and Devil's Due is being offered with a regular and an enhanced cover!
------------------------
For more information on Dynamic Forces specialty merchandise, product art, exclusive creator interviews and upcoming releases, please visit the Dynamic Forces website at www.dynamicforces.com
DYNAMITE ENTERTAINMENT is a new imprint, currently producing two new ongoing comics: Army of Darkness and Cosmic Guard through Devil's Due Publishing. please visit the Dynamite website at www.dynamiteentertainment.com