DF EXTENDS FUND-RAISER
Drive Continues to Benefit MoCCA, CBLDF and ACTOR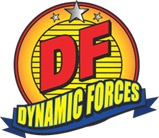 March 7, 2005, Runnemede, NJ - Announced last month, and now in its 4th week, Dynamic Forces announced today an extension of the charity Fund Drive.
Extended until March 15 - marking over a month of funds -- DF will be donating a total of 15% of their gross online sales to three industry charities. The effort is being done on behalf of Dynamic Forces in an effort to "Give something back to our industry and our art form" according to DF President Nick Barrucci.
The monies generated will continue to come from sales completed on the DF website, and the 15% will be split three ways, with 5% going to ACTOR (A Commitment to Out Roots), 5% to the CBLDF (Comic Book Legal Defense Fund) and 5% to MoCCA (the Museum of Comics and Cartoon Art). Fans and customers can do their part by simply making purchase at the DF site like they normally do, browsing signed comics, statues, lithos and the DF Daily special packages.
In addition to the donations based on online sales, the ever-charitable Joe Quesada has also donated his personal copy of the DF produced Giclee, featuring his Daredevil vs. Spider-Man composition, which Alex Ross then painted. This signed and limited Giclee will be available for auction via eBay and all the proceeds will be going to ACTOR.
Michael (Powers artist and co-creator) Avon Oeming will be donating original art for the E-Bay auction as well, with all proceeds going to MoCCA!
Any additional creators who wish to participate in the auctions for their favorite charities should contact DF by the end of March.
Look for more details on these auctions in the next few weeks.
For more information on Dynamic Forces specialty merchandise, product art, exclusive creator interviews and upcoming releases, please visit the Dynamic Forces website at www.dynamicforces.com
------------------------