DF FREE FAN FEST ADDS MORE CREATORS, FREE SIGNED POSTER!
Artist Jim Lee Donates Time, Signature For FREE Event!
April 7, 2004, Runnemede, NJ – Dynamic Forces has added more creators, a free Jim Lee signed Superman poster (for the first 400 attendees) and a little something extra (FREE!) from CGC – all for the 2004 DF Fan Fest, scheduled from 10AM – 6PM on April 24, 2004 in Runnemede, NJ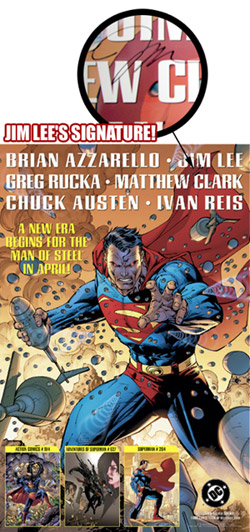 Regarding the FREE Jim Lee Signed Superman Poster, DF President and Fan Fest Organizer Nick Barrucci said, "Jim was one of the first guests we had hoped would be able to attend, but his schedule wasn't free, so we came up with this way to get him to the Fest, at least in spirit!" Each of the 400 available posters has been personally signed by Lee, and DF will give these away -- one per fan -- on a first come, first served basis, to the first 400 fans that show up.
Also, joining Brian (100 Bullets, Batman, Superman) Azzarello, Dave (Superman: Red Son) Johnson, Eduardo (Batman, 100 Bullets) Risso, Will (100 Bullets, Superman) Dennis, Nelson (Superman) DeCastro, Chuck (Action Comics/X-Men) Austen, Mark (Wanted, Ultimates) Millar, the legendary Tom Palmer, Michael (Powers) Avon Oeming, Jim (Dreadstar) Starlin and JG (Wanted) Jones, Howard (American Flagg!, Mighty Love, Challengers of the Unknown), Chaykin, Ale (Gen 13) Garza, Kevin (The Escapist) McCarthy and Scott (Amazing Spider-Man) Hanna at the FREE Fan Fest will be: Josh (NYX) Middleton, Jamal (Venture) Igle, Jose (Voice of the Fire) Villarrubia, and Mark (Marvel Knights: 4) Morales.
Also, for the first time ever, CGC will be on hand at the Fan Fest accepting submissions. CGC will be giving away 1 free Modern Submission to the first twenty submitters.
* For those fans unable to attend the show, signed TPB's and Signed and Personalized Comics are still available for pre-sale on the DF Site, check out the whole list here: http://www.dynamicforces.com/htmlfiles/c-Fan_Fest_Products.html
* Retailers who would like to pass out flyers at your store, please contact Juan (juan@dynamicforces.com) for flyers.
* DF is Still looking for Volunteers! Contact 856.312.1040 x 103 or fanfest@dynamicforces.com for details!
* Special Room Rates Available, contact the Runnemede Holiday Inn @ 856.939.4200 and mention Dynamic Forces Fan Fest for the Special Rate!
* For updated information, and directions, bookmark this page: http://www.dynamicforces.com/htmlfiles/fanfest2004.html
For more information on Dynamic Forces specialty merchandise, product art, exclusive creator interviews and upcoming releases, please visit the Dynamic Forces website at www.dynamicforces.com
------------------------
Dynamic Forces is the comic book and collectible industry's top producer of limited edition comic books, lithographs, and more.
A licensee of DC Comics, Marvel Comics, Top Cow Comics, Dark Horse Comics, Universal Studios, Paramount Studios, Pressman Film's classic film "The Crow", Sony Pictures "Underworld", T2, Sandy Frank Productions "Battle of the Planets (G-Force)" and many other industry giants, DF continues to set the pace in the comic collector and comic memorabilia markets. Recent product line expansions includes: action figures, vinyl and poly resin statues, lunchboxes, trading cards, lithographs, giclees, apparel and much more!