THE DF ANNIVERSARY CELEBRATION CONTINUES!
Free "Fan" Fest Scheduled For April 24, 2004
March 23, 2004, Runnemede, NJ – As part of the continued Dynamic Forces Anniversary Celebration, the company formally announced plans for its first Fan Fest to be held April 24, 2004 from 10am to 6pm EST in Runnemede, New Jersey - where the company is headquartered. Best of all, admission will be FREE to all fans!
"We're very proud of the work we do, and the continued success a decade after I started this company," explained Nick Barrucci, President of Dynamic Forces. "And we always like to give our fans presents (especially when it comes to anniversary time), and this year is no exception. We've got a really cool guest list, and are showcasing our cool collectibles with our grass roots fan "fun" fest with a cozy location where the fans can interact with their favorite creators, and we're looking forward to seeing all of our fans on April 24!"
Artists, Writers and Creators scheduled to appear include: Brian (100 Bullets, Batman, Superman) Azzarello, Dave (Superman: Red Son) Johnson, Eduardo (Batman, 100 Bullets) Risso, Will (100 Bullets, Superman) Dennis, Nelson (Superman) DeCastro, Chuck (X-Men) Austen, Mark (Wanted, Ultimates) Millar, the legendary Tom Palmer, Michael (Powers) Van Oeming, Jim (Dreadstar) Starlin and JG (Wanted) Jones!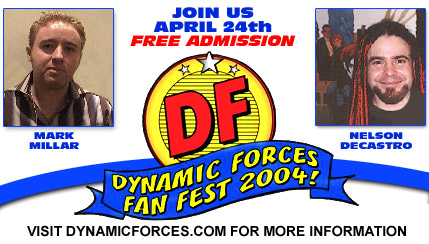 The show will also have Fan Fest Exclusives including Batman and Superman posters for the first 500 fans to show up. DF is also premiering exclusive items at the show, including Wanted #2 DF Fan Fest Exclusive Foil Covers, GI Joe: reloaded #1 Fan Fest Exclusive Foil Cover, Powers #1 DF Exclusive Fan Fest Foil Cover, a Tomb Raider #40 Virgin Cover, a Dreadstar Litho, Preview Books and more to be announced!
Dealer tables are available, but space is limited, so contact Dynamic Forces for more information and rates.
But wait, there's more! Our good friend – Mike Malve of Atomic Comics in Arizona - is sponsoring two of the Comic Book Legal Defense Funds booths, and John's Toys and Collectibles and Fat Jack's Comicrypt are jointly sponsoring ACTOR's booth! For more information to sponsor these charitable organizations, please contact nick@dynamicforces.com (and please support our sponsors and our favorite charity sponsors by visiting Atomic Comics in Arizona, John's Toys website and Fat Jack's of Philadelphia and New Jersey). At the show, you'll also be able to see the fun(d) raising antics of Nelson De Castro and Nick Barrucci! * (If you would like to donate product for the CBLDF Auction or the ACTOR Auction, please contact joe@dynamicforces.com).
But wait, there's just a little more! DF is hosting, and the CBLDF will be auctioning off "Pizza with the Pros!" More details to come!
Retailers, who would like to pass out flyers at your store, please contact Juan (juan@dynamicforces.com) for flyers.
For updated information, and directions, bookmark this page: http://www.dynamicforces.com/htmlfiles/fanfest2004.html
For more information on Dynamic Forces specialty merchandise, product art, exclusive creator interviews and upcoming releases, please visit the Dynamic Forces website at www.dynamicforces.com
------------------------
Dynamic Forces is the comic book and collectible industry's top producer of limited edition comic books, lithographs, and more.
A licensee of DC Comics, Marvel Comics, Top Cow Comics, Dark Horse Comics, Universal Studios, Paramount Studios, Pressman Film's classic film "The Crow", Sony Pictures "Underworld", T2, Sandy Frank Productions "Battle of the Planets (G-Force)" and many other industry giants, DF continues to set the pace in the comic collector and comic memorabilia markets. Recent product line expansions includes: action figures, vinyl and poly resin statues, lunchboxes, trading cards, lithographs, giclees, apparel and much more!