DREAMWAVE AND DYNAMIC FORCES TEAM-UP!
New Transformers Hardcover Collection and Lithograph Set for August Releases!
June 2, 2003, Runnemede, NJ - Continuing their partnership with Dreamwave Productions, Dynamic Forces prepares two new exclusive projects scheduled for release this summer!
"Pat Lee and the crew at Dreamwave have been fantastic partners to work with," said Nick Barrucci, President of Dynamic Forces. "Each month we're coming together and creating more and more great Transformers merchandise, and the fans are hungry for more!"
In August, DF releases their second exclusive hardcover collection of Dreamwave's Transformers comics and their first featuring the characters and stories of Armada.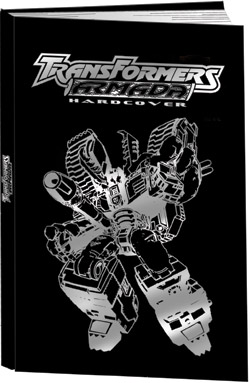 o TRANSFORMERS: ARMADA HARDCOVER
http://www.dynamicforces.com/htmlfiles/p-C97509.html
Based on the brand-new Transformers cartoon, the Armada series by Dreamwave is collected here signed in a deluxe hardcover format! Written by Chris Sarracini with art by James Raiz, these first 5 issues introduce the new battles between the Autobots and Decepticons (with a healthy dose of Mini-Cons thrown in as well)!
$49.95 Suggested Retail Price.
ALSO AVAILABLE SIGNED BY WRITER CHRIS SARRICINI AND DREAMWAVE PRESIDENT PAT LEE AT THE MSRP OF JUST $69.99
ALSO AVAILABLE RE-MARKED BY DREAMWAVE STUDIOS FEATURING AN ORIGINAL SKETCH AT THE MSRP OF JUST $149.99!
Next, the DF exclusive cover to Transformers Generation 1, Volume 2 #1 becomes a high-end DF Lithograph.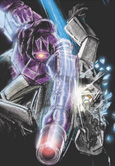 o TRANSFORMERS: TITANS CLASH LITHOGRAPH - by fan favorite artist Bill Sienkiewicz!
http://www.dynamicforces.com/htmlfiles/p-C97712.html
The Transformers have been the hottest comics over the last year! Just try and get any of the limited alternate covers that have been produced or the preview books, betcha' you can't! The next landmark Transformers series is here and DF has an exclusive piece of art, from the first issue, featured on our exclusive alternate cover, created by none other than artist Bill Sienkiewicz!
Now we present that awesome image as a limited edition lithograph! This image involves the ultimate (and final) showdown between 2 main characters, but trust us true believers, seeing this up close is even more fantastic! Measuring 18" by 24" and printed on archival 80lb. Gallerie Silk Stock, this piece defines DYNAMIC!
$19.99 Suggested Retail Price.
ALSO AVAILABLE SIGNED BY ARTIST BILL SIENKIEWICZ AT THE MSRP OF JUST $49.99!
For more information on Dynamic Forces specialty merchandise, product art, exclusive creator interviews and upcoming releases - including more Transformers and Dreamwave merchandise, please visit the Dynamic Forces website at www.dynamicforces.com
------------------------
Dynamic Forces is the comic book and collectible industry's top producer of limited edition comic books, lithographs, and more.
A licensee of DC Comics, Marvel Comics, Top Cow Comics, Dark Horse Comics, Universal Studios, Paramount Studios, Pressman Film's classic film "The Crow", T2, Sandy Frank Productions "Battle of the Planets (G-Force)" and many other industry giants, DF continues to set the pace in the comic collector and comic memorabilia markets. Recent product line expansions includes: action figures, vinyl and poly resin statues, lunchboxes, trading cards, lithographs, giclees, apparel and much more!