DYNAMIC FORCES PRESENTS . . . CONAN!
Company Signs Licensing Deal To Create Collectibles For Classic Creation.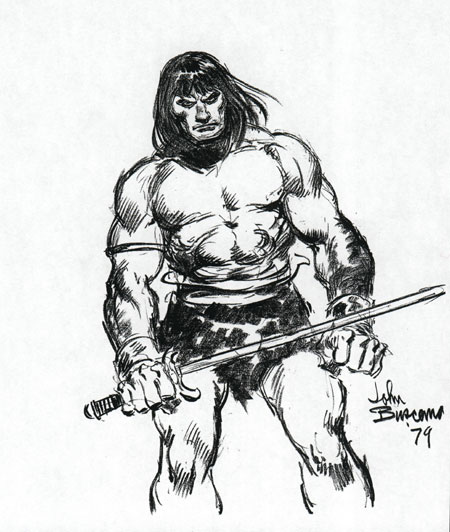 January 10, 2005, Runnemede, NJ – Dynamic Forces Inc. today announced a deal that includes the production of limited edition and collectible merchandise for one of Robert Howard's most famous creations – Conan the Barbarian.
Debuting in a 1932 issue of Weird Tales, Conan the Cimmerian made his mark on history in the first Conan story, "The Phoenix on the Sword."
Over the next four years, seventeen Conan stories appeared in Weird Tales, some lengthy enough to require serialization. Books, comics and eventually two feature films followed.
"We're honored to be working with a property like Conan," explained Nick Barrucci, President of Dynamic Forces. "We went into this deal with the intention of premiering pieces by one artist who had committed to creating his first-ever depiction of the venerable barbarian – Alex Ross. We'll be producing the first-ever lithograph and statue based on this powerful new interpretation on Conan!"
"John Buscema is one of my all time favorite artists, and the work he did on Conan remains the definitive version to me. For this one-time painting, I'm channeling all of my inner Buscema for this piece, and I look forward to seeing it as both a litho, and then a statue," stated Alex Ross on what drew him to working on this.
The license allows for Dynamic Forces to produce lithographs and limited edition resin statues featuring images of Conan, with the first piece scheduled to be a re-creation of Alex Ross' new painting of the character.

Look for more information on the release of DF Conan Product in the coming weeks.
For more information on Dynamic Forces specialty merchandise, product art, exclusive creator interviews and upcoming releases, please visit the Dynamic Forces website at www.dynamicforces.com.
------------------------