FOR IMMEDIATE RELEASE
CONTACT:
Sasha Junk
Classic Media
212.659.1993
sj@classicmedia.tv
Joseph Rybandt
Dynamic Forces
856.312.1040
joer@dynamicforces.com
DYNAMIC FORCES INKS DEAL WITH CLASSIC MEDIA TO PRODUCE NEW COLLECTIBLES BASED ON THE CLASSIC CULT COMICS SOLAR MAN OF ATOM AND MAGNUS ROBOT FIGHTER
Runnemede, NJ — August 18, 2004. Dynamic Forces, Inc. announced today that it has signed an agreement with Classic Media, the New York–based family entertainment company that is home to Underdog and The Lone Ranger, to create limited-edition collectibles based on the science fiction comic book favorites Solar Man of Atom and Magnus Robot Fighter.
Initial product offerings will include paper and acetate lithographs, fine art giclees, statues, busts, and dioramas. The collectible merchandise will be available at retail beginning in early Summer, 2005!
"From their respective 'classic' runs, to the 'modern' interpretations, the Gold Key characters—Solar and Magnus in particular—have endured and remained fan-favorites to this day. And I'm one of those fans," said Nick Barrucci, President of Dynamic Forces. "We look forward to offering the first-ever statues, busts, and lithos based on these classic characters. "
"Dynamic Forces create limited-edition collectibles based on some of the world's most popular comic book characters," added Leslie Levine, head of licensing at Classic Media. "They are an ideal partner to help bring Solar and Magnus to life with this all-new product line."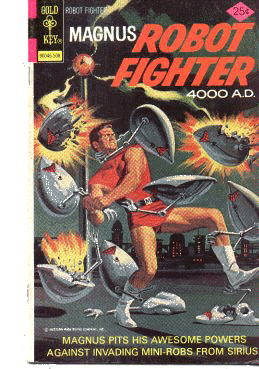 ABOUT MAGNUS, ROBOT FIGHTER:
Magnus, Robot Fighter debuted in February 1963 from an initial concept by Gold Key Comics editor Chase Craig and fleshed out by cartoonist Russ Manning. Like a Tarzan of the future, Magnus was raised apart from human society by Robot 1A. Physically perfect and expertly trained in martial arts, capable of taking on a steel-plated robot with his bare hands, Magnus' mission is to save the world from over-dependence on robots—particularly those that have inexplicably turned evil.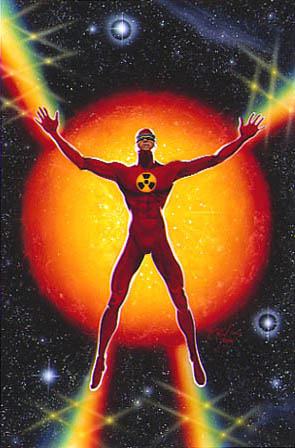 ABOUT SOLAR, MAN OF ATOM:
Doctor Solar, Man of the Atom, who debuted October 1962, is a different kind of superhero. Developing broad, energy-related powers from a nuclear accident, Dr. Solar is a brilliant scientist who fights crime in a crimson suit with a radiation symbol boldly emblazoned on his chest.
Look for more information on the release of Dynamic's Solar and Magnus merchandise —including pre-order information —in the weeks to come!
Classic Media manages some of the world's most recognizable family properties across all media including feature film, television, home video, and consumer products. The company's extensive library features a diverse collection of popular animated and live-action characters such as: Casper the Friendly Ghost, Hot Stuff, Mr. Magoo, Richie Rich, Peter Cottontail, Rudolph the Red-Nosed Reindeer, Santa Claus is Comin' to Town, The Lone Ranger, Lassie, Underdog, Little Lulu, pat the bunny, Lamb Chop and Rocky & Bullwinkle. For more information on Classic Media, visit us online at www.classicmedia.tv.
For more information on Dynamic Forces specialty merchandise, product art, exclusive creator interviews, and upcoming releases, please visit the Dynamic Forces website at www.dynamicforces.com
MAGNUS and SOLAR TM & ? by Random House, Inc. Licensed by Classic Media, Inc.
###