DYNAMITE SELLS OUT!
AOD Director's Cut Gone and Ashes to Ashes Issues Going Fast!
December 14, 2004, Runnemede, NJ -- Dynamite Entertainment announced today that the just-released Director's Cut of Army of Darkness: Ashes to Ashes #1 is no longer available from the publisher. Copies may still be available at retail, but Dynamite is sold-out and has no plans to go back to press at this time.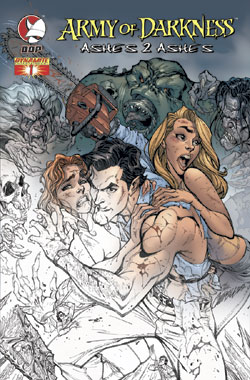 The Director's Cut featured the fan-favorite cover by J. Scott Campbell, the full first issue – which introduces all new Ash adventures – and the full script by writer Andy Hartnell as well as an issue #1 cover gallery, featuring all four covers: Bruce Campbell Photo Cover, J. Scott Campbell, Marc Silvestri and Ben Templesmith! Plus, an opening introduction by series artist Nick Bradshaw as well as a peek into his sketchbook!
Meanwhile, the second issue of Hartnell and Bradshaw's AOD: Ashes to Ashes series is also no longer available from the publisher, while the 3rd issue also has a dwindling supply of available copies at the distribution level. Retailers are encouraged to check their stock and place a re-order for Army of Darkness: Ashes to Ashes #3 (DCD item # JUL042807) and #4 (DCD item #AUG042635)
* ARMY OF DARKNESS: ASHES TO ASHES #3
Featuring 4 more great covers by today's biggest and best, including Dynamite's own Nick Bradshaw, Aaron (Excalibur) Lopresti, Michael (Powers, Thor) Avon Oeming and another fantastic photo cover from the movie that inspired this incredible new series – Army of Darkness!
* ARMY OF DARKNESS #4
As with the previous SMASH issues of Army of Darkness, this final issue of the opening story arc features 4 covers, including another incredible photo cover, and artists Kaare Andrews, Tim Seeley, and Ale Garza!
* RETAILER ORDERING INCENTIVES ARE AVAILABLE FOR BOTH ISSUES, PLEASE CHECK WITH YOUR DIAMOND CUSTOMER SERVICE REPRESENTATIVE FOR MORE DETAILS!
--------------
DYNAMITE ENTERTAINMENT is a new imprint, currently producing two new ongoing comics: Army of Darkness and Cosmic Guard through Devil's Due Publishing. Visit them on the web at: www.dynamiteentertainment.com