ANOTHER GREAT REVIEW FOR DYNAMITE'S FLASH GORDON!
12/05/11 @ 5:11 pm EST
Source:
Comicbookjesus
| Categories:
Flash Gordon Zeitgeist
|
Comments
(0) |
E-mail Article
|
Add a Comment
By Comicbookjesus
I was a tad cautious about this new acquisition by
Dynamite
after several other classic heroes (Lone Ranger, Green Hornet,etc), as there's already a Flash Gordon series from publisher Ardden, and has been for a while. However, this debut issue (at only $1!) is awesomely rousing with a great focus on action and drama.
Setting the story in 1934 (the year of the adventurer's debut, courtesy of Alex Raymond) was a bold, but wise move. Not only does it set it apart from Ardden's modernised take, it also gives Flash Gordon a unique flair for adventure, much like The Rocketeeer or Indiana Jones tales set roughly in the same era, do.
We first see Flash when he's jumping from a burning plane, with cartographer Dale Arden in his arms. Handy captions introduce us to all the main players and Flash is instantly likeable due to that charming '30s style and the fact that he's a polo player once more. Flash and Dale are on a mission to find reclusive scientist Hans Zarkov. They do and he's wonderfully crazy (well, at least a little bit). Zarkov believes there's a way from our universe to others, and that inhabitants of said outer worlds have been visiting Earth for recruitment purposes. One dangerous space shuttle journey later and Flash and Dale see his point. On the last few pages three rebellious Mongo citizens visit Germany to hunt down Ming ally, Hitler. This was a pleasant surprise, adding one more layer to this daring tale.
Artist Alex Ross (Kingdom Come) has long been a fan of the character and an interview with him even shows up on the DVD of the 1980 film. His love is evident here in his character designs and art direction, a role (as well as variant cover artist) that has kept him busy with numerous series over the last few years at Dynamite. Not as outlandish as his designs for the Jack Kirby inspired titles, they evoke classic sci-fi trappings much like the rockets and alien thrones do. Throwing Ming's snivelly right hand man Klytus from the film was a nice surprise too, and Ming really lives up to his Merciless title, with his disdain for pretty much everyone, including his slave girls and the entirety of the human race it would seem. More of a nuanced character and not at all a stereotype, Ming is like Darth Vader in Episode IV. We don't see much of him, but we see enough to know that he's a calculating despot.
For the full review visit
comicbookjesus
COULD "AQUAMAN" LOSE ITS DIRECTOR, TOO?
04/30/16 @ 10:31 pm EST
Source:
Comic Book Resources
| Categories:
Aquaman
|
Comments
(0) |
E-mail Article
|
Add a Comment
Fast on the heels of news that Seth Grahame-Smith has exited as director of "The Flash" comes word of potential rough seas for
another
Warner Bros. superhero film.
Citing "multiple, reliable sources,"Birth.Movies.Death contends directorJames Wan, known for his work on"Saw," "The Conjuring" and "Furious 7," is "feeling a tremendous amount of trepidation" about the 2018 "Aquaman" film.
The website asserts that Warner Bros. executives are in crisis mode following the response to"Batman v Superman: Dawn of Justice," leading to conflicts with director Zack Snyder about the tone of "Justice League: Part One," now filming in London, and the DC Comics movie universe as a whole.
It's unknown what "creative differences" led Grahame-Smith to depart his intended his directorial debut, or whether the rumored conflicts about the direction of the shared universe played into his decision or Wan's purported "trepidation" about "Aquaman." However, Birth.Movies.Death notes that Wan "doesn't really need" a big-budget superhero movie.
Although he stepped onto the main stage last year with "Furious 7," which grossed more than $1.5 billion worldwide, he's most comfortable producing low-budget films that become big hits: "Saw," "Insidious," "The Conjuring." His "Conjuring" sequel arrives in June, followed in July by "Lights Out," which he produced.
Just last month Wan sang the praises of Warner Bros. as "a filmmaker-driven studio," which extends to the DC movies.
"As I've always said, whether it's at Marvel or at DC, they have that sandbox. That sandbox is in place," he said. "So you have to come in there and play within their sandbox. But the key here is to build your own sandcastle. And make that sandcastle yours."
PAUL RUDD GEEKED OUT ON "CAPTAIN AMERICA: CIVIL WAR" SET
04/30/16 @ 10:22 pm EST
Source:
Comic Book Resources
| Categories:
Civil War
|
Comments
(0) |
E-mail Article
|
Add a Comment
If you've watched that scene from"Captain America: Civil War" where a starry-eyed Scott Lang meets Steve Rogers, you already have a
pretty good
idea how actor Paul Rudd behaved on set.
"We shot 'Ant-Man,' but I was alone on that -- it was like working in a bubble, pretty much," he admitted on "The Graham Norton Show," "and then all of a sudden I'm standing around and seeing Robert Downey Jr. in the
Iron Man
suit, and seeing Chris Evans, and they're all
there
after I've seen the movies. I felt like I was 10 years old. It was
crazy
."
Rudd also confessed he got up close and personal with the Winter Soldier.
"I saw Sebastian Stan getting his arm -- the silver arm -- on, and ... it was weird, it was like I was watching somebody bathing," he said. "
I'm not supposed to see this
!" However, he quickly got over the momentary awkwardness, and ... walked over to feel the metal arm. Because, why not.
And then there was that time he held Captain America's shield while Evans ran to the restroom. Aw, we'll let Rudd tell that one.
Watch the discussion here:
https://youtu.be/wTL04rbw2sc
SUPERGIRL FIGHTS HER GREATEST VILLAINS FROM SEASON ONE
04/30/16 @ 10:17 pm EST
Source:
Comic Book Resources
| Categories:
DC
|
Comments
(0) |
E-mail Article
|
Add a Comment
"Supergirl" had a knock-out first season, which included a rich mythology that introduced viewers to the world of Kara Zor-El and DC Comics. One of the show's greatest strengths was its villains, who presented Supergirl with unique challenges each week.In the video below, Kara is shown battling every villain from the first season, proving that when you're Supergirl, it's definitely OK to fight like a girl.Video:
https://youtu.be/FV6H66ZWYbs
"CAPTAIN AMERICA: CIVIL WAR" COMES OUT SWINGING WITH $84 MILLION OVERSEAS
04/30/16 @ 10:14 pm EST
Source:
Comic Book Resources
| Categories:
Civil War
|
Comments
(0) |
E-mail Article
|
Add a Comment
"Captain America: Civil War" has earned a whopping $84 million in its first three days at the international box office, keeping pace with last year's "Avengers: Age of Ultron" in the same 38 markets.
That 2015 Marvel Studios sequel went on to gross $946 million overseas, the most for any superhero film.
"Civil War" emerged as the No. 1 film in all 38 territories, and opened Friday in Mexico with a record $7.3 million, surpassing the previous milestone set by none other than "Age of Ultron."
The United Kingdom followed close behind with a $7 million opening day, which Variety points out is 33 percent ahead of the "Avengers" sequel. "Civil War" premiered Wednesday in South Korea, where it's already pulled in $12.6 million in three days.
The film is now playing in 63 percent of the international marketplace, where pre-release tracking suggests its box-office haul could rise to $200 million within five days.
Directed by Anthony and Joe Russo, "Captain America: Civil War" stars Chris Evans, Robert Downey Jr., Scarlett Johansson, Sebastian Stan, Anthony Mackie, Don Cheadle, Jeremy Renner, Chadwick Boseman, Paul Bettany, Elizabeth Olsen, Paul Rudd, Emily VanCamp and Tom Holland. The film opens next weekend in the United States, Italy, Russia, China and Argentina.
JON FAVREAU DOESN'T RULE OUT DIRECTING ANOTHER MARVEL MOVIE
04/30/16 @ 10:09 pm EST
Source:
Comic Book Resources
| Categories:
Marvel
|
Comments
(0) |
E-mail Article
|
Add a Comment
Jon Favreau helped to launch the Marvel Cinematic Universe as the director of 2008's "Iron Man" and its 2010 sequel. Although he's remained involved as an executive producer of the "Avengers" franchise, it's been six years since he stepped behind the camera for Marvel Studios.
However, he now hints that
could
change, under the right circumstances.
While talking with IGN about his Disney blockbuster "The Jungle Book," Favreau conceded he felt as if he'd left his mark at Marvel. Yet he wouldn't exactly rule out a return -- and as more than Happy Hogan.
Asked what could bring him back, he replied, "A great story." However, he conceded much has changed since those first "Iron Man" films.
"It's 10 years later, and now I'm more of an elder statesman," he said. "But we talk a lot about how I could be involved there, and I exist both in front of and behind the camera in the Marvel Universe, which puts me in a unique position which I enjoy. We're always trying to figure out if there's a way for me to contribute beyond just being an executive producer there.
"I wouldn't be surprised if something pops up soon," he continued, "but there's no one property that we're identifying that I'd want to helm up and shoulder. Because now that the universe has gotten so big over there, I don't know that I understand how it all fits together anymore. I was there in the early days when the universe was very small. Now the universe is very big there and they seem to have it well in hand."
In the meantime, Favreau still has his hands full promoting "The Jungle Book," while looking ahead to its sequel.
COULD TAYLOR SWIFT BE PLAYING DAZZLER IN "X-MEN: APOCALYPSE"?
04/30/16 @ 10:05 pm EST
Source:
Comic Book Resources
| Categories:
X-Men
|
Comments
(0) |
E-mail Article
|
Add a Comment
Sophie Turner, who plays young Jean Grey in "X-Men: Apocalypse," posted a photo on Twitter Friday that revealed -- at the very least -- a Dazzler Easter egg in the Fox sequel. But did her tweet also contain a clue as to who might actually
play
the character? Taylor Swift, perhaps?
The image depicts Jean at a music store with Scott Summers (Tye Sheridan), who's holding a Dazzler album. Turner's accompanying message reads, "#FBF that time Cyclops and I went shopping at the mall and found our favorite singer's album (pre 1989, of course)." "1989" just happens to be the name of Swift's 2014 album.
While "X-Men: Apocalypse" is set in the 1980s, Turner's comment certainly feels like a intentional nod to the singer.
Furthering that theory, Collider pointed out that Swift visited the set of "Apocalypse" in July. The website speculated at the time the singer might appear as Dazzler.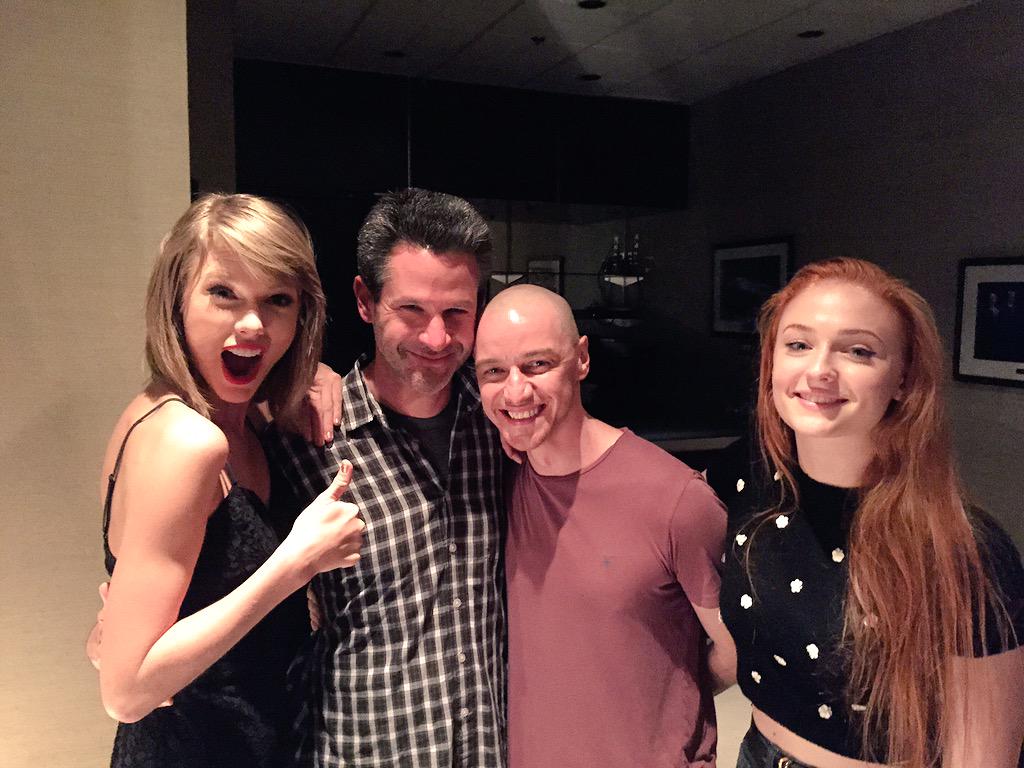 In Marvel comics, Dazzler is a singer and a mutant who uses her powers to turn sound waves into powerful beams of light. Based on these two photos, the likelihood of Swift donning a sparkly outfit for a cameo in the seems pretty high.
"X-Men: Apocalypse" hits theaters May 27.
IDW'S "BROOKLYN ANIMAL CONTROL" GETS PILOT RE-WRITE AT USA NETWORK
04/30/16 @ 9:58 pm EST
Source:
Comic Book Resources
| Categories:
IDW
|
Comments
(0) |
E-mail Article
|
Add a Comment
In July, CBR reported that IDW Publishing's comic book"Brooklyn Animal Control" was being developed as a television series at USA Network. At the time, "Man of Steel's" David S. Goyer was signed on to produce the series, with "Brooklyn" creator JT Petty writing the pilot script. "Boardwalk Empire" alum Stephen Graham was set to play the lead role of John Crean, with Brian Kirk ("Game of Thrones") lined up to direct the pilot.
However, Deadline now reports that while USA is interested in moving forward with the series, the pilot will have to be rewritten and re-shot. Both Goyer and Petty are set to stay on as producer and writer, respectively. There's no word whether Graham will remain.
"Brooklyn Animal Control" follows the seedy underbelly of New York City's crime families and their interactions with a secret werewolf community called Kveld-Ulf. Originally published as a one-shot by IDW in 2013, "Brooklyn Animal Control" was written by Petty and illustrated by Stephen Thompson.
While pilot reshoots are not uncommon, it's a good sign that USA didn't scrap the project all together. It's possible the network is confident in the premise, but wanted to adjust the concept a bit.
GREG CAPULLO'S BATMAN "REBIRTH" REDESIGN
04/30/16 @ 9:55 pm EST
Source:
Comic Book Resources
| Categories:
Batman
|
Comments
(0) |
E-mail Article
|
Add a Comment
After showcasing Batman new costume, as illustrated by Jim Lee, Scott Williams and Alex Sinclair, alongside several other "Rebirth" revamps, DC Comics has provided CBR with a look atGreg Capullo's original design.
As you can see below, the art comes in two versions, one with annotations, and the other without. The notes point out such details as the full nose on the Caped Crusader's cowl, "reminiscent of the 'Dark Knight Returns' and the 1943 serial," the yellow outline around the chest emblem, purple lining inside the cape, and a "bat-like" belt, with a fang shape in the front.
DC's "Rebirth" initiative launches late next month with the "DC Universe: Rebirth" one-shot written by Geoff Johns and illustrated by Gary Frank, Ivan Reis, Phil Jimenez and Ethan Van Sciver. Every DC Universe title will relaunch with a new #1 issue, except for "Action Comics"and "Detective Comics," which will return to their original numbering.
The initiative will also see the introduction of new looks for many of DC's comics, only some of which CBR showcased on Friday.
Capullo and writer Scott Snyder concluded their lengthy and acclaimed run on "Batman" this week with Issue 51. With "Rebirth," writer Tom King and artists David Finch and Mikel Janin will take the reins on the series, while Snyder will collaborate with a roster of illustrators that includesJohn Romita Jr., Jock, Sean Murphy, Tula Lotay and Declan Shalvey on "All-Star Batman."
Capullo, meanwhile, as teamed with Mark Millar on a project that has yet to be revealed.
BREAKING: 'THE FLASH' MOVIE LOSES ITS DIRECTOR
04/29/16 @ 7:14 pm EST
Source:
The Hollywood Reporter
| Categories:
Flash
|
Comments
(0) |
E-mail Article
|
Add a Comment
The Flash
movie has lost its director.
Seth Grahame-Smith is leaving the Warner Bros. project due to "creative differences," THR has learned.
Grahame-Smith, the author and screenwriter of such works as
Pride & Prejudice & Zombies
and
Abraham Lincoln: Vampire Hunter
, was to have made his directorial debut on the project that was based on the iconic DC Entertainment scarlet speedster super hero.
The project will retain Grahame-Smith's script, which he wrote working off a treatment from Phil Lord and Christopher Miller, the
Lego Movie
duo that were once eyeing it as a possible directing vehicle.
Flash
already has a release date – March 3, 2018 – and an actor who portrays the classic hero known as "the fastest man alive" – Ezra Miller, and there is plenty of time for the studio to find a director.
Miller's Flash, aka. Barry Allen, was introduced in a cameo appearance in
Batman v Superman: Dawn of Justice
, and is now shooting
Justice League Part 1
, which will be released in the summer of 2017.
Grahame-Smith still remains involved in other Warners project. He is a writer on the studio's
Lego Batman Movie
and is working on
Beetlejuice 2.
NEW 'FINDING DORY' PROMO TEASES 'SHE'S ALMOST HERE'
04/29/16 @ 2:59 pm EST
Source:
Comic Book Resources
| Categories:
Disney
|
Comments
(0) |
E-mail Article
|
Add a Comment
Disney has debuted a TV spot for "Finding Dory" that includes new footage from the long-awaited Pixar sequel.
Written and co-directed by "Finding Nemo's" Andrew Stanton, "Finding Dory" is set six months after the events of the 2003 original, as the amnesiac Dory (voiced again by Ellen DeGeneres) suddenly recalls memories of her childhood and sets off with Nemo and Marlin to find her family.
Opening June 17, "Finding Dory" also stars Albert Brooks, Hayden Rolence, Diane Keaton, Ty Burrell, Kaitlin Olson, Eugene Levy, Ed O'Neill and Willem Dafoe.
Video:
https://youtu.be/-cn4uTyhONc