ANOTHER GREAT REVIEW FOR DYNAMITE'S FLASH GORDON!
12/05/11 @ 5:11 pm EST
Source:
Comicbookjesus
| Categories:
Flash Gordon Zeitgeist
|
Comments
(0) |
E-mail Article
|
Add a Comment
By Comicbookjesus
I was a tad cautious about this new acquisition by
Dynamite
after several other classic heroes (Lone Ranger, Green Hornet,etc), as there's already a Flash Gordon series from publisher Ardden, and has been for a while. However, this debut issue (at only $1!) is awesomely rousing with a great focus on action and drama.
Setting the story in 1934 (the year of the adventurer's debut, courtesy of Alex Raymond) was a bold, but wise move. Not only does it set it apart from Ardden's modernised take, it also gives Flash Gordon a unique flair for adventure, much like The Rocketeeer or Indiana Jones tales set roughly in the same era, do.
We first see Flash when he's jumping from a burning plane, with cartographer Dale Arden in his arms. Handy captions introduce us to all the main players and Flash is instantly likeable due to that charming '30s style and the fact that he's a polo player once more. Flash and Dale are on a mission to find reclusive scientist Hans Zarkov. They do and he's wonderfully crazy (well, at least a little bit). Zarkov believes there's a way from our universe to others, and that inhabitants of said outer worlds have been visiting Earth for recruitment purposes. One dangerous space shuttle journey later and Flash and Dale see his point. On the last few pages three rebellious Mongo citizens visit Germany to hunt down Ming ally, Hitler. This was a pleasant surprise, adding one more layer to this daring tale.
Artist Alex Ross (Kingdom Come) has long been a fan of the character and an interview with him even shows up on the DVD of the 1980 film. His love is evident here in his character designs and art direction, a role (as well as variant cover artist) that has kept him busy with numerous series over the last few years at Dynamite. Not as outlandish as his designs for the Jack Kirby inspired titles, they evoke classic sci-fi trappings much like the rockets and alien thrones do. Throwing Ming's snivelly right hand man Klytus from the film was a nice surprise too, and Ming really lives up to his Merciless title, with his disdain for pretty much everyone, including his slave girls and the entirety of the human race it would seem. More of a nuanced character and not at all a stereotype, Ming is like Darth Vader in Episode IV. We don't see much of him, but we see enough to know that he's a calculating despot.
For the full review visit
comicbookjesus
DISNEY'S FROZEN GRAPHIC NOVEL GETS OVER 100,000 PREORDERS
10/22/14 @ 3:21 pm EST
Source:
Bleeding Cool
| Categories:
MIsc
|
Comments
(0) |
E-mail Article
|
Add a Comment
Bleeding Cool reported recently that Joe Books had the rights to create a graphic novel based on Disney's blockbuster,
Frozen.
In fact it's technically known as a Cinebook, panels created directly from the frames of a movie, then lettered and composed like a comic. An adaptation couldn't be more direct. It is over 300 pages liong and sells for $14.99.
No wonder orders are high. We've been told pre-orders have topped six figures. It's out for Christmas
.
And if you readers just can't manage 376 pages of
Frozen
, then there's a 48 page comic book (using actually drawn comic book pages) out in January, reprinting a European adaptation, from Joe Books as well, for $4.99.
CONSTANTIN, DARK HORSE TEAM FOR 'POLAR' GRAPHIC NOVEL ADAPTATION
10/22/14 @ 2:56 pm EST
Source:
Deadline
| Categories:
Dark Horse
|
Comments
(0) |
E-mail Article
|
Add a Comment
Constantin Film and Dark Horse have pacted on noir spy revenge tale
Polar
, adapted from the celebrated Dark Horse Comics graphic novel
Polar: Came From The Cold
by Victor Santos. The action-thriller follows a master assassin named Black Kaiser who's forced out of retirement by an assassination attempt by a crew of younger hitmen. Constantin sprung for a script by Jayson Rothwell (
Malice In Wonderland, Silent Night
) and with Dark Horse are now eyeing directors for a spring 2015 shoot.
The stylized
Polar
originated as a free "silent" web comic before Dark Horse published it as a graphic novel in 2013, adding dialogue. Constantin's Robert Kulzer will produce with Jeremy Bolt (
Resident Evil
) and Dark Horse Entertainment's Mike Richardson and Keith Goldberg. Rothwell is repped by WME.
SO GOOD, IT'S CRIMINAL
10/22/14 @ 2:48 pm EST
Source:
Image
| Categories:
Image
|
Comments
(0) |
E-mail Article
|
Add a Comment
Image Comics is thrilled to announce that CRIMINAL, the award-winning series by Ed Brubaker and Sean Phillips, is finally returning to print in beautifully designed new editions, beginning in January.

And to celebrate the return of the comic that solidified their reputations as Masters of Noir, Brubaker and Phillips, along with colorist Elizabeth Breitweiser, are creating a special 48-page one-shot sure to excite diehard fans and pull in new readers alike. For the true CRIMINAL fanatic, a special CRIMINAL: SAVAGE EDITION magazine-sized variant will also be available.

It's 1976, and Teeg Lawless is doing 30 days in county jail with a price on his head; his only safe company from the savagery: a beat-up old comic magazine his dead cellmate left behind. It's CRIMINAL like you've never seen it before, with a comic within the comic and all those slick '70s thrills!

"We've been planning the return of CRIMINAL for the past year, and I couldn't let the launch go by without returning to our underworld for a new story," said Brubaker. "With FATALE and THE FADE OUT, we've been hearing from a lot of new readers, so it couldn't be a better time to get the thing we're most known for back on the shelves."

CRIMINAL one-shot will be available on 1/28 and can be pre-ordered with Diamond Code NOV140567. The magazine-sized SAVAGE EDITION will be available on 1/28 as well and can be pre-ordered with Diamond Code NOV140568. CRIMINAL, VOL. 1: COWARD trade paperback will be available on 1/28 as well and can be pre-ordered with Diamond Code NOV140569.
A SUPERHERO FOR THE 21ST CENTURY IN THE BOUNCE
10/22/14 @ 2:45 pm EST
Source:
Image
| Categories:
Image
|
Comments
(0) |
E-mail Article
|
Add a Comment
Jasper Jenkins is a pretty typical 20-something—who just happens to have gained superpowers through very surreal circumstances. When he's not hanging out and doing a lot of nothing, Jasper puts on a costume and hits the streets as The Bounce, a superhero in a world that's not used to super-powered heroes and villains. And it's this slacker and this world that Joe Casey (SEX, BUTCHER BAKER THE RIGHTEOUS MAKER) and David Messina explore in their super-sized Image Comics graphic novel THE BOUNCE, out this winter.
Jenkins may be a slacker superhero, but THE BOUNCE is loaded with depth, as Casey and Messina explore what would make a person put on a costume and fight crime, and what it's like for him—and a handful of other newly super-empowered—to live a double life. Throw in some good old-fashioned superheroic action, and you have a superhero comic for the 21st century, reimagined, revamped, revved and ready to impart its secrets.
THE BOUNCE collects all 12 issues of the groundbreaking series. It will be in comic book stores on November 19 and in bookstores on December 2.
IXTH GENERATION BURSTS ONTO SCENE
10/22/14 @ 2:33 pm EST
Source:
Image
| Categories:
Image
|
Comments
(0) |
E-mail Article
|
Add a Comment
Writer Matt Hawkins (THINK TANK) pens a new Top Cow IX Utopia—built on a history of genocide and featuring haunting artwork by Stjepan Sejic—in IXTH GENERATION, coming this January.
Set in the future, IXTH GENERATION inhabits a world where there is no more natural death, no needs unfilled and everything you could ever want is yours… as long as you're one of the ones chosen to live in this new Utopia and you're willing to subjugate yourself to these new self-proclaimed gods with "IX"s emblazoned on them.
Do the ends truly justify the means? Is a utopia built on genocide worth the price? Aphrodite, Velocity, Hades, and the other Nines establish fiefdoms in this new world and attempt to rule. Their internal clashes have escalated, but they are forced to put that aside as they face off against the relentless hordes of The Darkness. The sins of the past have come to claim those who would pretend to be Gods. The cybernetic future established in APHRODITE IX and CYBER FORCE finally comes face-to-face with the supernatural ARTIFACTS side of the Top Cow universe.
IXTH GENERATION #1 arrives in stores this 1/7 and can be pre-ordered using Diamond Code NOV140555.
DC'S 'CYBORG,' RAY FISHER, DIDN'T KNOW HE WAS GETTING HIS OWN MOVIE
10/22/14 @ 2:22 pm EST
Source:
Entertainment Weekly
| Categories:
DC
|
Comments
(0) |
E-mail Article
|
Add a Comment
Nobody told Ray Fisher the plan. The 27-year-old had no idea he was set to explode into Hollywood movie stardom, top-lining as the title character in a
Cyborg
movie set for release in 2020. In fact, producers called the New Jersey-born theater actor on Oct. 15 with the heads-up only hours before Warner Bros. publicly revealed its slate of mega-budget superhero movies tied to the DC Cinematic Universe—
Wonder Woman
,
The Justice League
,
Suicide Squad
, and
Shazam
among them.
"I didn't know the extent to which DC and WB had planned on taking my character," says Fisher, who was hired in March to cameo as Cyborg in
Batman v Superman: Dawn of Justice
. "When I signed on, I just wanted to be part of this world. But that specific information, I found out then and there. I didn't think I'd be getting my own stand-alone film."
Now, Fisher ranks as the first African-American to score a non-ensemble superhero flick since Will Smith's booze-swilling screw-up vigilante
Hancock
in 2008. Not bad for a classically trained actor and veteran of the Shakespeare Theater of New Jersey with precisely zero feature film roles to his credit.
MOCKINGBIRD COMES TO MARVEL'S AGENTS OF S.H.I.E.L.D.
10/22/14 @ 2:11 pm EST
Source:
Marvel
| Categories:
Marvel
|
Comments
(0) |
E-mail Article
|
Add a Comment
Bobbi Morse revealed herself as an undercover Agent working for Director Coulson on last night's episode of "Marvel's Agents of S.H.I.E.L.D.," and with her cover blown we can now give you your official first look at actress Adrianne Palicki in her S.H.I.E.L.D. tactical outfit!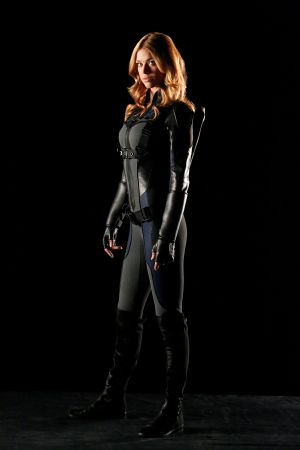 "Bobbi Morse is a well-seasoned spy whose ability to slip in and out of undercover situations seamlessly will prove invaluable to our team," said "Marvel's Agents of S.H.I.E.L.D." Executive Producer, Jed Whedon. "But her appearance comes as a gut-punch to Hunter, as the history they share is complicated to say the least."
"I looked at all of her comic appearances and really wanted to try to bring elements of the look from the comics into the costume that we're doing now for the show because I know it's important to the fans," remarked Costume Designer Ann Foley. "It's important to me to keep certain elements, but we had to change it, obviously, for practicality, because it had to fit into our world. It had to have a kind of tactical feeling to it too so that it made sense in our universe.
"She's got rivets that are in the straps across her chest, and those are there as a tribute to the buttons that go down the side of her [most recent] costume [in the comics], as well as the colors that we were using, [which] are a tribute as well. Her colors are navy blue and white with a little bit of black in there, [but] white would not have been pretty on camera so we changed it to grey. [We] still tried to maintain the original style of what was in the comic book because [with] that white panel that goes up her center and down her legs, [so] we've mirrored that in her costume but in gray instead of white."
See Bobbi Morse in her full tactical suit in next week's all-new episode of "Marvel's Agents of S.H.I.E.L.D." at 9:00 p.m. ET on ABC.
AND MARVEL'S BIG POST-SHIELD ANNOUNCEMENT IS…THE NEW BROADCAST PREMIER OF AVENGERS: AGE OF ULTRON TRAILER NEXT WEEK
10/21/14 @ 11:49 pm EST
Source:
Bleeding Cool
| Categories:
Marvel
|
Comments
(0) |
E-mail Article
|
Add a Comment


An e-mail was sent out earlier today letting the press know that after the airing of tonight's Agents of S.H.I.E.L.D at 9EST/8C there would be an announcement made by Marvel. We at Dynamic Forces wondered if it pertained to the air dates for Agent Carter, perhaps Mark Waid's coming S.H.I.E.L.D. comic, or the like.

It turned out that announcement was, in fact…The New Broadcast Premier Of Avengers: Age of Ultron Trailer Next Week after S.H.I.E.L.D.

Ah, well. That's pretty good.

We at DF (and our friends at Bleeding Cool) were hoping for Carter. In terms of hype, this will be a big one just the same.
VINNIE JONES JOINS ARROW
10/21/14 @ 8:18 pm EST
Source:
Bleeding Cool
| Categories:
Arrow
|
Comments
(0) |
E-mail Article
|
Add a Comment
Bleeding Cool reports an interesting bit of news from the
Arrow
offices. Everyone's favorite hardcase
Vinnie Jones
has signed on to play
Danny Brickwell
or as most folks know him,
Brick
. The ex-footballer has played in a lot of different bad guy roles including the
Juggernaut
in
X-Men: The Last Stand
and
Sebastian Moran
in
Elementary
.
Though this version of Brick differs from the comic version where he is known for his invulnerable skin. On
Arrow
Brick is a gang leader with a reputation for being invulnerable after being shot dozens of times and still being alive. Jones will be appearing in episodes 10, 11 and 12 of this current season.
'DARK MATTER' COMING TO SYFY
10/21/14 @ 8:06 pm EST
Source:
ICv2
| Categories:
MIsc
|
Comments
(0) |
E-mail Article
|
Add a Comment
SyFy Channel has acquired rights to the original series
Dark Matter,
an adaptation of the Dark Horse comic series written by
Stargate
franchise veterans Joseph Mallozzzi and Paul Mullie, TVLine is reporting.
Mallozzi and Mullie were writers and producers on various
Stargate
TV series and wrote the comic series, illustrated by Garry Brown (
The Massive
), for Dark Horse in 2012. The duo will helm the 13-episode, hour long series for Syfy.
The story follows the crew of a spaceship who awaken from stasis with no memories of who they are or why they are on board. Their search for answers triggers the ship's security android, which is bent on their destruction.