ANOTHER GREAT REVIEW FOR DYNAMITE'S FLASH GORDON!
12/05/11 @ 5:11 pm EST
Source:
Comicbookjesus
| Categories:
Flash Gordon Zeitgeist
|
Comments
(0) |
E-mail Article
|
Add a Comment
By Comicbookjesus
I was a tad cautious about this new acquisition by
Dynamite
after several other classic heroes (Lone Ranger, Green Hornet,etc), as there's already a Flash Gordon series from publisher Ardden, and has been for a while. However, this debut issue (at only $1!) is awesomely rousing with a great focus on action and drama.
Setting the story in 1934 (the year of the adventurer's debut, courtesy of Alex Raymond) was a bold, but wise move. Not only does it set it apart from Ardden's modernised take, it also gives Flash Gordon a unique flair for adventure, much like The Rocketeeer or Indiana Jones tales set roughly in the same era, do.
We first see Flash when he's jumping from a burning plane, with cartographer Dale Arden in his arms. Handy captions introduce us to all the main players and Flash is instantly likeable due to that charming '30s style and the fact that he's a polo player once more. Flash and Dale are on a mission to find reclusive scientist Hans Zarkov. They do and he's wonderfully crazy (well, at least a little bit). Zarkov believes there's a way from our universe to others, and that inhabitants of said outer worlds have been visiting Earth for recruitment purposes. One dangerous space shuttle journey later and Flash and Dale see his point. On the last few pages three rebellious Mongo citizens visit Germany to hunt down Ming ally, Hitler. This was a pleasant surprise, adding one more layer to this daring tale.
Artist Alex Ross (Kingdom Come) has long been a fan of the character and an interview with him even shows up on the DVD of the 1980 film. His love is evident here in his character designs and art direction, a role (as well as variant cover artist) that has kept him busy with numerous series over the last few years at Dynamite. Not as outlandish as his designs for the Jack Kirby inspired titles, they evoke classic sci-fi trappings much like the rockets and alien thrones do. Throwing Ming's snivelly right hand man Klytus from the film was a nice surprise too, and Ming really lives up to his Merciless title, with his disdain for pretty much everyone, including his slave girls and the entirety of the human race it would seem. More of a nuanced character and not at all a stereotype, Ming is like Darth Vader in Episode IV. We don't see much of him, but we see enough to know that he's a calculating despot.
For the full review visit
comicbookjesus
BATTLEWORLD IGNITES IN INHUMANS: ATTILAN RISING #1
01/29/15 @ 8:16 pm EST
Source:
Marvel
| Categories:
Inhumanity
|
Comments
(0) |
E-mail Article
|
Add a Comment
There's a rebellion brewing on Battleworld. Stretching far and wide into every dominion across the strange, patchwork realm, underground revolutionaries prepare for the uprising. Today, Marvel is pleased to announce
INHUMANS: ATTILAN RISING #1
, a new
Secret Wars
series from New York Times Bestselling writer Charles Soule (
Death of Wolverine, Inhuman)
and artist John Timms (
Nova, Harley Quinn)
!
Medusa, ruler of Attilan and Queen of the Inhumans, has been tasked with rooting out the rebels, and crushing their resistance beneath her steely tendrils of hair. Yet a chance encounter with the head of the insurgency will change everything. A man named –
BLACK BOLT
! And things are about to get complicated.
"One of the ideas behind Inhumans: Attilan Rising from the start was to put Medusa, Black Bolt, Reader, Iso and other characters from
Inhuman
into a new context," says Charles Soule. "That's part of the fun of an event like Secret Wars. Things don't have to be the way we're used to seeing them."
"My initial concept was 'life during wartime'," continued Soule. "The relationships we're used to seeing will be different in this story. Huge drama, spies, glamour, action, betrayal, sabotage. My hope is that it won't feel like anything else out there."
The drums of war beat for the Inhuman nation. But when the dust clears, who will rise? Find out as BATTLEWORLD comes to the Inhumans in
INHUMANS: ATTILAN RISING #1
this May!
INHUMANS: ATTILAN RISING #1 Written by CHARLES SOULE Art by JOHN TIMMS
Cover by DAVE JOHNSON
Variant Cover by W. SCOTT FORBES
Coming in May!
DARK HORSE TO PUBLISH RUBÍN'S 'THE HERO'
01/29/15 @ 7:40 pm EST
Source:
Image
| Categories:
Image
|
Comments
(0) |
E-mail Article
|
Add a Comment
Heracles, the son of Zeus, came into the world with strength, charm, and a fighting spirit. Featuring an introduction by John Arcudi (
B.P.R.D.
,
The Creep
), The Hero brings the legend to life through Rubín's masterful storytelling and dynamic art!
Throughout Heracles's incredible adventures from his innocent boyhood to his meteoric rise to popularity as he tackles the Twelve Labors, his journey is tempered by a steady decay that never relieves him of his heroic burden. And this burden becomes his only grip on reality as Heracles edges toward his fateful end.
Preorder your copy of The Hero Book 1, coming in June 2015, from Amazon, Barnes & Noble, or IndieBound, or contact a local comic shop through Comic Shop Locator.
The Hero Book 2
will be available in December 2015.
SUPERGIRL CASTS JAMES OLSEN
01/29/15 @ 7:56 pm EST
Source:
DC
| Categories:
DC
|
Comments
(0) |
E-mail Article
|
Add a Comment
He may be best buds with Superman in the comics, but it looks like Jimmy Olsen will be hanging out with his cousin onscreen in the future.
Actor Mehcad Brooks (
Necessary Roughness, True Blood
) has been cast as James Olsen in
Supergirl
, the high flying new series in development from Berlanti Productions, Warner Bros. and DC Entertainment. He'll join Melissa Benoist on the show, who was recently cast as Kara Zor-el (AKA Supergirl).
Supergirl's
James Olsen is described as a photographer at CatCo, the media company where Kara (series star Melissa Benoist) works. He has recently been living and working in National City, though the reason is still a secret.
Superman and Supergirl fans may also notice the name of that media company. Though we'll let you speculate about that one…
More to come!
RACHAEL TAYLOR THE LATEST TO JOIN MARVEL'S A.K.A. JESSICA JONES
01/29/15 @ 7:26 pm EST
Source:
Marvel
| Categories:
Marvel
|
Comments
(0) |
E-mail Article
|
Add a Comment
Marvel and Netflix are proud to announce that Rachael Taylor will star as Patricia "Trish" Walker in "Marvel's A.K.A. Jessica Jones," an all-new 13-episode series premiering on Netflix in 2015 following "Marvel's Daredevil."
Trish is a syndicated radio talk show host, former model and child TV star known to her adoring fans as "Patsy" Walker. As Jessica Jones' closest friend, Trish helps her embark on the most dangerous case of Jessica's career.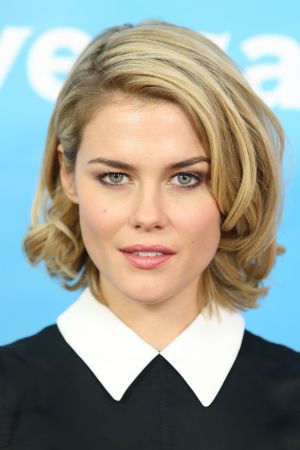 The character of Patricia Walker has roots dating back to 1944 with her first appearance in MISS AMERICA MAGAZINE #2, and in the comics Walker donned the super hero identity of Hellcat in 1976.
Taylor will star opposite Krysten Ritter (Jessica Jones), David Tennant (Kilgrave), and Mike Colter (Luke Cage) in the Netflix original series. "Marvel's A.K.A. Jessica Jones" was developed by Executive Producer/Showrunner Melissa Rosenberg ("Dexter").
"The character is a star and a powerhouse, and required an actress who is both," said Rosenberg. "Rachael is all that and more!""Rachael's ability to embody a character that must balance both the darker and lighter elements of our series will provide a perfect emotional anchor for Jessica Jones," said Jeph Loeb, Executive Producer/Marvel's Head of Television.
"Rachael blew us away with her grounded, humanizing take on Trish, adding yet another layer to the complex, emotional story we're telling with this series."
Taylor can next be seen in theaters with "The Loft." "Marvel's A.K.A. Jessica Jones" marks her first Netflix series, while past TV credits include "Grey's Anatomy" and "Crisis."
After a tragic ending to her short-lived super hero stint, Jessica Jones is rebuilding her personal life and career as a detective who gets pulled into cases involving people with extraordinary abilities in New York City.
"Marvel's A.K.A. Jessica Jones" is produced by Marvel Television in association with ABC Studios for Netflix.
"I WAS REALLY DRAWN TO THE IDEA OF LOTHAR BECOMING THE PHANTOM" – BRIAN CLEVINGER TALKS KING: THE PHANTOM #1
01/28/15 @ 10:14 pm EST
Source:
Bleeding Cool
| Categories:
The Phantom
|
Comments
(0) |
E-mail Article
|
Add a Comment
When we get these writer to writer interviews, we're never quite sure what we are going to get. This one is short but fun as
Ben Acker
and
Ben Blacker,
writers on
KING: Flash Gordon
#1, talks with writer
Brian Clevinger
about
KING: Phantom
#1, both on sale today.
BEN ACKER AND BEN BLACKER: Did you grow up reading The Phantom?BRIAN CLEVINGER:
Nope. In fact, I managed to accidentally avoid
The Phantom
at every turn! Never got to see the newspaper strip, still have not seen the movie despite the fact that I would gladly watch Billy Zane read from a phone book, never so much as heard of the
Defenders of the Earth
cartoon, and always managed to miss
The Phantom 2040
cartoon. But being an outsider, I think, turned out to be helpful since it mirrors Lothar's perspective coming into things.
BEN A&B: Was there a thing — a story thing or a character thing — that made you eager to writeThe Phantom? BC:
I was really drawn to the idea of Lothar becoming The Phantom. He was probably my favorite character in the
Kings Watch
event, so it was great to see him take up the legacy of The Phantom. On a strictly nuts and bolts level, I thought that was a great way to shed any baggage the property may have picked up in the public consciousness and still honor what makes The Phantom cool and interesting for its loyal fan base
.
BEN A&B: What do you think of the art of Brent Schoonover?BC:
More please, thank you.
BEN A&B:
We love Atomic Robo [Brian's indy book]!BC:
Is that a question?
BEN A&B: Do you yourself read any monthly comics?BC:
Who has time?! No, I'm a filthy trade waiter. Even then, the pile of bought comics is not necessarily the pile of read comics.
LADY KILLER SELLS OUT, GOES TO SECOND PRINT RUN
01/28/15 @ 8:08 pm EST
Source:
Dark Horse
| Categories:
Dark Horse
|
Comments
(0) |
E-mail Article
|
Add a Comment
Dark Horse is proud to announce that the first issue of Joëlle Jones, Jamie S. Rich, and Laura Allred's
Lady Killer
has sold out at the distributor level and will receive a second printing!
Josie Schuller is a picture-perfect homemaker, wife, and mother—but she's also a ruthless, efficient killer for hire! A brand-new original comedy series that combines the wholesome imagery of early 1960s domestic bliss with a tightening web of murder, paranoia, and cold-blooded survival, Lady Killer has received acclaim from creators and critics alike.
"The best comics feature great talent throwing together the stuff that gets them most excited, like Mike Mignola on
Hellboy
, or Eric Powell on
The Goon
, or Ed Brubaker and Sean Phillips on
The Fade Out
," said Dark Horse's editor in chief, Scott Allie. "Joëlle's drawn a lot of other people's stories, but only she could've used midcentury fashion, espionage, and ultraviolence to create such a perfectly modern comic."
To reflect the absolute killing the issue's first print run made in the direct market, the second-printing cover will feature a special blood-red color scheme.
Find out why the critics are raving. Order
Lady Killer #1
today. To read Dynamic Force's interview with Joelle Jones,
click here.
COVER REVEAL: HINGES, BOOK 1: CLOCKWORK CITY
01/28/15 @ 8:00 pm EST
Source:
Image
| Categories:
Image
|
Comments
(0) |
E-mail Article
|
Add a Comment
Image Comics has revealed the final cover of HINGES, BOOK 1: CLOCKWORK CITY, the enchanting graphic novel by Meredith McClaren.
Depicting "new soul" Orio, a porcelain doll, and her familiar Bauble, the cover hints at the mystery and intrigue Orio will encounter in the city of Cobble.
HINGES is a modern fairy tale perfect for ages nine and up.
It will be in comic book stores on February 25 and in bookstores on March 10.
ANOTHER RUSSIAN SPY UNCOVERED IN RED ONE
01/28/15 @ 7:56 pm EST
Source:
Image
| Categories:
Image
|
Comments
(0) |
E-mail Article
|
Add a Comment
Xavier Dorison (Long John Silver, The Third Testament) and Terry and Rachel Dodson (Star Wars: Princess Leia, Uncanny X-Men) launch a sexy and funky new superhero story, straight out of a Quentin Tarantino film, in RED ONE.

In RED ONE, it's 1977—the height of the Cold War between the USSR and the US—and the Kremlin has a plan to win the war against Uncle Sam: propaganda!

Vera Yelnikov is an elite agent in the Soviet Army during the Cold War—she IS the atomic bomb. Vera is sent to Los Angeles by her bosses at the Kremlin. Her mission? Become a true "American superhero." She must spearhead a propaganda operation of communist values from within the United States and fight against the "Carpenter"—a fascist serial killer who blames America's ills on liberals.

In her cover identity "Alabama Jones," Vera must find a day job that conceals her true mission—to do the Kremlin's bidding when the USSR needs her... as RED ONE!

The exciting series poses a chilling question, one rife with political overtones: What happens when America's Greatest Hero... is actually a Russian Spy? It hits stores on March 18 and can be pre-ordered with Diamond Code JAN150575.





BENDIS, BAGLEY BRING THE ULTIMATE UNIVERSE TO A CLOSE
01/28/15 @ 7:50 pm EST
Source:
Marvel
| Categories:
Ultimate Comics
|
Comments
(0) |
E-mail Article
|
Add a Comment
n May 2015, Time Runs Out and the Secret Wars begin with the Ultimate Universe coming to an end!

The original ULTIMATE SPIDER-MAN creative team of Brian Michael Bendis and Mark Bagley reunite to shut the door on what they began 15 years ago in ULTIMATE END as part of Battleworld!


THE WALKING DEAD ACTOR TO JOIN CRIMINAL MINDS SPINOFF
01/28/15 @ 3:29 pm EST
Source:
Bleeding Cool
| Categories:
Walking Dead
|
Comments
(0) |
E-mail Article
|
Add a Comment
Tyler James Williams
, who plays the recurring role of
Noah
on
AMC's
The Walking Dead
, has been tapped to join
Gary Sinise
as part of the put pilot for the
Criminal Minds
spinoff series
CBS
has in the works.
The spinoff focuses on FBI agents who help American citizens who get in trouble abroad. Williams will play the teams tech analyst who is incredibly smart but also very sweet-natured. Both helps him and the team work with families who need help.
The spinoff pilot will air as an episode of
Criminal Minds
written by the series executive producer/showrunner
Erica Messer
.