ANOTHER GREAT REVIEW FOR DYNAMITE'S FLASH GORDON!
12/05/11 @ 5:11 pm EST
Source:
Comicbookjesus
| Categories:
Flash Gordon Zeitgeist
|
Comments
(0) |
E-mail Article
|
Add a Comment
By Comicbookjesus
I was a tad cautious about this new acquisition by
Dynamite
after several other classic heroes (Lone Ranger, Green Hornet,etc), as there's already a Flash Gordon series from publisher Ardden, and has been for a while. However, this debut issue (at only $1!) is awesomely rousing with a great focus on action and drama.
Setting the story in 1934 (the year of the adventurer's debut, courtesy of Alex Raymond) was a bold, but wise move. Not only does it set it apart from Ardden's modernised take, it also gives Flash Gordon a unique flair for adventure, much like The Rocketeeer or Indiana Jones tales set roughly in the same era, do.
We first see Flash when he's jumping from a burning plane, with cartographer Dale Arden in his arms. Handy captions introduce us to all the main players and Flash is instantly likeable due to that charming '30s style and the fact that he's a polo player once more. Flash and Dale are on a mission to find reclusive scientist Hans Zarkov. They do and he's wonderfully crazy (well, at least a little bit). Zarkov believes there's a way from our universe to others, and that inhabitants of said outer worlds have been visiting Earth for recruitment purposes. One dangerous space shuttle journey later and Flash and Dale see his point. On the last few pages three rebellious Mongo citizens visit Germany to hunt down Ming ally, Hitler. This was a pleasant surprise, adding one more layer to this daring tale.
Artist Alex Ross (Kingdom Come) has long been a fan of the character and an interview with him even shows up on the DVD of the 1980 film. His love is evident here in his character designs and art direction, a role (as well as variant cover artist) that has kept him busy with numerous series over the last few years at Dynamite. Not as outlandish as his designs for the Jack Kirby inspired titles, they evoke classic sci-fi trappings much like the rockets and alien thrones do. Throwing Ming's snivelly right hand man Klytus from the film was a nice surprise too, and Ming really lives up to his Merciless title, with his disdain for pretty much everyone, including his slave girls and the entirety of the human race it would seem. More of a nuanced character and not at all a stereotype, Ming is like Darth Vader in Episode IV. We don't see much of him, but we see enough to know that he's a calculating despot.
For the full review visit
comicbookjesus
LEGENDS OF TOMORROW SYNOPSIS REVEALS GREEN ARROW'S ROLE IN S2 PREMIERE
09/23/16 @ 8:48 pm EST
Source:
Comic Book Resources
| Categories:
DC
|
Comments
(0) |
E-mail Article
|
Add a Comment
The CW network has released a synopsis for the second season premiere of its superhero ensemble show "Legends of Tomorrow." The synopsis clarifies "Arrow" lead Stephen Amell's presence in the premiere, while also setting the stage for the second season's major conflict.
Fans rightly questioned if Amell's Green Arrow would be joining the "Legends of Tomorrow" team when promotional images included him in their ranks. According to a report from
ComicBookMovie.com
, while the superhero bowman will be working closely with the Legends, it will be in an ancillary role.
The synopsis also reveals the nature of the team's first jump back into the annals of time, starting off with a trip to save a notable World War II scientist. The season will also see a guest appearance by one classic "Arrow" villain — Damien Darhk.
LOST AND FOUND — GUEST STARRING STEPHEN AMELL — After the defeat of the immortal villain Vandal Savage and the exposure of the corrupt Time Masters, a new threat emerges. Dr. Nate Heywood (Nick Zano), an unconventional and charming historian, is thrust into the action. After making a shocking discovery, Nate seeks out Oliver Queen (guest star Stephen Amell) for help in finding the scattered Legends. Once reunited, the Legends continue their new mission to protect the timeline from temporal aberrations – unusual changes to history that spawn potentially catastrophic consequences. Their first stop is 1942 to protect Albert Einstein from being kidnapped before the Nazis destroy New York City with a nuclear bomb. Meanwhile, Ray (Brandon Routh) notices that Sara (Caity Lotz) has a mission of her own, which leads them both to face her nemesis, Damien Darhk (guest star Neal McDonough). Victor Garber, Arthur Darvill, Dominic Purcell and Franz Drameh also star. Dermot Downs directed the episode written by Marc Guggenheim & Phil Klemmer and Greg Berlanti & Chris Fedak.
"Legends of Tomorrow" returns for its second season on Thursday, October 13, at 8pm ET on the CW.
BATMAN: RETURN OF THE CAPED CRUSADERS, JUSTICE LEAGUE DARK, TO TAKE STAGE AT NYCC
09/23/16 @ 8:45 pm EST
Source:
Comic Book Resources
| Categories:
DC
|
Comments
(0) |
E-mail Article
|
Add a Comment
Warner Bros. Home Entertainment is going all out a New York City Comic Con with the world premiere of "Batman: Return of the Caped Crusaders" and a first look at the animated "Justice League Dark."
The screening of "Batman: Return of the Caped Crusaders" will open the convention Thursday, Oct. 6, at 5:30 p.m., followed by a Q&A moderated by producer Sam Register featuring star Adam West, director Rick Morales and co-writers/producers Michael Jelenic and James Tucker.
Things will heat up even more Saturday afternoon with the first official footage from "Justice League Dark" during a panel with voice stars Matt Ryan (Constantine) and Jason O'Mara (Batman), who will join Tucker, director Jay Oliva and character designer Phil Bourassa.
"Justice League Dark" will be the first onscreen appearance of the team, which also includes Zatanna, Deadman and Swamp Thing. Created by Peter Milligan and Mikel Janin, "Justice League Dark" launched in 2011 as part of the New 52, and brought together the DC Universe's supernatural heroes to tackle problems outside the expertise of the traditional Justice League.
Both presentations will take place on the Main Stage at the Jacob Javits Center in New York City.
Based on the iconic 1966 television series, "Batman: Return of the Caped Crusaders" reunites series stars Adam West and Burt Ward as the voices of Batman and Robin, and Julie Newmar as Catwoman. The
movie will receive a one-day limited theatrical release on Oct. 10
, and will be available to own on Digital HD the next day. The DVD and Blu-ray versions hit the shelves on Nov. 1.
"Justice League Dark" is slated or an early 2017 release.
DOCTOR WHO SPINOFF SETS PREMIERE DATE; PETER CAPALDI TO APPEAR
09/23/16 @ 8:40 pm EST
Source:
Comic Book Resources
| Categories:
Doctor Who
|
Comments
(0) |
E-mail Article
|
Add a Comment
Two big announcements dropped today about the BBC's
"Doctor Who"
spin-off series
"Class"
.
Firstly, we got a date for when the first two episodes will be released in the UK – Saturday October 22 – but was also got confirmation that Twelfth Doctor Peter Capaldi will be appearing in the series' opener.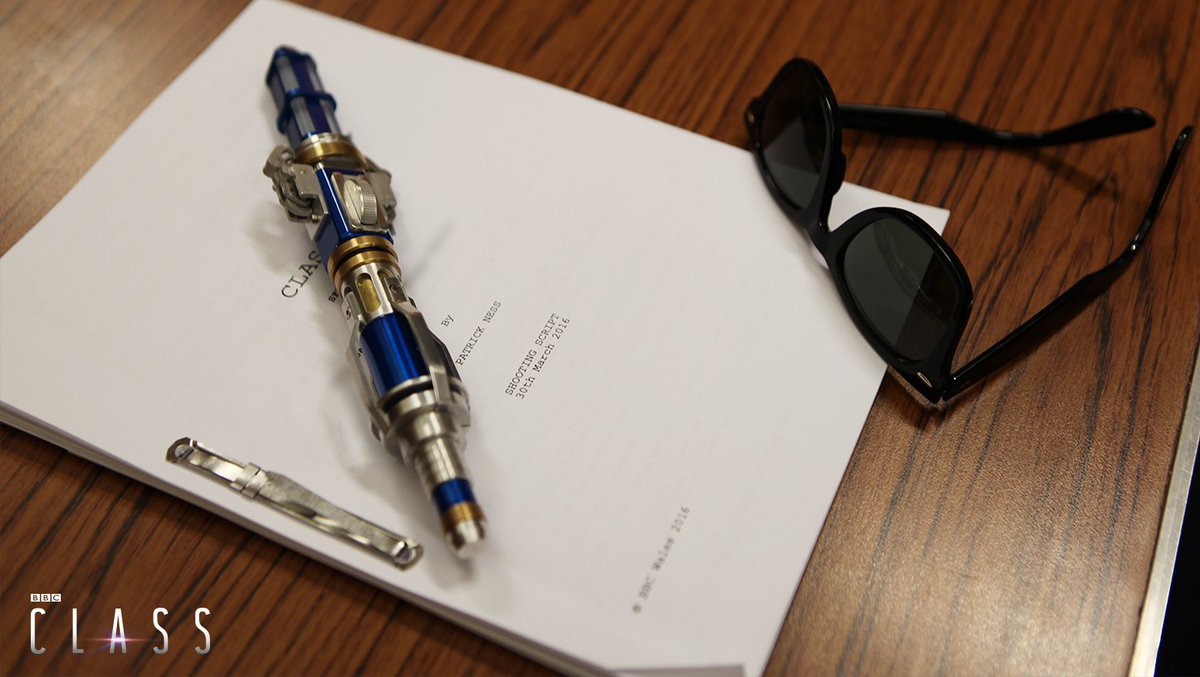 The details were revealed by the cast on a live Facebook stream to promote the new series.
The exact date the show will air on BBC America has yet to be confirmed, but in recent years the cable channel has broadcast new episodes of "Doctor Who" as close to their UK air-date as possible.
Set at the Coal Hill Academy (formerly Coal Hill School), a recurring location in the long-running BBC drama, "Class" seeks to provide a more Young Adult-oriented take on the "Doctor Who" universe.
The show stars actors Greg Austin, Sophie Hopkins, Fady Essayed and Vivian Oparah as Charlie, April, Ram and Tanya, respectively, and Katherine Kelly as physics teacher Miss Quill.
The first two episodes of "Class" Series 1 will debut on the youth-oriented, digital-only channel BBC Three.
UNIVERSAL NABS JOE HILL'S HORROR NOVELLA 'SNAPSHOT 1988'
09/23/16 @ 8:35 pm EST
Source:
The Hollywood Reporter
| Categories:
MIsc
|
Comments
(0) |
E-mail Article
|
Add a Comment
The
Stranger Things
ripple effect has begun.
In a competitive situation, Universal has won the rights to
Snapshot 1988
, a novella by Joe Hill
. Ouija 2: Origin of Evil
director Mike Flanagan and Jeff Howard, , who co-wrote
Ouija: Origin of Evil
and
Before I Wake
with Flanagan, are in talks to write.
Akiva Goldsman's Weed Road and Jason Blum's Blumhouse, the banner behind the studio's recent release
Purge: Election Year
, are attached to produce. Greg Lessans will executive produce.
Hill's novella hit the town earlier in the week and quickly generated buzz for its
Stranger Things
tone and 1980s Amblin movie vibe. Sources say Universal beat out Fox, which was bidding for
Dawn of the Planet of the Apes
filmmaker
Matt Reeve
s
and his 6th and Idaho production banner.
The story, set in 1988, centers on a 13-year old boy who ends up taking care of his elderly former housekeeper whom he thinks is succumbing to dementia. What he doesn't know is that her memories are not being lost but stolen by an evil man named The Phoenician who uses a camera that steals memories. The story will be published in a four novella collection from William Morrow in the Spring of 2018.
The timing for an 1980s-themed teen adventure couldn't be better. The series
Stranger Things,
which was released by Netflix, became a summer sensation because it channeled the movies of that era such as
E.T.
and
The Thing.
It also owed a huge debt to the works of Stephen King.
It is only fitting that the first project that has execs talking
Stranger Things
then is written by his son, Hill. Hill is the author of
Horns
, which was adapted into a movie starring Danielle Radcliffe, and
The Fireman.
NEW LINE LANDS 'FRUIT NINJA' FILM BASED ON GAME
09/23/16 @ 8:31 pm EST
Source:
The Hollywood Reporter
| Categories:
MIsc
|
Comments
(0) |
E-mail Article
|
Add a Comment
New Line has racked up the high score for
Fruit Ninja
.
The studio has landed the film rights to the addictive mobile game app that has become a staple on phones and tablets. The deal puts producer Tripp Vinson back in business with New Line. Vinson has a long history with New Line, having produced such films for the studio as the
Journey to the Center of the Earth
films. He most recently was an executive producer on New Line's action hit
San Andreas
.
J.P. Lavin and Chad Damiani, the duo behind
How to Survive a Garden Gnome Attack
at Robert Zemeckis' ImageMovers and Sony Animation, are writing the script for
Fruit Ninja
, which will revolve around a team of misfits who are recruited to become Fruit Ninjas in order to save the world.
Vinson partnered with Halfbrick Studios and began developing the property as a live-action family comedy based on the best-selling game that revolves around ninjas who slice fruit at a rapid clip. Fruit Ninja is the second-highest-selling iOS game of all time, with over 1 billion downloads.
Sam White and Tara Farney are serving as executive producers. Alexis Ehrman will associate produce.
THE FLASH SEASON 3 TRAILER: NEW TIMELINE, NEW VILLAINS & HEROES
09/23/16 @ 8:28 pm EST
Source:
Comicbook
| Categories:
DC
|
Comments
(0) |
E-mail Article
|
Add a Comment
CW's The Flash
returns soon for season 3, which will see Barry Allen having to deal with the ramifications of the choice to run back in time and save his mother - thereby creating a new timeline, which has been dubbed "Flashpoint" after the similarly themed comic book storyline.
Below you can see the latest trailer for The Flash season 3, which features the Wally West alternate version of Flash in the Flashpoint timeline, with a costume inspired by the classic "Kid Flash" legacy of the character. We also get a better look at "The Rival," one of the new villains we'll meet in the Flashpoint timeline.
Trailer:
https://youtu.be/Dzq5H2qAyh8
ARROW EPISODE 100 BRINGS BACK TWO SURPRISING CHARACTERS FROM THE PAST
09/23/16 @ 8:22 pm EST
Source:
Comicbook
| Categories:
DC
|
Comments
(0) |
E-mail Article
|
Add a Comment
Arrow
starts production on its one hundredth episode this week, one of those benchmarks that means your show is an unassailable hit since so few ever reach that point.
And, as he often does when key episodes are coming up,
Arrow
executive producer Marc Guggenheim took to social media to pull back the curtain a little bit, giving fans a chance to see who's hanging out at the table read for the centennial celebration.
Among the familiar faces is Jamey Sheridan, who played Oliver's father Robert Queen in the pilot and has done so periodically in flashbacks since. There wasn't much else for him to do, obviously, since Robert died by his own hand in the pilot, a desperate bid to save his son's life.
Before he died, he confessed to Oliver that he had not been an altogether good person, and that he was in fact part of a nefarious cabal who were doing no good for their hometown of Star(ling) City. He had a list of names of other members of the conspiracy, and that list was a major storytelling driver for Oliver in the first season: he used it to decide whom he should kill in his pre-superhero days as The Hood (later The Arrow).
So with Sheridan in the episode, one would assume that the flashbacks to "Island Oliver" -- who is no longer on the island and hasn't been consistently for a few years now, but work with us here -- or pre-Island Oliver would be a major part of the episode.
You would be wrong, according to Guggenheim, who teased that Sheridan's appearance isn't a flashback, and has nothing to do with
Flashpoint
, the alternate universe created at the end of
The Flash
season two and featuring into the first part of season three.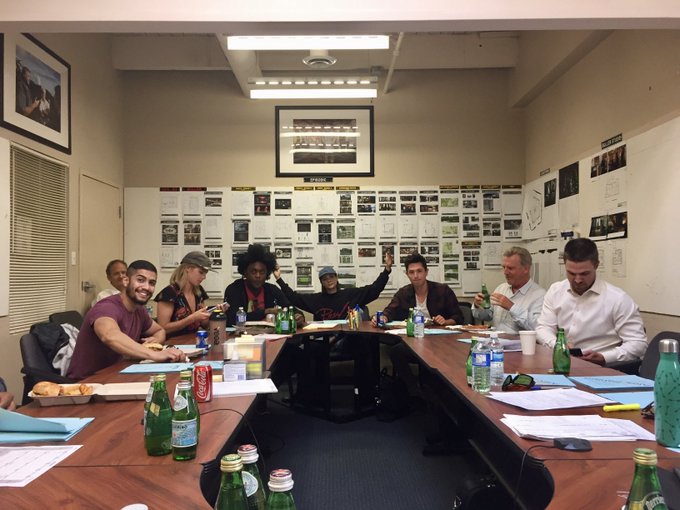 That leaves a number of options, including an alternate reality version of Robert Queen, the unlikely possibility that he's somehow still alive out there (some fans have speculated that he would somehow be Prometheus, the season's as-yet-anonymous big bad), or the possibility that he will appear in something like a video message provided to his children.
In season three, Oliver had been recruited into ARGUS during the flashbacks and ended up coming across Queen Consolidated files that included posthumous messages from his father, recorded and meant to be delivered to Oliver and Thea. Oliver watched his own but, as far as we know, Thea hasn't seen hers yet.
While the video message might sound an awful lot like a flashback, that kind of very cautious language has been employed in the past when Guggenheim wanted to misdirect spoiler-hungry fans. Last year, he posted a photo of Oliver and Felicity getting married, tweeting that it wasn't a dream sequence or an alternate universe. Instead, of course, it was all part of an elaborate ploy to trap a villain who was obsessed with Oliver and trying to kill Felicity.
While it's been easy to focus on Sheridan, who is both a pretty important character in the history of the show and also in the photo itself, we noticed something else pretty interesting: In front of the empty chair on the other side of Stephen Amell sits a script watermarked with the name of an actor who
Arrow
fans will also remember from season one:
That would be Alex Zahara's script for the episode. Zahara, longtime viewers may remember, played Ahthony Venza in the season one episode "Vendetta."
Venza was a drug dealer, and an associate of Frank Bertinelli. His name appeared on Robert Queen's list. Oliver had just decided to stop killing indiscriminately and so convinced Bertinelli's daughter Helena (The Huntress) to spare Venza's life and turn him over to the police.
Venza, then, could theoretically appear in the modern day. It's possible he might even be a messenger of Robert's somehow, although that seems like a stretch. Either way, it seems like as the flashback sequences in
Arrow
barrel toward season one's start, the list will become a bigger factor in driving some of that story.
Arrow
airs Wednesday nights at 8 p.m. New episodes return on Wednesday, October 4 on The CW.
TRANSFORMERS 5: THE LAST KNIGHT SPARKS CONTROVERSY OVER NAZI PROPAGANDA
09/23/16 @ 8:16 pm EST
Source:
Comicbook
| Categories:
Transformers
|
Comments
(0) |
E-mail Article
|
Add a Comment
Fans are definitely looking forward to
Transformers 5: The Last Knight
, but the project is sparking all kinds of controversy with British fans. The film is getting serious heat for using the hallowed home of Winston Churchill as a swastika-covered Nazi headquarters.
Currently, the blockbuster is filming all over Britain as its production schedule carries on. The project pit-stopped at Bleinheim Palace to shoot several scenes, and those controversial shots apparently feature lots of Nazi propaganda. While that imagery is polarizing enough as is, the decision was particularly insensitive because of its filming location.
Winston Churchill's ancestral home is Bleinheim Palace, and it is no secret that the imposing political figurehead stood against the Nazi regime. The Prime Minister fought against Adolf Hitler head-on during World War II as Nazi forces threatened to take over the United Kingdom.
A British newspaper called
The Sun
first found photos of the alleged scenes which showed the palace swathed with swastika prints. The building was draped with banners bearing the offensive symbol, and the paper even reported that on-set extras were seen wearing Third Reich uniforms.
In light of the controversy, many British veterans are up in arms over the disrespectful shooting decision. Tony Hayes, president of the Veteran's Association UK, told
Variety
the choice was a "total disgrace."
"Blenheim is the ancestral home of our wartime leader," said Hayes. "A lot of the older generation find it totally appalling. It's an insult."
Other military members spoke out about the snafu. Col. Richard Kemp told
The Sun
that
Transformers 5
symbolically insulted one of Britain's most beloved leaders. "I know it's a film, but it's symbolically disrespectful to Churchill. He will be turning in his grave," he explained.
Natives are also upset due to the shooting's proximity to Winston Churchill's grave. The leader is buried only a mile from the palace, something which many say director Michael Bay should have been considerate of.
Transformers 5
has been filming all over the globe. The film kicked off production in Cuba earlier this year, a move that also caused controversy considering the country's complicated relationship with the United States.
Directed by Michael Bay, the film will see Mark Wahlberg reprise his role from
Transformers: Age of Extinction
.
Transformers 5
will see Josh Duhamel and Tyrese Gibson return to the franchise while Anthony Hopkins join the cast. The fifth installment will be produced by Ian Bryce, Tom DeSanto, Lorenzo di Bonaventure, and Don Murphy. Both Paramount Studios and Hasbro are overseeing the project.
Transformers 5: The Last Knight
will be released in June 2017.
SPIDER-MAN: HOMECOMING - CAST WRAPS FILMING IN ATLANTA
09/23/16 @ 8:05 pm EST
Source:
Comicbook
| Categories:
Marvel
|
Comments
(0) |
E-mail Article
|
Add a Comment
Spider-Man: Homecoming
, the first Spider-Man solo movie to take place in the Marvel Cinematic Universe, has completed principal photography in Atlanta.
The movie, which stars Tom Holland (who first appeared as Spider-Man earlier this year in
Captain America: Civil War
) was primarily filmed in the city, known for temperate weather, a diverse landscape and tax incentives to encourage production.
No official announcement has been made that the film will shoot elsewhere, although it was suggested at Comic Con International: San Diego that they would likely end up doing a small amount of production in New York, where the story is set.
NEW DOCTOR STRANGE IMAGES RELEASED
09/23/16 @ 8:02 pm EST
Source:
Comicbook
| Categories:
Marvel
|
Comments
(0) |
E-mail Article
|
Add a Comment
Marvel Studios is putting out
Doctor Strange
as their big fall 2016 tentpole for the Marvel Cinematic Universe, and as the film's November release date nears, as usual the Marvel marketing machine is kicking into high gear. And as always,
Empire
magazine has one of the first big exclusive looks at the film, which the publication is promoting with some exclusive
Doctor Strange
cover images.