DC COMICS GREEN CHRISTMAS REMINDER AND UPDATE
12/01/09 @ 6:32 pm EST
Source:
|
Comments
(0) |
E-mail Article
|
Add a Comment
Don't forget - DC Comics' Green Christmas affidavit is included on the December 3 Final Order Cutoff list under item code OCT098160.  Retailers participating in this program will have an on-sale date of December 30 for BLACKEST NIGHT #6 (OCT090176; 1:25 variant edition: OCT090177; 1:100 variant sketch edition: OCT090178).  IMPORTANT UPDATE: Please note that UK retailers now will have a December 30 on sale date for this issue.  As a reminder, to qualify, participating retailers must "sign" a DC Comics electronic affidavit at the Diamond retailer website acknowledging that they understand that copies of BLACKEST NIGHT #6 may not be sold, loaned, displayed, traded, scanned, stolen or in any other way released prior to Wednesday, December 30, 2009 for retailers in the US, Canada and the UK. Previously signed affidavits from Diamond and/or DC do NOT qualify retailers for participation. A new signed affidavit is needed to participate. A special item code will be assigned for these copies.  The electronic affidavit may be accessed at the FOC page that includes BLACKEST NIGHT #6. The FOC for BLACKEST NIGHT #6 closes on December 3, 2009. This FOC is for all copies of BLACKEST NIGHT #6, including copies ordered by non-participating retailers.  Qualifying retailers will receive BLACKEST NIGHT #6 on December 23 in separate boxes from the rest of that week's shipment. The BLACKEST NIGHT #6 boxes will be clearly labeled "Not for sale until December 30." Diamond invoices for December 23 will list BLACKEST NIGHT #6 as NOT FOR SALE UNTIL 12/30 BLACKEST NIGHT #6 at zero dollars. BLACKEST NIGHT #6 will appear on January 6 invoices at standard pricing. Retailers may offer BLACKEST NIGHT #6 for sale beginning December 30 at the start of normal business hours.  Retailers with Tuesday delivery privilege will receive a separate reminder to hold BLACKEST NIGHT #6 until December 30. Any violation of this date will forfeit their future Tuesday delivery privileges for at least six months. This remains in force even if their competitors violate the on-sale date.  DC Comics and Diamond will log compliance violations. Participating retailers who follow the December 30 on-sale date and receive no compliance complaints by January 7 will receive a FREE copy of the Diamond Retailer Summit BLACKEST NIGHT #1 Variant Edition or another short print run BLACKEST NIGHT Variant of DC's choosing.  Retailers who do not participate in the program will receive BLACKEST NIGHT #6 on January 6, under a new item code.  This offer applies only to copies of BLACKEST NIGHT #6 ordered by the Final Order Cutoff date of December 3. Only orders placed by FOC will be eligible for early shipping. All orders (including advances and direct ships) placed post-FOC will arrive for January 6, 2010 in-store.  DC Comics and Diamond Comic Distributors will determine eligibility in this program, and may modify the requirements based on business conditions. 
CAPTAIN AMERICA: CIVIL WAR DIRECTORS EXPLAIN WHY NO AVENGER DIED
09/25/16 @ 11:48 pm EST
Source:
Comicbook
| Categories:
Marvel
|
Comments
(0) |
E-mail Article
|
Add a Comment
Before
Captain America: Civil War
hit theaters, rumors had started to circulate that an Avenger would meet their end before the final credits rolled. As fans of the film now know, those rumors did not turn out to be true.There were some unfortunate consequences for James Rhodes as a result of the battle, however, as he lost the natural use of his lower extremities, but he is still among the living. In a recent Q&A session (via HitFix), directors Anthoy and Joe Russo along with Marvel Studios chief Kevin Feige laid out the specific reasons why they decided to keep everyone alive.According to the Russos, they did discuss the death of Steve Rogers, though it never made it past the planning phase."We never talked about killing Cap in this one, right?" asks Anthony."We did for a beat" Joe replies. "We talk about everything.""I think the thing to remember is, we do talk about every possible scenario over and over and over again for months and months and months" recalls Anthony. "We talked about it. But it never made its way into a realistic outline."Feige noted that the intent was to fracture the team as much as possible, adding "Well, the ending was always more about fracturing the team completely before getting into Infinity War.""We talked about lots of potential characters dying at the end of the movie" Joe adds. "And we thought that it would undercut what is really the rich tension of the movie, which is this is Kramer vs Kramer. It's about a divorce. If somebody dies, it would create empathy, which would change and allow for repair, and we didn't want to do that.Feige compared their story to the original
Civil War
storyline seen in the comics. "In the amazing comic book story, which certainly the conceit of this movie is based on and some of the specifics — during their big battle, which has a hundred times as many characters, a character dies. And we talked about that for a while. And, ultimately, we thought what happened to Rhodey would be enough of a downer.""The tragedy is the family falls apart" Anthony concludes. "Not that the family falls apart and then somebody dies."
Avengers: Infinity War
is set for a May 4, 2018 release.
LUKE CAGE SHOWRUNNER TEASES HEROES FOR HIRE IN SEASON 2
09/25/16 @ 11:45 pm EST
Source:
Comicbook
| Categories:
Marvel
|
Comments
(0) |
E-mail Article
|
Add a Comment
Fans will get to finally see showrunner Cheo Hodari Coker's labor of love when
Luke Cage
debuts on Netflix on September later this month. With the premiere date approaching, questions about Cage's popular
Heroes for Hire
team have started to pop up more frequently, and Coker went about setting the record straight.
In an interview with Decider, Coker revealed the bad news first.
"Now in my mind — we don't go into Heroes for Hire in Season One of
Luke Cage
—
Luke Cage
Season One is ultimately about the evolution of a hero. I think what's appealing about Luke is the fact that he's just somebody who's just your normal, average guy. He presents himself that way. He's not pretentious, but then at the same time, feels a responsibility to kind of push forward."
While Cage and Iron Fist (played by Finn Jones) won't be uniting in season 1, that doesn't rule out an appearance under the popular title in season 2, but Coker wants to make sure there will be a season 2 before he gives away any future plans.
"Well, I mean Finn Jones will be in the mix for
The Defenders
. In terms of Luke Cage, Netflix has to order a second season first. And trust me, I don't take any of this for granted because I mean there was no more sure thing than Vinyl (ed note: HBO's drama was canceled after one season)."
"We're not treating it as a one-off, and I'm confident people will dig the show, but, trust me, like Season Two, I've got a few ideas. But we really won't get ready until Netflix sees the viewership, and hopefully the subscriptions that will come from this show, and then they'll say, "Let's get into it."
MAD HATTER ARRIVES IN GOTHAM! LOOK INTO MY EYES SYNOPSIS RELEASED
09/25/16 @ 11:40 pm EST
Source:
Comicbook
| Categories:
DC
|
Comments
(0) |
E-mail Article
|
Add a Comment
FOX has released the official synopsis for "Look Into My Eyes," and it reveals that Jervis Tetch (a.k.a. Mad Hatter), a talented hypnotist teetering on the edge of madness, will make his
Gotham
debut in the third episode of this season. In order to find his missing sister, Tetch will seek help from the city's newest and most effective bounty hunter, Jim Gordon.
The synopsis also reveals that the Indian Hill escapee who happens to look exactly like Bruce Wayne (but with long, shaggy hair) will put his recognizable face to use.
Hypnotist Jervis Tetch/Mad Hatter (Benedict Samuel) arrives in Gotham to search for his sister, Alice (guest star Naian Gonzalez Norvind), and hires Gordon to help find her. Meanwhile, Penguin decides to run for mayor and Bruce's doppelganger begins to channel him, causing some confusion around town.
CHRIS HEMSWORTH SHOWS OFF GODLY THOR: RAGNAROK PHYSIQUE
09/25/16 @ 11:37 pm EST
Source:
Comicbook
| Categories:
Marvel
|
Comments
(0) |
E-mail Article
|
Add a Comment
There are people who look good, and then there are people who look godly.
Thor: Ragnarok
star Chris Hemsworth is the latter. Professionally.
Hemsworth has been playing Thor, the Asgardian God of Thunder, in the Marvel Cinematic Universe for five years now. He debuted in
Thor
in 2011, assembled with his fellow heroes in
Marvel's
The Avengers
in 2012, battled Dark Elves in
Thor: The Dark World
in 2013, and rejoined his teammates in 2015 for
Avengers: Age of Ultron
.
Hemsworth is currently filming
Thor: Ragnarok
in his home of Australia. Hemsworth is apparently a fan of Australian rules football. He posted a photo to Instagram celebrating a victory by the Western Bulldogs club, and it shows off the kind of body a guy can have when he lifts an Uru metal hammer on a regular basis.
Check it out below.
Video2.2mviews4,010comments
Video
NEW WONDER WOMAN IMAGES DEBUT ONLINE
09/25/16 @ 11:32 pm EST
Source:
Comicbook
| Categories:
DC
|
Comments
(0) |
E-mail Article
|
Add a Comment
Wonder Woman is back in action in two new stills from the production of the
Wonder Woman
movie. The exact source of the images remains unclear.
LEGENDS OF TOMORROW SYNOPSIS REVEALS GREEN ARROW'S ROLE IN S2 PREMIERE
09/23/16 @ 8:48 pm EST
Source:
Comic Book Resources
| Categories:
DC
|
Comments
(0) |
E-mail Article
|
Add a Comment
The CW network has released a synopsis for the second season premiere of its superhero ensemble show "Legends of Tomorrow." The synopsis clarifies "Arrow" lead Stephen Amell's presence in the premiere, while also setting the stage for the second season's major conflict.
Fans rightly questioned if Amell's Green Arrow would be joining the "Legends of Tomorrow" team when promotional images included him in their ranks. According to a report from
ComicBookMovie.com
, while the superhero bowman will be working closely with the Legends, it will be in an ancillary role.
The synopsis also reveals the nature of the team's first jump back into the annals of time, starting off with a trip to save a notable World War II scientist. The season will also see a guest appearance by one classic "Arrow" villain — Damien Darhk.
LOST AND FOUND — GUEST STARRING STEPHEN AMELL — After the defeat of the immortal villain Vandal Savage and the exposure of the corrupt Time Masters, a new threat emerges. Dr. Nate Heywood (Nick Zano), an unconventional and charming historian, is thrust into the action. After making a shocking discovery, Nate seeks out Oliver Queen (guest star Stephen Amell) for help in finding the scattered Legends. Once reunited, the Legends continue their new mission to protect the timeline from temporal aberrations – unusual changes to history that spawn potentially catastrophic consequences. Their first stop is 1942 to protect Albert Einstein from being kidnapped before the Nazis destroy New York City with a nuclear bomb. Meanwhile, Ray (Brandon Routh) notices that Sara (Caity Lotz) has a mission of her own, which leads them both to face her nemesis, Damien Darhk (guest star Neal McDonough). Victor Garber, Arthur Darvill, Dominic Purcell and Franz Drameh also star. Dermot Downs directed the episode written by Marc Guggenheim & Phil Klemmer and Greg Berlanti & Chris Fedak.
"Legends of Tomorrow" returns for its second season on Thursday, October 13, at 8pm ET on the CW.
BATMAN: RETURN OF THE CAPED CRUSADERS, JUSTICE LEAGUE DARK, TO TAKE STAGE AT NYCC
09/23/16 @ 8:45 pm EST
Source:
Comic Book Resources
| Categories:
DC
|
Comments
(0) |
E-mail Article
|
Add a Comment
Warner Bros. Home Entertainment is going all out a New York City Comic Con with the world premiere of "Batman: Return of the Caped Crusaders" and a first look at the animated "Justice League Dark."
The screening of "Batman: Return of the Caped Crusaders" will open the convention Thursday, Oct. 6, at 5:30 p.m., followed by a Q&A moderated by producer Sam Register featuring star Adam West, director Rick Morales and co-writers/producers Michael Jelenic and James Tucker.
Things will heat up even more Saturday afternoon with the first official footage from "Justice League Dark" during a panel with voice stars Matt Ryan (Constantine) and Jason O'Mara (Batman), who will join Tucker, director Jay Oliva and character designer Phil Bourassa.
"Justice League Dark" will be the first onscreen appearance of the team, which also includes Zatanna, Deadman and Swamp Thing. Created by Peter Milligan and Mikel Janin, "Justice League Dark" launched in 2011 as part of the New 52, and brought together the DC Universe's supernatural heroes to tackle problems outside the expertise of the traditional Justice League.
Both presentations will take place on the Main Stage at the Jacob Javits Center in New York City.
Based on the iconic 1966 television series, "Batman: Return of the Caped Crusaders" reunites series stars Adam West and Burt Ward as the voices of Batman and Robin, and Julie Newmar as Catwoman. The
movie will receive a one-day limited theatrical release on Oct. 10
, and will be available to own on Digital HD the next day. The DVD and Blu-ray versions hit the shelves on Nov. 1.
"Justice League Dark" is slated or an early 2017 release.
DOCTOR WHO SPINOFF SETS PREMIERE DATE; PETER CAPALDI TO APPEAR
09/23/16 @ 8:40 pm EST
Source:
Comic Book Resources
| Categories:
Doctor Who
|
Comments
(0) |
E-mail Article
|
Add a Comment
Two big announcements dropped today about the BBC's
"Doctor Who"
spin-off series
"Class"
.
Firstly, we got a date for when the first two episodes will be released in the UK – Saturday October 22 – but was also got confirmation that Twelfth Doctor Peter Capaldi will be appearing in the series' opener.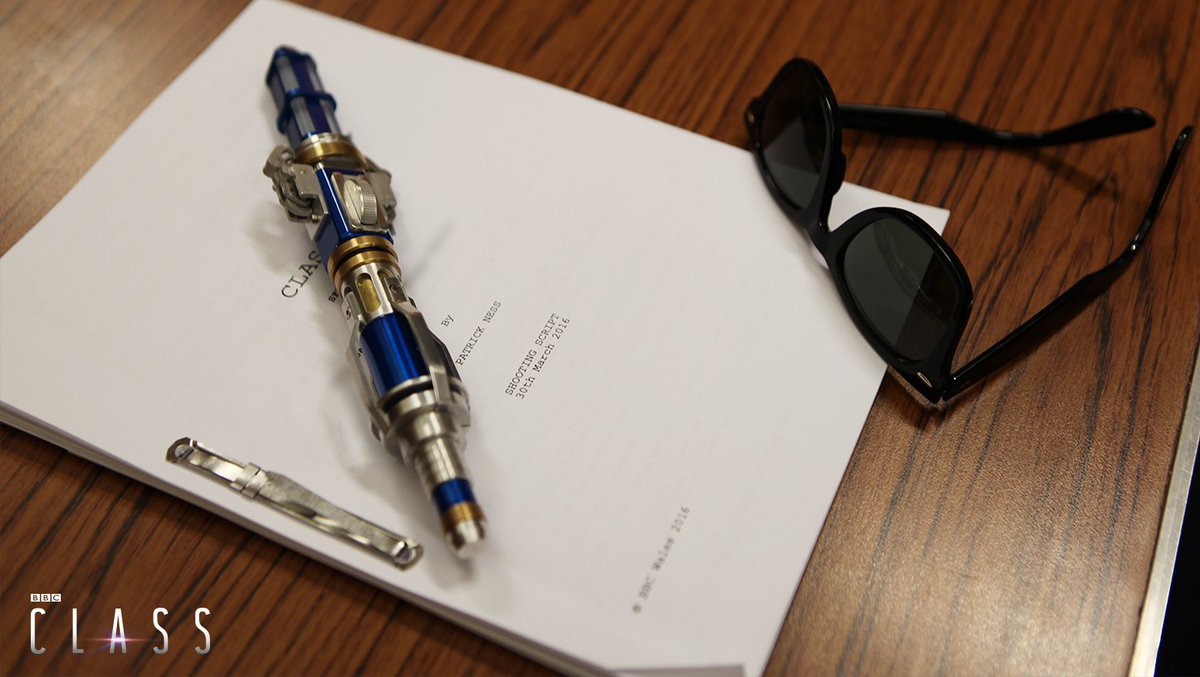 The details were revealed by the cast on a live Facebook stream to promote the new series.
The exact date the show will air on BBC America has yet to be confirmed, but in recent years the cable channel has broadcast new episodes of "Doctor Who" as close to their UK air-date as possible.
Set at the Coal Hill Academy (formerly Coal Hill School), a recurring location in the long-running BBC drama, "Class" seeks to provide a more Young Adult-oriented take on the "Doctor Who" universe.
The show stars actors Greg Austin, Sophie Hopkins, Fady Essayed and Vivian Oparah as Charlie, April, Ram and Tanya, respectively, and Katherine Kelly as physics teacher Miss Quill.
The first two episodes of "Class" Series 1 will debut on the youth-oriented, digital-only channel BBC Three.
UNIVERSAL NABS JOE HILL'S HORROR NOVELLA 'SNAPSHOT 1988'
09/23/16 @ 8:35 pm EST
Source:
The Hollywood Reporter
| Categories:
MIsc
|
Comments
(0) |
E-mail Article
|
Add a Comment
The
Stranger Things
ripple effect has begun.
In a competitive situation, Universal has won the rights to
Snapshot 1988
, a novella by Joe Hill
. Ouija 2: Origin of Evil
director Mike Flanagan and Jeff Howard, , who co-wrote
Ouija: Origin of Evil
and
Before I Wake
with Flanagan, are in talks to write.
Akiva Goldsman's Weed Road and Jason Blum's Blumhouse, the banner behind the studio's recent release
Purge: Election Year
, are attached to produce. Greg Lessans will executive produce.
Hill's novella hit the town earlier in the week and quickly generated buzz for its
Stranger Things
tone and 1980s Amblin movie vibe. Sources say Universal beat out Fox, which was bidding for
Dawn of the Planet of the Apes
filmmaker
Matt Reeve
s
and his 6th and Idaho production banner.
The story, set in 1988, centers on a 13-year old boy who ends up taking care of his elderly former housekeeper whom he thinks is succumbing to dementia. What he doesn't know is that her memories are not being lost but stolen by an evil man named The Phoenician who uses a camera that steals memories. The story will be published in a four novella collection from William Morrow in the Spring of 2018.
The timing for an 1980s-themed teen adventure couldn't be better. The series
Stranger Things,
which was released by Netflix, became a summer sensation because it channeled the movies of that era such as
E.T.
and
The Thing.
It also owed a huge debt to the works of Stephen King.
It is only fitting that the first project that has execs talking
Stranger Things
then is written by his son, Hill. Hill is the author of
Horns
, which was adapted into a movie starring Danielle Radcliffe, and
The Fireman.
NEW LINE LANDS 'FRUIT NINJA' FILM BASED ON GAME
09/23/16 @ 8:31 pm EST
Source:
The Hollywood Reporter
| Categories:
MIsc
|
Comments
(0) |
E-mail Article
|
Add a Comment
New Line has racked up the high score for
Fruit Ninja
.
The studio has landed the film rights to the addictive mobile game app that has become a staple on phones and tablets. The deal puts producer Tripp Vinson back in business with New Line. Vinson has a long history with New Line, having produced such films for the studio as the
Journey to the Center of the Earth
films. He most recently was an executive producer on New Line's action hit
San Andreas
.
J.P. Lavin and Chad Damiani, the duo behind
How to Survive a Garden Gnome Attack
at Robert Zemeckis' ImageMovers and Sony Animation, are writing the script for
Fruit Ninja
, which will revolve around a team of misfits who are recruited to become Fruit Ninjas in order to save the world.
Vinson partnered with Halfbrick Studios and began developing the property as a live-action family comedy based on the best-selling game that revolves around ninjas who slice fruit at a rapid clip. Fruit Ninja is the second-highest-selling iOS game of all time, with over 1 billion downloads.
Sam White and Tara Farney are serving as executive producers. Alexis Ehrman will associate produce.